Bakery style Almond Sponge Cake with Chocolate Mousse!
This cake is so sophisticated you are going to get rave reviews I guarantee it!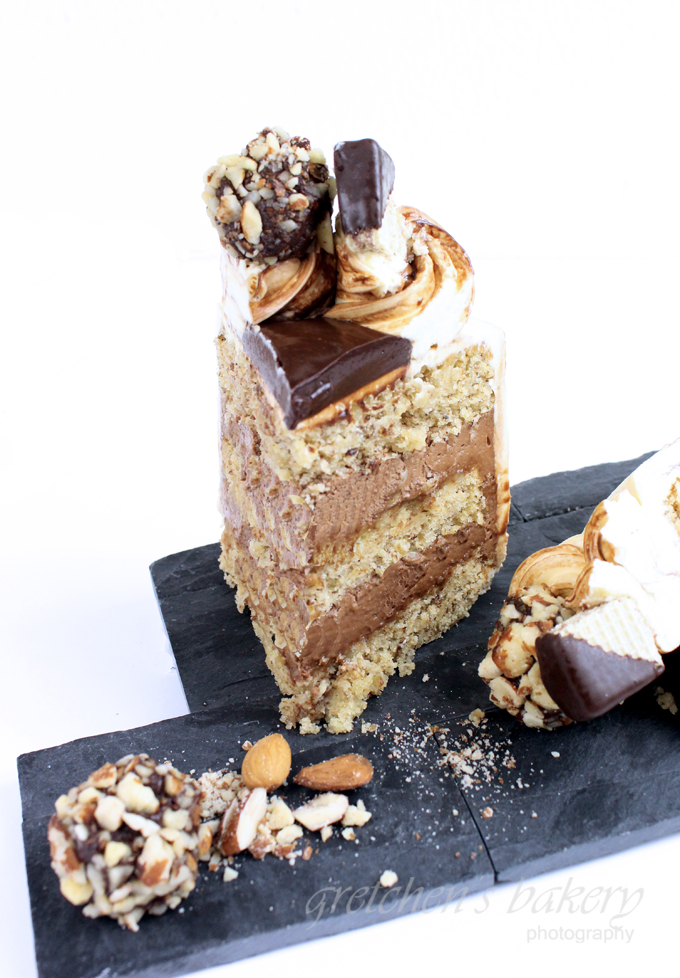 Nut cakes always remind me of classic European geniose cakes
Unlike most vegan cakes which can border on gummy so this style of cake does great with a soaking of Amaretto Simple Syrup!
Disaronno Amaretto is vegan friendly *not sponsored
But of course you can leave that out.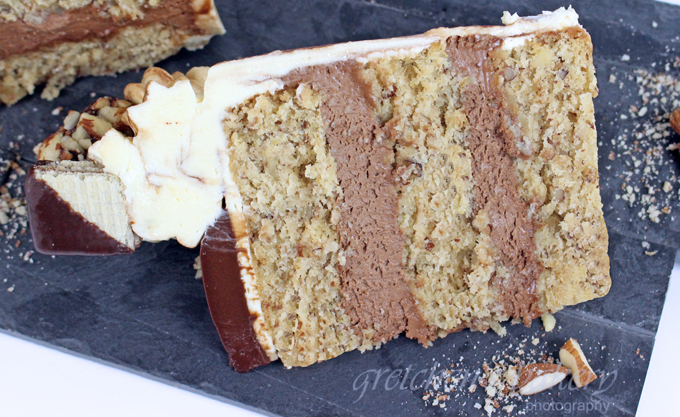 It's simple to substitute any nut you prefer if you don't have almond or don't like it
I used raw almonds finely for this recipe but you can use almond flour instead
**See the recipe below with additional notes for that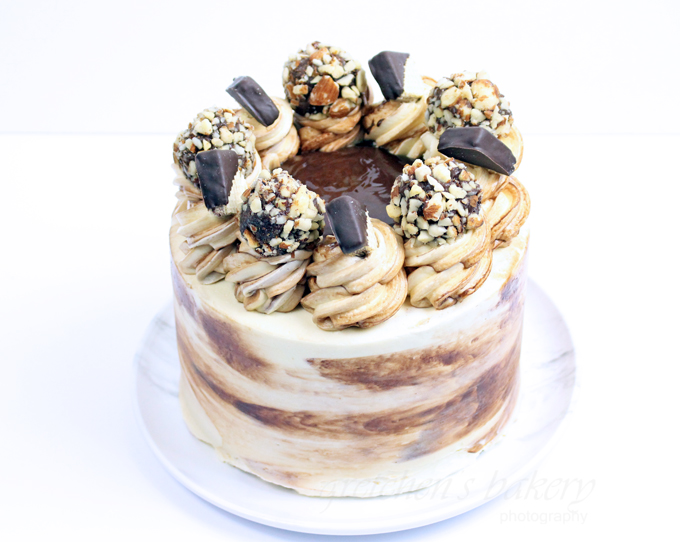 Both the cake and the mousse are not very sweet
Leaving the buttercream icing as the perfect balance to this winning combination.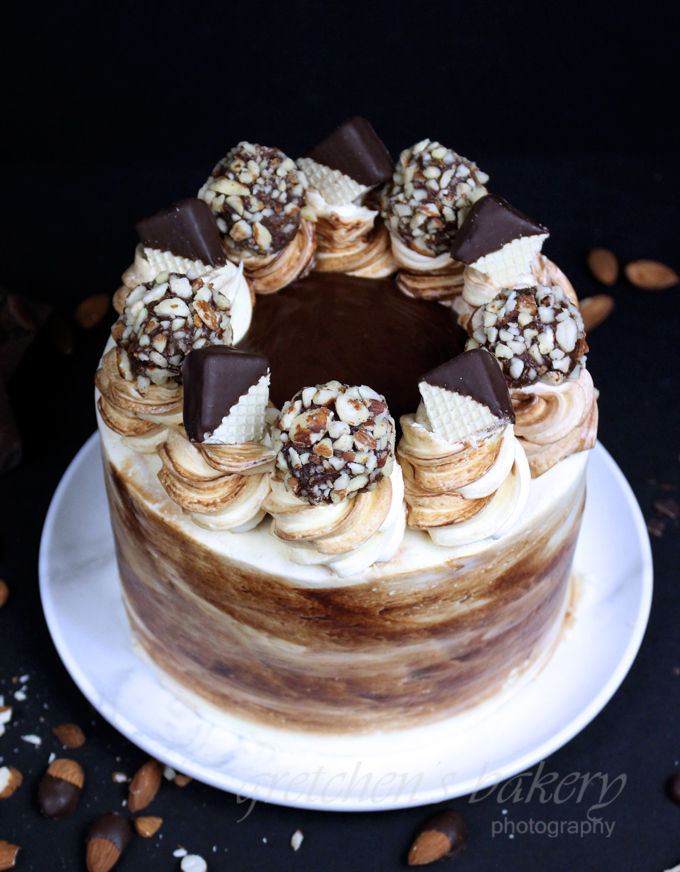 Two ingredient almond truffles for decor and I even found some vegan wafer cookies too!
By substituting 1 tablespoon of the plant milk with Amaretto, I made a liquor infused ganache
All the recipes are listed out below with the exact steps to follow to pull off this stunning cake with ease!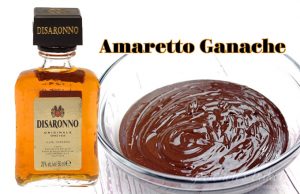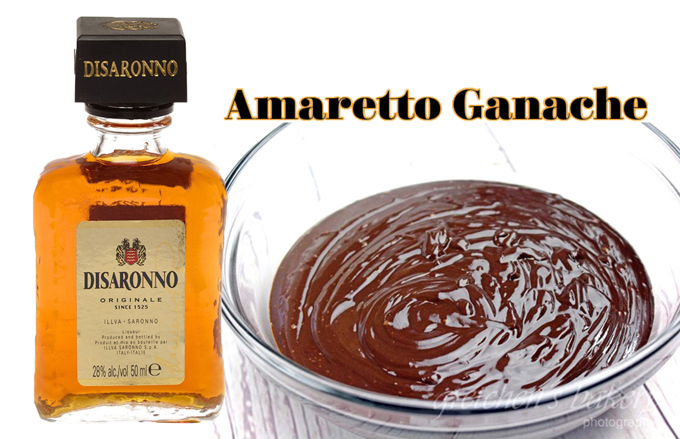 Notes for Success:
I molded this cake into a stainless steel ring mold with the with the layers as soon as the mousse was freshly made *see video tutorial
But you can just fill the cake traditional style if you do not prefer the ring mold build style, simply by piping the usual buttercream dam around each layer as you build.
The best results for this cake texture came from grinding raw almonds to a course meal rather than using a ground nut meal that I purchased at the store
Store bought nut meal was too fine and resulted in a slightly more dry and heavy cake than I liked
Many people cannot get cream of tartar as it is included in my mousse recipe, this ingredient is used to strengthen meringues but it is not an essential ingredient.
Yogurt was used in the original recipe but you can replace that with an equal amount of plant milk
This recipe will convert easily to 2-8″ cake layers with no changes to the recipes.
CHECK OUT THE YOUTUBE VIDEO TUTORIAL FOR HOW I MADE THIS CAKE!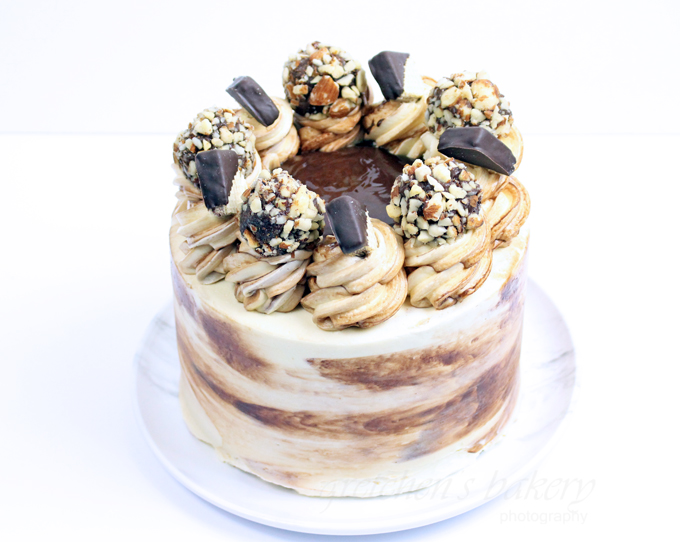 For more cake recipes like this one click the links below!
CHOCOLATE PEANUT BUTTER MOUSSE CAKE
Yield: Serves 10 people
Almond Sponge Mousse Cake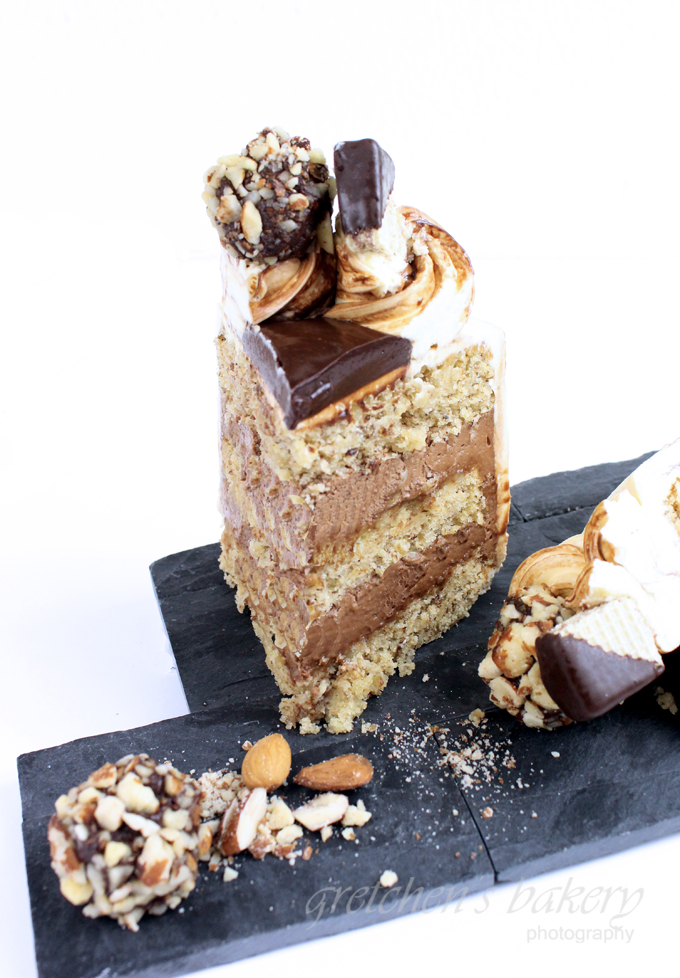 Total Time
4 hours
30 minutes
Ingredients
For the Almond Sponge Cake
Vegan Butter 1 cup (226g)
Granulated Sugar 2 cups (400g)
Golden Flax Meal 3 Tablespoons (24g)
Hot Water 6 Tablespoons (90ml)
Vanilla Vegan Yogurt *any brand ½ cup (150g)
Plant Milk *I am using soy milk 1 cup (237ml)
Vanilla Extract 2 teaspoons (10ml)
All Purpose Flour 3 cups (375g)
Baking Powder 1 teaspoon (6g)
Baking Soda (6g)
Salt ½ teaspoon (3g)
Raw Unsalted Almonds 1½ cups (225g) *See notes section!
For the Chocolate Mousse
Semi Sweet Vegan Chocolate 8ounces (226g)
Hot brewed coffee 2 Tablespoons (30ml)
Vanilla Extract 1 teaspoon (5ml)
Aquafaba *Chickpea Water from Canned Chickpeas ¼ cup (60ml)
Agar powder 1/8 teaspoon *see note above
Granulated Sugar 4 Tablespoons (50g)
Cream Of Tartar ¼ teaspoon
Coconut Milk Full Fat 1- 15ounce can (*refrigerated overnight)
For the Amaretto Chocolate Ganache
Semi Sweet Vegan Chocolate 4 ounces (113g)
Plant Milk * I prefer to use soy milk 6 Tablespoons (90ml)
Amaretto or more plant milk 2 Tablespoons
For the Simple Syrup
½ cup water
½ sugar
2 Tbs Amaretto *optional
Instructions
For the Cake Batter Be sure all your ingredients are at room temperature before beginning.
First prepare your cake pans with professional bakery pan grease and parchment paper lining.
Preheat the oven to 350°F
Combine the flax meal & hot water together in a small bowl and set aside to thicken for about 5 minutes.
Grind the almonds in a food processor or chop as fine as possible by hand with a knife, set aside
Combine the plant milk & yogurt with the vanilla and set aside.
Sift the flour with the salt, baking powder & baking soda
In a large mixing bowl, cream the vegan butter and sugar on medium to high speed until light & fluffy, this may take 3-5 minutes.
Scrape the bottom & sides of the bowl from time to time to ensure an even mix.
Add the flax paste to the creamed mixture and then whip on high for 20 seconds to emulsify
Turn the speed back down to low and add 1/3 of the sifted dry ingredients and mix just until it is combined
Add half of the plant milk/yogurt mixture and mix just until combined
Repeat with another 1/3 of the dry ingredients, the other half of the plant milk and then the last of the dry ingredients.
add the finely ground almonds and mix well
Portion the batter into your prepared pans and bake in the preheated 350°F oven for 25 minutes.
Turn the oven temperature down to 300° and bake for another 15-20 minutes or when a toothpick inserted into the center comes out clean, no raw cake batter.
*I turn the oven temp down half way through because this is a very thick cake layer I do not want it to over brown on the outside & edges while the inside batter cooks
Cool the cakes in the pans until they are cool to the touch, then flip them out onto a wire rack to cool the rest of the way
Be sure to remove the parchment paper lining.
Prepare the buttercream recipe of your choice and set it aside
Prepare the Chocolate Ganache by chopping the chocolate to same sized small pieces and place in a medium mixing bowl.
In a small sauce pot heat the plant milk to just below a boil then pour it over the chocolate in the bowl, add the Amaretto *if using and whisk everything smooth to melt.
Allow to set at room temperature *or speed it up in the refrigerator to make the truffles
The truffles are simply scoops of set ganache rolled into chopped almonds
Prepare the Chocolate Mousse
Combine the hot coffee and the agar powder and whisk smooth. Keep it warm or the agar will set and you will have to remelt.
Meanwhile open the can of coconut milk that has been refrigerated overnight and carefully scoop out the fat that is on top and place in a mixer with a whip attachment
Whip the coconut cream to soft peaks and reserve in the refrigerator
Melt the chocolate in a large bowl over a double boiler or in a microwave safe bowl
Add the hot brewed coffee with the agar and the vanilla extract to the melted chocolate all at once while whisking vigorously to incorporate well.
Cool the chocolate mixture to about 80°F or tepid to the touch or your whipped coconut cream will melt back to liquid.
Add the reserved whipped coconut cream and whisk smooth
Whip the aquafaba/agar with the cream of tartar to stiff peaks while adding the sugar very slowly
Take a small portion of the AF meringue and fold into the chocolate mixture to lighten.
Fold in the rest of the AF gently
At this point you can allow the mousse to set in the refrigerator to a scoop-able consistency to build the cake, or set the cake up in a ring mold and pour the freshly made mousse into the mold with the layers and allow everything to set together. *as you will see in the video how I did that
Once the mousse is set proceed to assemble and ice the cake as shown in the video tutorial
Notes
I used ground almonds for this cake recipe, but if you are using almond flour reduce the amount of all purpose flour in this recipe by 1/2 cup

Chocolate Mousse Cake must be kept refrigerated but can be kept at room temperature for an hour before serving.

Store for up to 1 week wrapped loosely to prevent drying