I like Bunny Butts and I cannot lie.
Seriously how cute is this cake!
This cake was originally supposed to be a simple showcase for my homemade Vegan Cadbury Eggs,
But I became obsessed with the little bunny butt sticking out
As he burrowed his way into my cake looking for more carrots!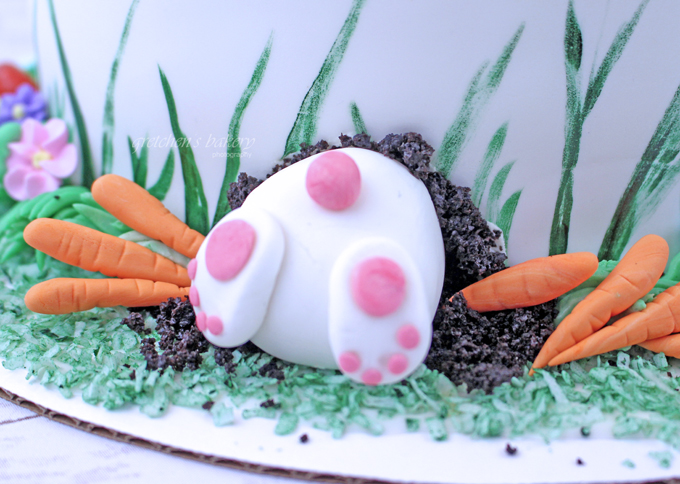 So while I am still showcasing my homemade Vegan Cadbury Eggs and white chocolate coconut nest on top
That bunny butt just won't quit!
All my favorite things adorn this cake for the ultimate in Easter Cakes!
Layers of Chocolate and Vanilla Cake, peanut butter buttercream & fudge swirl filling
This time fondant is the canvas to hand paint my spring grass and royal icing flowers.
Of course you can use any cake recipe and fillings you prefer
And if fondant is not your thing buttercream icing can surely be used instead.
The white chocolate nest & knock off Cadbury Creme Eggs  are optional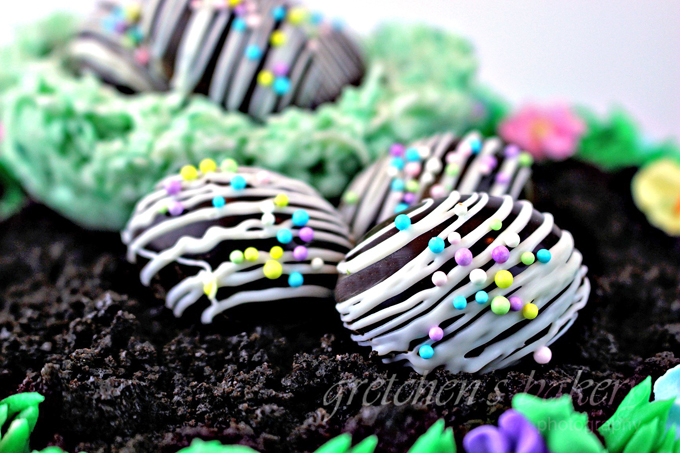 If you rather get ol' Bunny Butt front and center on top of that cake instead.
For the royal icing spring flowers I use :
Confectioner's Sugar 1½ cup (180ml)
Salt pinch
Vanilla Extract 1 teaspoon (5ml)
Aquafaba or Water 1 Tablespoon (15ml)
Color as needed
Mix everything together to a thick but pipe able paste then with a #129 Wilton Drop Flower tip press out onto parchment paper and let dry overnight
Then just peel them off the paper and add to your cake!
Royal Icing flowers will stay fresh & hard for up to 1 month in an airtight container at room temperature in a cool dry spot
To make this cake project easier you can and should break it up into several days of advanced prep work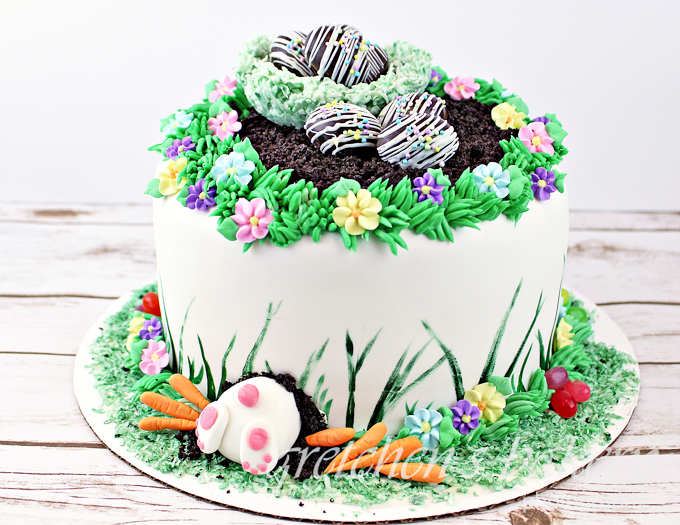 As I just mentioned, those royal icing flowers can be made weeks in advance; as well as the copy cat creme eggs
The bunny butt and carrots can be done well in advance as well
I almost always bake my cake layers up to two days ahead of time so they are nice and cold when I get to building the cake
Buttercream and fudge icing both can be made up to a week ahead of time
So as you can see this cake is a breeze to put together as long as all of your mise en place is ready to go!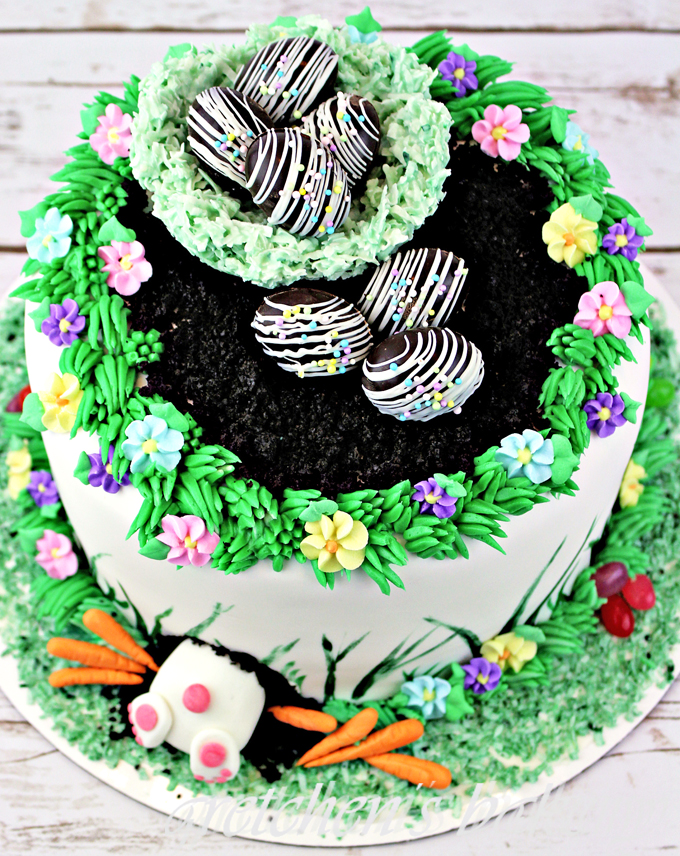 CLICK HERE TO WATCH THE FULL STEP BY STEP YOUTUBE TUTORIAL FOR HOW TO MAKE EVERYTHING ON THIS CAKE!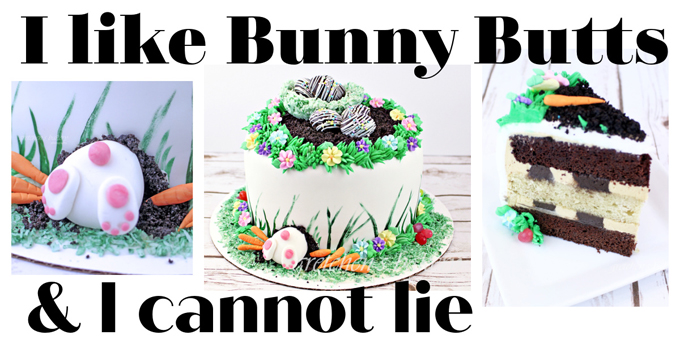 For more great Easter Cakes click the links below!
Chocolate Peanut Butter Speckle Cakes for Easter
Vegan Crepe Cake ~ Blue Butterfly Pea Flower
Bunny Butt Cake for Easter
I don't usually make 8" cake layers, but I wanted to get all my decor on this cake without it being too squished in. You can adjust the recipes to make whatever size you need to accommodate your Easter party!
1 recipe for 2 8" cake layers will make 1 layer 12" x 18" sheet cake or 3-7" cake layers
Instructions
Prepare all of your recipes in advance for the cake and fillings and decor.
When making the buttercream, divide it to make a smaller portion green for the decorations and the rest will get the peanut butter for the filling and crumb coating
To make the white chocolate coconut nest melt the vegan white chocolate then add the coconut and the food color, mix well, then press into a plastic wrap lined bowl to take shape making a well in the center to hold your Easter eggs
Build you cake as per the video instruction