What's better than a Milk Bar Cake? A Vegan Milk Bar Cake! That's what!
Apple Cider Donut Cake a Milk Bar Copy Cat!
If you don't know what a Milk Bar Cake is, It's a famous New York City bakery known for it's signature cake layers soaked with milk.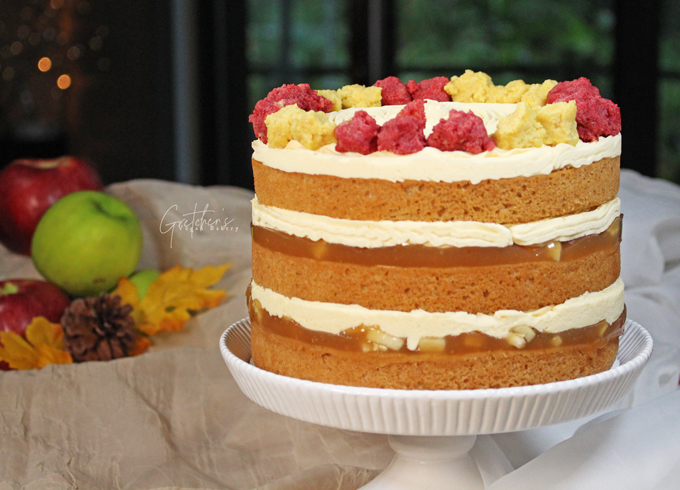 Since vegan cakes are already moist by nature we are going to forgo the "milk" soak
And let the apple cider custard filling and donut sugar icing do the talking!
Milk bar cakes are also known for their "no icing" look!
Quite possibly the original naked cake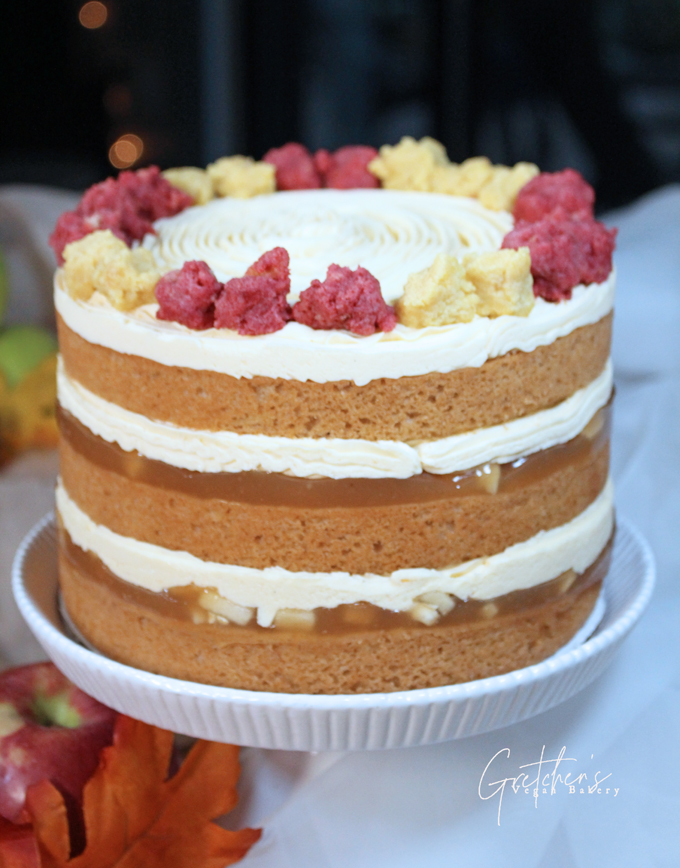 My favorite part of this entire cake is the Milk Bar Copy Cat Apple Cider Cake crumble in fall colors!
It's essentially just a cake pop without the stick! But don't tell anyone our secrets!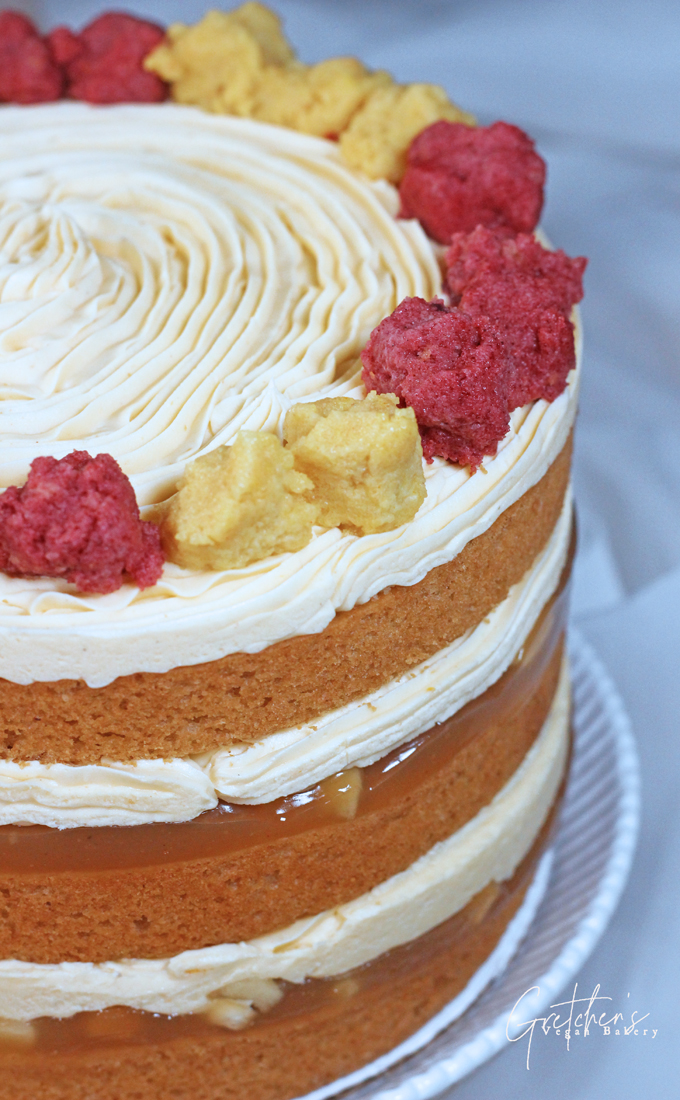 CLICK HERE FOR THE FULL YOUTUBE VIDEO TUTORIAL FOR HOW TO MAKE THIS CAKE!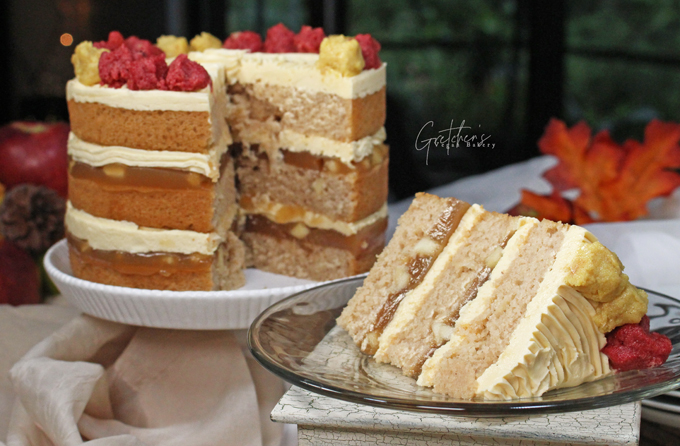 This website may contain links as part of the Amazon Affiliate program, which means when you click a link and make a purchase through my website I may earn a small commission at no additional cost to you
Notes for Success & Substitutions:
The recipe for the apple cider cake below makes 4–7″ layers. (*But I only used 3 of the layers for this cake)
You could alternatively bake 6 cupcakes in addition to the 3 (rather than 4) layers needed for this cake
And if you only have 8″ pans just divide the batter between 3-8″ pans for a larger cake instead.
Rarely I will ask you to purchase specific "tools" to make cakes and for a cake like this one the acetate cake strips really are necessary
For the cake ring I will easily use a springform pan with the bottom removed rather than buy an expensive stainless steel cake ring
The cake recipe below uses a combination of cake flour and all purpose flour
Many of you cannot get cake flour so it is fine to use all ~ all purpose flour in the total amount of 3½ cups (435g)
Cornstarch is a very difficult ingredient to measure consistently with a volume/spoons measure
So while I list both measures below I cannot stress enough how the grams measure with a scale is going to give you the best results.
Many times people have complained that their custard is like rubber and they don't know why!
I have used both vegetable oil and melted vegan butter for this recipe and I do prefer the vegetable oil this time
It produces a lighter cake texture that stays soft even when refrigerated
The egg replacer I am using here is Bob's Red mill *not sponsored
Use another proprietary blend that is similar to Bob's brand if you cannot get that specific brand.
Apple sauce is listed as an ingredient in my cake recipe and this is a good substitution for some of the oil
If you do not have applesauce or don't want to buy it, just add more oil
I use Butter Vanilla Extract in my buttercream recipes!
While it is not necessary I do love the flavor it imparts for a true "butter"cream taste!
Olive Nation makes a vegan one and they offer 20% off your order when you buy ANYTHING through this link to their website with coupon code GVB20 at checkout!

Yield: serves 8-10ppl
Apple Cider Donut Cake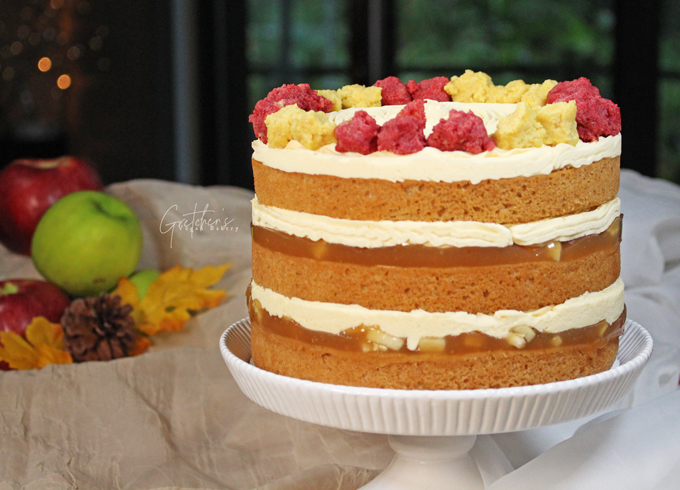 Total Time
3 hours
25 minutes
Ingredients
For the Apple Cider Cake:
Plant Milk ¾ cup (188ml)
Apple Cider 1¼ cup (296ml)
Vegetable Oil OR melted vegan butter 14 Tablespoons (196ml) * see notes above
Apple sauce 4 Tablespoons (60ml) *see notes
Vanilla Extract 2 teaspoons (10ml)
Light Brown Sugar 1 cup (200g)
Salt 1 teaspoon
Egg Replacer *I'm using Bob's Red Mill 3 teaspoons (6g)
Baking Powder 2 Tablespoons (28g)
Cinnamon 1 teaspoon (2g)
Cake Flour 2 cups (240g) *see notes above
All Purpose Flour 1¾ cup (218g)
1 Small Granny Smith apple shredded *approximately ¾ cup
For the Apple Cider Custard:
Apple Cider 1½ cups (355ml)
Light Brown Sugar 4 Tablespoons (50g)
Cornstarch 4 Tablespoons (32g) *see notes above
Cinnamon ¼ teaspoon
Small Diced Apples ¾ cup
For the Donut Sugar Cream Filling:
Vegan Butter 1½ Cups (3 sticks) (336g)
Confectioners Sugar 3 cups (240g)
Cinnamon ½ teaspoon (1g)
Vanilla Extract 1 teaspoon (5ml)
Butter Extract 1 teaspoon (5ml)
Salt ¼ teaspoon
For the Donut Crumble Topping: *optional
Cake trimmings from the above recipe apple cider cake *see video tutorial, Divided in half
Beet Root Powder ½ teaspoon
Turmeric ¼ teaspoon
4Tablespoons donut sugar filling from above recipe
Instructions
Preheat your oven to 350°F
Grease & parchment line your cake pans
For the Apple Cider Cake Layers combine all of the ingredients (except for the shredded apple) together in a food processor and whiz smooth, process for about 30 seconds to smooth.
Fold in the shredded apples
Alternatively you can mix this entire re3cipe by hand by combining all of the liquid ingredients (including the brown sugar) together in a large mixing bowl then add the sifted dry ingredients and whisk to a smooth batter
Divide the batter evenly amongst your cake pans and bake immediately in your preheated oven for approximately 25-30 minutes or when a toothpick inserted into the center comes out clean
While the cakes are baking prepare the donut sugar cream filling, this is essentially my buttercream recipe with cinnamon.
Whip the slightly softened vegan butter & salt with an electric mixer with the paddle attachment until light & fluffy.
Add the cinnamon & sifted confectioners sugar whip for about 5 minutes to fully incorporate, be sure to stop the mixer & scrape the bottom & sides of the bowl often
Add the extracts and whip to incorporate.
Reserve the buttercream aside while you prepare the apple cider custard
*Be Sure Not to Prepare the Custard Until the Cakes are Baked & Fully cooled!*
Set up your cake layer into the ring molds with the acetate strips as shown in the video tutorial
Now prepare the custard by combining the light brown sugar with the cornstarch & cinnamon in a small bowl and whisk to distribute evenly
In a medium sauce pot combine that cornstarch/sugar/ cinnamon mixture with the apple cider and bring to a boil whisking constantly
Remove from the heat & add the vanilla extract and then the small diced apples.
Pour the apple cider custard over the prepared cake layers in your cake rings and then refrigerate to set
Once the custard is set & COLD you can add the donut sugar cream layer to each and then carefully build the cake as shown in the video.
Refrigerate until everything is firmly set before unmolding & removing the acetate cake strip
Prepare the donut cake crumble by combining the cake trimmings with the reserved donut sugar cream & and mix to form a cake-pop consistency.
Divide this mixture in half and add the beet root powder to one half for the red color and a pinch of turmeric to the other for the yellow color
Form little balls of cake crumble to decorate the top
Notes
Copy Cat Milk Bar Apple Cider Cake can be kept at room temperature for up to 2 hours, but for best results keep refrigerated.

Will stay fresh wrapped to prevent drying for up to 1 week

Finished Cake can be frozen wrapped well for up to 2 months *I do not like to freeze custard cakes as the custard may separate & become slightly watery upon thawing~ so I prefer to freeze only the layers in needed