This recipe contains a sponsored ingredient!
Check out Silda's Jam for the best refined sugar free jam around!
Let's have some delicious fun today! Mummy Cakes filled with Jammy Guts
Once again I have teamed up with Silda's Jam for a healthier lower sugar option for your treats!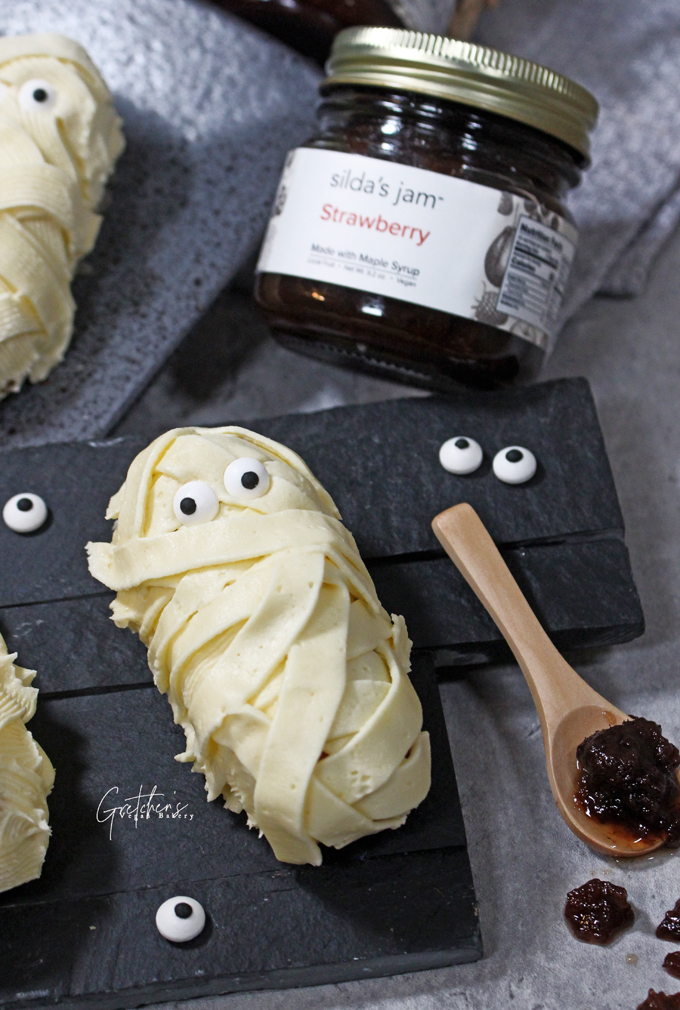 Mummy Cakes are stuffed with the best bloody strawberry jam there is!
Silda's Jams are made with maple syrup not refined white sugar!
So rather than a mouthful of sugar you are getting a burst of fresh fruit in every bite!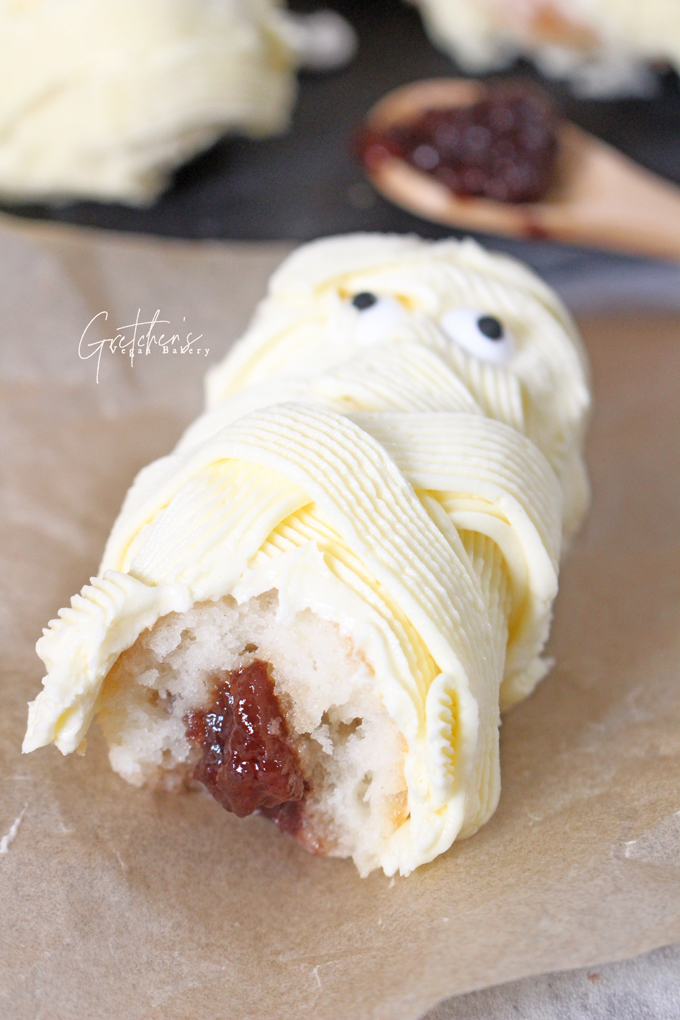 I've also implemented my lower sugar reduced oil cake recipe for the sponge cake to go along with the slightly healthier theme of this dessert!
But you can of course take the easiest route and grab a Duncan Hines White Box Cake!
Duncan Hines Cake mixes are vegan and I have used their White Cake Box Mix by implementing my "Box Cake Hack" method following the same revisions as listed for the Yellow Box Cake on that recipe post
Reduced sugar buttercream is the icing on these mummy cakes for a really delicious treat that everyone will love!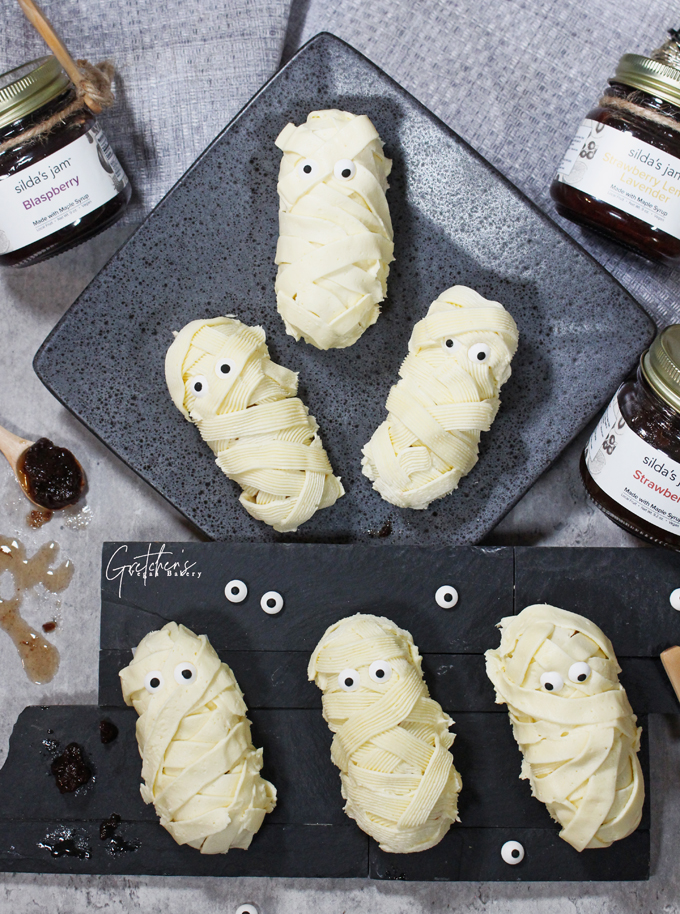 Make your own royal icing eyeballs by following my vegan sprinkles recipe tutorial here!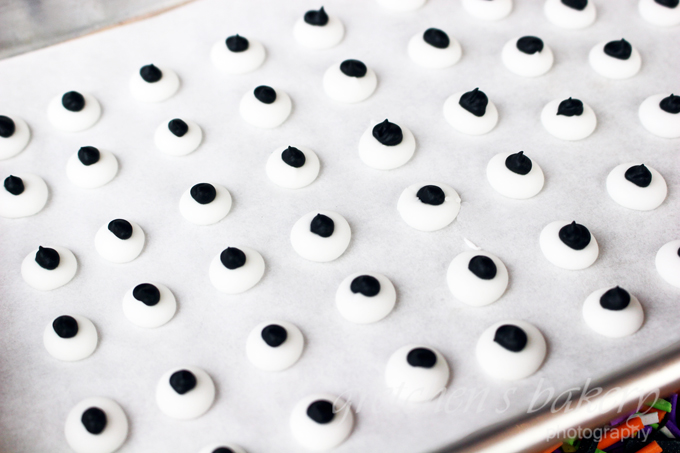 WATCH THE YOUTUBE VIDEO FOR HOW TO MAKE MUMMY CAKES WITH JAMMY GUTS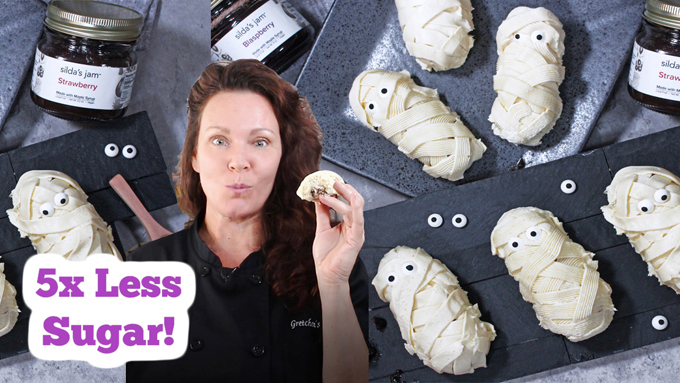 This website may contain links as part of the Amazon Affiliate program, which means when you click a link and make a purchase through my website I may earn a small commission at no additional cost to you
Notes for Success:
Using monkfruit sugar as a one to one sugar alternative is my choice for baking cakes.
Check out my Sugar Free Baking article with video comparison here
Listed below in the ingredient section I have substituted half of the granulated sugar for Monk Fruit Sugar but you can use all granulated sugar if you prefer
Additionally I have replaced half of the original oil amount with applesauce but again you can use all oil or vegan butter (melted) if you prefer in the total amount of 18 Tablespoons
Tools Used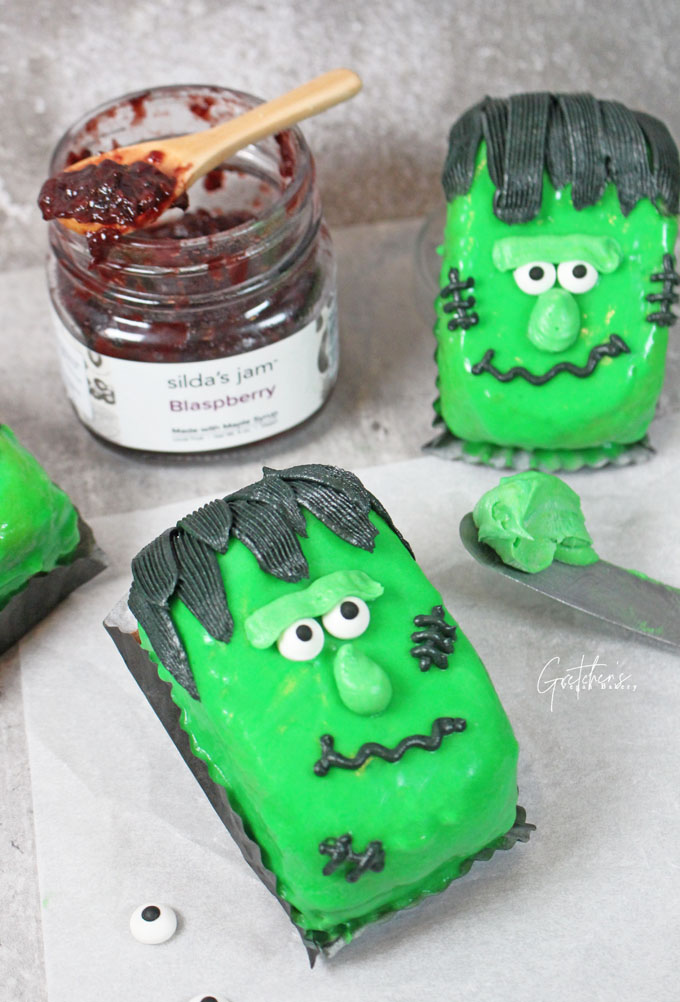 Ingredients
For the Lower Sugar White Cake
All Purpose Flour 3 ¾ cup (469g)
Egg Replacer 1½ teaspoons *I am using Bob's Red Mill
Granulated Sugar 10 Tablespoons (125g)
Monkfruit Sugar 10 Tablespoons (125g)
Baking Powder 3 teaspoons
Baking Soda 2 teaspoons
Salt 1½ teaspoons
Plant Milk 1¾ cup (414ml)
Vegetable Oil 9 Tablespoons (135ml)
Applesauce ½ cup (113g)
Vanilla Extract 2 teaspoons (10ml)
OR store bought candy eyeballs
Instructions
If you are making your own candy eyeballs for the decor, you will have to do this one day in advance. See recipe instructions for how to make them
For the mummy cakes preheat the oven to 350°F and lightly spray your Twinkie Mold with pan spray
Place all of the dry cake ingredients including the sugar(s) into a large mixing bowl and whisk to distribute evenly
Add all the wet ingredients including the applesauce into the dry ingredients and whisk smooth. Continue whisking for about 40 strokes to develop the batter
Scoop batter with a 2 ounce cookie scoop evenly between the greased cavities of the Twinkie mold
Bake in a preheated oven at 350°F for 18-20min or when a toothpick inserted into the center comes out clean.
Cool the cakes in the pans until you can safely flip them onto a cooling rack to cool to cold
Meanwhile prepare the lower sugar buttercream recipe according to the instruction *& video on that recipe post
Watch the video tutorial for how to fill the cakes with jam & decorate the mummy cakes
Notes
Mummy Cakes can be kept at room temperature for up to 1 one, but they are easier to handle when they are in the refrigerator
They will keep fresh in the refrigerator for up to 1 week