Fall weather brings about all the pumpkin things!
Including all the jokes about Pumpkin Spice Everything!
Well this Pumpkin Mousse Latte is no joke!
Now you can eat your favorite drink for dessert!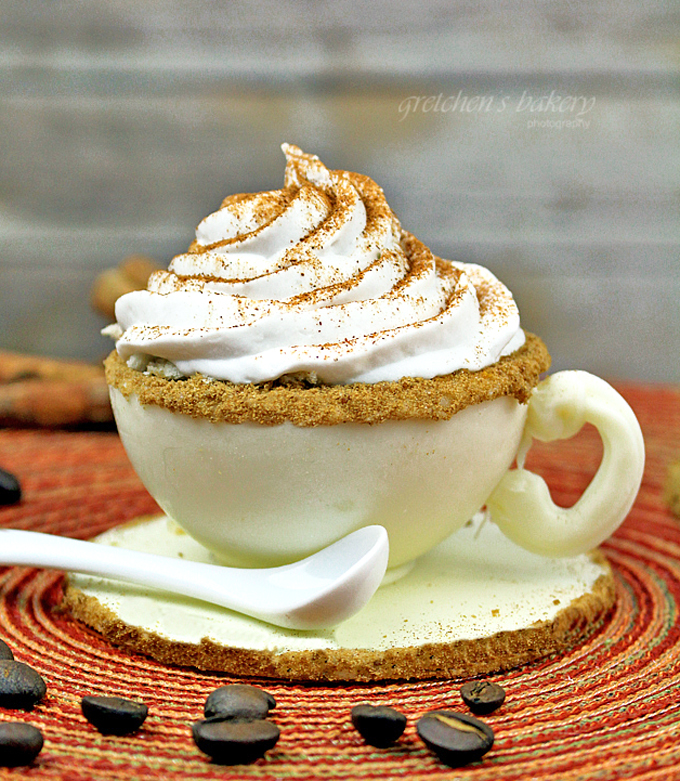 Whether you love pumpkin everything season or you hate it
I have a feeling you are going to LOVE this whimsical dessert!
Pumpkin Mousse, white cake and coffee syrup filled to the brim in edible white chocolate coffee cups!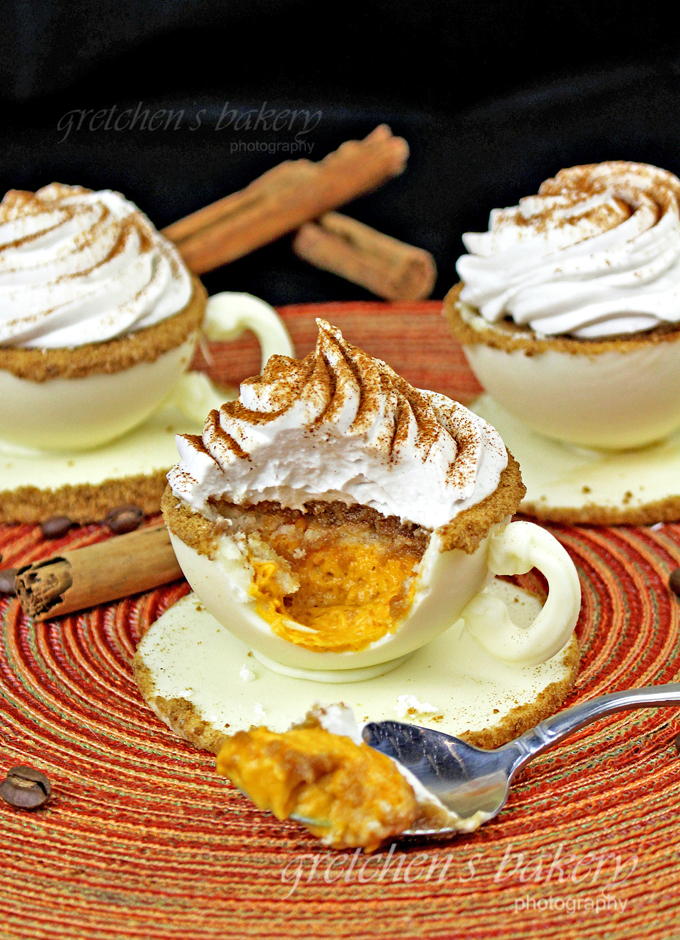 The pumpkin mousse recipe I've used here is a cashew base with cocoa butter or white chocolate and aquafaba all acting together as perfect stabilizers
I know some of you have trouble getting these certain above named ingredients especially the vegan white chocolate
You can follow my recipe for No Bake Pumpkin Cheesecake and or simply use more cashews in the place of the white chocolate I have listed in both recipes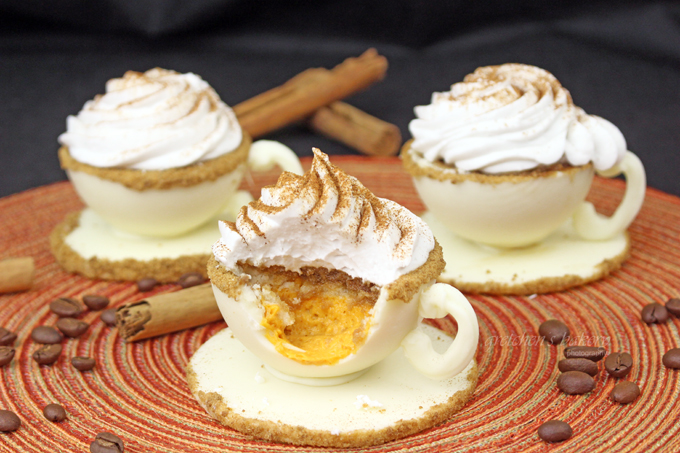 Additionally I have an updated version of pumpkin mousse that I made with a slightly easier method
Notes for Success:
For the edible cups you will need some special tools and of course vegan white chocolate.
I use Kind David Brand White Chocolate as it is the only one I can find easily on Amazon and I like the taste of it too.
I am using my Sphere FlexiMold to make the cups and it is quite pricey for the Flex Mold Brand, but you can find a comparable one here at a cheaper cost.
Watch the video tutorial for how to assemble this dessert and believe me, it is way easier than it looks!
The recipe below is listed for 8 individual cups filled with the mousse
But the recipe is actually going to give you slightly more mousse since the cups can only really take about 1/4 cup per each.
So do what you like with the excess mousse
Either make more cups (probably closer to 12 servings  would use it all up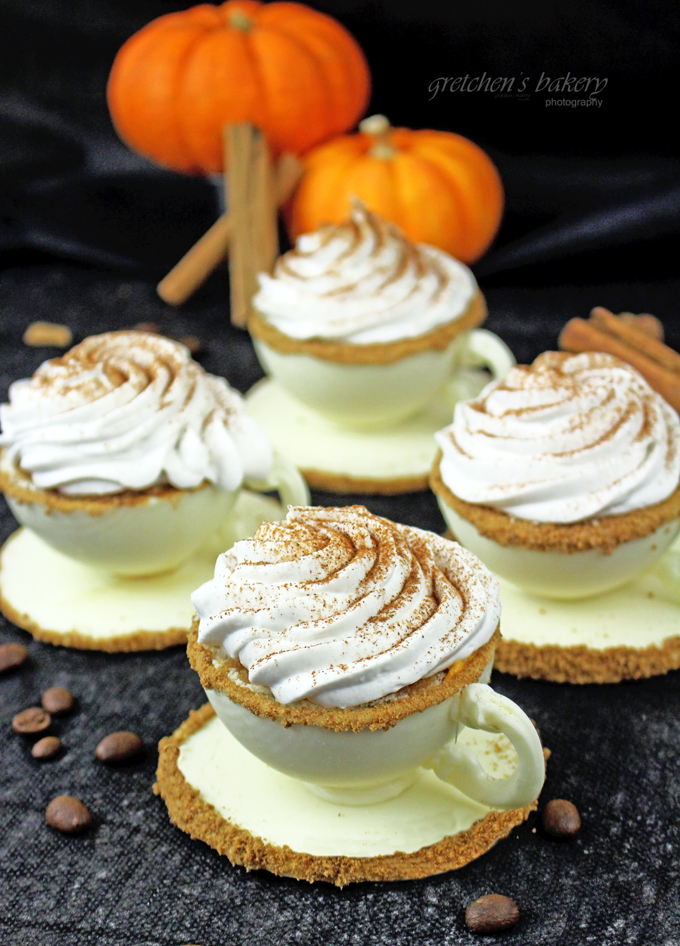 CLICK HERE FOR THE FULL YOUTUBE VIDEO TUTORIAL FOR HOW TO MAKE THESE!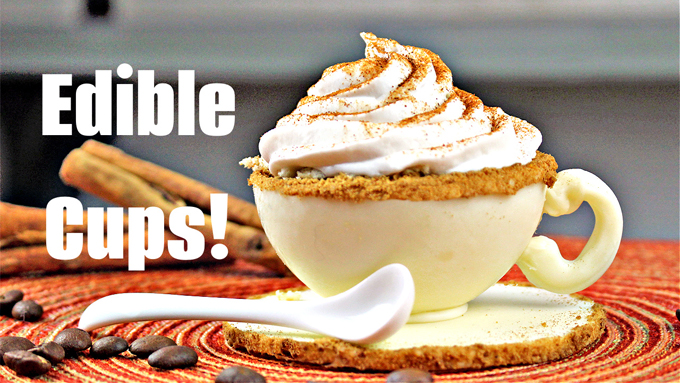 For more of the very best vegan pumpkin recipes click the links below!
Pumpkin Mousse Latte
Ingredients
Vegan White Chocolate 1lb (454g)
1 RecipePumpkin Mousse
For the Coffee Simple Syrup:
½ cup granulated sugar
½ cup water OR strong brewed coffee
1 Tablespoon instant coffee granules **omit if using coffee in place of water listed above
½ Recipe Vegan Whipped Cream OR 1 pint store bought variety
Crushed gingersnap cookies for garnish optional approx 1 cup
Instructions
First make your white chocolate coffee cups according to the video tutorial, these can be made days or weeks in advance & stored in an airtight, cool dry place until needed.
Prepare the white cake (*or any cake recipe of your choice) and bake the batter in a sheet pan
While the cake is baking, combine the water (or brewed coffee) with the sugar in a small sauce pot and bring to a boil.
Boil for 1 minute and then remove from the heat, add the coffee granules, stir to dissove, then reserve until later
Once the cake is baked & cooled you will cut out discs the same diameter as the coffee cup rim & trim each disc to approximately ¼" thickness
Prepare the pumpkin mousse according to the instructions on that post, but be sure to have your cups ready since you will have to pour the mousse into each cup so it can set inside the cup.
Divide the mousse between all of your coffee cups and then place a white cake disc on top of each one, press it into the mousse slightly then brush each cake disc generously with the coffee simple syrup
You will use approximately 2Tbs of syrup each
Next prepare your vegan whipped cream and pipe a swirl on top of each mousse cup
Sprinkle with cinnamon or more cake crumbs