I don't care what anyone says
The easiest recipes to make are always cobblers
If you have a bunch of fruit and some basic pantry items you are practically done!
Today this Apple Cobbler sets the stage for autumn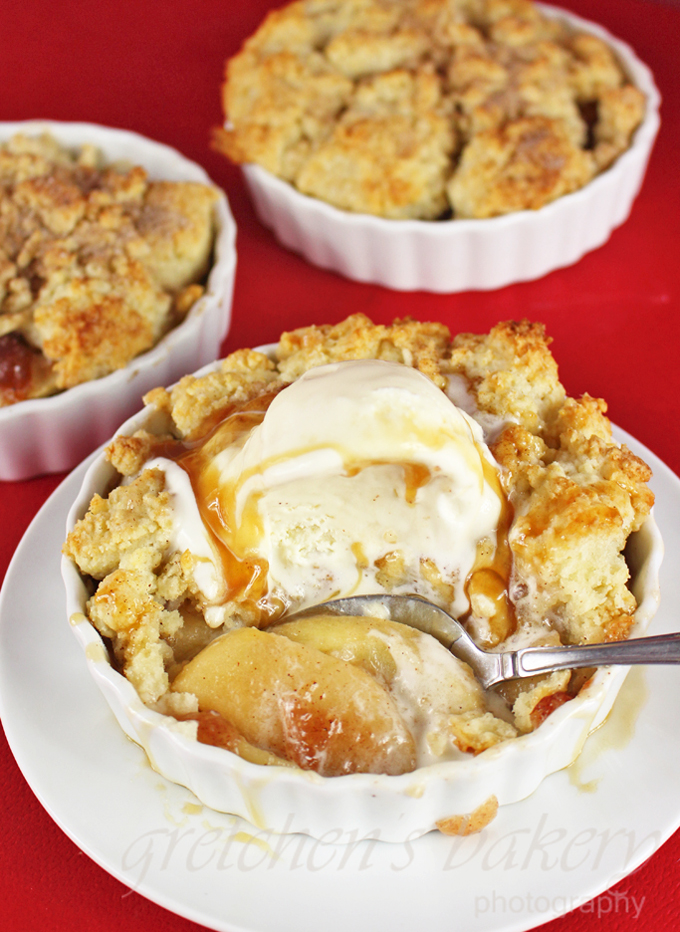 With luscious cinnamon apples baked to a sweet syrup
Topped with flaky, buttery cobbler topping!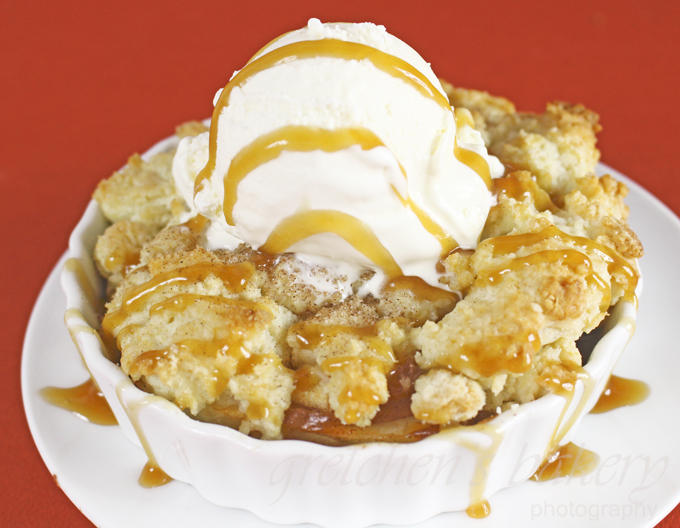 A hefty scoop of your favorite non dairy ice cream tops that warm cobbler!
Caramel drizzle is the perfect pairing for an Apple Cobbler but this part is optional.
I've got several options for vegan caramel recipes that I have worked on over the years
Be sure to check out all of them to see which one suits you best!
Cobbler recipes are so versatile you can adjust the fruits and the sweeteners with ease.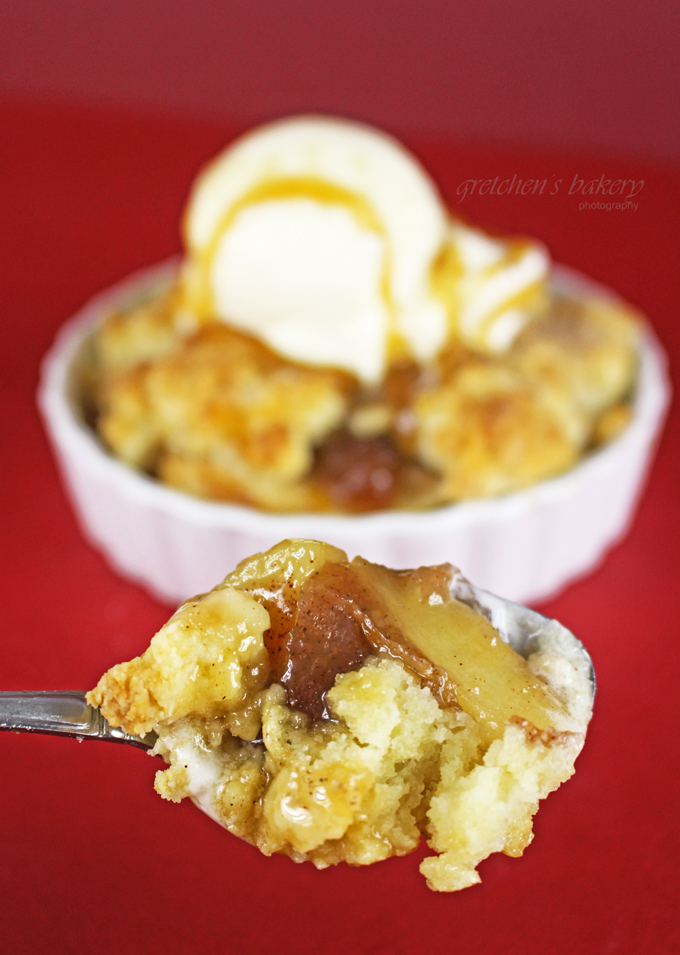 Add pears and berries to this Apple Cobbler recipe without a second thought
Or switch the entire theme completely as I did here for this Blueberry Peach Cobbler!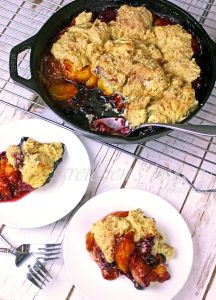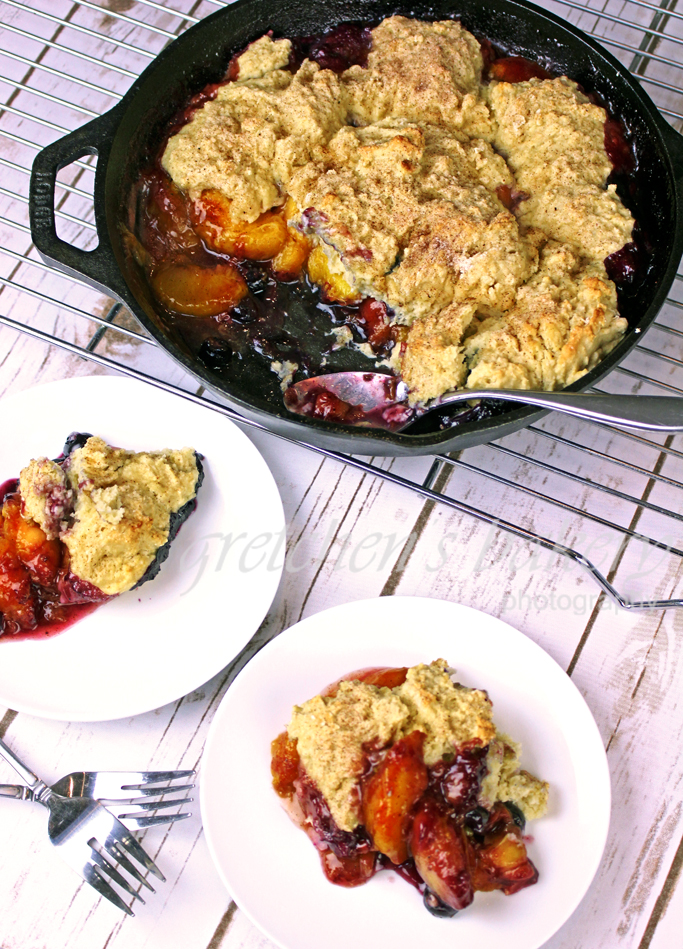 Quite honestly you really don't have to follow a recipe for the fruit filling
It's basically whatever fruits you love combined with the right amount of sugar based on your fruit of choice
You will see in the recipe below that I use cornstarch as a thickener for that perfect syrupy consistency
But this is not one hundred percent necessary and you could absolutely leave it out, or use a bit of flour for a thickener.
The only place you will have to follow the recipe to exact is for the cobbler topping.
There is some debate on which cobbler topping is best
I have always been partial to a biscuit style topping rather than a poured cake style topping
If you have never tried the biscuit style, I urge you to try this recipe!
I have a feeling you will never go back!
CLICK HERE FOR THE FULL YOUTUBE VIDEO TUTORIAL FOR HOW TO MAKE COBBLER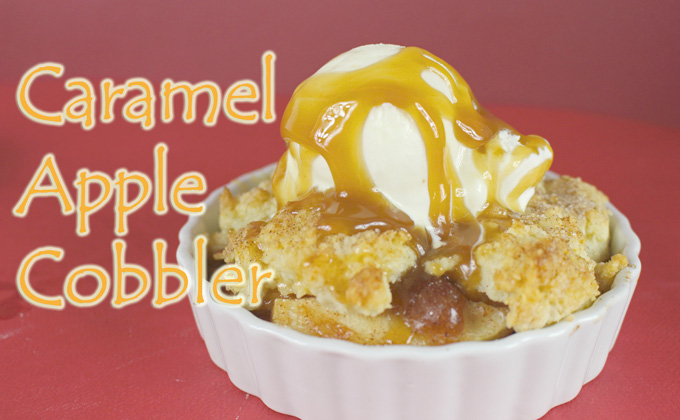 Notes for Success:
When making a biscuit or cobbler topping, the ingredients must be cold!
A delicate hand is the key to a flaky, light biscuit so be sure to mix just until combined, you are not making bread!
I usually put the vegan butter in the freezer while I gather all my other ingredients this way it is super cold when I grate it into the flour mixture
Using a box grater for the butter is also a professional tip to getting the butter worked into the dough with as little hand pressure as possible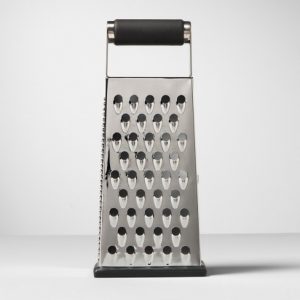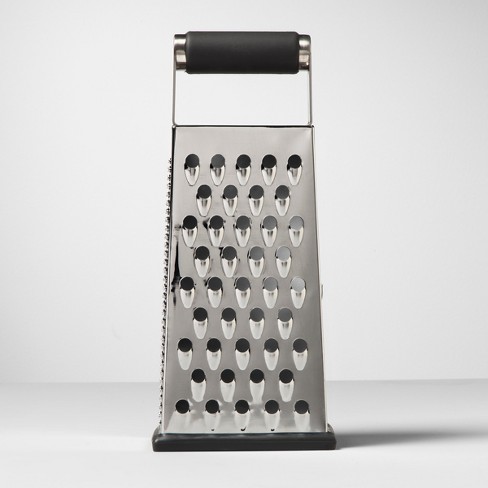 For more recipes like this one, click the links below!
Blueberry Peach Cobbler Recipe
Apple Cobbler
I am using individual ramekins for my cobblers today, but you can equally bake the entire recipe in a casserole dish or cast iron pan
Ingredients
For the Fruit Filling:
Baking Apples *I use granny smith 6-8 large for about 8 cups of peeled sliced apples
Granulated or Light Brown Sugar 1 Tablespoon (14g)
Cornstarch 1 Tablespoon (8g)
Ground Cinnamon ¼ teaspoon
Ground Nutmeg ¼ teaspoon
Ground Ginger ⅛ teaspoon
Lemon zest from 1 small lemon approx 1 teaspoon
Apple Juice ⅔ cup (157ml)
For the Cobbler Topping:
All Purpose Flour 1¾ cup (218g)
Granulated Sugar 2 Tablespoons (28g)
Salt ½ teaspoon
Baking Powder 2 teaspoons
Vegan Butter COLD 2 Tablespoons
Plant Milk COLD ¾ cup (177ml) * I use soy milk
Instructions
Combine all the ingredients for the fruit filling together in a large mixing bowl, toss well to combine evenly
Divide amongst your ramekins or casserole dish that has been lightly greased
In another large bowl combine the flour, salt, baking powder and sugar together and make sure it is all blended well.
Add the cold grated or small diced butter to the flour mixture and cut in with a pastry cutter, fork or by using a box grater to incorporate as best as possible without melting the butter with the heat from your hands.
Once the flour mixture resembles course meal and the butter is distributed evenly pour in the cold plant milk and toss gently to absorb the flour.
You are not making bread so try not to knead or overwork the dough
Place large tablespoon sized pieces of the cobbler dough over the fruit filling in the dish and then sprinkle with optional cinnamon sugar
Bake in a preheated 375°F oven for approximately 25minutes then turn the oven temperature down to 325°F for another 10-15minutes (the total bake time is usually around 35-45 minutes)
Or until the fruit is bubbling and the cobbler topping is not raw (pick up a small piece of the dough to make sure it is not raw & doughy)
Serve hot with your favorite non dairy ice cream or whipped coconut cream
Notes
Apple Cobbler is best served warm straight out of the oven, but can be made ahead of time and warmed before each serving

Of course it can be eaten cold or at room temperature, but it is meant to be served hot for best taste.

Store leftover Apple Cobbler at room temperature loosely wrapped for up to 2 days, but for longer storage and to prevent molding~ keep refrigerated for up to 1 week.