Did you know that you can turn just about any layer cake recipe into cupcakes?
Some people just don't need a giant layer cake
So turning your favorite cake recipes into cupcakes are the way to go!
Not to mention they are easier to share when they are little individual cuppys!
Bananas Foster Cupcakes are the star of the show today
Super moist banana cake recipe, caramelized bananas and rum caramel buttercream!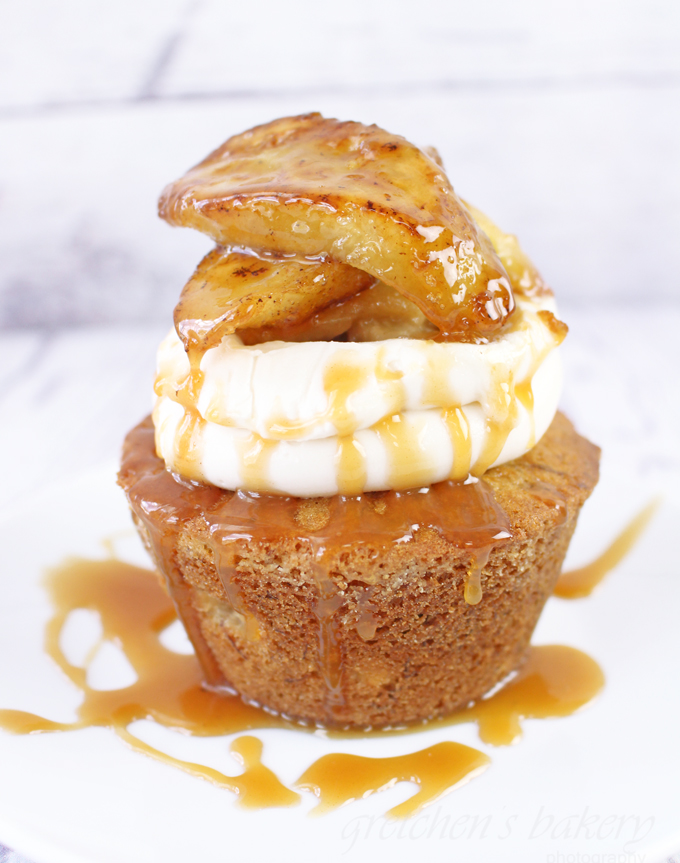 Of course for those who are alcohol free you can leave out the rum altogether with no changes to any of the recipes.
As with any epic creation like this one though
You will need to prepare several recipes in advance before getting to the final result
This is the Building on Recipes theory which is what made my bakery so successful!
Taking tried and true recipes and spinning them off into hundreds of new creations!

My recipe for banana cake is a straight creaming method with banana added at the end
Fluffy and moist this cake recipe is going to be your new favorite!
If you haven't seen the original creation of the Bananas Foster Layer Cake
You will definitely want to go check that out!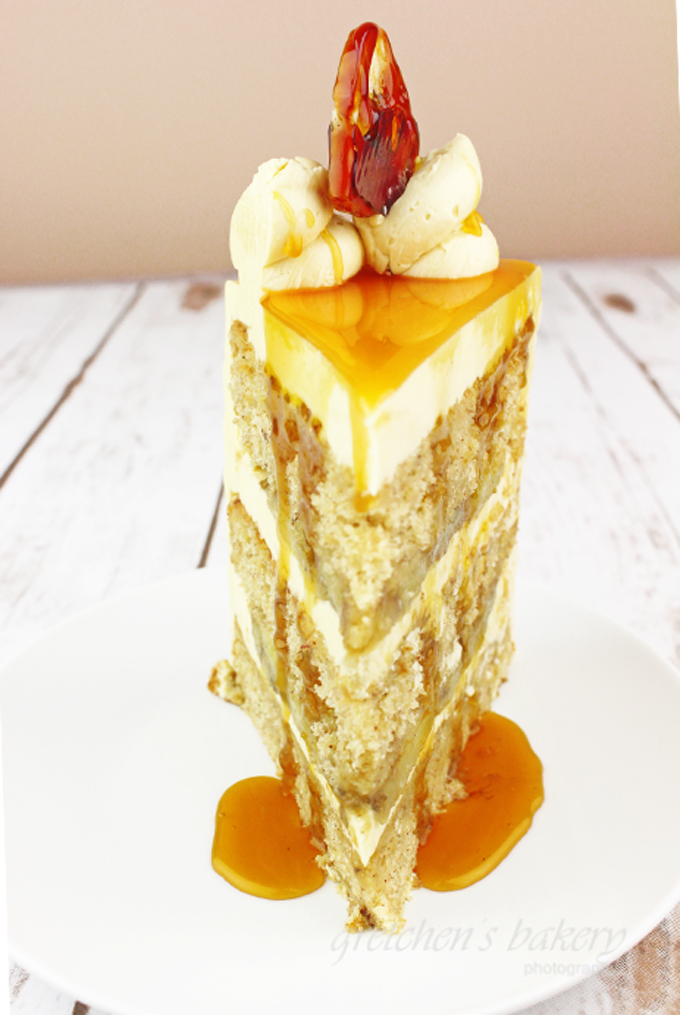 But if layer cakes and cupcakes are too much work for you today
Sheet cakes are also an option with this recipe!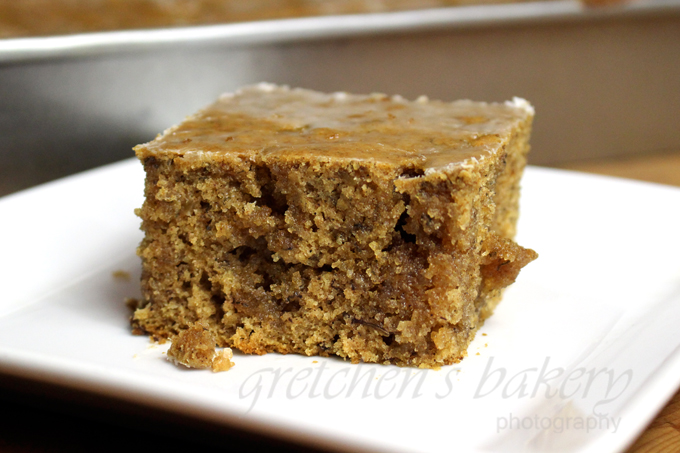 But I digress!
We all know why we are here, and it is for the  Complete Bananas Foster experience!
Notes for Success:
You will notice in this recipe I am using Vegan Egg by Follow Your Heart for the egg replacer
*not sponsored
When I developed this recipe I was using many of the egg replacers available on the market and realize that is not the best practice since not everyone can get the same things.
This recipe will still work great by replacing the Follow Your Heart Vegan Egg with an equal amount of flax meal and the same amount of water as listed below but the water must be hot to reconsitute the flax.
Or replace with whatever egg replacer you prefer
I am baking these cupcakes into Jumbo Muffin Pans today but you can use standard sized pans as well for double the yield.
I am also not using paper liners so if you decide to do the same
Be sure to grease them well with my Professional bakery Pan Grease recipe
CLICK HERE FOR THE FULL YOUTUBE VIDEO TUTORIAL FOR HOW TO MAKE THESE CUPCAKES!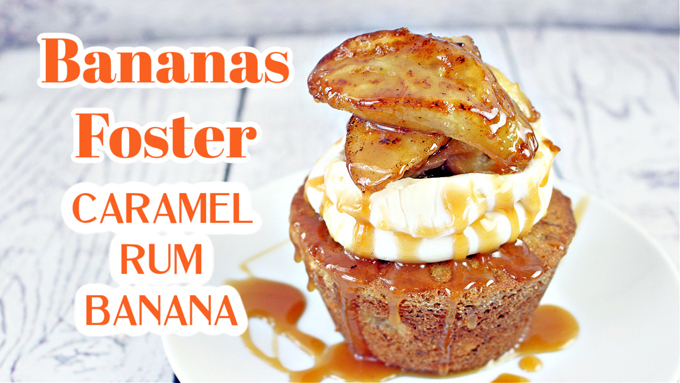 For more awesome banana recipes click the links below!
Peanut Butter Banana Whoopie Pies
Salted Peanut Butter Banana Chocolate Chunk Cookies

Bananas Foster Cupcake
Grease generously
your Jumbo Muffin Tins
with professional bakery pan grease *I did not use paper liners, however you can if you prefer
Preheat the oven to 350°F
I understand not everyone can get the same Egg Replacers,
specifically the FYH Vegan Egg
. ** see more notes above the recipe in the text article
In which case you can use 4 Tbs Flax Meal and same amount of water - but the water must be hot to reconstitute the flax
Serves:
10 jumbo cupcakes
Ingredients
For the Banana Cake Layers:
Vegan Butter 12 Tablespoons (170g)
Granulated Sugar 1¼ cup (250g)
Follow Your Heart Vegan Egg 4 Tablespoons **SEE NOTES IN TEXT ABOVE THIS RECIPE
Cold Water ¾ cup (177ml) **SEE NOTES ABOVE
Vanilla Extract 1 teaspoon (5ml)
Banana Puree 1 cup -from 2 medium bananas- approx (300g)
All Purpose Flour 2 cups (250g)
Baking Powder 1½ teaspoons
Salt ½ teaspoon
Ground Cinnamon 1 teaspoon
Ground Cardamon ½ teaspoon
For Carmel Banana Dip and Caramel Drip Sauce:
Granulated Sugar 1½ cup (300g)
Lemon Juice approx 2 teaspoons (10ml)
Vegan Butter 1 Tablespoon (14g)
Plant Milk at room temperature ¼ cup (60ml) * i use soy milk
For the Caramelized Banana Filling:
2 Medium Bananas
Vegan Butter 2 Tablespoons (28g)
Light Brown Sugar 2 Tablespoons (28g)
Rum *optional 2 Tablespoons (30ml)
For the Rum - Caramel Buttercream:
1 Recipe for your favorite buttercream* I am using Aquafaba Swiss Meringue Butttercream today
½ Cup COLD Caramel Sauce reserved from above recipe
Rum Extract 2 teaspoons (10ml)
Instructions
For the Cake:
Combine the FYH Vegan Egg with the cold water and whisk smooth, add the vanilla extract
Cream the vegan butter with the sugar on medium to high speed until light & fluffy, about 5 minutes.
Meanwhile sift the flour with the baking powder, spices and salt
Add the vegan egg mixture to the creamed mixture and mix smooth
Add the sifted flour mixture while mixing on low speed until combined then add the banana puree and mix smooth
Divide the batter evenly in the pans and bake in a preheated 350°F oven for 30-35 minutes or until they are springy to the touch when you gently press the centers.
Cool completely while you prepare the caramel dip for the bananas and then the caramel drip sauce
For the Caramel Dip & Drip Sauce:
In a medium heavy bottom sauce pot cook the sugar with the lemon juice stirring to help dissolve the sugar but then stop stirring once it starts to boil, place a lid over top just to create steam and help any sugar crystals dissolve.
Once the caramel starts to turn amber, watch it closely as it can go from light amber to burnt in an instant!
Turn off th4e heat and then add the vegan butter and the room temperature plant milk and stir gently with a wooden spoon to dissolve the caramel.
Cool completely before using in the buttercream recipe as follows (and the remaining will be the drip for the cupcakes)
Next prepare the buttercream recipe (see video and recipe on Aquafaba Swiss Buttercream recipe post)
Add the last stage of mixing add in ½ cup of the reserved cooled caramel drip sauce from above recipe and then the rum extract
For the Caramelized Banana filling:
Melt the vegan butter with 1 Tablespoon of the brown sugar in a heavy bottom saute pan
Add the sliced bananas and fry until they are browned and then flip them over to cook the other side, sprinkle the other 1 Tbs brown sugar over top and cook until starting to caramelize.
Deglaze the pan with 2 Tbs rum *optional
Transfer to a tray to cool
Now you can assemble the cupcakes as shown in the video tutorial.