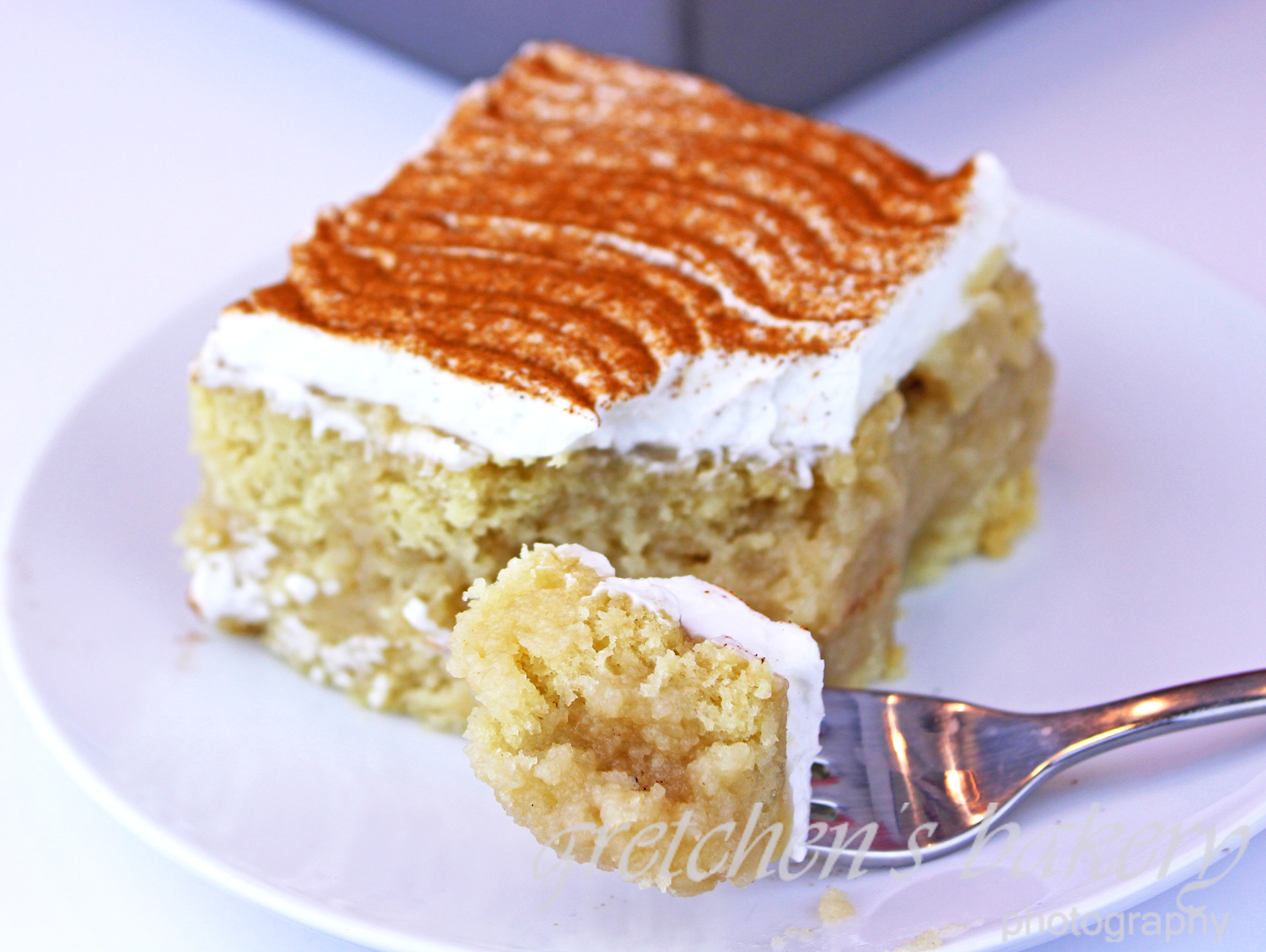 Yes it's true, the Tres Leches cake has been veganized!
How can this be possible you ask?
Easy! With coconut milk, almond milk and coconut cream!
Three milks infused into a fabulous vanilla cake laced with a pinch of nutmeg and cinnamon too!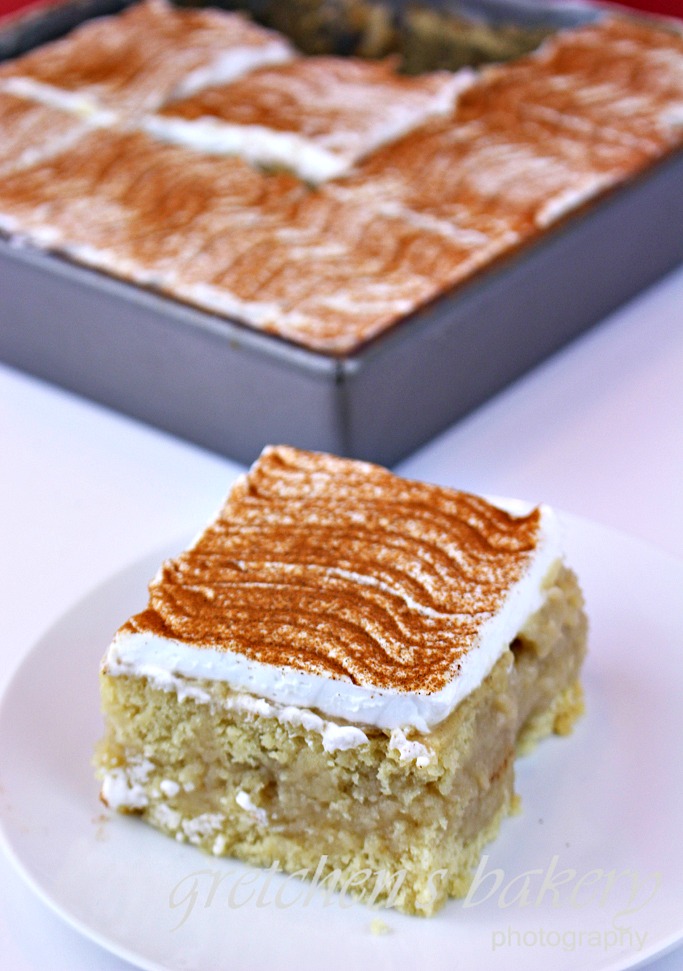 This simple little cake is full of complex flavors you won't believe just how easy it is!
I've always made Tres Leches as a casserole style dessert, but this cake can hold up to layering too!
For me this cake is best served super cold and a day after it's been prepared to let all the flavors meld together.
So if you are someone who loves (loved) cake dunked in milk, this Vegan Tres Leches Cake is for you!
You can have your cake and drink it too!
Tres leches is typically served casserole style, so I just serve it right out of the cake pan.
For a nicer presentation you may want to opt for a glass baking dish instead.
Of course many people will make this cake into cake layers for layering into a fully iced cake so it is your option what you want to bake it into.
Just be sure not to use parchment paper in the bottom of your pans (or if you do, remove it before pouring the milk mixture!)
Vegan Tres Leches Cake
I go in depth about this sponge cake in my course
Vegan Baking Mastery
but basically
you must note:
Due to the added baking powder in the homemade egg replacer I made out of cornstarch, oil, water and baking powder in combination with using canned aquafaba will impart a considerable amount of salt into the recipe. Which is why there is no added salt in the cake recipe below, and I also recommend boiling dry chickpeas to get your aquafaba rather than using canned to eliminate added salt.
Additionally I will recommend to use
Sodium Free Baking Powder
for the best results
I also prefer to use coconut oil instead of Vegan Butter (which can be salty) or find a vegan butter that is low is salt
Ingredients
For the Cake:
Aquafaba 1 cup (237ml)
Granulated Sugar ½ cup (100g)
Confectioner's Sugar 12 Tablespoons (90g)
Cream of Tartar 1 teaspoon
All Purpose Flour 1 cup (125g)
Cake Flour 1¼ cup (150g)
Sodium Free Baking powder 4 teaspoons (20g)
Vanilla Extract 4 teaspoons (20ml)
Coconut oil or vegan butter melted 6 Tablespoons (84g)
Cornstarch 2 Tbs + ¼ cup water + sodium free baking powder 1 teaspoon
For the Milk Mixture:
Canned Coconut Milk (I used full fat but you can use light) 1- 14oz can
Unsweetened Almond Milk 1 cup
Granulated Sugar ½ cup + 2 Tablespoons
Preferably Fresh Grated Nutmeg ¼ teaspoons
Coconut Whipped Cream:
1 Can Full fat Coconut Milk refrigerated overnight
¼ cup confectioners sugar
1 teaspoon vanilla extract
Instructions
Combine the aquafaba with the granulated sugar and heat it gently to
dissolve the sugar (no need to boil, just enough to dissolve) then refrigerate
it to cool quickly while you gather your other ingredients
Sift both flours with the baking powder
Combine the cream of tartar with 2 Tbs of the sifted confectioners' sugar and
then start whipping the cold aquafaba on high speed preferably with a
balloon whip attachment on your stand mixer. (Hand help beaters with a
whip attachment can be used but will take considerably longer to whip to
firm glossy peaks)
One the AF is to stiff, white peaks, add the cream of tartar confectioners'
sugar mixture and continue whipping on high speed, you can now gradually
add the remaining confectioners' sugar a spoonful at a time until it is all
incorporated and you have a stiff peaked glossy meringue.
In a large mixing bowl combine the cornstarch mixture (which is the homemade egg replacer made of cornstarch, water and baking powder listed above) with the melted coconut
oil (or melted vegan butter) and vanilla extract, whisk smooth, reserve.
Fold in half of the whipped aquafaba and whisk smooth, then fold in the
remaining aquafaba and fold gently
Fold in the sifted flour gently
Pour batter into a well greased (NO PARCHMENT!) 8" square pan and bake immediately in
a preheated 375°F (190°c) oven for approximately 20 minutes or springy to
the touch when you gently press the center or when a toothpick inserted comes out clean.
Cool for about 15 minutes then poke holes into the cake and pour the milk mixture over the entire cake to soak in.
For the Milk Mixture:
Combine the can of coconut milk with the almond milk, nutmeg and sugar and bring to a boil.
Once it boils reduce the heat and let it simmer stirring often for about 20 minutes or until it is thicker and makes a slight glaze covering the back of your spoon.
Remove from the heat and cool to warm, them pour over the warm cake.
Refrigerate the cake for at least 2 hours or overnight (I prefer overnight) then ice with coconut whipped cream.
For the Coconut Whipped Cream:
Open the refrigerated can of coconut milk and skim the fat off the top (reserve the coconut water for another recipe or a smoothie) and place the fat in a mixer bowl with the sifted confectioners sugar.
Whip on high speed to soft peaks then add the vanilla extract
Spread over the cold cake (still in the pan) and then sprinkle with cinnamon *optional
Notes
Store tres leches cake in the refrigerator at all times and serve cold.

Can be stored for up to 1 week, covered lightly
Note about Cream of Tartar– while it is not 100% necessary to use
cream of tartar here since many cannot get it; cream of tartar is an
acid that has been proven to strengthen meringues (both egg white
meringues and aquafaba meringues)
Note about Cake Flour– I know some people cannot get cake flour
so you can use 100% all purpose flour (plain flour) with a total
weight of 275g