Frangipane is a classic pastry that is more like a creamy almond filling than actually a cake or pastry.
It can be used for many different pastry applications from almond danish to a delicate cake for petit fours; but today it is the filling for my Apricot Frangipane Tart.
This is a spinoff of the recipe I am sharing with you in my new cookbook Modern Vegan Baking where I made it with apples, raspberry jam and a vanilla shortbread crust.
Today I decided to make the crust chocolate by substituting a small amount of the regular flour for cocoa powder and since apricots were calling my name in the supermarket last night I just had to buy them!
Sweet juicy apricots nestled in a bed of creamy almond frangipane with a crisp chocolate shortbread crust.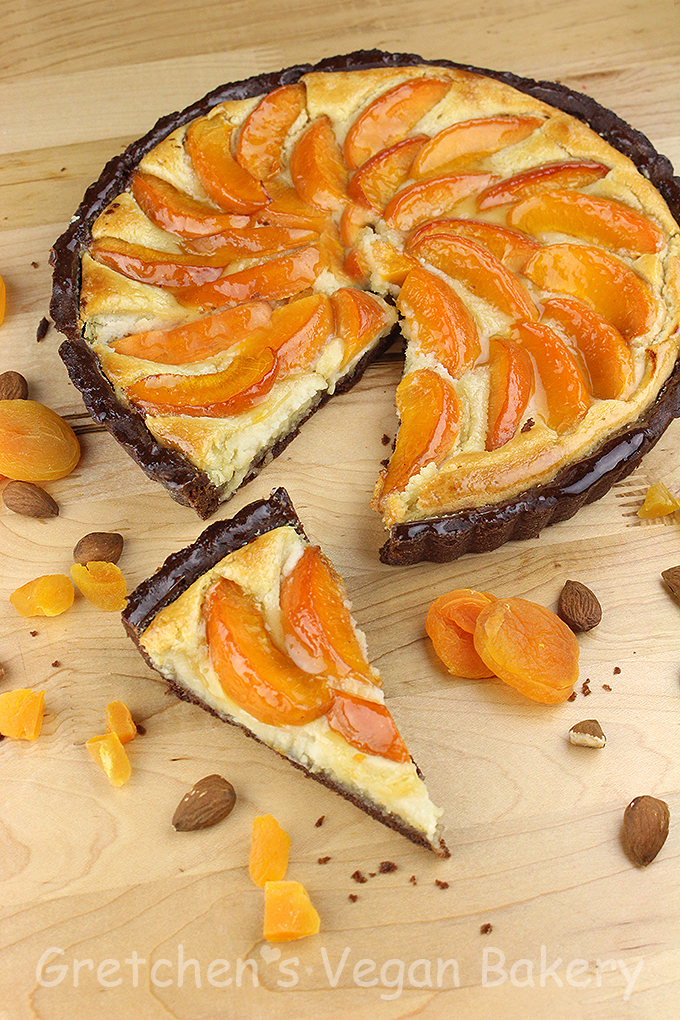 With just two simple recipes to mix you will be on your way to a show stopping dessert worthy to be front and center in any patisserie window!
I found this recipe to be surprisingly NOT Sweet.
I'm sure why I was surprised though, since I didn't add any additional sugar to the filling (almond paste is very sweet on it's own)
But I thought it was a nice change from overly sweet desserts and this tart really let's the almond paste and apricots shine without a heavy mask of sugar.
The chocolate crust was a really good idea (if I do say so myself!) as these three flavors really balance nicely together.
If you are used to super sweet desserts (which most of here in the USA are) you may want to add about ¼ cup of sugar to the creamed almond paste to make it more in line with your palette.
Those across the pond will probably find this tart to be just perfect since my friends in the UK are often telling me how sweet our American desserts are and "can they cut back in the sugar!?" LOL
This is one dessert where you can adjust the sweetness to your liking and based on the fruits and jams you are using. The great thing about it being vegan is you can taste the raw almond cream to see where you stand before baking!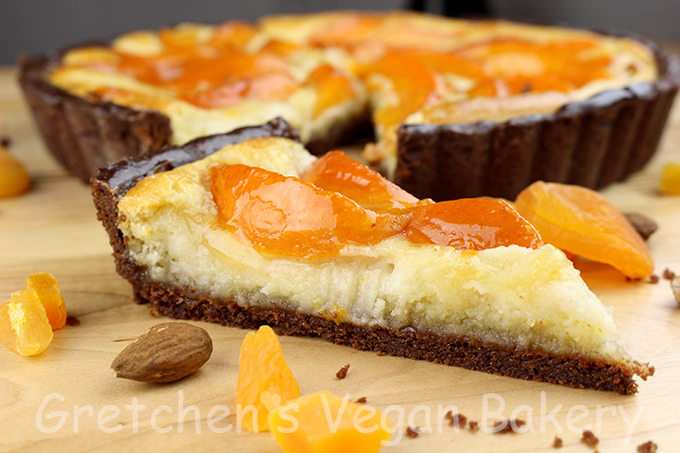 Apricot Frangipane Tart
Serves:
1 8" Tart to serve 12 people
Ingredients
For the Chocolate Crust:
All Purpose Flour 1 cup (125g)
Cocoa Powder ¼ cup
Baking Soda ⅛ teaspoon
Confectioner's Sugar ½ cup + 2 Tbs
Vanilla Extract 1 teaspoon
Vegan Butter ½ cup + 2 Tbs (140g)
For the Frangipane Filling:
Almond Paste 8 ounces (226g)
Vegan Butter ½ cup (113g)
EnerG Egg Replacer 1 Tablespoon
Warm Water ¼ cup (60ml)
Vanilla Extract 1 teaspoon
All Purpose Flour 2 Tablespoons (15g)
Fresh Apricots 3-4 medium sized
Apricot Jam ½ cup + more for glazing
Instructions
First prepare the crust by combining the flour, cocoa powder, baking soda and confectioner's sugar together in a large mixing bowl.
Add the softened vegan butter and mix until it comes together to a crumbly dough.
Add the vanilla extract and continue mixing until it comes together to a soft pliable dough.
Wrap dough in plastic wrap and refrigerate for at least 1 hour
Meanwhile prepare the frangipane combining the enerG egg replacer with the warm water and whisk smooth.
Break up the almond paste into the work bowl of your mixer and mix it on low speed to smooth out.
Add some of the egg replacer mixture to help it smooth out then add the rest.
Add the vegan butter and mix smooth
Add the vanilla extract and then flour last
Mix to a smooth paste.
Roll the chilled shortbread dough to fit into a 9" tart shell with a removable bottom
Spread ½ cup apricot jam into the bottom then pipe the frangipane over top (*It's easier to use a pastry bag rather than try to spread it with a spatula because it will have a tendency to mix into the jam rather than keep clear separated layers)
Arrange the sliced apricots over top and sprinkle with sugar *optional
Bake in a preheated 375°F oven for approximately 50 minutes or until the frangipane is baked through and no longer raw in the center. The frangipane will be slightly puffed and golden browned.
Cool slightly then glaze with extra melted apricot jam
Cool before serving