Chocolate Cream Pie Cake is the winning cake creation of my life!
I know I say it every time I make a new cake, but but this is my NEW FAVORITE CAKE!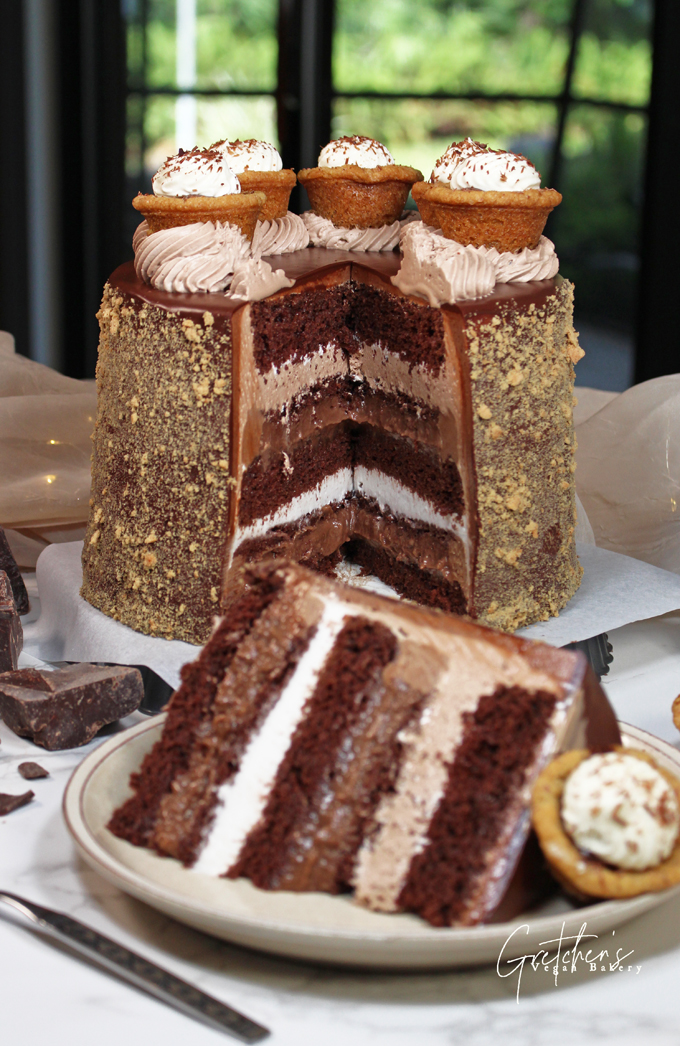 While the original idea for this cake was nothing like how it eventually turned out
If you watch the video tutorial for the making of the Chocolate Cream Pie Cake, you will see that I almost had a major whipped cream disaster!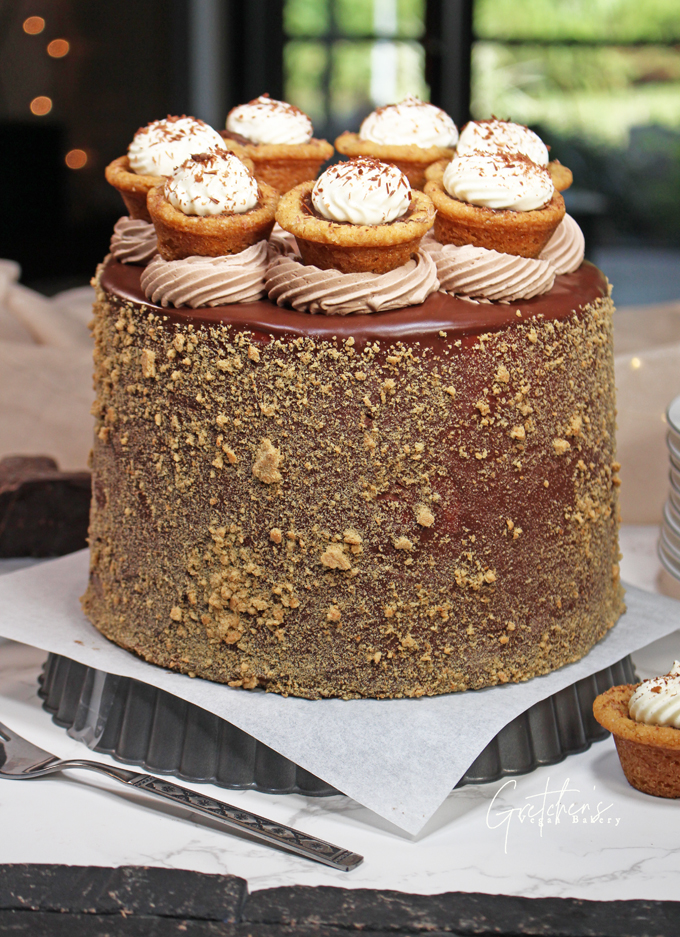 But with some quick thinking and an arsenal of first aid:
Chocolate Buttercream and Chocolate Ganache to the rescue, this near disaster turned into the winning cake of my life!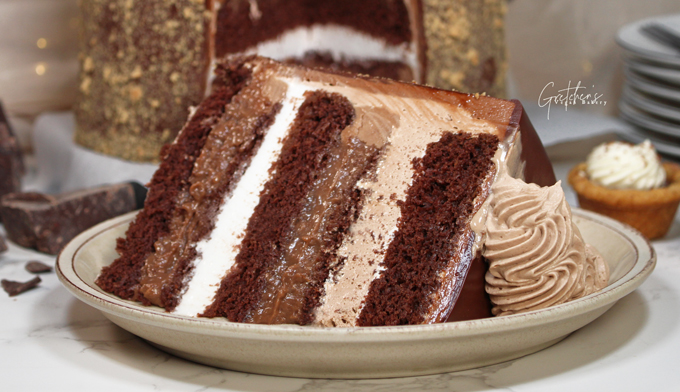 My latest obsession has been turning my cookie recipe into edible cookie cups!
Filled with the same chocolate custard in the cake, these little bites sized chocolate cream pies became addicting!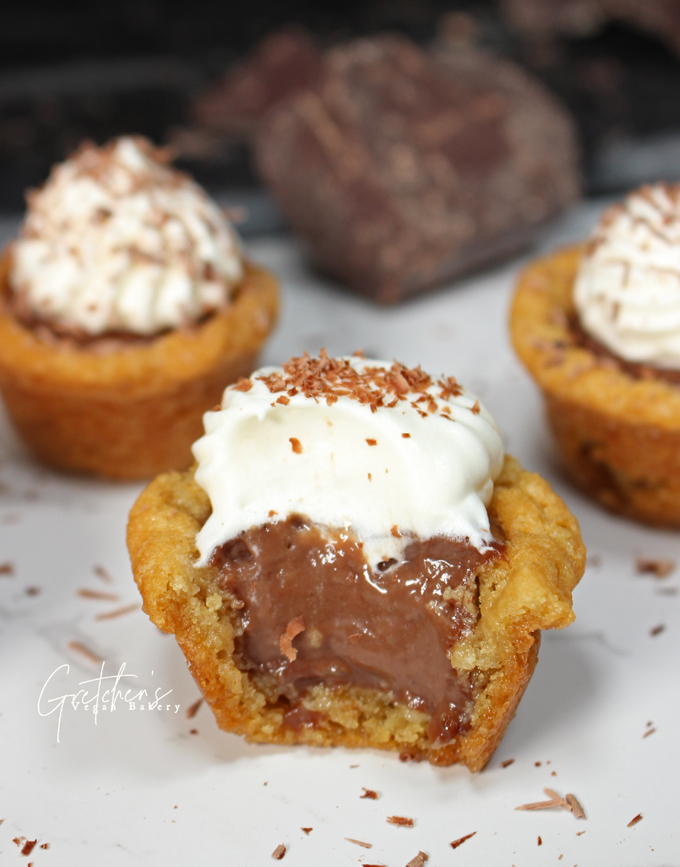 WATCH THE FULL VIDEO TUTORIAL FOR HOW TO MAKE THIS CAKE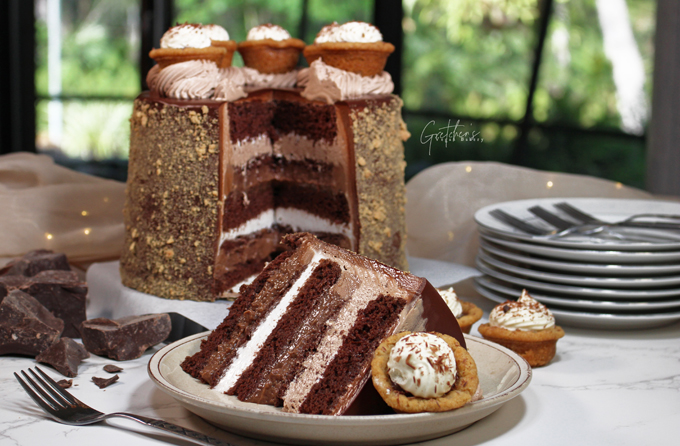 Notes for Success:
As I mentioned I almost had a whipped cream disaster so if you are worried about whipped cream fails, or you simply can't get vegan whipped cream near you
CLICK HERE FOR ALL MY WHIPPED CREAM OPTIONS
You will see that I used Country Crock Plant Based Heavy Whipping Cream for the first time with this cake *not sponsored
It was not very stable once it was inside this heavy cake with all the layers, but before I say that Country Crock is inferior I should add that I may not have whipped it sufficiently
CLICK HERE FOR THE FULL REVIEW OF ALL THE VEGAN WHIPPED CREAM OPTIONS**coming next week
When making custard cornstarch is a very difficult ingredient to measure consistently with a volume/spoons measure
So while I list both measures below I cannot stress enough how the grams measure with a scale is going to give you the best results.
Many times people have complained that their custard is like rubber and they don't know why!
This is from a heavy measure of cornstarch when using volume measuring spoon vs the 100% accurate scale measure in grams.
For the Chocolate Cream pie Cookie Cups I used this mini muffin tin
For more cakes like this one click the links below!
Yield: serves 14-16ppl
Vegan Chocolate Cream Pie Cake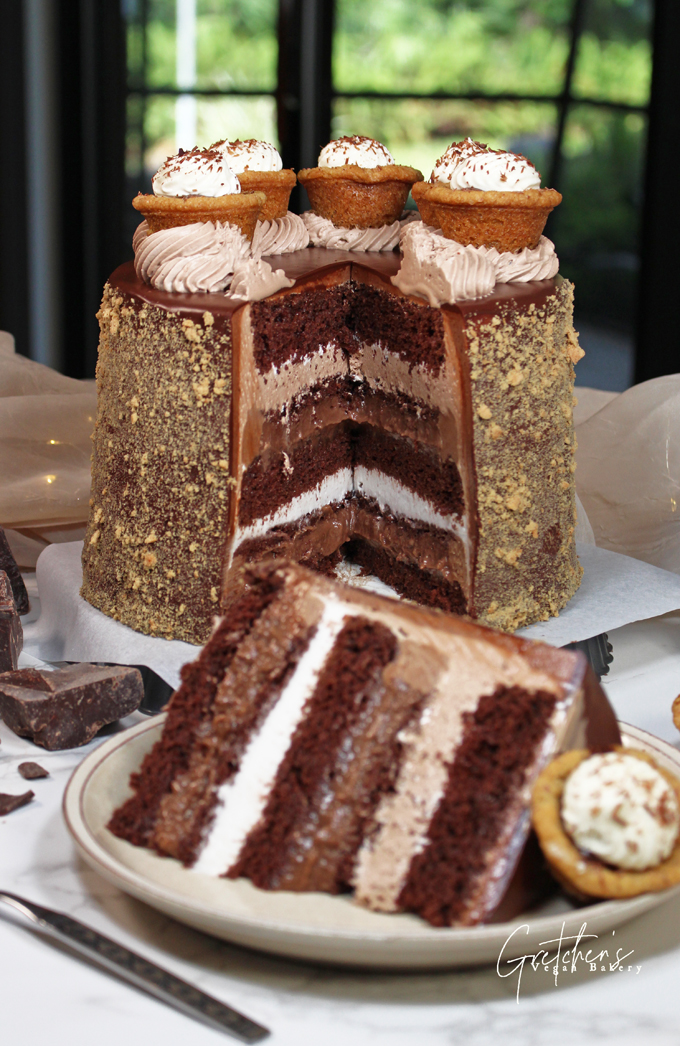 This is a majorbuilding on recipes project so be sure to prepare all of your recipes ahead of time before building this cake If you are making my homemade recipe for vegan whipped cream you must prepare that a day in advance
Total Time
3 hours
25 minutes
Ingredients
For the Chocolate Custard:
Plant Milk 2 cup (474ml)
Granulated Sugar 1/2 cup (100g)
Cornstarch 4 Tablespoons (32g)
Vegan Semi-Sweet Chocolate 2½ ounces (approx ½ cup)
Vegan Butter 1½ Tablespoons (21g)
Vanilla Extract 1 teaspoon (5ml)
Instructions
First make the Chocolate Cream Pie Cookie Cups if you are using those for this cake.
Next preheat the oven to 350°F and grease & parchment line your 4-7" cake pans
Prepare the chocolate cake recipe as per the instructions on that blog post & bake the layers into 4-7" pans *If you only have 8" pans you can divide the batter evenly between 2 or 3 8" pans
While the cake is cooling, prepare the custard by combining plant milk, sugar and cornstarch in a medium sauce pot over medium to high heat and bring to a boil stirring constantly to avoid scorching the bottom .
Once it starts to bubble remove from the heat and add the vegan butter & the chocolate, stir to melt evenly throughout then add the vanilla extract.
Pour into a glass or heatproof bowl to cool while you prepare the chocolate ganache recipe
If you have a stable whipped cream that you love, the chocolate buttercream is not a necessary step, but I do love the way this entire cake came out so I would still use it no matter what
To make chocolate whipped cream add about ¼ cup of COOLED ganache to the whipped cream at the last stage of whipping.
This works for SILK brand, Country Crock & my homemade recipe
Build the cake as shown in the video tutorial
Notes
Chocolate Cream Pie Cake must be kept refrigerated and will stay fresh for up to 7 days in the refrigerator