Introducing Vegan Maple Walnut Baklava Cheesecake!
The results are in, and it's freaking fantastic!
Two of the most amazing desserts just came together as one!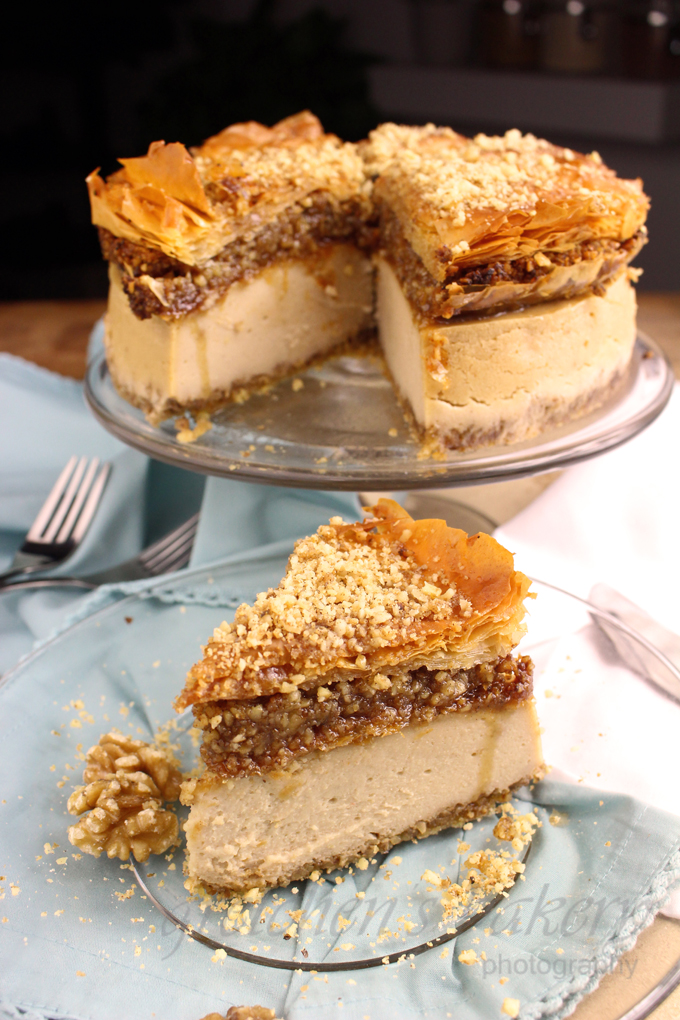 The most perfect vegan New York style cheesecake recipe just happen to be mine, all mine!!
And now it is topped with rich, maple walnut baklava!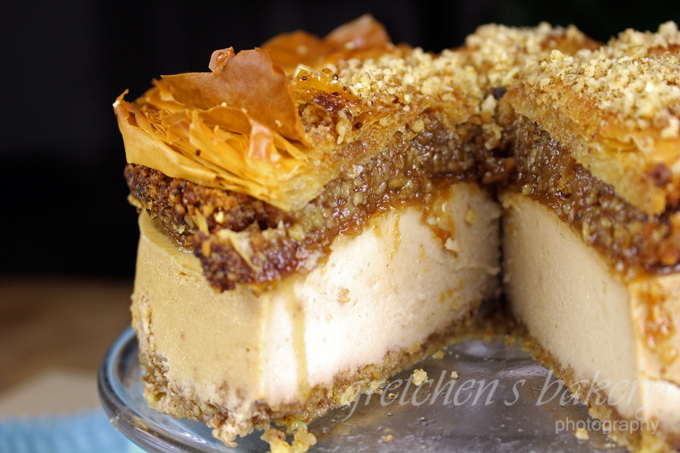 If you have never made or even had baklava you are in for a treat.
This middle eastern pastry is known for it's richness and it is one decadent dessert all by itself!
Flaky layers of Phllyo dough packed with nuts and the signature syrup drenching every morsel.
Traditional Baklava is made with pistachios and walnuts, but today I used only walnuts.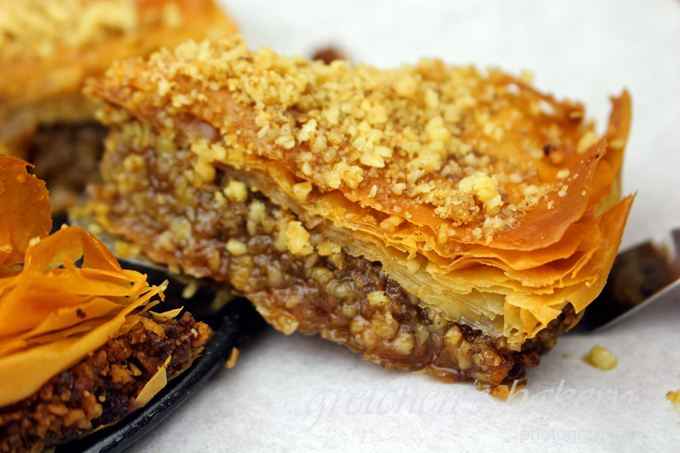 Maple syrup and maple sugar to my recipes courtesy of Maple Valley Cooperative for a really unique spin on a classic.
Nothing can compare to using real maple syrup in recipes
Since all the cheap-o brands are merely pancake syrup made from high fructose corn syrup, so definitely don't skimp and use only the real deal for this recipe.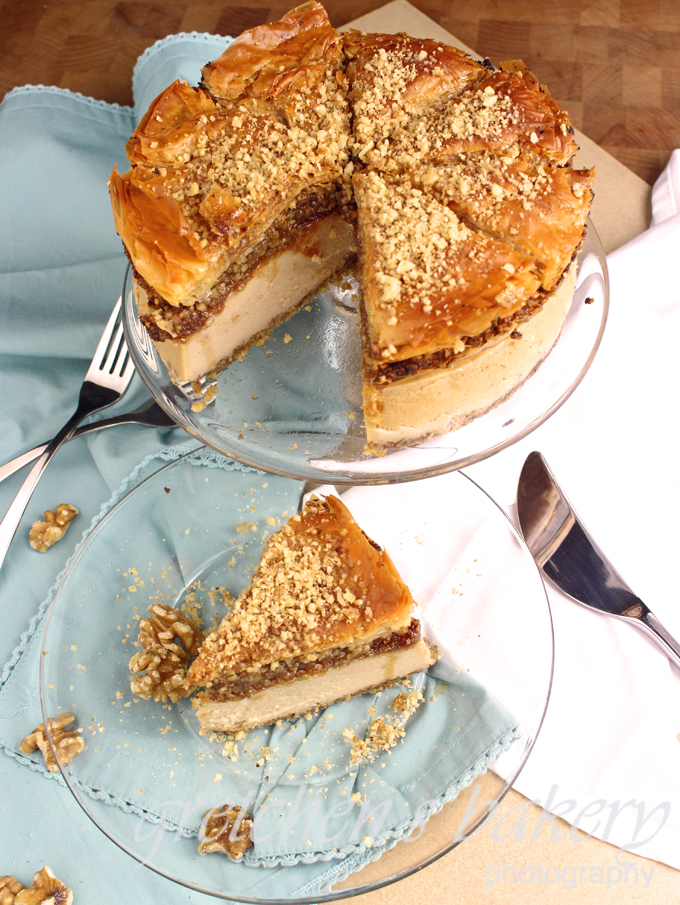 You will notice I am also using my candied oranges to the syrup as well as the nut filling for another seductive layer of intense flavor!
But of course if you want to omit making one more recipe leave it out and just add a zest of an orange instead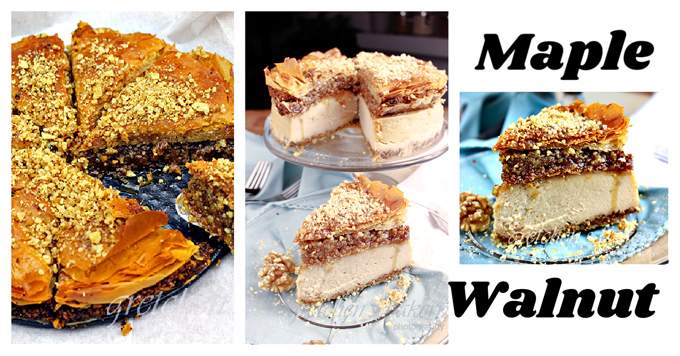 Notes for Success:
You will need a 7″ Springform pan for this project to make the baklava the same size as the cheesecake.
You may notice that my base recipes for cheesecake are always the same with some slight variations to the sugar or an added spice depending on what flavor I am making.
At times I add an addition of firm tofu in place of some of the cream cheese for a lightened up version and to cut some of the fat calories.
I do not find an extremely noticeable difference in the outcome of straight vegan cream cheese versus the tofu addition, so for me I like the tofu version.
Additionally I only use Tofutti Cream Cheese for my BAKED recipes. *not sponsored
I have not had success with any other brand in BAKED recipes.
For some reason the other more expensive brands I've tried have broken down into an oily mess when baked.
Cornstarch is a very difficult ingredient to measure consistently with a volume spoons measure
So while I list both measures below I cannot stress enough how the grams measure with a scale is going to give you the best results.
Many times people have complained that their cheesecake is like rubber and they don't know why! This is from a heavy measure of cornstarch when using volume measuring spoon vs the 100% accurate scale measure in grams.
For more of the best cheesecake recipes click the links below!
The Best Vegan Cheesecake Recipe Ever! Strawberry Cheesecake
Vegan German Chocolate Cheesecake
Yield: serves 8-10
Maple Baklava Cheesecake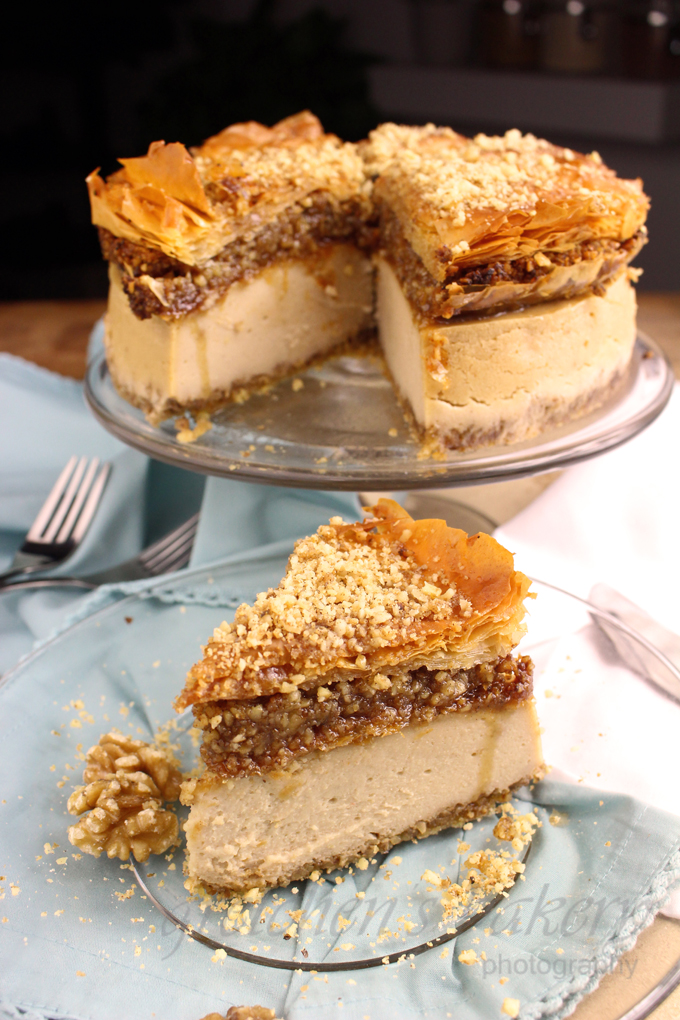 Ingredients
For the Crust:
Lightly toasted walnuts 1¼ cup (125g)
Cinnamon ¼ teaspoon
Maple Sugar 2 Tablespoons
Melted Vegan Butter 2 Tablespoons
For the Maple Cheesecake:
Vegan Cream Cheese 12oz (340g) * see notes above
Firm Tofu 4 ounces (112g) * see notes above
Vegan Butter 2 tablespoons (28g)
Maple Sugar or Maple Syrup ¾ cup (150g)
Cornstarch 3 Tbs (30g)
All Purpose Flour 2 Tablespoons (15g)
Maple Extract 1 teaspoon
Plant Milk scant cup - 7 fluid ounces (207ml)
Vegan Lactic Acid Or ACV 1½ teaspoons
Salt pinch
Vanilla Extract 1 teaspoon
For the Baklava:
½ Package Phyllo Dough
Lightly toasted walnuts 1½ cup (150g)
Cinnamon 1 teaspoon
Maple Sugar 2 Tablespoons (28g)
Candied Orange 2 slice *optional - see note above
Vegan Butter 4 Tablespoons (56g)
For the Syrup:
Maple Syrup ½ cup
Water 1/3 cup
Candied Orange Slices 2 slices *optional see note above
Instructions
Grease and line a 7" cake pan with professional bakery pan grease and parchment paper.
Preheat the oven to 350°F
Lightly toast all the walnuts from all the recipes above together in one large sheet pan, then divide them up later. For less than 8 minutes at 350° will be fine, you do not want to over toast them, or they get very bitter.
Prepare the crust by placing 1¼ cups of the cooled toasted walnuts in a food processor with the cinnamon and the maple sugar.
Add the melted vegan butter and process to a fine grind, be sure not to make a paste, you are not making butter!
Press the crust mixture into the bottom of the prepared pan and set aside in the refrigerator until needed.
For the cheesecake combine all the ingredients together in a food processor and process smooth, scraping the sides and making sure that is is ultra smooth.
Pour the batter into the prepared crust and bake in a water bath at 350°F for 1 hour.
After 1 hour turn the oven off and let it cool inside the oven for another hour.
Cool on the counter the rest of the way, then refrigerate for at least 4 hours before un-molding.
Meanwhile make the baklava by combining the other walnuts (1½ cups) with the cinnamon and candied orange (if using) and pulse to a fine grind. Be careful not to over process or you will have a nut butter!
Carefully unroll the package of phyllo dough and cut it in half down the center (like the fold of a book)
Save one half for another baking project and then cut the other half to fit your 7" diameter springform pan.
Layer the phyllo in the bottom of the lightly greased 7" springform pan 2 sheets at a time and brush only the top of the 2nd sheet lightly with the melted vegan butter.
Repeat for a total of 8 sheets (or 4 doubled layers of Phyllo)
Pour the walnut cinnamon mixture over top and then repeat the layering and buttering of the remaining sheets of Phyllo.
Cut the baklava before baking into 8 wedges and bake in a preheated 350°F oven (I do this while the cheesecake is baking) for 35 minutes or until golden browned and the pastry is flaked and cooked through
Meanwhile cook the maple syrup with the water and orange to a boil and let boil for 1 minute.
Remove from heat and reserve.
When the baklava is done baking, remove from the oven and immediately pour the maple syrup mixture (remove the oranges) over the hot baklava.
Let it cool at room temperature until you are ready to top your cheesecake with it!
Notes
Baklava can be made ahead of time and stored wrapped tightly at room temperature for up to 3 days or for 10 days in the refrigerator covered tightly to prevent drying out.

Cheesecake must be stored in the refrigerator at all times for up to 10 days

I do not like to freeze vegan cheesecakes, the texture changes pretty drastically in my opinion so I prefer not to freeze.