The picture speaks for itself so I will keep my gushing to a minimum!
Chocolate Bourbon Pecan Pie Cake ~ What more can I say?
Simple chocolate cake recipe mixes up in one bowl with bourbon pecan pie filling that is ready in minutes!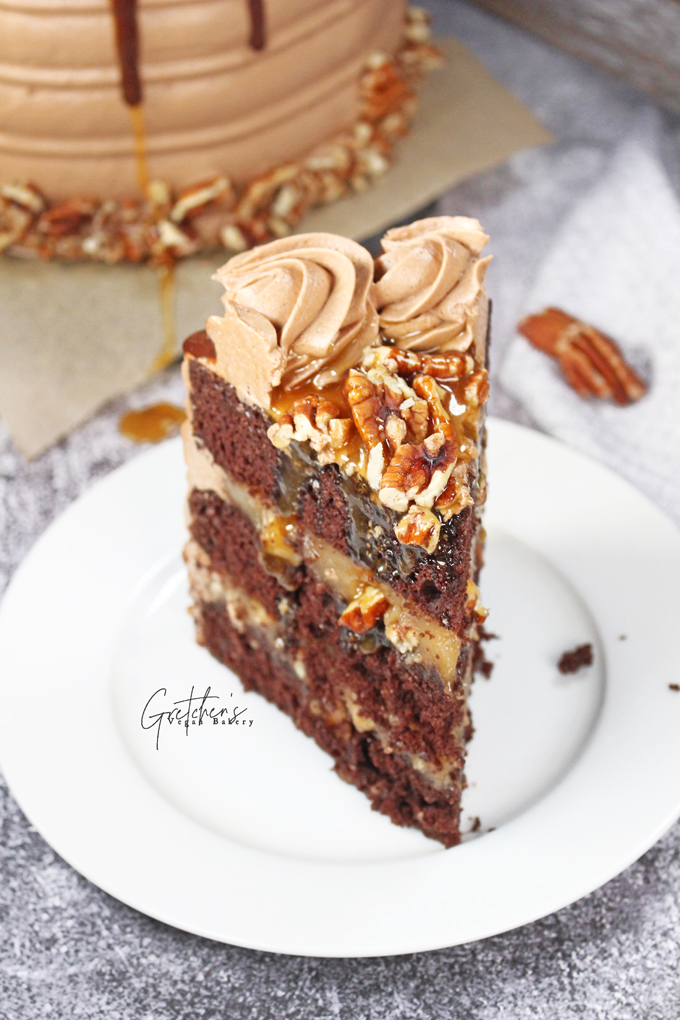 By using a bittersweet chocolate buttercream for the icing
Gave a good balance to the sweetness in the entire cake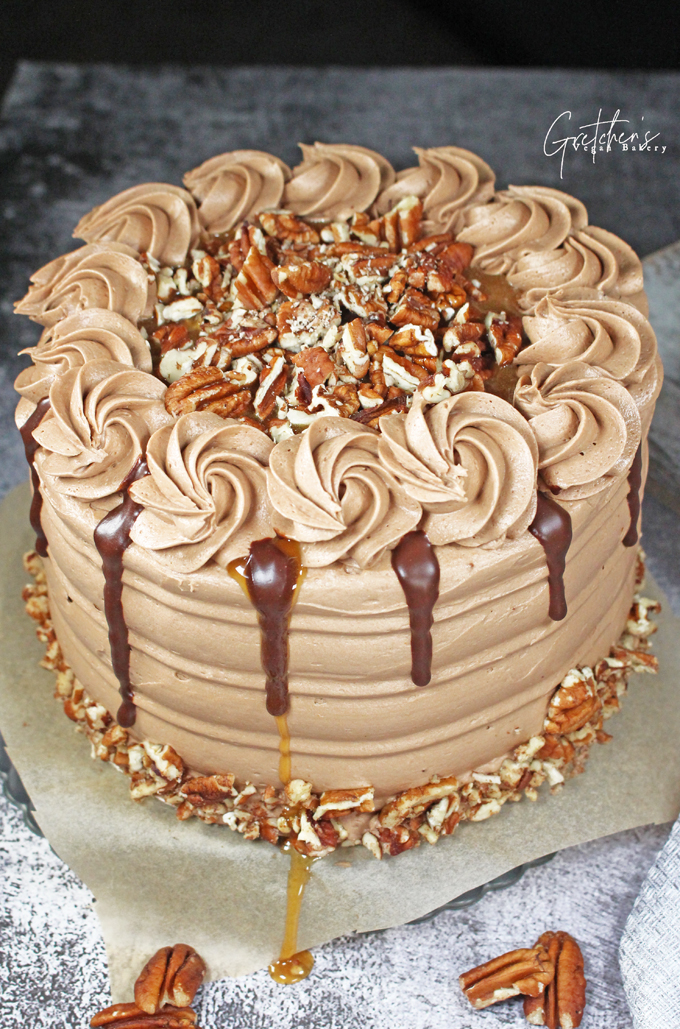 Topping it off with ganache and caramel pecan drips
Although that part is optional if you want to eliminate two extra recipes for an easier build
But who doesn't love a drippy, ooey, gooey cake!?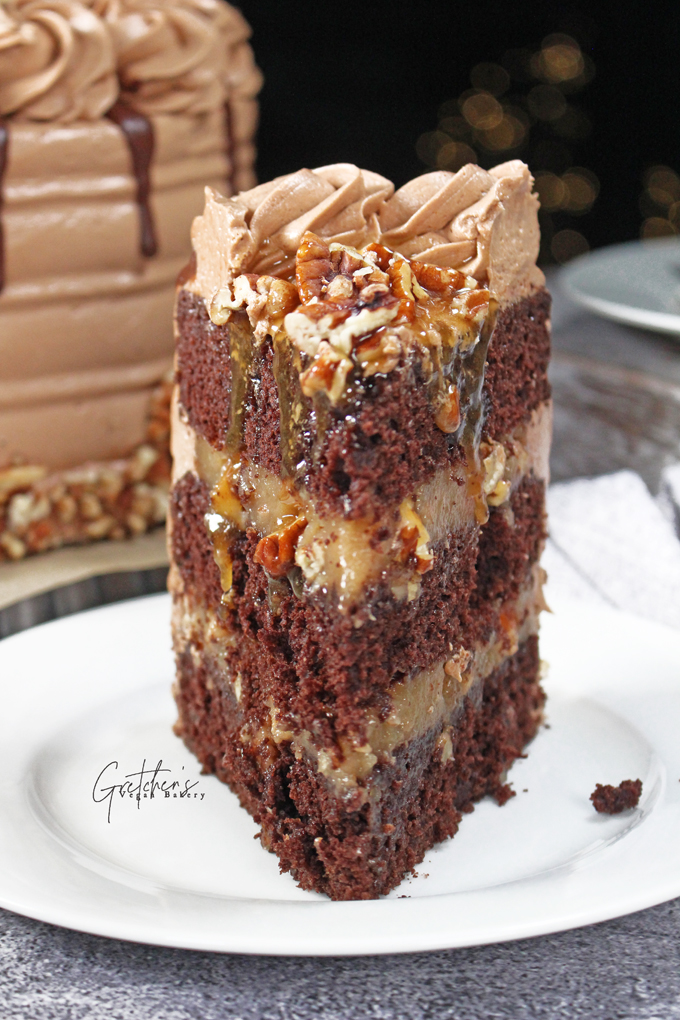 Notes for Success:
First of all ~ YES! The bourbon can be left out with no changes to the recipe!
To make this cake gluten free simply sub in a 1:1 All Purpose blend like Bob's Red Mill for the cake recipe
For the pecan pie filling I use flour as an added thickener but you can use a gluten free flour blend instead
When measuring cornstarch I cannot stress enough that a kitchen scale is the best way to go.
Cornstarch is a very difficult ingredient to measure consistently with a volume/spoons measure
So while I list both measures below I cannot stress enough how the grams measure with a scale is going to give you the best results.
Many times people have complained that their custard is like rubber and they don't know why!
This is from a heavy measure of cornstarch when using volume measuring spoon vs the 100% accurate scale measure in grams.
Whenever I make a cake that is filled with custard like this one
I prefer to build it in a cake ring with an acetate cake strip while the custard is hot off the stove
While not 100% necessary, this ensures that the custard will cool inside the cake for a sturdy slice rather than a custard that may have the tendency to smoosh out while serving
Note about molasses:
I understand many people cannot get molasses that I used in the pecan pie filling recipe, so you can leave it out with no changes to the recipe
Another viewer suggested to use date syrup in place of it; and while that sounds like a good idea I have not tried that
CLICK HERE FOR THE YOUTUBE VIDEO TUTORIAL FOR HOW TO MAKE THIS CAKE
For more of the best vegan layer cakes click the links below!
The Ultimate Vegan Brooklyn Blackout Cake
Yield: serves 12ppl
Chocolate Bourbon Pecan Pie Cake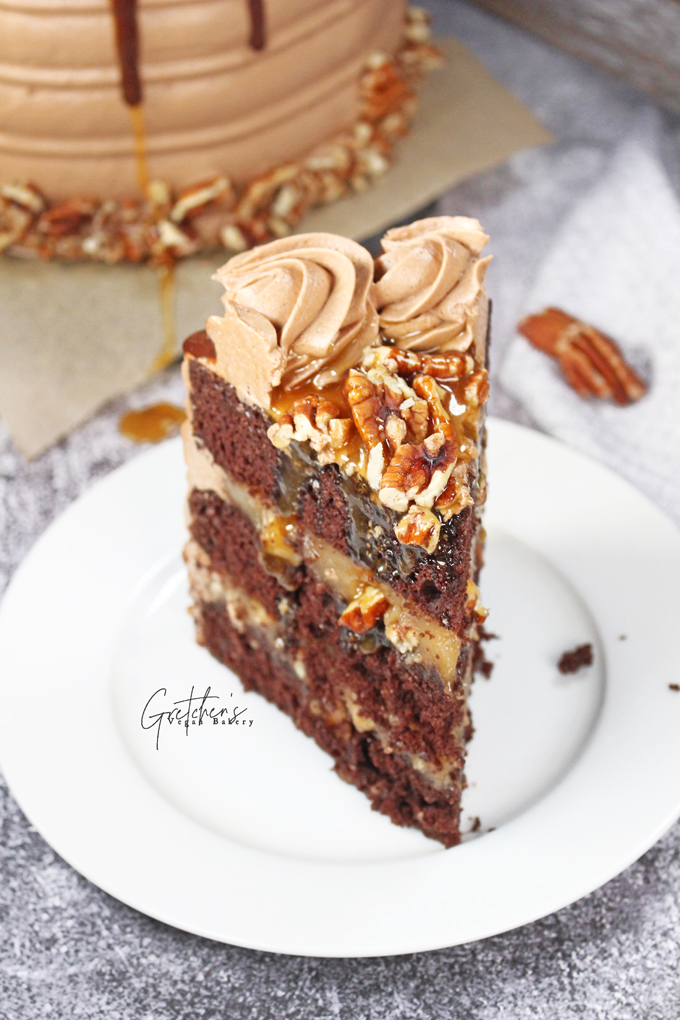 I always use 7" cake pans for my layer cakes but you can use 2-8" cake pans instead for a 2 layer cake
Total Time
3 hours
25 minutes
Ingredients
For the Pecan Pie Filling:
Water 1 cup (237ml)
Light Brown Sugar 1/3 cups (67g)
Granulated Sugar 1/3 cup (67g)
Molasses 2 teaspoons (10ml)
Cornstarch 2½ Tablespoons (20g)
All Purpose Flour 2 Tablespoons (14g)
Salt ¼ teaspoon
Vegan Butter 4 Tablespoons (56g)
Vanilla Extract 1 teaspoons (5ml)
Bourbon 1 Tablespoon (15ml)
Pecans lightly toasted 1 cup
½ cup pecans for the topping & bottom rim garnish *optional
Instructions
Prepare the chocolate cake recipe as per the instruction on that recipe post and divide the batter evenly amongst 3-7" cake pans
While the cakes are baking prepare the Chocolate Swiss meringue Buttercream recipe according to the instructions on that page.
While the cakes are cooling prepare the optional caramel topping and ganache for the drips reserve the caramel in the refrigerator until it is thick & cold. The ganache stays warm for the drip
When your cakes are completely cold and the buttercream is ready you can begin to assemble the cake
First lightly roast the pecans on a sheet pan in a 250°F oven for approximately 10-15 minutes or when very lightly toasted
Make the custard by combining the sugars with the flour & cornstarch & whisk it to combine well
Add the sugar mixture to a medium sauce pot along with the water and molasses and whisk it constantly over a medium to high heat until it comes to a boil
Remove from the heat and add the vegan butter, salt, vanilla extract & optional bourbon
Whisk to combine to a smooth custard
Add the lightly toasted chopped pecans and then layer it into your prepared cake layers inside the cake ring mold *as shown in the video tutorial
Notes
Chocolate Bourbon Pecan Pie Cake can be left at room temperature for half the day but should be kept refrigerated for longer storage and will stay fresh for up to 1 week