There are chocolate people and there are vanilla people.
I am chocolate to the core.
So I was never really a big fan of the blondie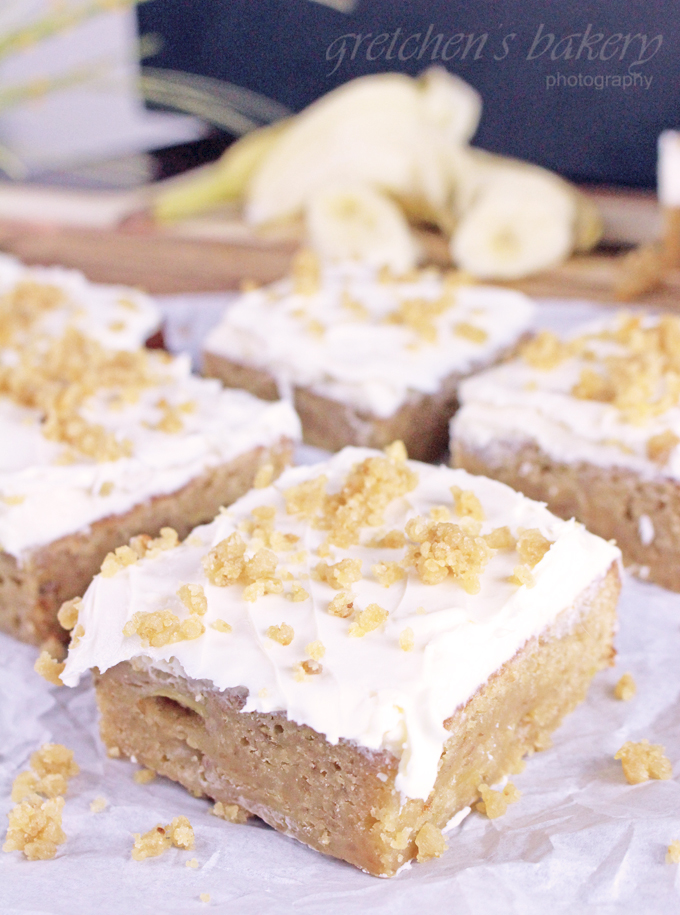 Like, how can you ever really out do a Fudge Brownie?
To me there was never a reason to do anything else
But I guess the blondie is simply the "vanilla persons" brownie, right?
Yeah well, I still wasn't buying it.
Until this Banana Blondie changed my world and made me understand those "vanilla people".
I'm sorry.  I now get you.
Introducing the Butterscotch Banana Blondie with cream cheese icing.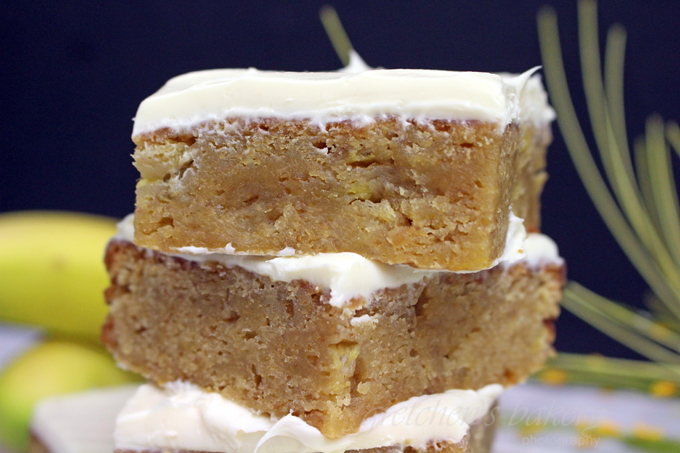 Butterscotch is essentially anything that is made with butter and brown sugar
We all know brown sugar is made from granulated sugar that is sprayed with molasses, so I often like to do that myself.
By using granulated sugar and adding in my own molasses I can really spike up the intensity of flavor here!
If you don't have molasses you can just resort back to using brown sugar in this recipe, light or dark will do great.
Wait until you get a taste of this butterscotch banana blondie!
It's sooooooo freaking good!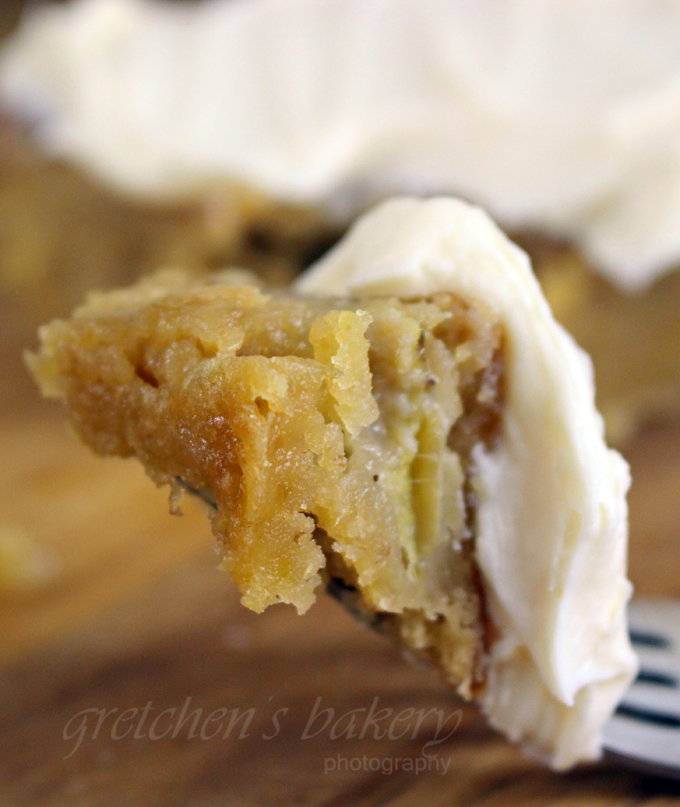 This recipe is just so easy because it is a one bowl mix.
Well, you need a pot too because you have to get that butter boiled up with the molasses which is a key step in this recipe for success!
Something about boiling the fat and then getting it into the sugar makes all the difference for the perfect outcome of this recipe!
Otherwise, there are no mixers required and you probably have all the ingredients already!
Simplicity wins again.
I have to be honest I actually liked these blondies way better without the icing!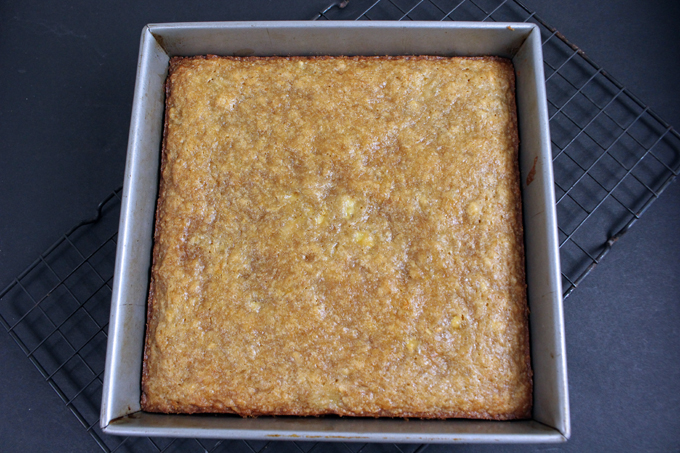 Don't get me wrong the cream cheese icing is a great addition because the combination tasted amazing!
However it made the entire bar super rich and I had a hard time finishing the whole thing!
But don't worry, I pushed through and finished two of them because I am a warrior.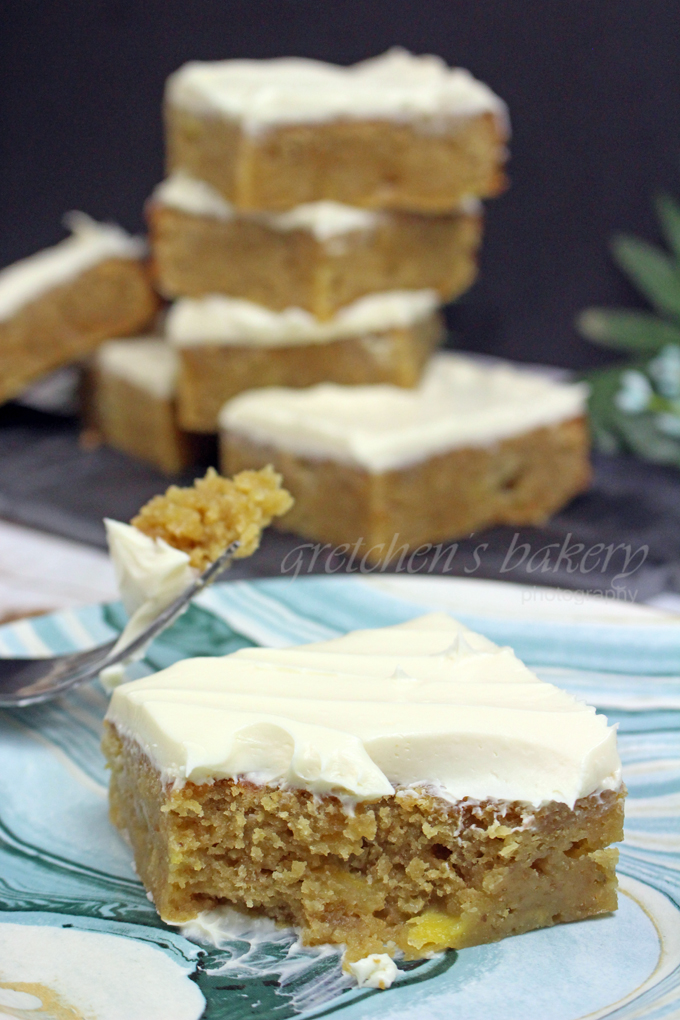 This is really a great base~ bar recipe that can accommodate so many different variations
So add this one to your tried and true list and change it up to fit your mood!
NOTES FOR SUCCESS:
I found a much better result when I used freshly mashed bananas rather than from the freezer.
The liquid form of banana puree makes the batter far too liquid on this particular recipe.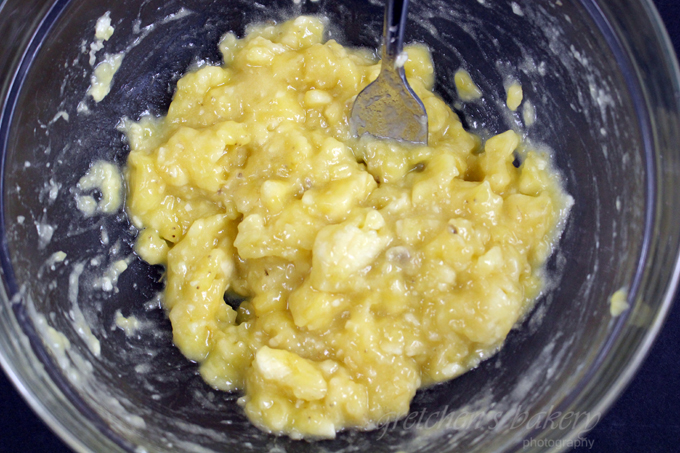 Also be careful not to over mix the flour.
Similar to a brownie where it is OK to have slight lumps in your batter, you will just mix the flour until it is well distributed.
We're not making bread here.
THERE IS NOT VIDEO TUTORIAL FOR THIS ONE! IT'S JUST TOO EASY TO MAKE!
UPDATED:
I have since been using my No Cream Cheese Cream Cheese Icing recipe for anything and everything that calls for cream cheese icing!
It's so much better than dealing with vegan cream cheese
Plus there is no need to refrigerate it!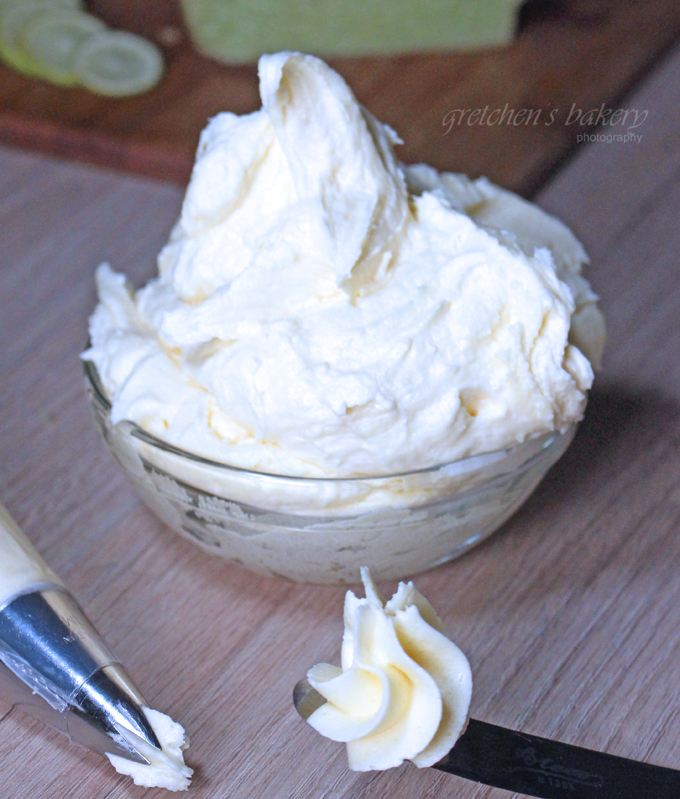 For more Banana Recipes check out these links below!
Butterscotch Banana Blondies ~ Vegan
If you do not have aquafaba *which is merely the liquid from a can of chickpeas, you can replace the quantity listed below with water
Ingredients
Vegan Butter 1 cup (226g)
Molasses 1 Tablespoon (15ml)
Granulated Sugar 1½ cups + 2 Tabs (328g)
Flax Meal 2 Tablespoons (16g)
Aquafaba ¼ cup (50ml) **see note above
2 Super Ripe Medium Bananas**see note in text of blog post ⅔ cup (200g)
Salt 1 teaspoon (6g)
Vanilla Extract 3 teaspoons (15ml)
All Purpose Flour 2 cups (250g)
For the Cream Cheese Icing:
Vegan Cream Cheese softened 1 Tub (1cups) (226g)
Vegan Butter Softened 4 tablespoons (56g)
Confectioner's Sugar 1 cups (120g)
Vanilla Extract 1 teaspoon
Instructions
Prepare an 9" X 9" cake pan with grease & parchment paper liner.
Preheat the oven to 350°F
In a small bowl with a fork, mash the banana to a paste it's ok if it is slightly chunky
In another small bowl combine the flax meal with the aquafaba *water is Ok if you do not have or want to use the bean water, whisk and let stand to thicken for about 5 minutes.
Melt the vegan butter in a small sauce pot and add the molasses and the salt.
*Important step: Bring it to a boil!
Once the butter is at a full boil pour it into a large mixing bowl with the granulated sugar and whisk vigorously.
You will see the sugar mixture go from simply combined to a shiny emulsion, do not stop whisking until you see this shiny emulsion!
Add the vanilla extract and the flax paste, and banana and whisk smooth
Add the flour and mix just until combined, lumps are ok! Do not over mix!
Pour the batter into the prepared cake pan and spread it evenly with a spatula.
Bake in the preheated 350°F oven for approximately 35 minutes or when a toothpick inserted into the center comes out with moist crumbs, not raw batter.
Meanwhile prepare the cream cheese icing
Once the banana blondie is done baking, cool it in the pan completely, then refrigerate it (still in the pan) until cold.
Loosen the edges with a small spatula and then turn it out onto a cutting board and remove the parchment paper.
Prepare the cream cheese icing by smoothing out the vegan cream cheese and the softened vegan butter BY HAND with a wooden spoon or spatula in a large mixing bowl
Add sifted confectioners sugar, mix evenly
Add the vanilla extract mix smooth
Spread the icing over the banana blondie and then sprinkle with optional crushed, toasted walnuts
I cut mine into 9 portions
Notes
If you DO NOT USE the cream cheese icing, Butterscotch Banana Blondies can be kept at room temperature for up to 4 days wrapped loosely

Iced blondies must be refrigerated and will stay fresh for up to 7 days wrapped loosely to prevent drying

You can freeze them for up to 2 months wrapped well
3.5.3251