Your search for the best vegan cheesecake recipe just ended here.
And your Vegan Snickerdoodle Cheesecake dreams just cake true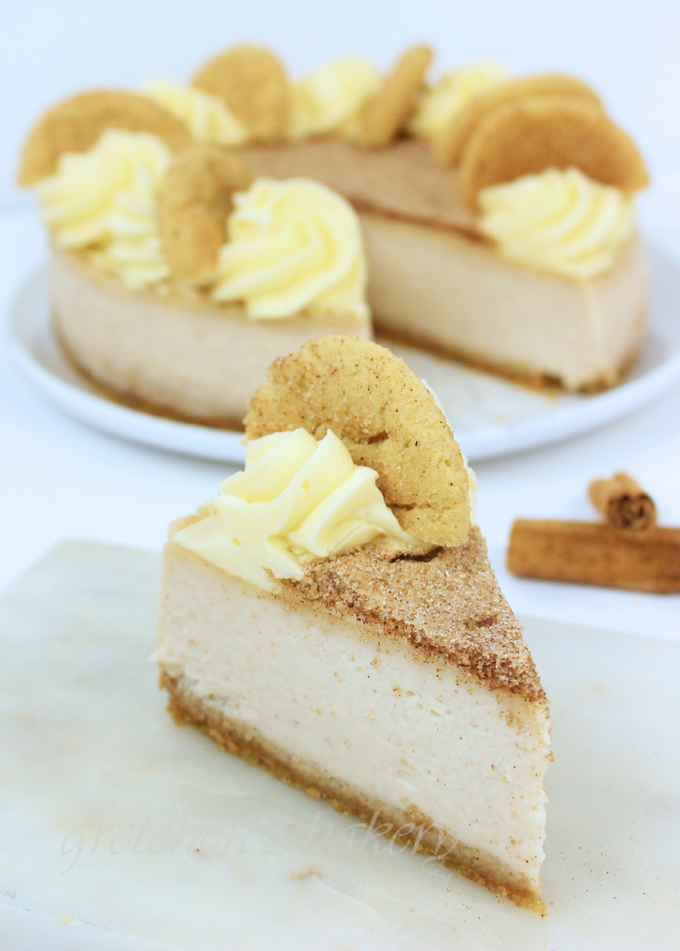 My vegan cheesecake recipes always start off with this same base ratio of ingredients
And from here I spin off into dozens maybe hundreds of flavor combinations!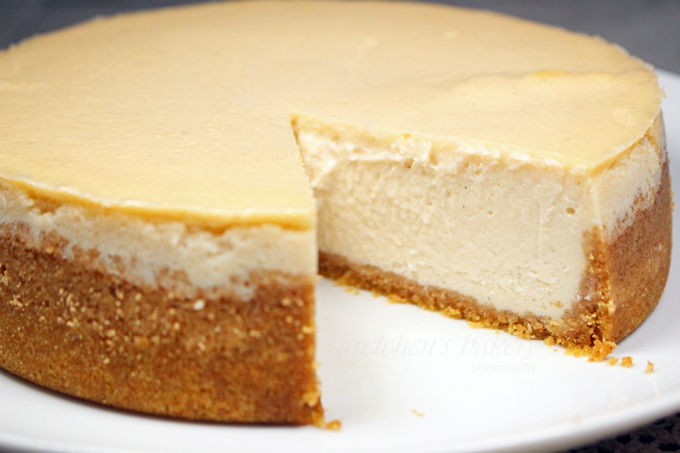 Snickerdoodle Cookies for the crust and of course as a garnish on each slice
Notes for Success:
Cornstarch is a very difficult ingredient to measure consistently with a volume/spoons measure
So while I list both measures below I cannot stress enough how the grams measure with a scale is going to give you the best results.
Many times people have complained that their cheesecake is like rubber and they don't know why!
This is from a heavy measure of cornstarch when using volume measuring spoon vs the 100% accurate scale measure in grams.
I only use Tofutti Cream Cheese for my BAKED recipes *not sponsored
I have not had success with any other brand in BAKED recipes; for some reason the other more expensive brands I've tried have broken down into an oily mess when baked.
Other viewers have commented on other brands and one noted having success with Violife.
Another person stated they used Miyokos original and it turned out divine!!!
(In Connecticut) Treeline cream cheese and in the UK cream cheese regular supermarket Asda brand
If you are gluten free you can easily leave that out and replace with another tablespoon of cornstarch and make the snickerdoodle cookie recipe with a 1:1 GF flour.
Vegan lactic acid gives the most authentic tang that is characteristic of traditional cheesecakes, but if you don't have that a bit of apple cider vinegar will do the trick.
You will notice I always bake my cheesecakes in regular cake pans and not springform pans.
If you have followed me from my bakery days you already know why, but for those who are interested to know why?
CLICK HERE FOR WHY I DO NOT PREFER SPRINGFORM PANS!
Cinnamon sugar is what makes a snickerdoodle a snickerdoodle
But for those who want to cut down on excessive sugar I would recommend trying Monkfruit Sugar as an alternative here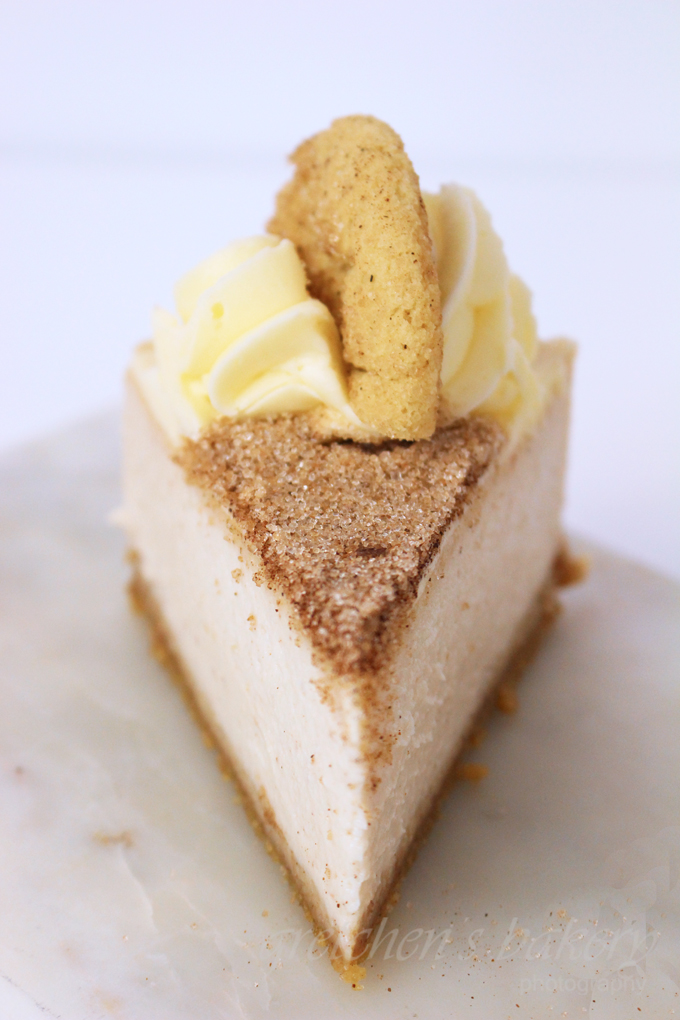 For the Snickerdoodle Cookie Recipe:
I am using these cookies for the crust as well as the garnish on each slice.
You only need about 20 cookies total so a half recipe will suffice, although it never hurts to have snickerdoodle cookie dough in the freezer!
You can easily convert this cookie recipe to gluten free using a 1:1 GF Blend like Bob's Red Mill
CLICK HERE FOR THE FULL YOUTUBE VIDEO TUTORIAL FOR HOW TO MAKE THIS CHEESECAKE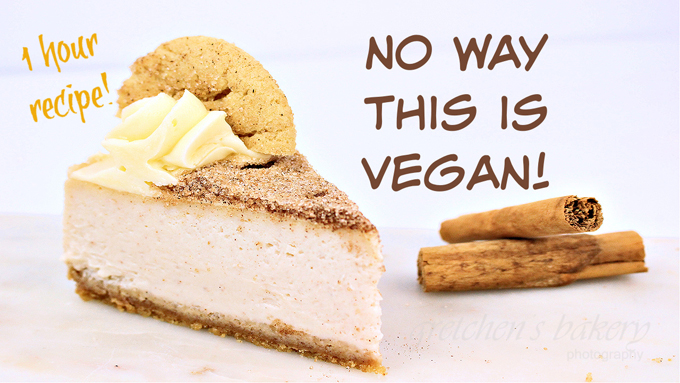 Yield: serves 8-10
Vegan Snickerdoodle Cheesecake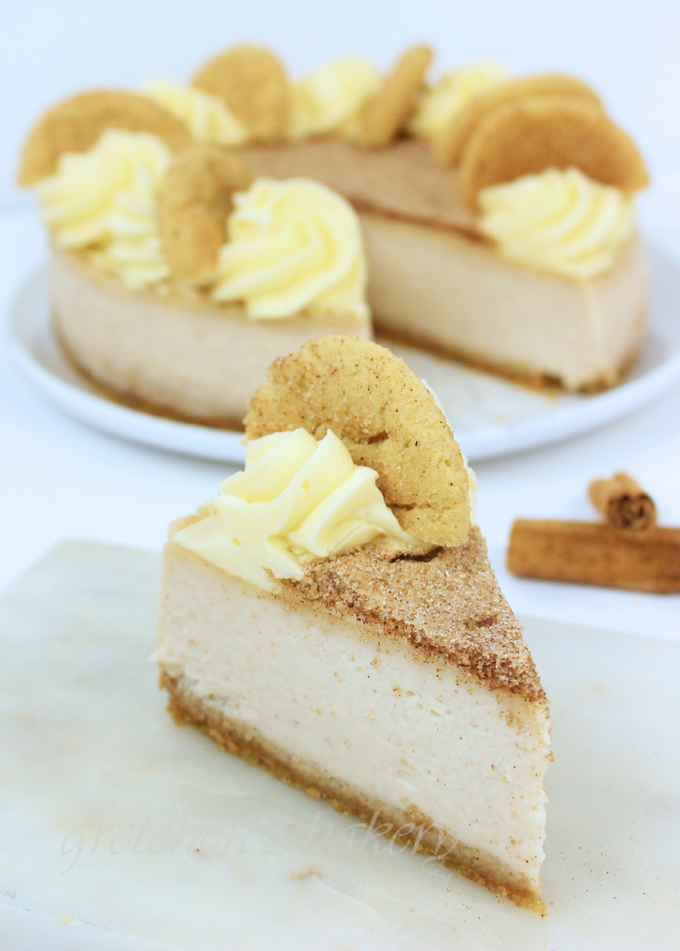 Grease and parchment line a 7" cake pan
Preheat your oven to 350°F
Prepare the Snickerdoodle Cookie recipe in advance *up to 1 week for the crust & garnish
Ingredients
For the Crust:
½ Recipe Snickerdoodle Cookies *see notes
Vegan Butter Melted 2 Tablespoons
For the Cheesecake Batter:
Vegan Cream Cheese *see notes 16ounce (454g)
Vegan Butter melted 2 tablespoons (28g)
Granulated Sugar 1 cup (200g)
Cornstarch 4 Tablespoons (32g)
All Purpose Flour 3 Tablespoons (24g)
Cinnamon ½ teaspoon
Plant Milk *I use soy milk 6fl oz (177ml)
Vegan Lactic Acid or apple cider vinegar 1 teaspoon
Salt ¼ teaspoon
Vanilla Extract 3 teaspoons (15ml)
For the garnishes:
¼ cup granulated sugar
½ teaspoon cinnamon
Extra Snickerdoodle Cookies
Instructions
Prepare the Snickerdoodle cookie recipe in advance then prepare the crust for this cheesecake by placing 8ounces (approx 8-10 cookies) in a food processor and grind to fine crumbs
Add the melted vegan butter and pulse until the mixture resembles wet sand
Press this mixture into the bottom of your greased & parchment lined cake pan then freeze while you prepare the cheesecake batter.
Place all of the cheesecake ingredients into the work bowl of your food processor and pulse to blend
Scrape the sides of the bowl to ensure an even mix then blend again to a smooth mixture
Pour the batter into the prepared crust and bake in a water bath in a preheated 350°F oven for 1 hour
After 1 hour, turn the oven off but leave the cheesecake in the oven to cool slowly for another hour.
Remove the cheesecake cool completely then refrigerate for at least 2 hours to set or overnight before unmolding.
Loosen the sides and bottom of the cheesecake pan with a blowtorch or by submerging the pan into hot water and running a small spatula around the edges
Vegan Cheesecakes unmold very easily so flip int out onto your serving platter then garnish and decorate as shown in the video
Notes
I only use Tofutti brand Cream Cheese for my baked cheese recipes. I am not sponsored it's just that I have only found success with Tofutti brand & actually Go-Veggie Vegan Cream Cheese which happened to be discontinued.

Cheesecake must stay refrigerated and will stay fresh for up to 10 days covered to prevent drying.

I do not like to freeze vegan cheesecakes as I find the texture changes negatively