Yes that's right this little Halloween Cookie project can be done in just about 30 minutes!
This is my Black and White Cookie recipe from my bakery days veganized for everyone to enjoy!
All dressed up for Halloween with my homemade Halloween Sprinkles from last week.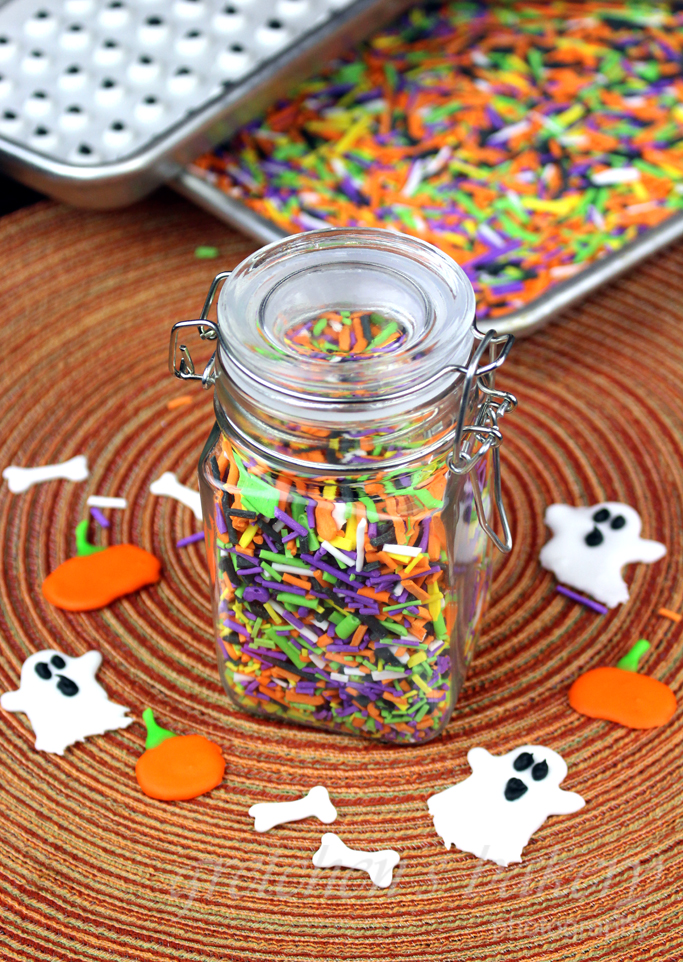 Not only is this a really fun project to make but so delicious too!
I was never really a big fan of Black and White Cookies, to me they just don't know whether they want to be a cake or a cookie!
But this time I have added some finely ground coconut to the batter and now I love them!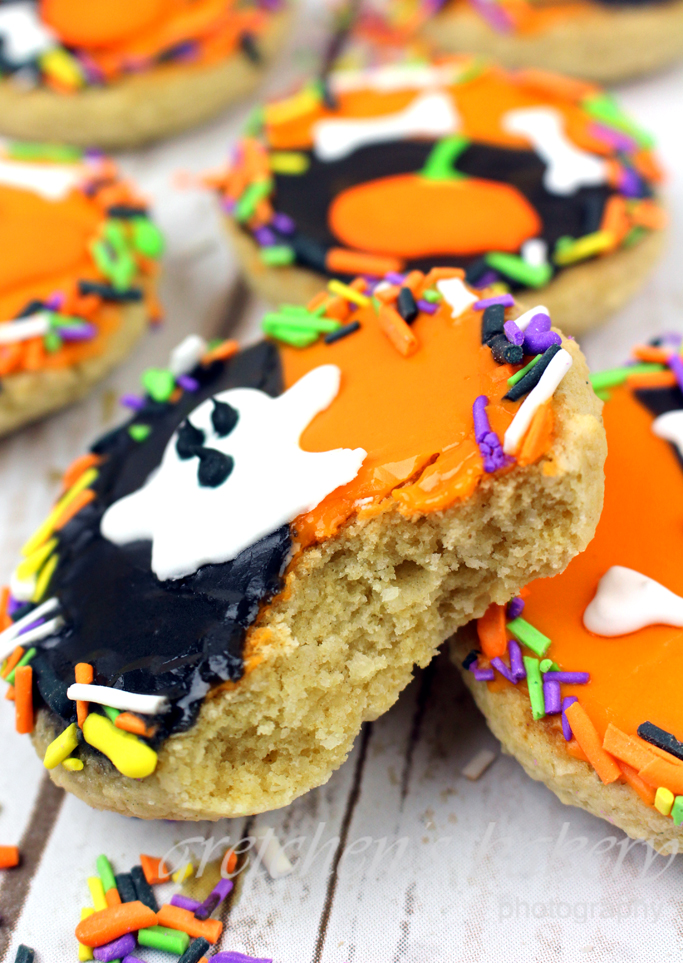 The cookie itself is not very sweet, so the addition of Royal Icing makes them just perfect!
Really simple recipe to mix and they bake in about 12 minutes!
You can seriously be eating these in less than a half hour (if you make your sprinkles a day ahead of time of course!)
I would suggest to make a double or even triple batch though because the recipe as I have it written below only makes 9- 2 ounce cookies.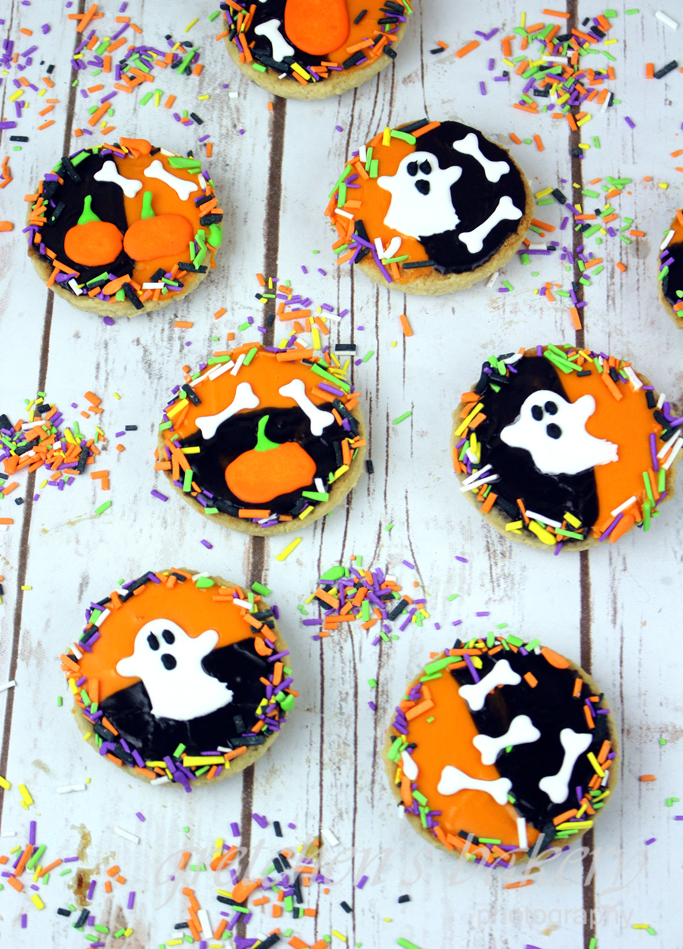 Halloween Cookies in 30 minutes!
I am using a
2 ounce scoop
for the cookies
For those not wanting to use or buy EnerG egg replacer for the royal icing, you can use the
vegan sprinkles recipe
instead- (which only uses aqyafaba) but I prefer the EnerG recipe because for some reason it keeps the icing from drying really hard and I prefer a softer royal icing, but either way will work, they are both essentially royal icing recipes.
I am also using
the Plant Based Egg egg replacer
for this recipe as I find it to be the best, but you can use another brand like Bob's Red Mill if you prefer, however I do use The Plant Based Egg in so many of my recipes, because I LOVE IT!!
Ingredients
For the Cookies:
Vegan Butter 6 Tablespoons (85g)
Granulated Vegan Sugar ½ cup (100g)
Plant Milk 6 Tablespoons (90ml)
Vanilla Extract 1 teaspoon
Coconut Extract 1 teaspoon
Almond Extract *optional ¼ teaspoon
Egg Replacer 4 teaspoons (*I am using The Plant Based Egg at 9.6g weight)
Cornstarch 1 Tablespoon (6g)
All Purpose Flour 1 cup (125g)
Coconut Flour or fine ground coconut flakes ¾ cup + 2 Tbs (80g)
Salt ½ teaspoon
Baking Powder 1 teaspoon
Baking Soda ¼ teaspoon
For the Icing:
EnerG Egg Replacer 4½ teaspoons (20g)
Warm Water 6 Tablespoons (90ml)
Vanilla Extract ½ teaspoon
Confectioner's Sugar 4 cups (480g)
Instructions
For the cookies, Grind the coconut flakes to a finer consistency in a spice grinder or a food processor.
Combine the room temperature plant milk with the extracts
Sift the flour, baking soda, baking powder, salt, cornstarch and plant based egg together
Cream the vegan butter with the sugar for about 3 minutes on medium to high speed until light and fluffy and then add the plant milk 1 Tablespoon at a time while mixing on medium speed.
Add the sifted dry ingredients all at once and mix thoroughly until incorporated then add the coconut last.
Scoop with a 2ounce scoop into parchment lined or silicone sheet pans and then bang the pans abruptly on the table to help then flatten slightly and take shape, then bake in a preheated 350° F oven for approximately 12-15 minutes or until starting to get golden browned
For the icing, Combine the egg replacer with the warm water and whisk smooth
Place the sifted confectioners sugar in a mixing bowl and then add the vanilla extract and the egg replacer mixture.
Mix on medium to high speed until it is smooth
Color as desired with gel paste food colors and decorate as you like
Allow cookies to dry slightly at room temperature
Notes
Cookies will stay fresh at room temperature for up to 1 week.

Un-iced cookies can be frozen wrapped well for up to 1 month
For those who are not big fans of coconut, I understand, but these cookies are soooo much better with it! LOL It really makes them more moist.
But you can take out the coconut and add more flour (preferably cake flour if you have it) at ¾ cup in place of the coconut and leave out the cornstarch.