Top selling cookie in my bakery~Black and White Cookies
The most famous cookie that secretly wants to be a cake!
Soft cake-like cookie iced with white fondant on one side and chocolate fondant on the other side!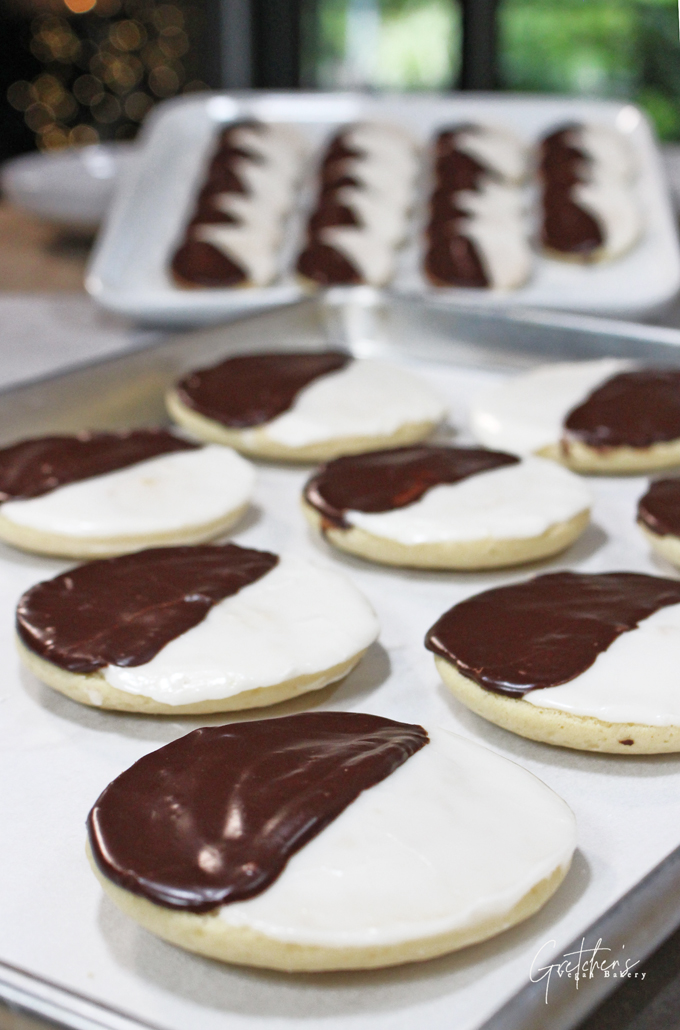 I have to be honest I never LOVED Black and White Cookies
To me they were always kinda dry and just "meh" so I haven't even eaten one in over 10 years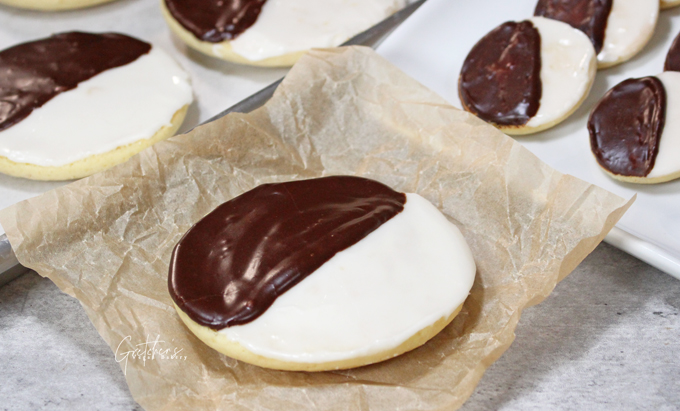 BUT NOW I AM IN LOVE WITH BLACK AND WHITE COOKIES!
Since I've tweaked the original recipe and veganized it, it is better than ever!
This recipe is so good I am now a Black and White Cookie Lover!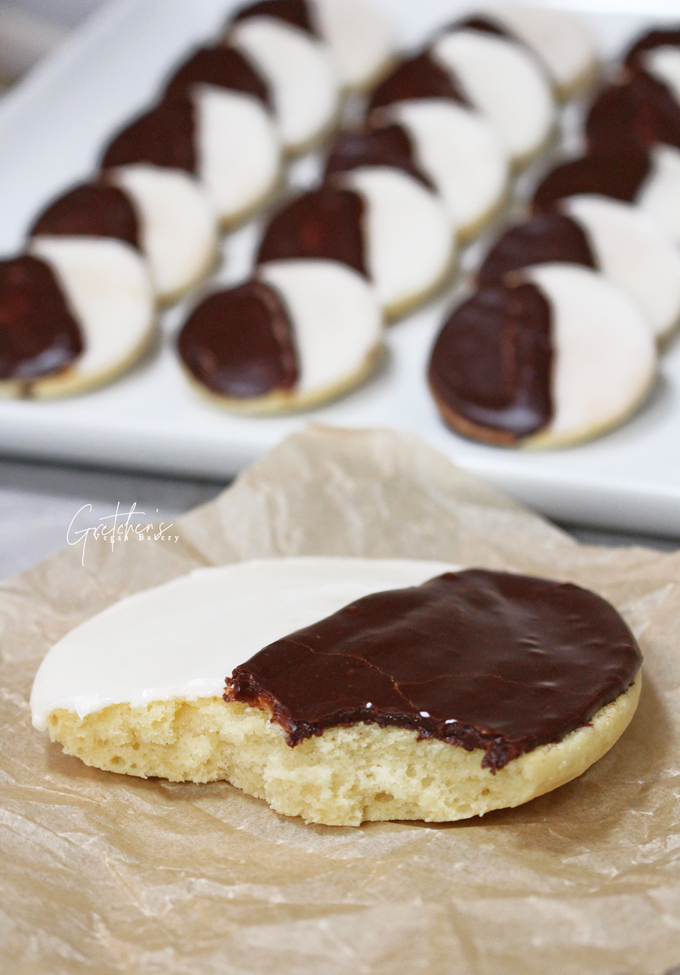 WATCH THE YOUTUBE VIDEO FOR HOW TO MAKE VEGAN BLACK AND WHITE COOKIES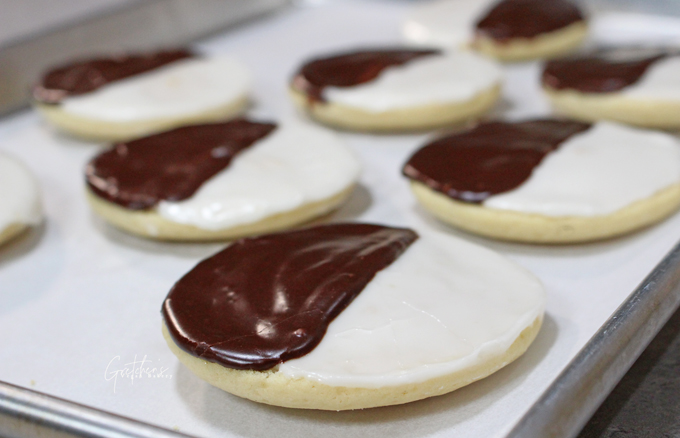 Notes for Success:
In the video I mention using butter flavor which is optional but I really like the addition here, I also use it in my buttercream recipes so it's not just going to sit in your pantry
OlilveNation is my go-to for flavors and extracts and they offer a 20% discount to all of my viewers
Check out OliveNation Butter Flavor here
Enter GVB20 in the discount code at checkout!
Cake flour is another ingredient I did not want to change when converting my original bakery recipe.
Cake flour in cookie recipes will give you that soft batch result, but if you cannot get cake flour you can sub in all purpose flour but reduce the amount by 3 Tablespoons
CLICK HERE FOR MORE INFORMATION ABOUT CAKE FLOUR
For more classic bakery treats click the links below!
Vegan Spritz Cookies ~ Bakery Recipe
Bakery Style Cheese Danish Recipe
Yield: 18 Large or 48 Mini
Black and White Cookies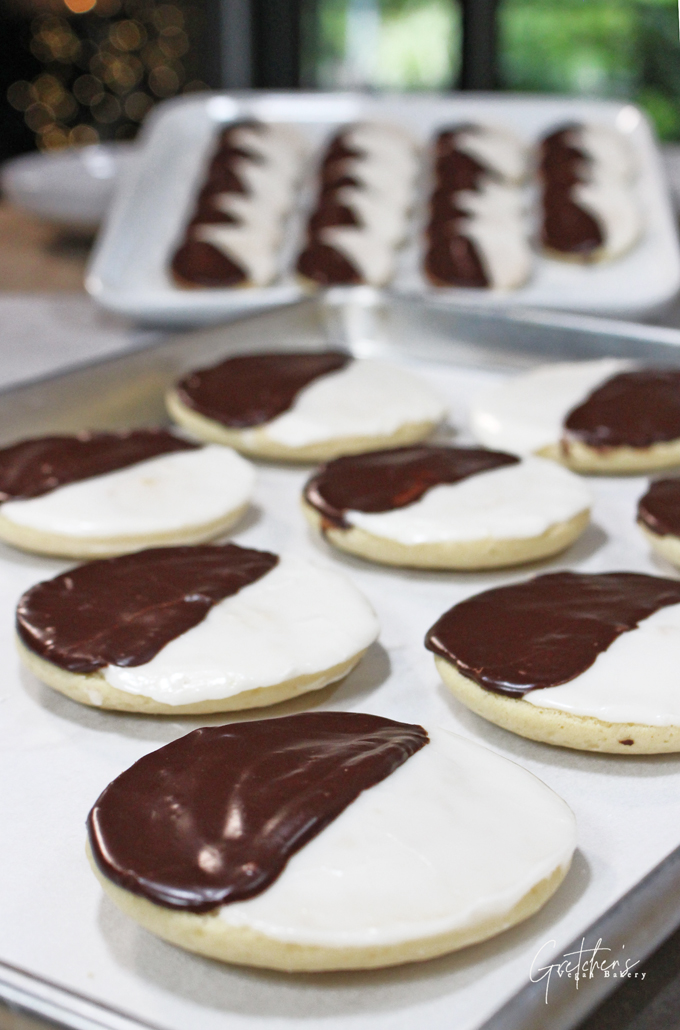 Ingredients
Granulated Sugar 12 Tablespoons (150g)
Vegan Butter 10 Tablespoons (140g)
Plant Milk ½ cup (118ml)
Vinegar 2 teaspoons (10ml)
Aquafaba ¼ cup (60ml)
Cornstarch 2 Tablespoons (16g)
Butter Flavor ½ teaspoon
Vanilla Extract 1 teaspoon (5ml)
All Purpose Flour 4 Tablespoons (32g)
Cake Flour 2 cups (240g)
Baking Powder 1 teaspoon
Baking Soda ½ teaspoon
Salt ½ teaspoon
For the Icing:
Confectioners Sugar 4 cups (480g)
Plant Milk 6 Tablespoons (90ml)
Cocoa Powder 4 Tablespoons
Water 4-5 Tablespoons
Corn Syrup *optional 2 Tablespoons
Instructions
Preheat the oven to 350°F
Combine the vinegar with the plant milk and then add the vanilla & the butter flavor to that
Combine the aquafaba with the cornstarch and whisk smooth
Cream the slightly softened but still cold vegan butter with the sugar with an electric mixer on medium to high speed until light & fluffy this will take about 4 minutes
Stop the mixer and scrape the bottom & sides of the bowl then resume mixing on medium speed and add the aquafaba mixture slowly while mixing.
Once it is all incorporated whip on high speed for about 20 seconds to emulsify
Add the flour, baking powder & soda & salt and mix until it comes together to a firm dough
Add the milk mixture slowly while mixing on medium speed
Scrape the bottom & sides of the bowl again and then whip smooth for 20 seconds
Pipe the batter with a pastry bag to 3" in diameter or scoop with a 2 ounce scoop *for the large size onto a parchment lined sheet pan spaced 2" apart
For the mini size cookies use a tablespoon scooper or pipe to 1½" diameter
Tap the sheet pan firmly on the table to release any air pockets
Bake in the preheated 350°F oven for 15 minutes or until golden brown
The mini size will take just about 10 minutes
While the cookies are cooling prepare teh icing by mixing the confectioners sugar with the plant milk and corn syrup until it is a thick glossy icing *it is much easier to do this with an electric mixer
Divide the icing in half and then combine the cocoa powder with the hot water you may only need 4 tablespoons so add a little at a time to form a thick paste
Add the cocoa paste to the half of the icing sugar then ice the cookies half with white icing and then the other half with chocolate icing as shown in the video
Notes
Black and White Cookies are to be stored at room temperature loosely wrapped to avoid ruining the icing. A parchment paper over top will prevent sticking to the wrap.
They will stay fresh for up to 4 days.
Do not refrigerate or the icing will melt
You can freeze UN ICED cookies wrapped well for up to 1 month