BUT WAIT!
This is not JUST a broccoli rabe sandwich!
This is a combination of Gaz Oakley's recipe for Welsh Rarebit which that in itself is an amazing combination of balsamic caramelized onions and beer cheese sauce.
Add to that: my recipe for garlick-y broccoli rabe on a toasty bun….
And you have yourself a Welsh Rarebit Broccoli Rabe sandy!
This may be the best sandwich ever!
Packed with greens and oozing with melt-y cheese sauce and Gouda cheese!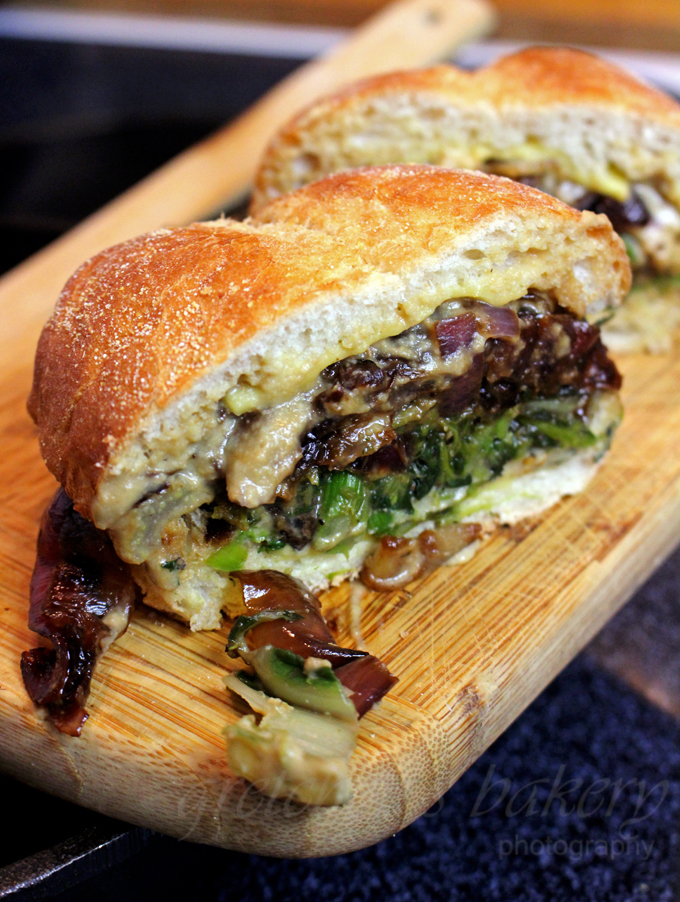 I made a Vlog Style Video to show the making of this sandwich if you care to watch it!


Broccoli Rabe Sandwich
You will have to go grab Gaz's recipes for the caramelized onions and beer cheese sauce before beginning!
CLICK HERE FOR THE RECIPES
Serves:
3 cups for 4 sandwiches
Ingredients
Broccoli Rabe 2 bunches cleaned and steamed
Swiss Chard *optional approx 4 cups
Mushrooms 6 ounces chopped
Garlic 4 clove minced
Shallot 1 small approx 2 Tbs minced (or an onion)
Garlic Powder 1 teaspoon
Crushed Red Pepper Flakes 2 teaspoons *optional
Salt & Pepper to taste
4 Crusty Rolls or your bread of choice
4 Slices Smoked Gouda Dairy Free Cheeze *optional
Instructions
Clean the broccoli rabe by removing any wilted leaves, trim the bottom of each stalk and then plunge into generously salted boiling water for 3-4 minutes.
Immediately transfer to a colander (or ice water bath to stop the cooking if you are NOT going to saute right away, this also preserves the bright green color)
Meanwhile get the mushrooms, garlic, onions or shallots to the saute pan (I do not use oil in my cooking, but you can if you want to) saute until the onions are translucent and the mushrooms are tender.
Add the steamed broccoli rabe & the swiss chard (if using) and lower heat to medium, cook stirring often to tender and wilted down.
Add the salt, pepper, garlic powder & red pepper flakes.
Once you have prepared the recipes from Gaz Oakley CLICK HERE you can assemble the sandwich by toasting your rolls, add the Gouda cheese until melted and then top with the broccoli rabe, beer cheese sauce and onions!
YUMMM!