Happy Valentine's Day!
Vegan Boston Creme Donuts coming at ya!
Nothing says I love you like deep fat fried dough!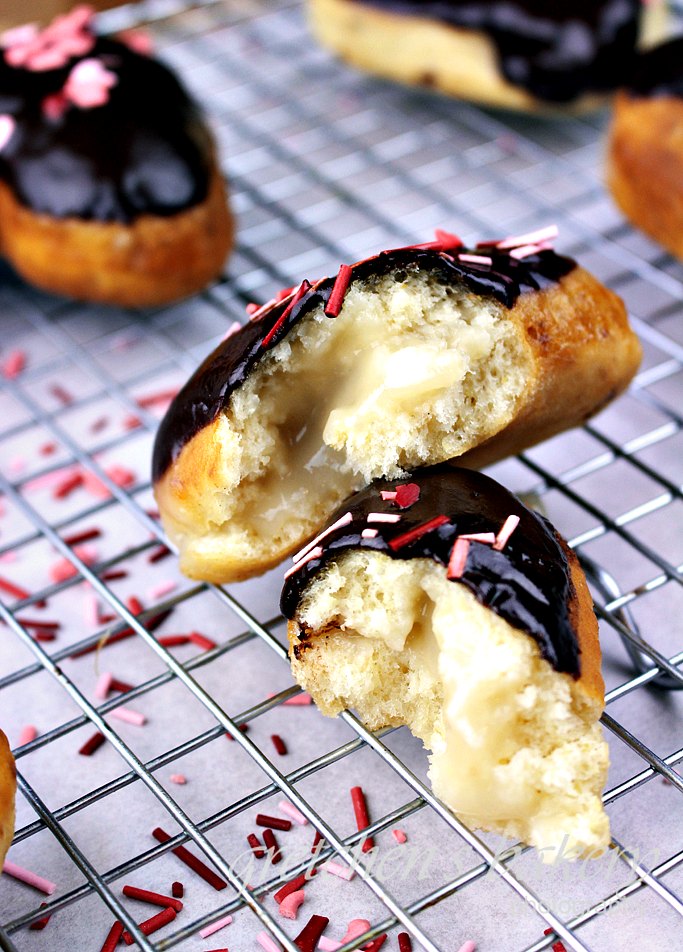 But watch the video all the way through so you can see my variation using the air fryer!
Yes virtually fat free air fried donuts!
I know what you're thinking, "But donuts are supposed to be fried!"
And yes I agree with you, but as you get up there into your senior years like me, you have to watch things a bit more closely than you did in your youth!
But hey, I'm just offering up alternatives, you can deep fat fry until your little heart… Umm…. desires!
Homemade sprinkles are my favorite thing about these donuts and I think you will agree, when you see how easy it is to make them and how much money you can save by making your own!!
Now get to work! It's almost Valentine's Day!
AIR FRYER TIP! I didn't show this in the video but if you fill the bottom of your air fryer with about 1 cup of water while air frying (not so much that it touches the basket) it keeps the donuts from getting crispy and hard **even though the directions on my air fryer specifically say NOT TO FILL WITH WATER! I did it anyway! User be ware!

Vegan Boston Creme Donuts
The custard made with cornstarch will always make a slightly thinner translucent custard. If you want a thicker, heavier custard you can make it with All Purpose flour (6 Tablespoons instead of the 4 Tablespoons of cornstarch below) same method of cooking.
AIR FRYER TIP! I didn't show this in the video but if you fill the bottom of your air fryer with about 1 cup of water while air frying (not so much that it touches the basket) it keeps the donuts from getting crispy and hard- Disclaimer- while the instructions to my air fryer specifically say DO NOT add water to the basket... Umm.. I did 😉
Ingredients
For the dough:
Soy Milk ¾ cup (180ml) warmed to 65°F
Dry Yeast 1 Tablespoon (6g)
Flax Meal 1 tablespoon (8g)
Hot Water 3 Tablespoons (45ml)
Vegan Granulated Sugar 1 Tablespoon (14g)
All Purpose Flour 2½ cup (325g)
Baking Powder ½ teaspoon (3g)
Salt ¼ teaspoon
Nutmeg Ground ⅛ teaspoon *optional
Cardamom ⅛ teaspoon *optional
Vegan Butter or Coconut Oil 4 tablespoons (56g)
Peanut or your favorite Vegetable frying oil approx 2½ cups
For the Custard:
Soy Milk 1½ cups (357ml)
Granulated Sugar ¼ cup + 1 Tablespoon (65g)
Cornstarch 4 Tablespoons (40g) OR Flour 6 Tablespoons (42g)
Vanilla Extract 1 teaspoons (5ml)
Tumeric *for color tiny pinch
Vegan Butter 1 tablespoon (14g)
For the Glaze:
4 Tablespoons coconut oil
5 Tablespoons cocoa powder
1½ Tablespoons agave
For the Sprinkles:
Confectioner's Sugar 1½ cup (180ml)
Salt pinch
Vanilla Extract 1 teaspoon (5ml)
Aquafaba or Water 1 Tablespoon (15ml)
Color as needed
Instructions
For the Dough:
Sprinkle the dry yeast over the warm milk and allow to proof for about 5 minutes until slightly frothy
Melt the earth balance and then get the flax meal combined with the hot water and let it stand to thicken for 5 - 10 minutes
In a mixer fitted with a dough hook attachment combine all the ingredients including the frothed yeast/milk mixture EXCEPT FOR OIL~ the oil is for frying the donuts!
Mix on low speed until everything is incorporated for about 30 seconds
Scrape the bottom and sides of the bowl to help it along and mix on low to medium for 8 more minutes on medium speed.
Place the dough into a lightly oiled bowl and set in a warm spot, covered for 30 minutes
After 30 minutes, fold the dough over onto itself and continue the rest for another 30 minutes.
Turn the dough out onto a lightly floured surface and roll it to ¼" - ½" thick
Cut dough with a 3" heart shaped cookie cutter
It is not great to re-roll this dough so I like to take the scraps and twist them up to make crullers.
Transfer the donuts to a parchment lined sheet pan and allow them to rest for 30-45 minutes and then heat the frying oil.
In a large, deep heavy bottom sauce pot heat 3 cups of frying oil to approximately 360°F (190°c)
Fry the donuts for approximately 2 minutes on each side using a metal or wooden utensil to do the flipping.
Be very careful working with hot oil it is very dangerous if it spills or splatters on your skin.
Remove the donuts to a cooling rack or a sheet pan lined with paper towels to absorb the excess oil.
For the air fryer method brush the donuts lightly with oil and then fry at 400°F for 10 minutes or until golden
For the Custard:
Combine all the ingredients except for the vanilla extract and butter in a medium sauce pot over medium to high heat and bring to a boil stirring occasionally .
Once it starts to bubble be sure to stir constantly to avoid burning on the bottom, and let it boil on low heat for about 30 seconds.
Add the vanilla extract and the vegan butter and stir to melt the butter
Pour into a shallow dish and cover with plastic wrap to avoid forming a skin, then refrigerate until cold
For the Glaze:
Combine all ingredients together in a small sauce pot and heat on low stirring constantly until melted
For the Sprinkles:
Combine all the ingredients together and stir to form a stiff dough, add color as desired
Fill the donuts as shown in the video
Notes
Like any yeast pastry, donuts will stale quickly so they are best eaten the day they are made.

I found the fat fried donuts to still be soft after 1 day but the air fried donuts were heavy and bread-like on the 2nd day, more than when they were fresh

For the cornstarch vs flour comprehension: One tablespoon of cornstarch thickens one cup of liquid to a medium consistency. It takes two tablespoons of flour to thicken the same amount of liquid and why I have an increased amount of flour for those wanting to use flour rather than cornstarch.