Introducing Bakery Style Cheese Danish Recipe!
Authentic yeast buns filled with sweet vegan cream cheese
Quickly though, I must address what will be the most commented phrase on this recipe:
"HOW DARE YOU! THAT IS NOT A REAL DANISH DOUGH!"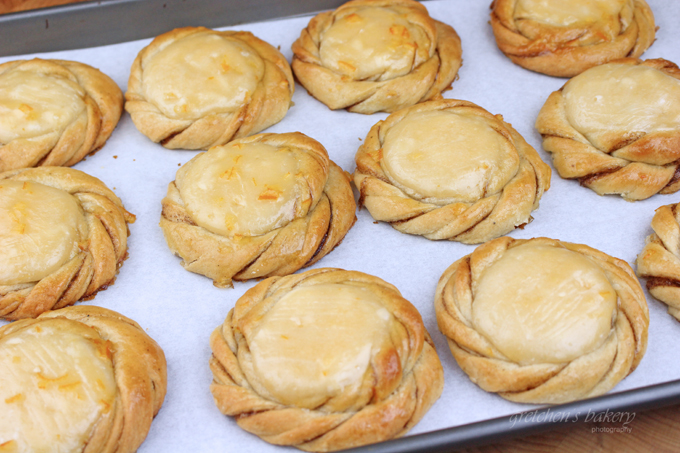 If you are one of those who want to call me out for this
Yes you are correct, this is not a true laminated danish dough
Which in and of itself is an art form and one that I am not about to teach in a 5 minute YouTube video or try to explain in a blog post.
So if it is real deal laminated danish dough you are after then look elsewhere
This post is for folks who want an easy & fast near exact replica of a danish dough without all the time and technicalities involved.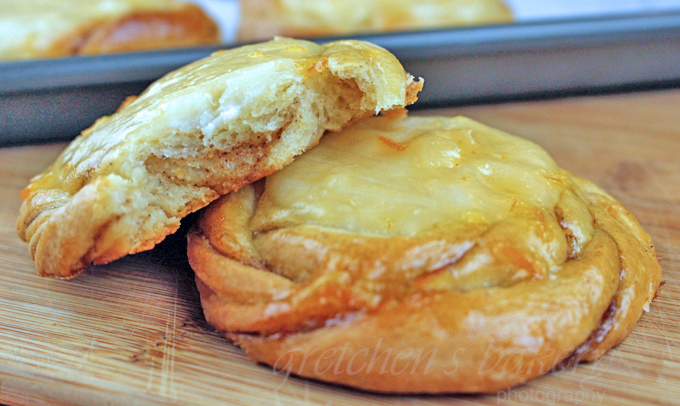 This dough recipe is actually adapted from my Babka recipe
But for all intents and purposes I am still calling it "danish pastry" for none other than familiarity reasons
Not to mention I will bet my last dollar that no one will ever know this is not a true danish dough!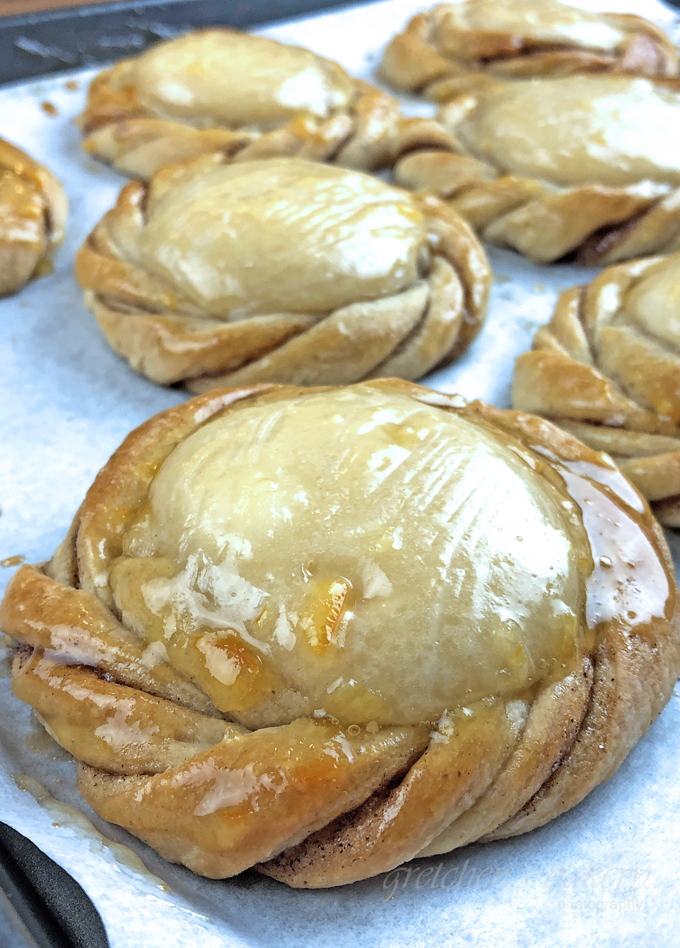 Ok, rant over. Now let's get to the recipe!
For more breakfast pastry recipes click the links below!
Notes for Success
I only use Tofutti Cream Cheese for my BAKED recipes *not sponsored
I have not had success with any other brand in BAKED recipes.
For some reason the other more expensive brands I've tried have broken down into an oily mess when baked.
Cornstarch is a very difficult ingredient to measure consistently with a volume spoons measure
So while I list both measures below I cannot stress enough how the grams measure with a scale is going to give you the best results.
CLICK HERE FOR THE FULL YOUTUBE VIDEO TUTORIAL WITH STEP BY STEP INSTRUCTIONS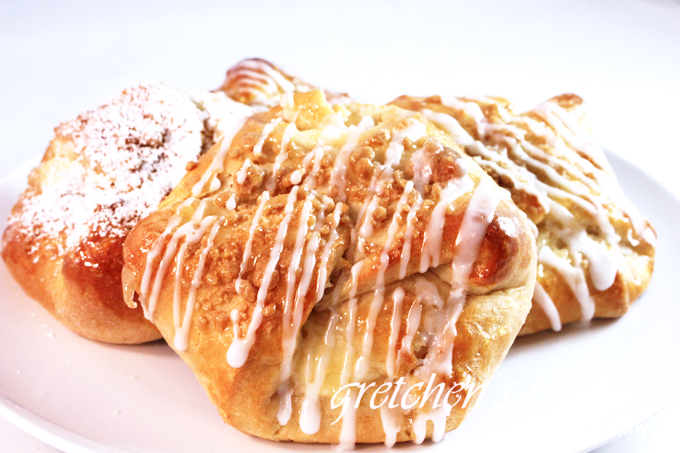 Divide this process into two days for fresh baked Danish in the morning!
For those who want to bake the danishes fresh in the morning, you can start this recipe the day before
Rather than proceeding with the second proofing as listed below in the instructions & video tutorial
You will instead cover the formed danish dough snails with plastic wrap
Then place the tray in the refrigerator for a very slow proof overnight
You will however have to bring them out of the refrigerator at least one hour before baking to allow them to come to room temperature and then get nice and fluffy before baking
This could actually take longer than one hour, so plan your time accordingly to the conditions in your area.
Additionally you can top the danish with nuts or fruit filling for a variation on the cheese variety!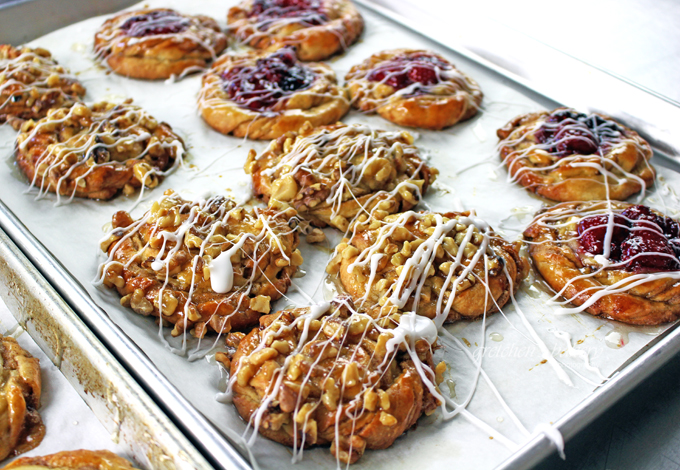 Bakery Style Cheese Danish (vegan)
In the original recipe from my book
Modern Vegan Baking
I used Aquafaba as the egg replacer, here I am using
The Plant Based Egg by Freely Vegan
. Both will work, but I have been using The Plant Based Egg for nearly 90% of my recipes so for me to have just one on hand is a real WIN! I hope you will try it!
For those who want to use aquafaba, reduce the soy milk in the recipe below by ⅓ cup (5 Tbs) and add ⅓ cup aquafaba instead
Ingredients
For the Dough
All Purpose Flour 4 cups (500g) + more for rolling the dough
Granulated Sugar ½ cup (100g)
Baking Powder ¼ teaspoon
The Plant Based Egg Egg replacer by Freely Vegan 3 teaspoons **see note above
Nutmeg ¼ teaspoon
Cardamom 1 teaspoon
Salt ½ teaspoon
Soy Milk warm (approx 100°F) 14 Tablespoons (207ml)
Dry Yeast 1 Tablespoon + ¼ teaspoon
Softened Vegan Butter 1 cup (226g)
For the Cheese Filling
Vegan Cream Cheese 1½ cup (336g)
Vegan Butter 2 Tablespoons (28g)
Confectioner's Sugar 10 Tablespoons (75g)
Cornstarch 3 Tablespoons (24g)
Vanilla Extract 1 teaspoon
For the Cinnamon Schmear
Light Brown Sugar ¼ cup (55g)
Vegan Butter Softened 4 Tablespoons (56g)
Cinnamon 2 teaspoons
For the Wash
Aquafaba ⅓ cup
Granulated Sugar 3 Tablespoons
For the glaze, ½ cup any jelly or jam melted with 2 Tbs water over low heat stirring constantly
Instructions
First prepare the dough by proving your yeast in the warm (100°f) plant milk with a pinch of sugar, let it stand to frothy for about 5 minutes.
In a stand mixer with the dough hook attachment combine all the dry ingredients including the sugar and mix well
Add the proved yeast/milk mixture along with the softened vegan butter *and the aquafaba if you are using that instead of the Plant Based Egg with the adjustments as mentioned above.
Mix on low speed to incorporate then turn the mixer to medium speed and mix for 5 minutes (scrape the bottom and sides of the bowl to help it mix evenly)
*You can mix this entire recipe by hand by kneading it all together on a lightly floured work surface to a soft pliable dough
Turn the dough out onto floured surface and knead it by hand about 20 turns
Place into a lightly oiled bowl, cover and rest in a warm spot for approximately 45 minutes to 1 hour or until almost doubled in size.
Meanwhile prepare the cheese filling by combining all the ingredients together in a large mixing bowl and mix by hand with a wooden spoon until smooth, reserve in the refrigerator until needed.
Mix the cinnamon schmear also by hand in a medium bowl by blending all the ingredients together with a wooden spoon or spatula until smooth and to a whipped like consistency.
Once the dough is risen, turn it out onto a floured work surface and press out the gasses while forming to a rectangle shape.
Roll the dough to 18" X 12" approximately ¼" thick.
Spread the cinnamon filling over the entire surface of the dough then fold the dough over in half from the long side. The resulting size of the dough will now be 18" X 6"
Gently roll the dough to an even rectangle that is now 18" X 9" and cut strips along the short sides to 1" pieces.
Dock a slit in the middle of each dough strip and form the snail shapes as shown in the video.
Place the danish snails onto t a parchment lined sheet pan spaced 2" apart.
Cover the pans loosely with plastic wrap and set to a warm spot for approximately 30 minutes to 1 hour depending on the temperature of your room. The danishes will be fluffy and puffed.
Once the danishes are proofed and puffy, start preheating your oven to 350°F
Press an indent into the center of each danish and fill with 2-3 Tbs of the cheese filling.
Brush the aquafaba sugar mixture over each danish and bake in a preheated 350°F oven for 25-30minutes or until golden browned.
*A double sheet pan will prevent over browning on the bottoms
Immediately out of the oven brush the hot melted jam over each danish.
Serve as soon as possible, yeast pastry goes stale fast and is meant to be eaten the day they are made
Notes
It is best to serve yeast pastry the day they are made, as they stale quickly.

Store for up to 3 days in an airtight container at room temperature, or freeze for up to 1 month
3.5.3226
3.5.3251