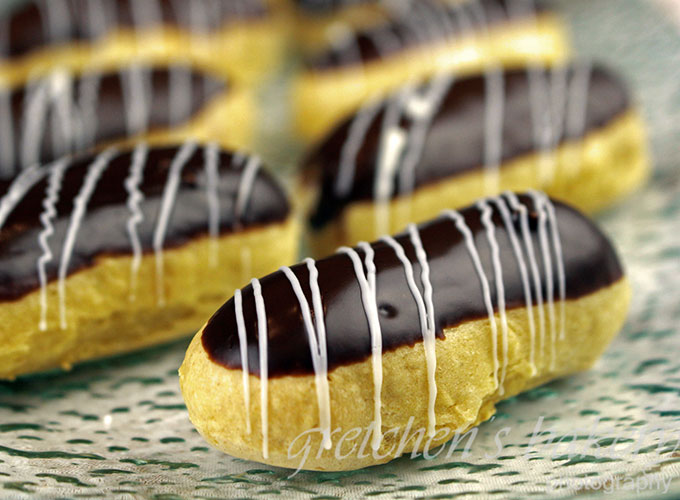 Perfect authentic Vegan Eclairs coming right up behind the more recent Vegan Cannoli recipe giving classic pastry a fresh revival~ vegan style!
I cannot be more excited to share this recipe with you all!
Since any one who knows anything about pastry knows that pate a choux dough is a very egg rich dough that relies heavily on those eggs to bake up into hollow shells of pastry art that can then be filled with luscious creamy pastry cream custard.
I've tried several recipes for vegan eclairs over the last year and not one has lived up to my standard; which is essentially that my vegan recipes must be at the very least an 85% match to the original.
Meaning my non vegan friends who taste it have to be "wow-ed" when they taste it!
Until now not one recipe was making the grade.
Behold the vegan eclair.
*UPDATE on the Follow Your Heart Vegan Egg-
Soon after I formulated this recipe~ 
Follow Your Heart changed the formula of The Vegan Egg by replacing the algal flour with soy milk powder!
I had great success with the original formula so I will say that if you have the new SOY formula,
you may want to hold off on this recipe since it seems to not work out now that Follow Your Heart changed its ingredients.

If you are on facebook, Moira Wright has a great recipe she has perfected the Vegan Eclair on her page called Aquafabulous, Baking the Soy Whey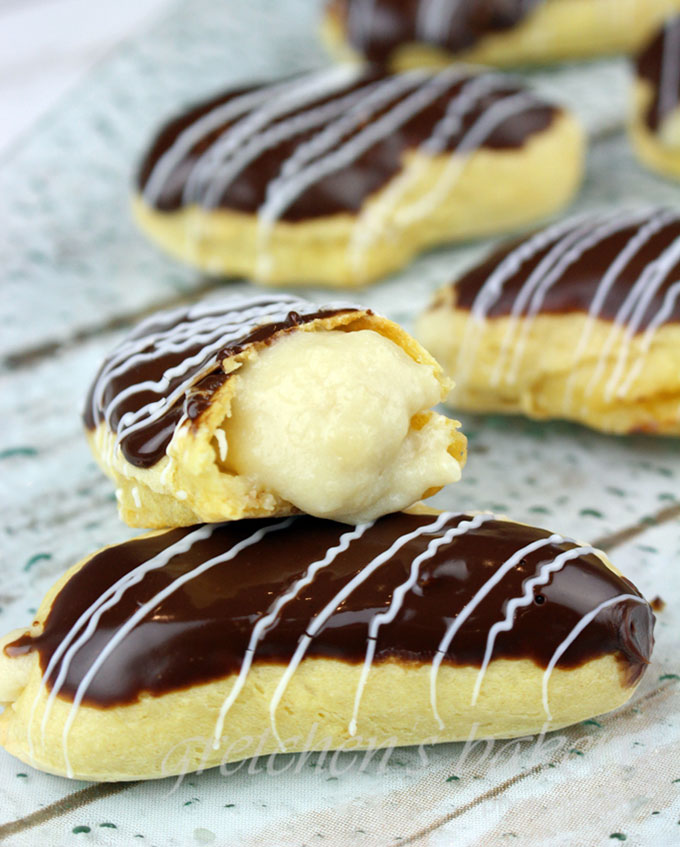 Vegan Eclairs
I know right away many of you will ask me what you can use instead of the vegan egg by Follow Your Heart and unfortunately this was the winning combination to make it work out correctly.
This is the way the recipe works perfectly, so if you can't get it or don't want to buy it I would sadly say to go ahead and try the other recipes floating around the internet like I did, but I will warn you they are just not going to be like this!
Ingredients
For the Pate a Choux
Soy or Almond Milk 1 cup (237ml)
Vegan Butter 2 Tablespoons (28g)
Sugar 5 teaspoons
Salt pinch
Vegan Egg by Follow Your Heart 3 Tablespoons (12g)
Cold Water ½ cup (118ml)
Aquafaba ½ cup (118ml)
All Purpose Flour 1 cup (125g)
Baking Powder 4 teaspoons
Xanthan Gum ¼ teaspoon
Apple Cider Vinegar 1 teaspoon (5ml)
For the Pastry Cream
Soy or Almond Milk 1¼ cup (295ml)
Vegan Egg by Follow Your Heart 2 Tablespoons (8g)
Cold Water ⅓ cup
Cornstarch 2 Tablespoons (20g)
Vegan Butter 2 Tablespoons (28g)
Granulated Sugar ⅓ cup (67g)
Vanilla Extract 1 teaspoon
Instructions
First prepare the pastry cream custard so it has time to set while the eclairs are baking.
Combine the milk alternative and sugar in a sauce pot and bring to a boil
Meanwhile in a medium mixing bowl combine the vegan egg and cold water and whisk vigorously smooth then add the cornstarch whisk smooth
Once the milk comes to a boil slowly stream it into the vegan egg mixture in the bowl while whisking constantly
Then pour the entire mixture back into the pot and continue cooking over a medium heat while whisking constantly until it starts to bubble.
Let it boil for about 15 seconds then remove it from the heat and add the vegan butter and vanilla extract
Transfer to a clean bowl or container and cover the top directly with plastic wrap and refrigerate to cold.
Preheat the oven to 425°F and next prepare the pate a choux dough by combining the milk alternative with the vegan butter, sugar and pinch of salt in a medium sauce pot and bring to a boil
Meanwhile in a medium bowl combine the vegan egg with the cold water and whisk smooth
Add the apple cider vinegar and then the baking powder and the mixture will bubble up so be sure you are using a large enough bowl!
Add the aquafaba liquid and whisk smooth, set that aside
Once the milk comes to a boil add the flour and xanthan gum and stir it vigorously with a wooden spoon until all the flour is absorbed and it forms a dough that pulls into the center of the pot.
Transfer it to a mixing bowl with the paddle attachment (or a food processor will also work!) and stream the vegan egg mixture into the dough while mixing on low speed until it is all incorporated then increase the speed to high until you have as sticky dough that is coming together
*If using a food processor just combine everything together and process to a sticky dough
Transfer the dough to a pastry bag (I just use a couple no tip inserted) and pipe 3" long logs into a silicone mat
Brush with water lightly then bake in a preheated 425°F oven for 20 minutes
At 20 minutes turn the oven down to 400°F and bake for another 10 minutes.
Turn the oven off and crack the door open and let them cool inside the oven for about 5 - 10 minutes longer.
You can check to see if they are done at the 30 minute mark (before shutting off the oven) to see if they are hollow inside, if not bake for another 10 minutes or so
Cool before filling with cold pastry cream.
You will have to stir the pastry cream slightly to get it to a pipable consistency and I folded in an equal amount of coconut whipped cream for a lighter custard filling, this is optional
Notes
Eclairs must be kept refrigerated and can be stored for up to 1 week.

Unfilled shells can be stored in the freezer in a ziploc bag for up to 2 months and the custard can be stored in the refrigerator for up to 1 week