When they said a picture speaks a thousand words they were talking about these cupcakes!
There's not too much to say about these Vegan Brownie Cupcakes with Peanut Butter Fudge Icing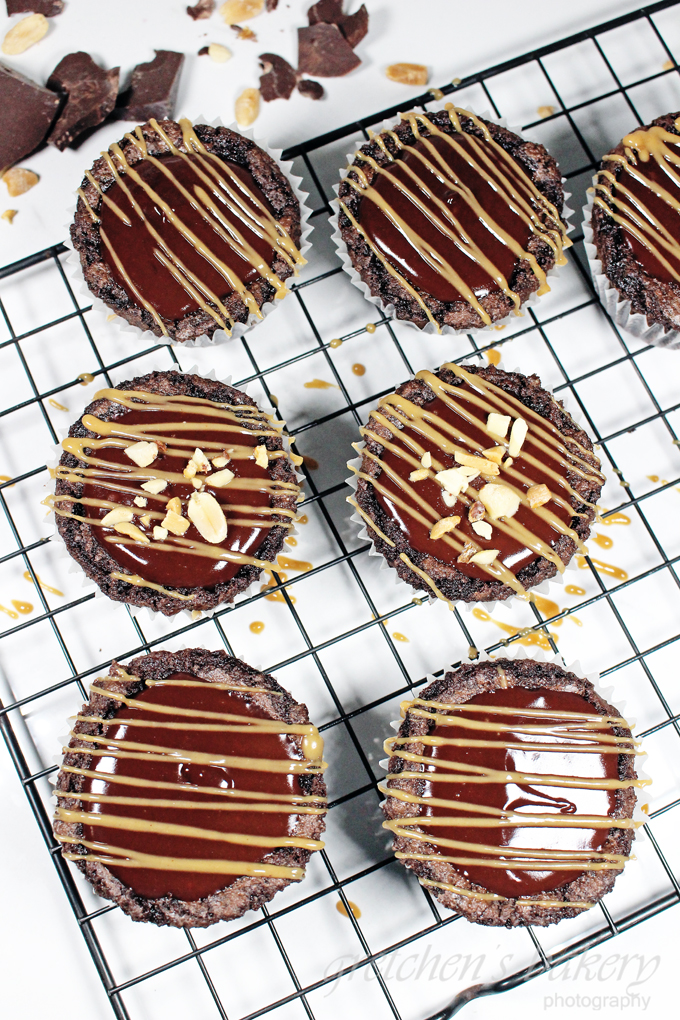 Fudge brownies baked into cupcakes
Filled with three ingredient peanut butter fudge
Iced with chocolate ganache!
Life seriously does not get much better than this!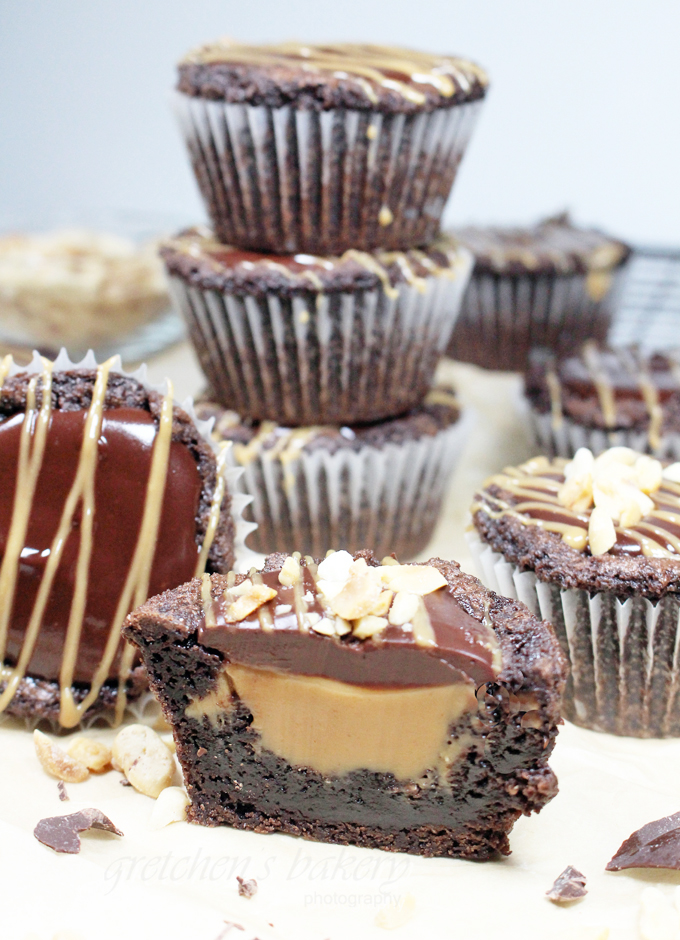 I have several recipes for scratch brownies here on my website
With my favorite one being the One Hour Fudge Brownie
Because it doesn't require any strange ingredients like egg replacers that you probably don't have.
But today I went super lazy route and made my Box Brownie Recipe Life Hack
I've perfected the boxed brownie mix for the fudgiest chewiest brownies you will ever try!
While the cupcakes were baking
I made my three ingredient peanut butter fudge to fill up the centers!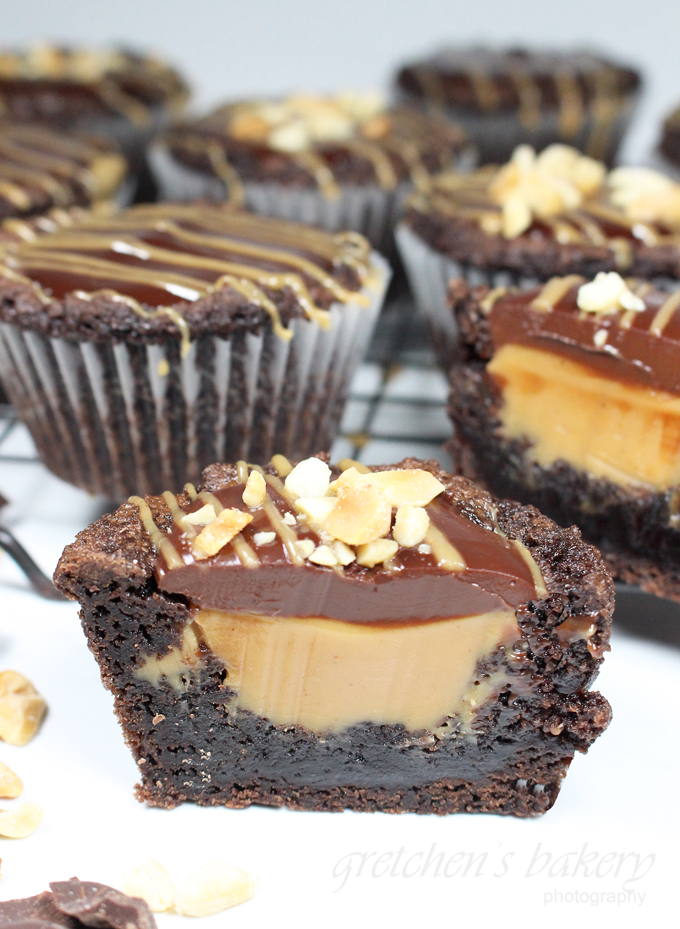 Ganache icing has become a staple in my house
I've almost always got a small bowl of it in my refrigerator for spur of the moment pop up desserts like this one!
Just two ingredients and about 10 minutes you've got yourself a silky chocolate ganache!
I could barely wait for the brownies to cool before loading them up with that peanut butter fudge!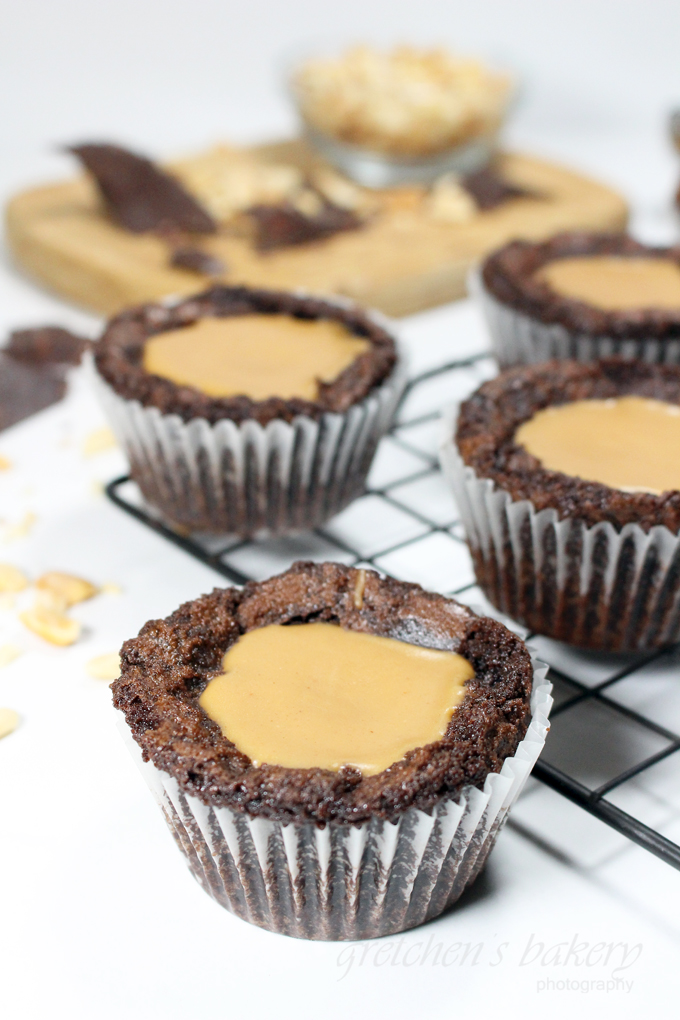 You can of course stop here and forget the ganache icing or get creative with another type of icing
I considered icing them with peanut butter buttercream
Be sure to save out just a few tablespoons of that peanut butter fudge
For those pretty streaks of peanut butter and chopped peanuts for garnish!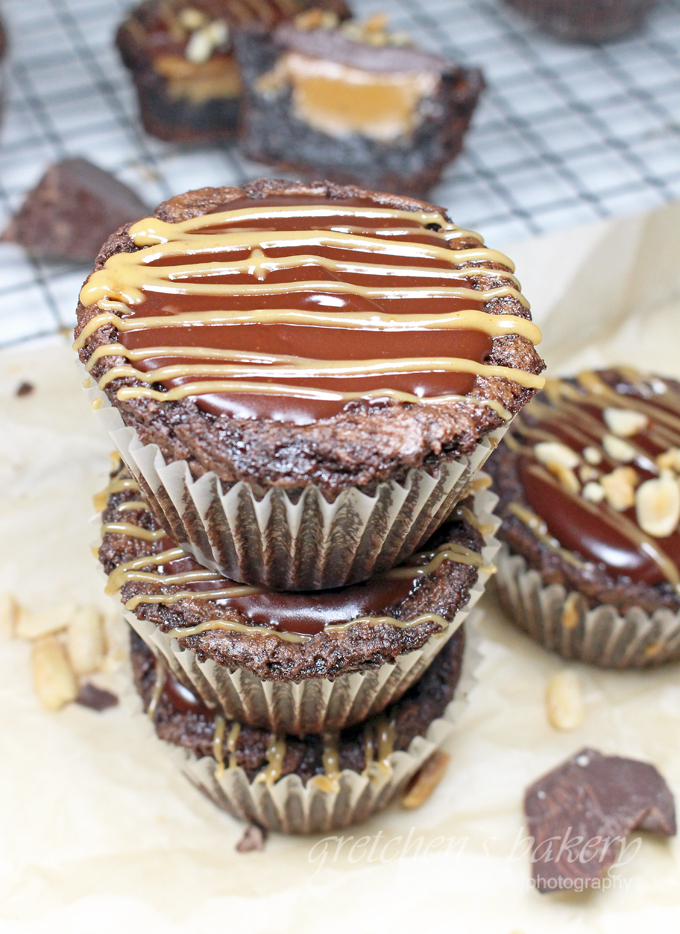 Notes for Success:
Since I used my Box Brownie Hack for this recipe,  I got 9 total cupcakes
I am not quite sure how many you will get if you use another recipe, but just fill the paper lined cupcake molds 3/4 full with batter, baked at 350°F for 25 minutes
A heaping 1.5 ounce scoop was the perfect portion for mine.
Also a light spray of pan spray was helpful in each cupcake liner before adding the batter, this helps release the paper from the brownies.
The peanut butter fudge recipe is a refrigerator fudge, meaning it will get very soft at room temperature
Making this the perfect recipe for the filling of these cupcakes
Since they are best served at room temperature,
That peanut butter fudge will be nice and soft in contrast to that thick and chewy fudge brownie!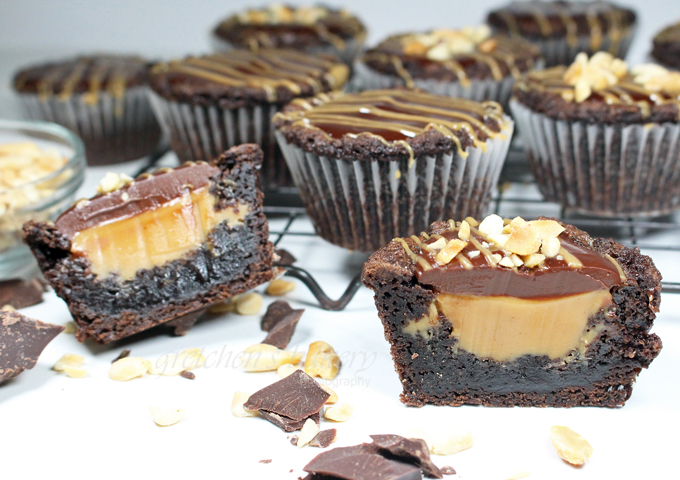 For more peanut butter recipes click the links below!
Peanut Butter Fudge Cookie Cups
Reese's Peanut Butter Cup Cake
Death by Peanut Butter Fudge Brownie Cheesecake
Vegan Brownie Cupcakes with Peanut Butter Fudge
I am using agave syrup for my peanut butter fudge recipe, but you can replace with another liquid sweetened like golden syrup or corn syrup
Ingredients
1 Recipe Box Brownies Hack
1 recipe Vegan Ganache
For the Peanut Butter Fudge:
Creamy Peanut Butter ½ cup (130g)
Agave Syrup ¼ cup (80g) *see note above
Coconut Oil ¼ cup (56g)
6 Tablespoons Chopped peanut for garnish *optional
Instructions
First prepare your favorite brownie recipe as per the instructions listed
Scoop the brownie batter with a heaping 1½ ounce scoop into lightly sprayed cupcake liners
Bake in a preheated 350°F oven
Mine took 25 minutes with the toothpick test.
Be sure not to over bake! You want moist crumbs not a dry brownie!
As soon as the brownies are done baking, remove them from the oven and make an indent in the center of each one, this is going to hold the peanut butter fudge filling.
Now let them cool completely
Meanwhile prepare the ganache recipe as per the instructions listed on that recipe and reserve until needed
Prepare the peanut butter fudge by combining all 3 ingredients in a small sauce pot and heat over medium-low heat stirring constantly until melted and smooth
Remove from heat and reserve.
Once the brownies are cooled, fill the indented centers with the peanut butter fudge filling~ reserving approx 2 Tbs for the drizzle.
Refrigerate to set the fudge then cover the tops with warm ganache.
Drizzle with the reserved peanut butter fudge and then chopped roasted peanuts for garnish
Notes
Peanut butter fudge cupcakes can be stored at room temperature for up to 4 days

For longer storage keep refrigerated for up to 2 weeks wrapped airtight to prevent drying.

You can freeze these cupcakes for up to 2 months wrapped well
3.5.3251