I was never much of a blondie person unless you mean Deborah Harry
Fudge brownies were always my #1 fudge bar of choice
Until the recent creation and delicious success of my Butterscotch Banana Blondie recipe I was converted!
The decision to give Blondies another go was an easy one
Cherry Blondies have a burst of cherry in each bite and a beautiful glaze to top it off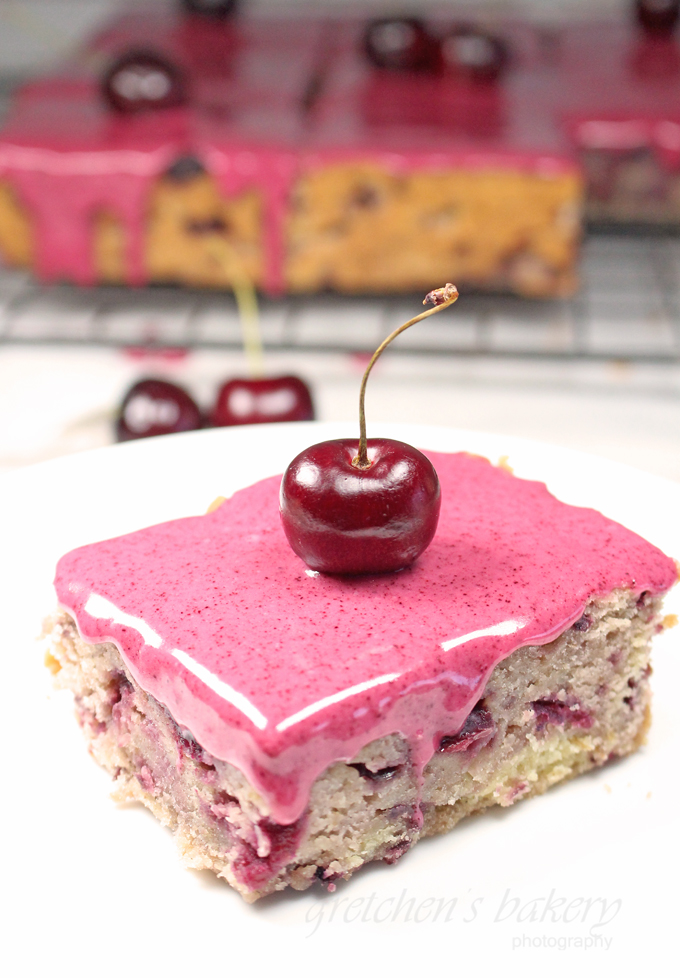 Fresh cherries are abounding here in the US so it is an easy ingredient to find right now
But if you can only find frozen cherries that would be totally fine
Canned cherries will also work just be sure to drain the juice as much as possible before adding to the recipe
This thick slab of cherry blondie goodness is ready in just about an hour!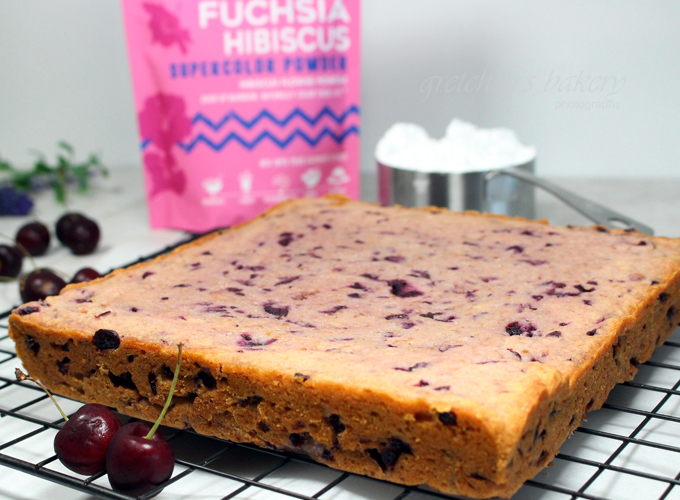 I am using banana in my recipe and I do not find them to be over powered by banana taste since it is just ½ cups worth
You can equally substitute applesauce though if you are opposed to banana or just don't have one handy
The banana does add a nice natural sweetness and the texture that we all love in thick gooey blondies
I recommend to use a fresh (not frozen) banana here that is super ripe and mashes nicely to a paste with your fork.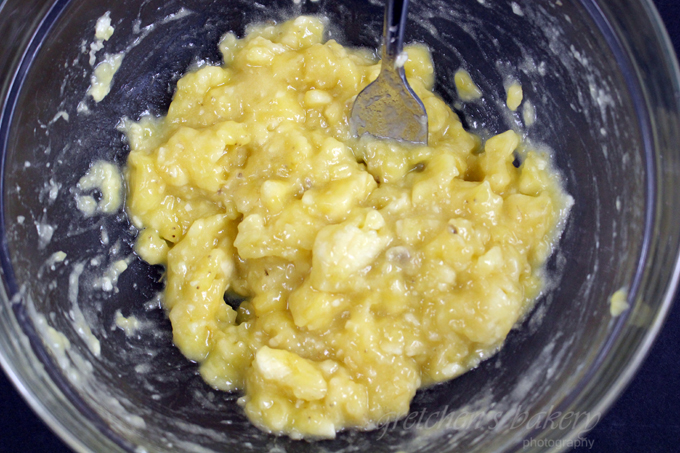 For the sugar glaze I used a simple confectioners sugar glaze
I added a hefty teaspoon of Hibiscus Super Flower Powder to mine for this vibrant natural coloring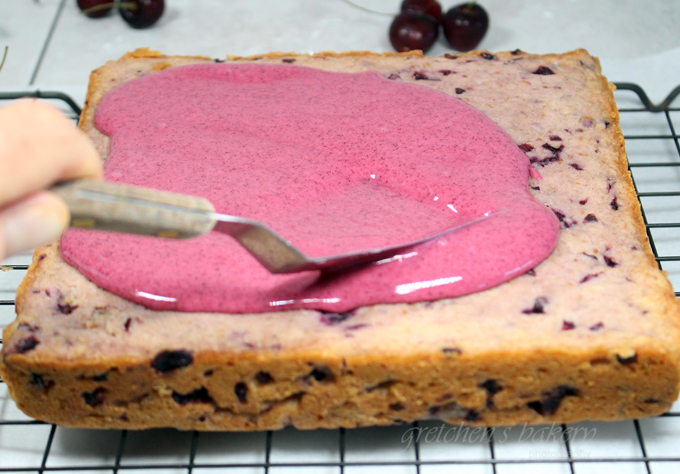 *not sponsored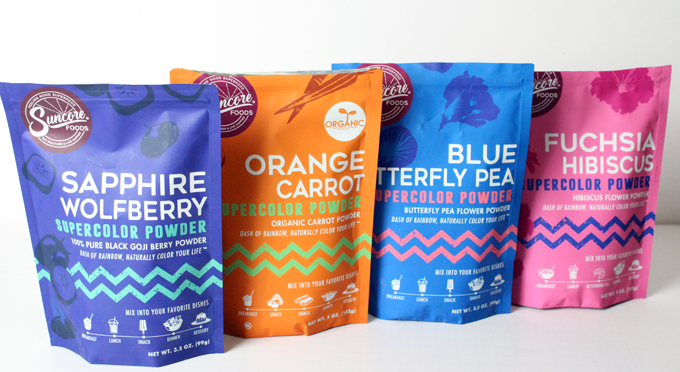 If you do not have the Super Flower Powder you can just use cherry juice in place of the soy milk in my recipe as listed below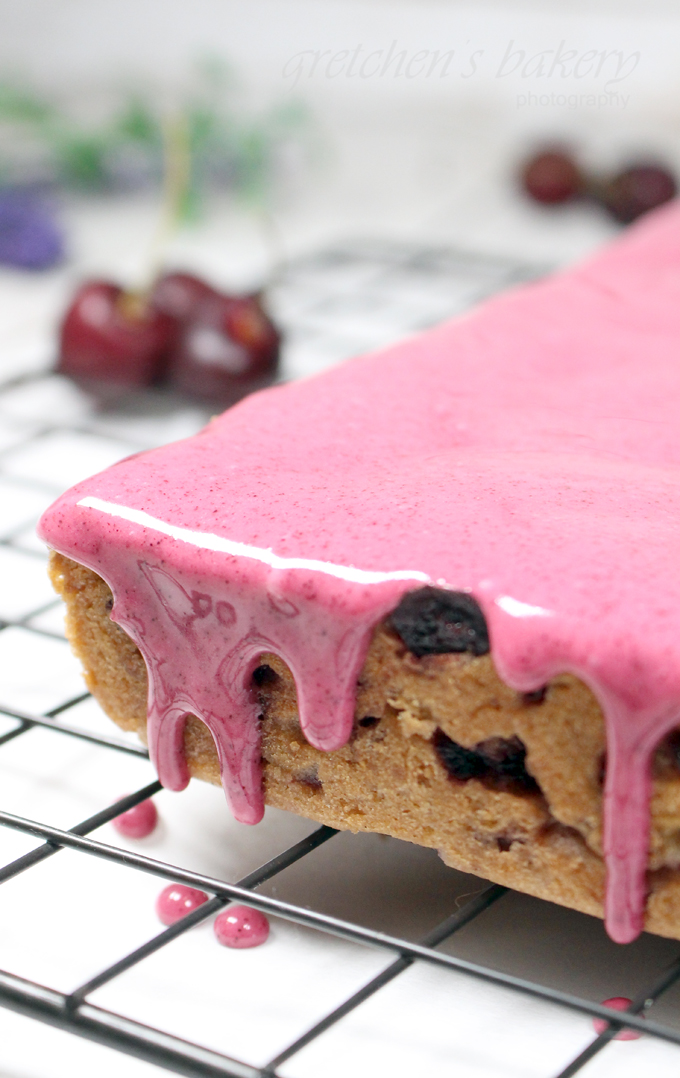 These Cherry Blondies are quite addictive and I discovered that I like to eat mine cold!
They last for up to a week in the refrigerator wrapped loosely to prevent drying
And they also freeze like a dream!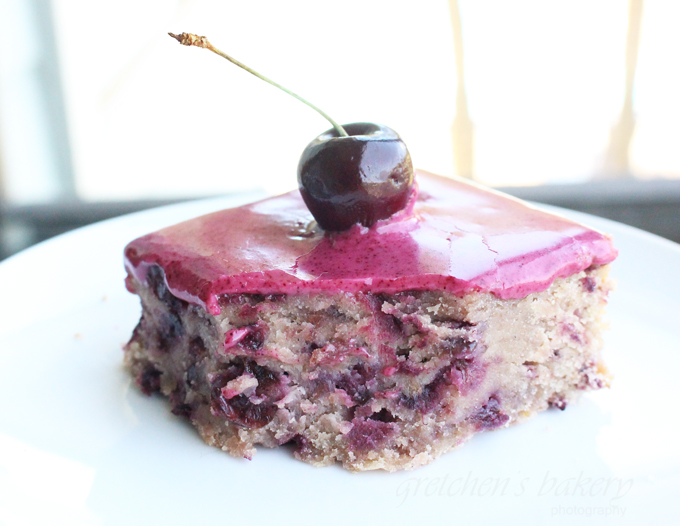 Notes for Success:
I am using super flax egg for the egg replacer which is aquafaba and flaxmeal combined
If you do not have (or use) aquafaba and or flax you can replace the super flax egg combination with 2 teaspoons of your favorite egg replacer and 2 Tbs water
For more awesome bar recipes like this one click the links below!
Butterscotch Banana Blondies ~ Vegan
1 Hour Brownies ~ Vegan ~ Fudgy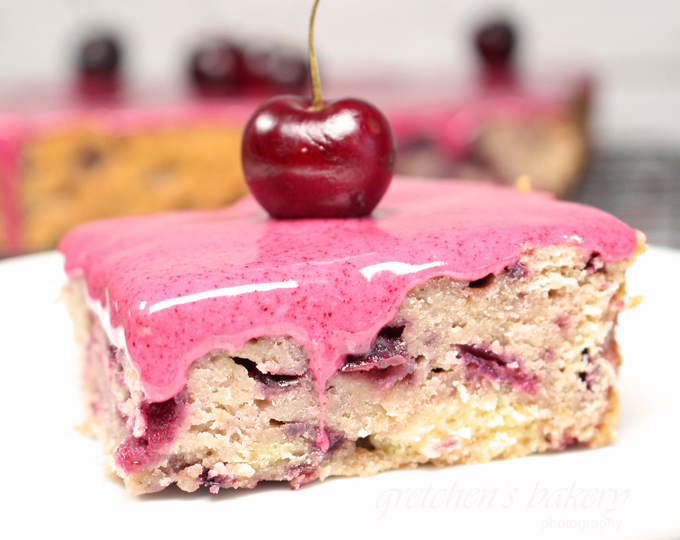 Cherry Blondies
preheat the oven to 350°F Grease & parchment line a 8" X 8" cake pan
Ingredients
Softened Vegan Butter 1 cup (226g)
Light Brown Sugar 14 Tablespoons (196g)
Ground Flax seed 2 Tablespoons
Aquafaba 3 Tablespoons (90ml)
Fresh Ripe Banana mashed ½ cup
Vanilla extract 3 teaspoons
All Purpose Flour 2¼ cup (270g)
Baking Powder ½ teaspoon
Salt ¾ teaspoon
Fresh or Frozen Cherries chopped finely 1 cup
For the Icing:
Confectioners Sugar 1 cup
Super Flower Powder *optional ½ teaspoon
Plant Milk 2 Tablespoons
**Add cherry juice in place of the plant milk & flower powder if you do not have the flower powder color
Instructions
Cream the softened vegan butter with the light brown sugar on high speed until light and fluffy
Combine the flax meal with the aquafaba and whisk smooth set aside to thicken
Once the vegan butter is sufficientlu creamed add the aquafaba mixture and whip on high speed for 20 seconds to emulsify
Add the mashed banana and vanilla extract, then mix on high speed to incorporate
Add the flour, baking powder & salt and mix just until incorporated evenly
Add the chopped cherries and in evenly
Pour batter into the greased and parchment lined pan and bake in the preheated oven for approximately 35 minutes
Cool in the pan and then flip the blondie out onto a cooling rack
Combine all of the icing ingredients together in a mixing bowl and whisk smooth
Pour the icing over the cooled blondie then cut into 12 bars
Notes
Cherry Blondies can be frozen *preferably UN ICED for up to 1 month wrapped well to prevent drying out

Store blondies at room temperature for up to 4 days wrapped to prevent drying, for longer storage keep refrigerated for up to 1 week