Well it's here! A Vegan Mango Mousse Cake that is really easy to make!
Once you get the hang of making mousse desserts it's really a no brainer!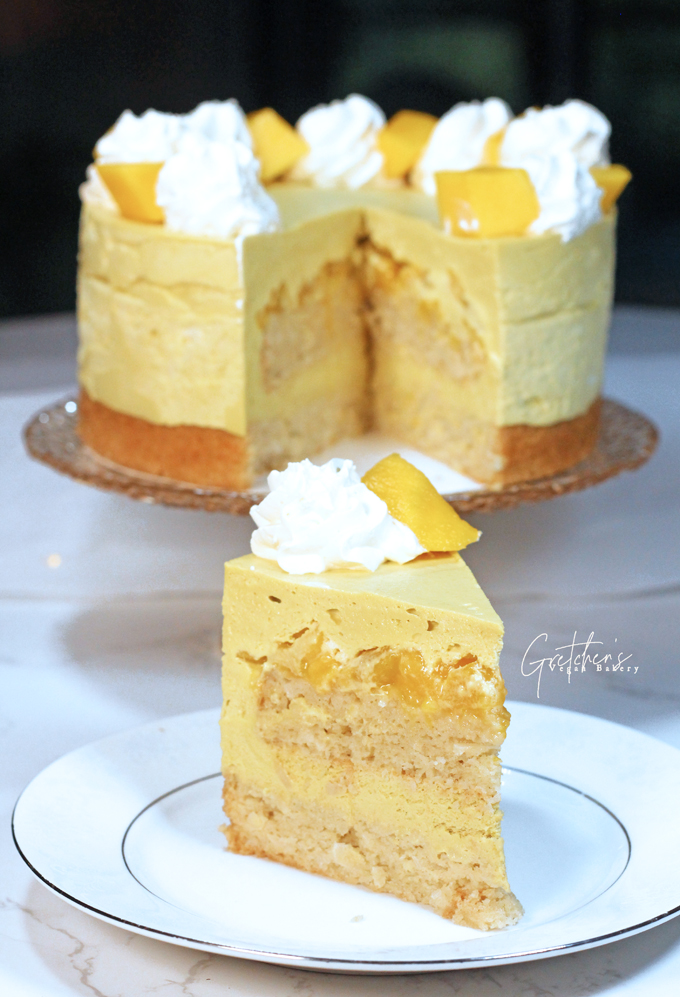 Mousses should always consist of three things
A fortified base flavor, a meringue to lighten it all up and whipped cream for added stability and for that rich and creamy texture!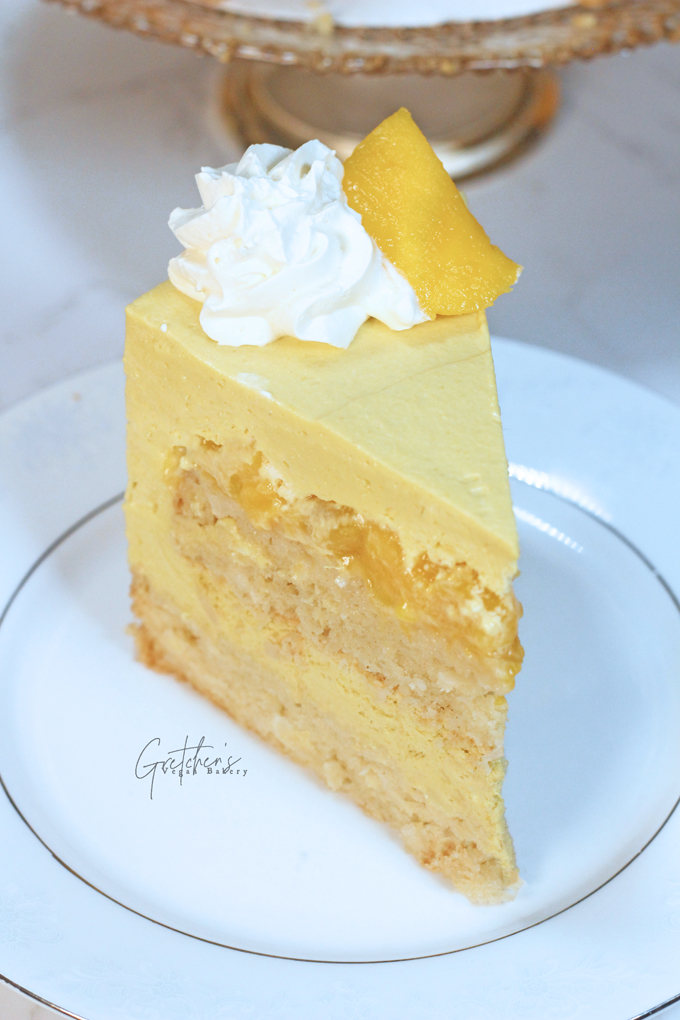 Fruit mousses require more strengthening agents than other types of mousse recipes like chocolate mousse for example
Cashews and white chocolate do a great job of fortifying a fruit mousse, however not everyone can get those ingredients or likes to use them! #ME
Therefore I have created 2 different versions of this mousse recipe, so be sure to read below the "notes for success" for the substitutions and to see which version fits you best!
Also the video tutorial shows you first hand the differences between the two!
Coconut sponge cake is the base for my mango mousse cake today
But of course you can use any cake you love the most! Believe me I almost went with chocolate but I thought I'd make some people mad with that one!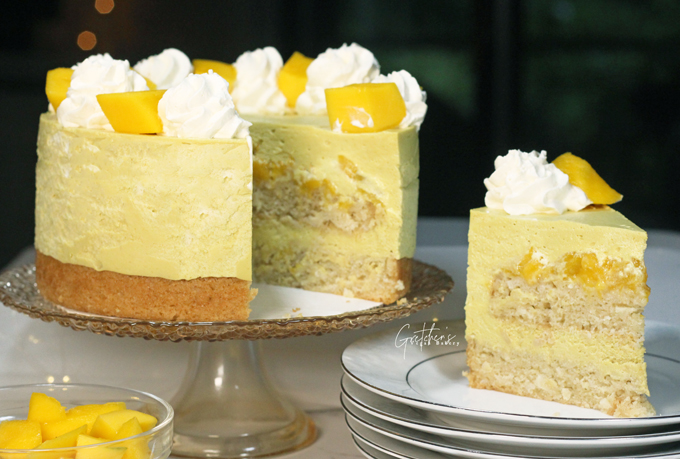 Notes for Success:
Agar can be a tricky ingredient to work with. Pay attention to the strength of agar you are using in comparison to the one that author of the recipe is using I typically use 900 strength in my recipes SPECIFICALLY THIS BRAND BY Landor Trading Co *not sponsored
There are so many brands of vegan whipped cream now and I am using Country Crock *not sponsored.
You can use any brand or my homemade recipe if you prefer, the total amount in volume to be folded into the mousse will be 1 cup.
This is ½ cup of liquid country crock since that brand whips to double volume.
However all vegan whipping cream is different for example 1 cup of liquid SILK vegan whipping cream only yields 1 cup of whipped volume, it really doesn't gain any volume at all!
Which is why I listed this ingredient in both liquid cups and volume whipped measure.
CLICK HERE FOR ALL THE INFORMATION ABOUT VEGAN WHIPPING CREAM
Many people cannot get vegan white chocolate and do not like to use cashews as well, so I have created 2 versions of this recipe. Honestly I prefer version 2 since I am someone who does not love cashew based desserts!
In version 2 pictured below, I have substituted both the cashews and white chocolate with vegan cream cheese and canned mango pulp which has added sugar, while all the other ingredients remained the same.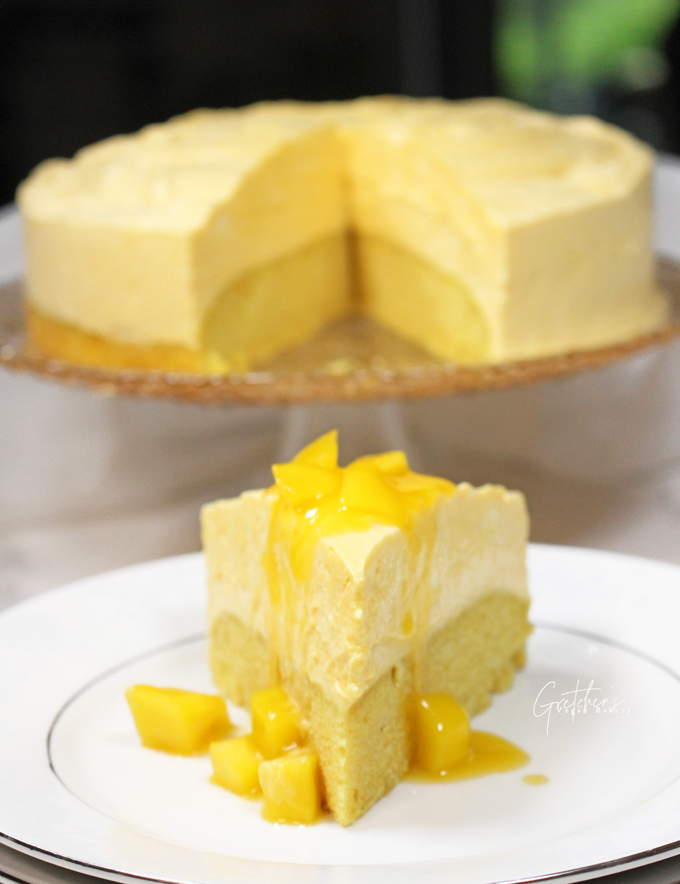 WATCH THE YOUTUBE VIDEO TUTORIAL FOR HOW TO MAKE MANGO MOUSSE CAKE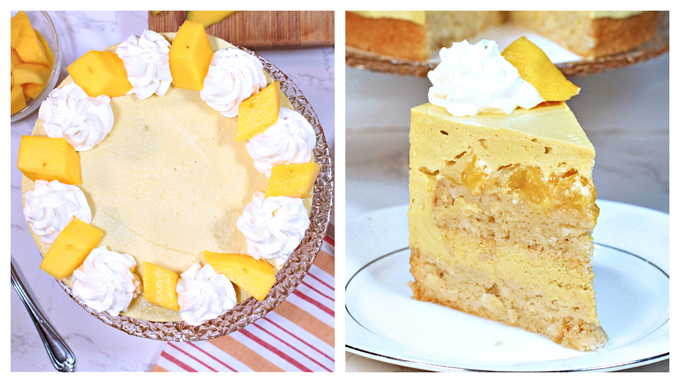 Mango Mousse Cake version 1
Ingredients
For the Coconut Cake
Coconut Milk 14 Tablespoons (210ml)
Coconut Extract 1 teaspoons (5ml)
All Purpose Flour 1½ cups + ⅓ cup cup (235g)
Egg Replacer 1½ teaspoons *I am using Bob's Red Mill
Granulated Sugar 10 Tablespoons (125g)
Baking Powder 1½ teaspoons
Baking Soda 1 teaspoons
Salt ½ teaspoon
Vegan Butter Melted or Vegetable Oil 9 Tablespoons (140ml)
Unsweetened Coconut 1½ cup (125g)
For the Mango Mousse:
Fresh Mangoes 4 large or 2 cups puree
Lemon Juice 2 Tablespoons (30ml)
Vegan White Chocolate 4 ounces (113g) *see notes
Cashews ½ cup (75g) *see notes
Plant Milk ½ cup (118ml)
Agar 1 teaspoon
Liquid Aquafaba ¼ cup (60ml)
Vegan Whipped Cream ¾ cup liquid to make 1½ cup whipped volume *see notes
1 drop yellow food color *optional
For the Mango Compote Layer:
1½ cups chopped fresh mango
Water 4 Tablespoons
Cornstarch 2 teaspoons
Sugar 2 Tablespoons
Instructions
First prepare your coconut cake layers by greasing & parchment lining 1-7" cake pan & 1-6" cake pan
Preheat the oven to 350°F
Place all of the cake ingredients except for the coconut into a food processor and process until smooth batter (about 20 seconds)
Add the coconut flakes and pulse again to distribute evenly
Pour batter evenly between the cake pans
Bake in a preheated oven at 350°F for 25-30 minutes or until a toothpick inserted into the center comes out clean.
Cool the cakes in the pans until you can safely flip them onto a cooling rack to cool to cold
Meanwhile prepare the fresh mango compote by combining the chopped mango, sugar, water & cornstarch together in a small sauce pot and bring to a boil to thicken, reserve until later
Now you can prepare the mango mousse by first quick soaking your cashews by bringing them to a boil in a small sauce pot then remove from heat, let sit for 1 hour then drain, reserve.
Next puree your fresh mangoes in a food processor be sure to get 2 cups total (for me this was 4 large mangoes)
Next prepare the aquafaba by whipping it on high speed with a balloon whip attachment until it is firm peaks & glossy, then reserve while you whip the vegan whipped cream to medium-firm peaks
Now that you have all the components for your mango mousse cake, you can cook the agar with the plant milk in a small sauce pot stirring constantly over medium to high heat until it is boiling
Add the vegan white chocolate and whisk to combine smooth
Now pour everything into a high speed blender: the soaked cashews, mango puree, lemon juice and the agar/plant milk mixture and the food coloring (if using) blend on high speed until it is very smooth
Transfer this mixture to a large mixing bowl and be sure it is cooled to at least 110°F before folding in the whipped aquafaba and then the whipped cream as shown in the video tutorial
Pour half of the mousse into the prepared ring mold with the coconut sponge cake base and place the smaller cake layer into the center of the mousse, pressing it down so the mousse comes up and around the entire cake layer
Spoon the mango compote over the cake layer and then spread the remaining mango mousse over top
Refrigerate at least 4 hours preferably overnight before unmolding and serving
Add a few rosettes of vegan whipped cream and more fresh chopped mangoes
Mango Mousse Cake version 2
Ingredients
Mango Puree 2 cups (474ml)
Lemon Juice 2 Tablespoons (30ml)
Vegan Cream Cheese 10ounces (280g)
Plant Milk ½ cup (118ml)
Agar Powder 1 teaspoon
Liquid Aquafaba ¼ cup (60ml)
Whipped Cream ¾ cup liquid to make 1½ cups whipped volume
Instructions
The steps for making the cake in this version will be the same as the above listed recipe in version #1.
However in this mousse recipe version #2 You will be using canned mango pulp & vegan cream cheese instead of cashews & white chocolate
Everything else is the same as follows:
Prepare the aquafaba by whipping it on high speed with a balloon whip attachment until it is firm peaks & glossy, then reserve while you whip the vegan whipped cream to medium-firm peaks
Cook the agar with the plant milk in a small sauce pot stirring constantly over medium to high heat until it is boiling
Now pour the lemon juice, vegan cream cheese, the plant milk/agar mixture and some of the mango pulp into a high speed blender and blend on high speed until it is very smooth
Transfer this mixture to a large mixing bowl and be sure it is cooled to at least 110°F before folding in the whipped aquafaba and then the whipped cream as shown in the video tutorial
Pour half of the mousse into the prepared ring mold with the sponge cake base and place the smaller cake layer into the center of the mousse, pressing it down so the mousse comes up and around the entire cake layer
Spoon the mango compote over the cake layer and then spread the remaining mango mousse over top
Refrigerate at least 4 hours preferably overnight before unmolding and serving
Add a few rosettes of vegan whipped cream and more fresh chopped mangoes