Chocolate Eclair Snack Cake is one of those recipes
That can be converted to healthier ingredients with little compromise on the taste!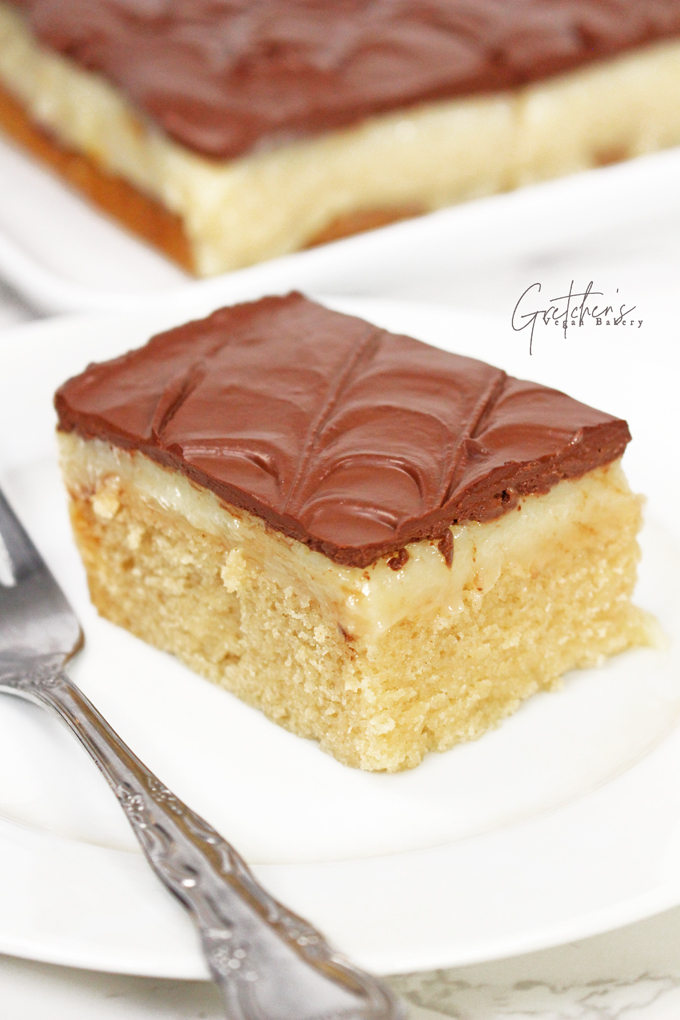 Lately I have been delving into the world of refined sugar free bakes
I've decided that Monk Fruit Sugar is the best alternative for me, but I have looked at several of the most popular alternatives in a recent video experiment.
Check out my article, recipe and video for How to Replace Sugar in Baking and decide which one is best for you!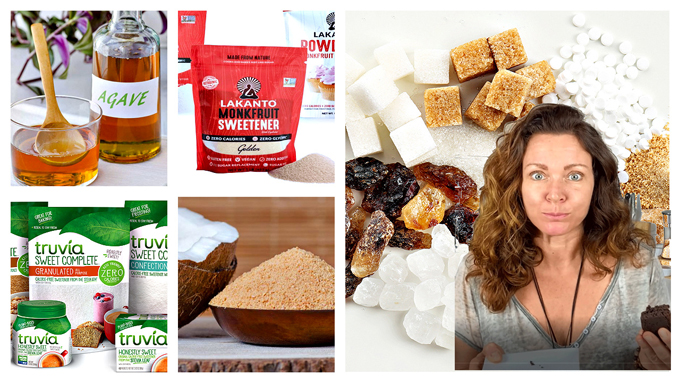 But today all three components of this Chocolate Eclair Snack Cake are reduced oil and sugar free!
My famous bakery style yellow cake just went on a diet and no one would ever know because it is still soft and spongy and fluffy and delicious!
Creamy Custard made with monk fruit is an easy transformation!
Even the ganache icing is a homemade sugar free recipe!
For those who prefer the original recipes without the sugar substitutes
Simply use granulated sugar in place of the amounts listed below for the substitutes and replace the applesauce with melted vegan butter or more oil
My vegan ganache recipe can also be used easily for the icing!
Notes for Success & Substitutions:
If you did not read or watch my in depth article / video for the sugar free conversions, the takeaway is that the recipe works great with all sugar substitutes *some with a few tweaks!
However I will only replace half the oil with the applesauce in the cake recipe since for me that is the maximum threshold for maintaining the soft, fluffy texture of the cake.
As you see here I am using zero calorie sweeteners rather than refined sugar free sweeteners like maple syrup or agave or even coconut sugar
So you must understand that Zero Calorie is very different from refined sugar free and whilst both types of sugar alternatives will work in these recipes it is a good thing to know how they act differently
My vanilla custard recipe can adapt to any sugar substitute you prefer including liquid sugars like agave or maple syrup. *see video linked below for more!
The chocolate glaze is essentially a ganache icing that is made with unsweetened chocolate with an addition of Stevia 1:1 blend for baking
While I do not prefer Stevia, as a matter of fact I can't stand it! I did give it a try here with good results, but you can use any sugar substitute you like best added to the soy milk in the ganache recipe
I have made this recipe with gluten free flour and monk fruit sugar including the applesauce oil reduction with good results.
Watch the full YouTube tutorial for how to Substitute Sugar in Baking for more in depth information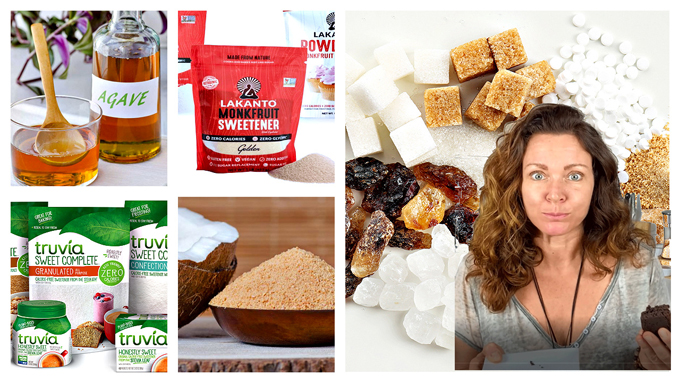 CLICK HERE FOR THE YOUTUBE VIDEO TUTORIAL FOR HOW TO MAKE THIS CAKE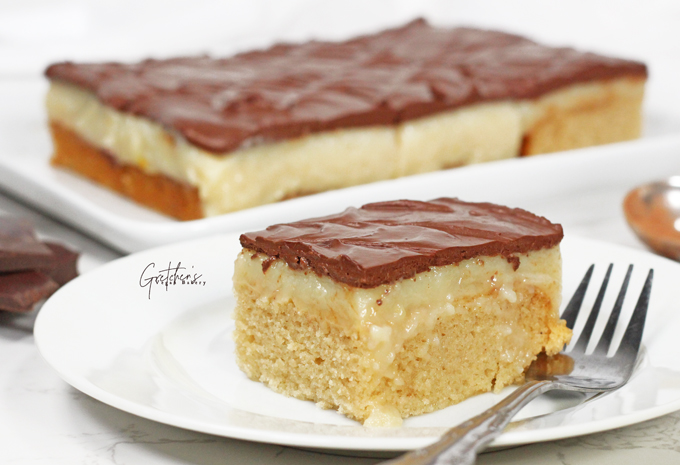 For more refined sugar free lower oil recipes click the links below!
Yield: serves 9
Chocolate Eclair Snack Cake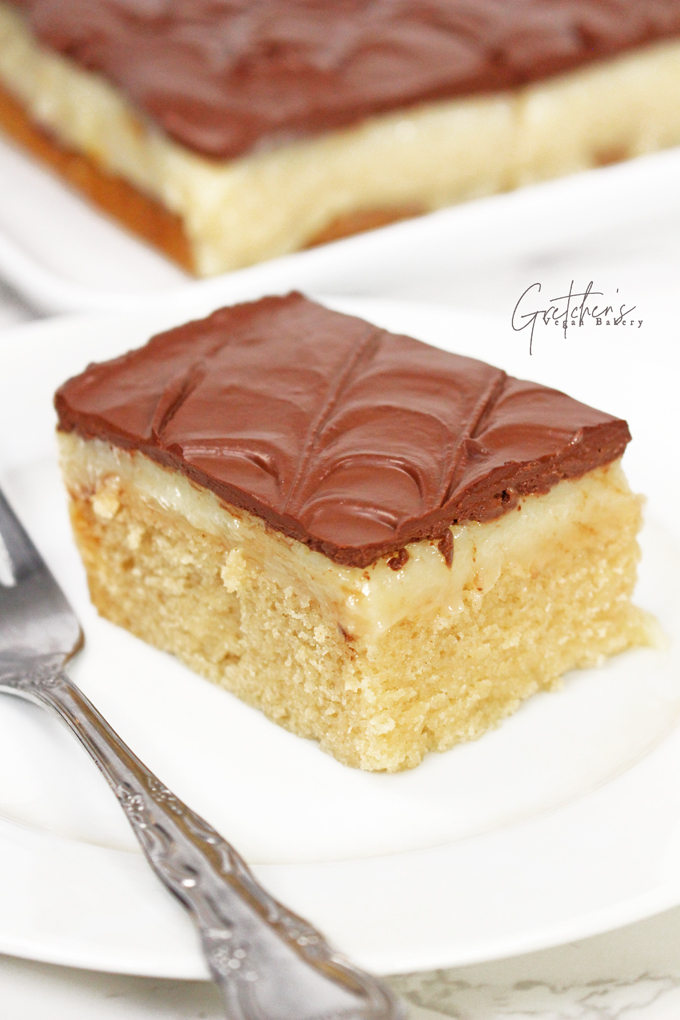 *I use soy milk in my baking as it is the only plant milk that will thicken like buttermilk, but you can use whatever plant milk you prefer
Total Time
2 hours
18 minutes
Ingredients
For the Yellow Cake
Plant Milk ¾ cups (177ml)
White Vinegar 1 teaspoon
Vegetable oil of your choice ¼ cup (60ml)
Unsweetened Applesauce ¼ cup (62g)
Monk Fruit Sugar 2/3 cup (140g) *see notes above in article
Salt ¼ teaspoon
Vanilla Extract 1½ teaspoons
All Purpose Flour 1½ cups (187g)
Baking Soda 1 teaspoon (4g)
For the Custard
Soy Milk or your favorite plant milk 2¼ cup (533ml)
Monk Fruit Sugar 10 Tablespoons (140g)
Cornstarch 5 Tablespoons (40g)
For the Chocolate Icing
Unsweetened Chocolate Baking Bar 4 oz (113g)
Stevia or Monk Fruit Sugar 6-8 Tablespoons *adjust to your tastes
Plant Milk 10 fl oz (295ml)
Instructions
Prepare an 8" x 8" cake pan with pan spray and parchment paper so that there is excess parchment hanging over the sides for easy removal of the entire finished cake later.
Preheat the oven to 350°F
Prepare the cake batter by combining the vinegar with the plant milk *I use soy milk as this is the only plant milk that will thicken like a mock buttermilk
Add the vanilla extract and reserve
Combine the flour, baking soda, salt and sugar of your choice in a large mixing bowl and whisk or sift together
Add the thickened plant milk, applesauce and oil and whisk to develop the batter~ about 50 strokes.
Pour into your prepared pan and bake for about 18 minutes or until done. If you gently press the center it will spring back, or do the toothpick test for moist crumbs.
Cool the cake in the pan and then prepare the custard by combining the sugar with the cornstarch in a medium sauce pot then add the plant milk
Bring to a boil over medium high heat whisking constantly
Let it bubble for about 10 seconds then remove from the heat and add the vanilla extract
Pour the hot custard over the cake in the pan then refrigerate to set
Next melt the unsweetened chocolate and add the sugar to the soy milk in a small sauce pot
Heat the plant milk with the sugar just to dissolve and then whisk it into the melted chocolate
Spread this chocolate icing over the cold and fully set custard in the cake pan and refrigerate until everything is firmly set
Cut into 9 portions
Notes
Chocolate Eclair Snack Cake must be kept refrigerated but is best served at room temperature so this cake can stay out for about 4 hours, however for longer storage keep refrigerated for up to 4 days