Double Fudge Chocolate 7 Layer Cake for any occasion!
With just two easy recipes you can make this beginners style cake!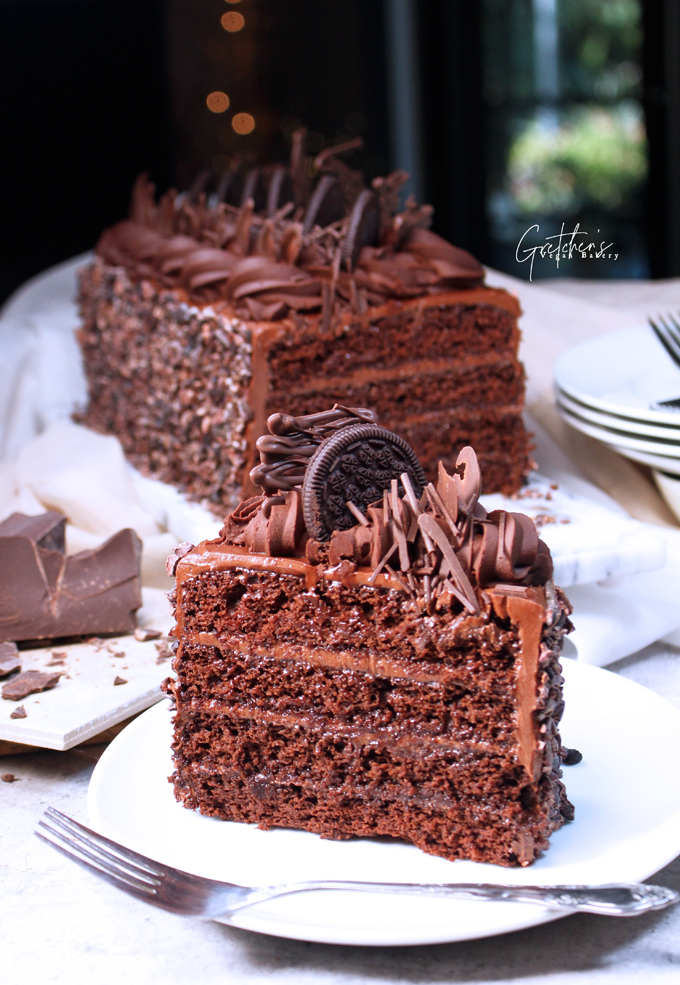 My one bowl chocolate cake recipe is the star of the show and my bakery fudge recipe is the literal icing on the cake!
All you need is a half sheet pan to bake in and a couple of hours to spare and everyone will think you bought this one from a bakery!
No special tools required just a handful of your favorite chocolate decorations is what takes this cake to new levels!
As you will see in the video tutorial I baked all the cake batter into one half sheet pan (12″ x 18″)
Then by cutting it into 4 separate strips and layering them all together with rich, creamy fudge filling
This cake is a breeze to assemble!
With a rough icing of more fudge and cocoa nibs for a crunchy garnish
Even the most beginner or beginners will be able to pull this cake off with ease!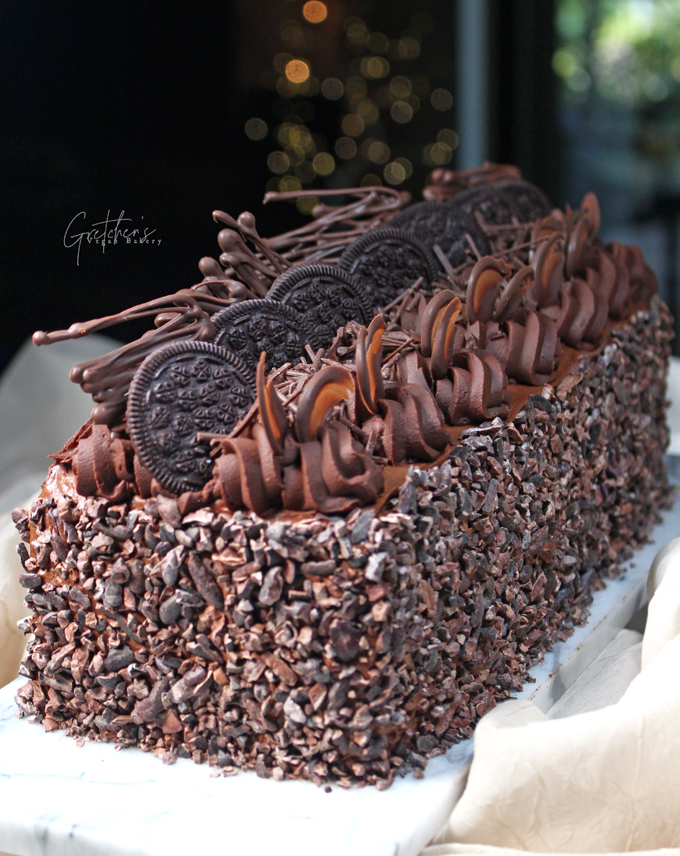 CLICK HERE FOR THE YOUTUBE VIDEO TUTORIAL FOR HOW TO MAKE THIS CAKE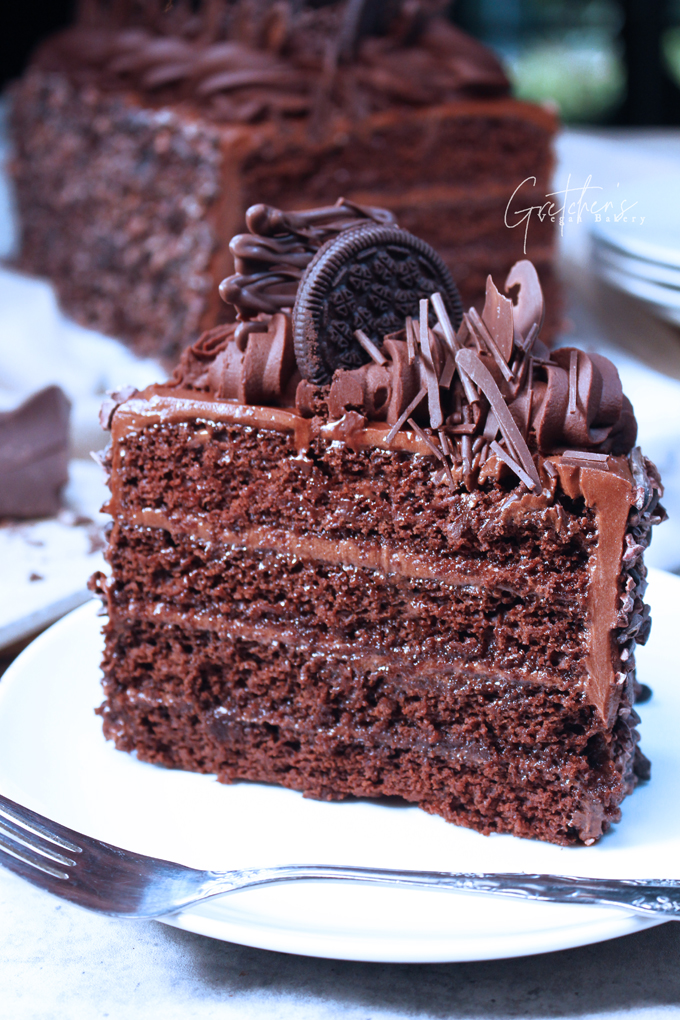 Notes for Success:
For those who prefer to make a round cake you can divide the batter between 2-8″ pans or 3-7″ pans, the bake time will be a few minutes longer
If you have not tried my recipe for reduced sugar fudge icing from my bakery days, you must try it!
As I mentioned in the video the coffee liquor simple syrup is optional since this cake is already super moist on it's own! But I did really love that additional zing of moisture and subtle note of coffee liquor!
Be sure to use Tia Maria and not Kahlua since Kahlua is NOT VEGAN!
I used cacao nibs for garnish along with sandwich cookies, homemade chocolate decorations and chocolate shavings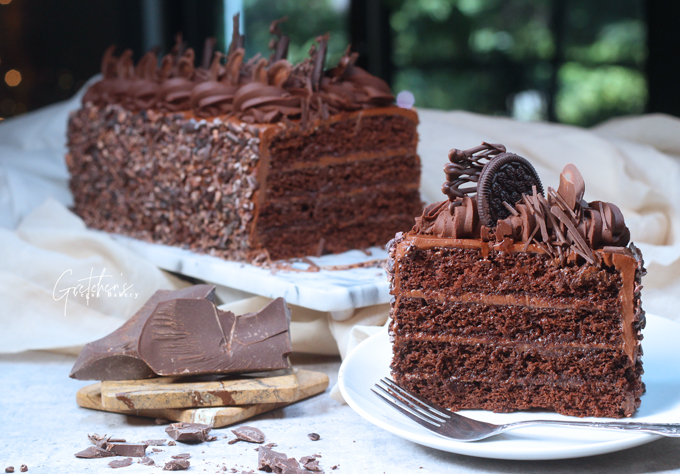 For more amazing layer cakes like this one click the links below!
Billionaire Banana Pudding Cake
Hazelnut Sponge Cake with Truffle Ganache Filling
Yield: serves 16ppl
Double Fudge Chocolate 7 Layer Cake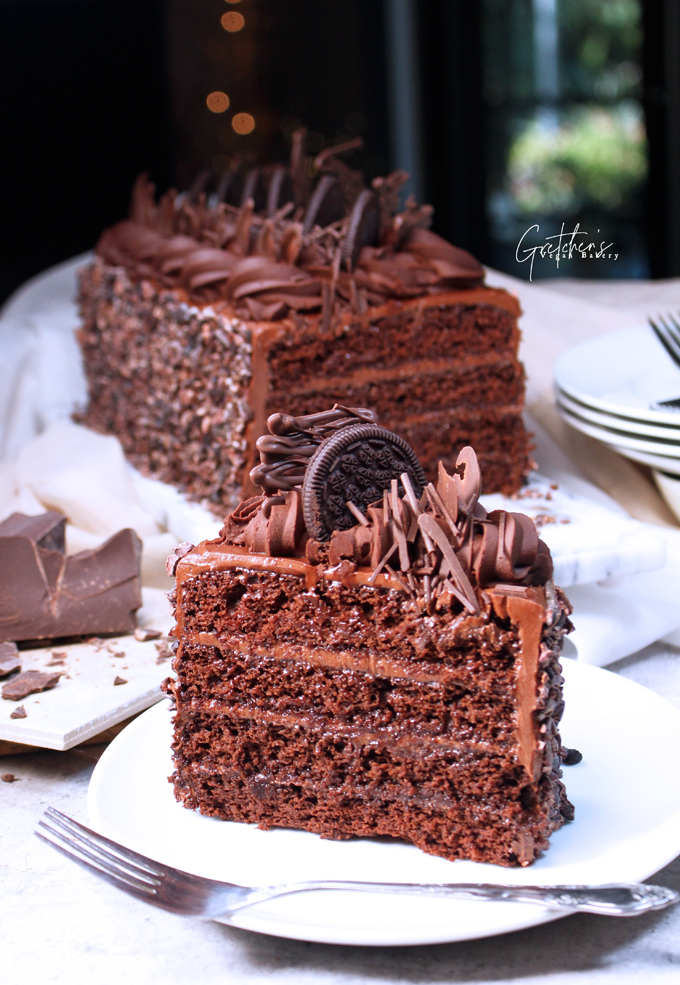 *In the video tutorial I was making2- 12"x18" sheet cake layers, but this is not needed to make the exact cake as shown here ~ you only need 1 recipe of cake batter all baked into 1- 12" x 18" pan
Total Time
3 hours
15 minutes
Ingredients
For the Simple Syrup *optional
½ Cup Water (118ml)
½ Cup Granulated Sugar (100g)
2 ounces Coffee Liquor *Tia Maria is Vegan (60mL)
Instructions
Preheat your oven to 350°F
Grease & Parchment line your 12" x 18" sheet pan
Prepare the chocolate cake recipe as per the instructions on that recipe post and pour all the batter into the prepared sheet pan
bake immediately for approximately 15-18 minutes or when it is springy to the touch when you gently press the center or when a toothpick inserted into the center comes out with moist crumbs
Cool the cake in the pan and then prepare the fudge icing & the simple syrup (if using) according to the instructions on those recipe posts.
Assemble the cake as shown in the video tutorial by cutting the sheet cake layer into 4 equal quadrants then stacking to make a 7 Layer Cake with the fudge icing recipe & optional simple syrup with coffee liquor on each layer
Ice with the remaining fudge icing and garnish with whatever edible chocolate decorations & cookies you like best
Notes
Double fudge chocolate 7 layer cake can be kept at room temperature in a cool room for up to 2 days, if the temperature in the room get too hot 5thought the fudge will have a tendency to droop.

For longer more successful storage keep refrigerated for up to 1 week

Freeze cake wrapped well for up to 2 months