This Chocolate Raspberry Cheesecake is a perfect example of what can happen when you have a little bit of a lot of leftovers from previous projects!
I just finished my Miniature Spring Cheesecakes and had some leftover cheesecake batter so I baked it into a small 5″ cake pan.
I almost always have chocolate ganache in the refrigerator because…ummm, I like to eat it by the spoons full.
Thus the Raspberry Cheesecake was born!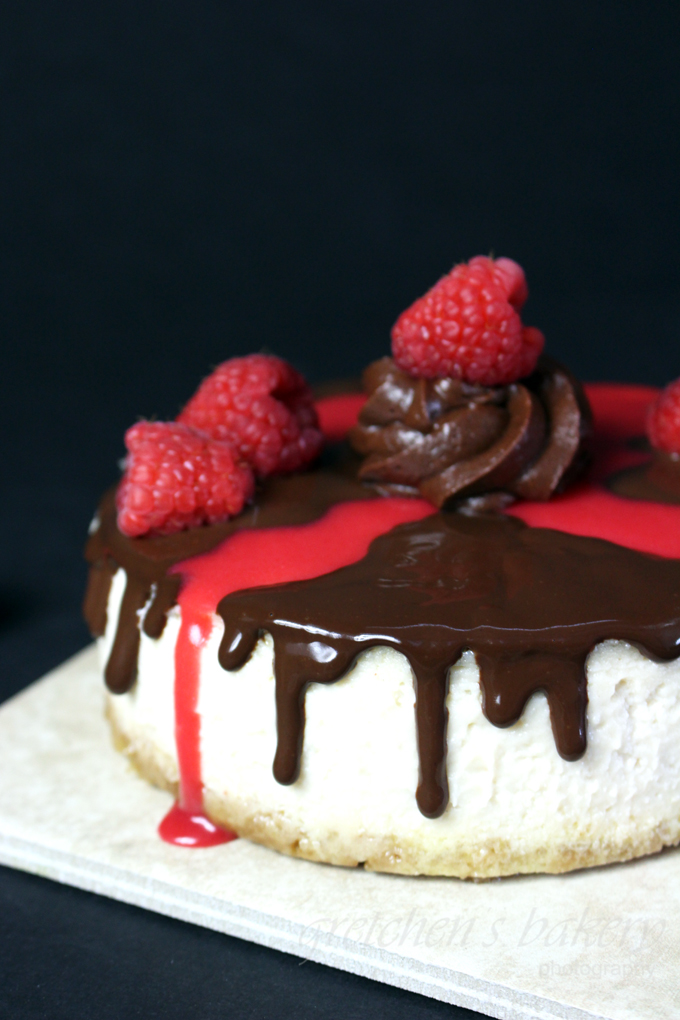 Basically my point here, is that you can pretty much make anything new under the sun when you have the best base recipes to work with!
And just to make sure we are all in agreement, those base recipes are all right here at Gretchen'sVeganBakery.com  LOL
If you know anything about my Building on Recipes theory which I have been touting for the last decade via my YouTube channel and here on my website
You will know that this concept is the key to success in your baking journey!
Once you have an arsenal of perfectly tried and true base recipes you are now free to build them up
Combine them together and create the most amazing new recipes!
So we all know by now that my Baked Vegan Cheesecake Recipes are the best around.
Anyone who has tried them has never believed they are vegan
That's how close to the authentic New York Cheesecake recipe it is!
Super creamy cheesecake that is a prefect canvas for your wildest imagination!
Grab the recipes below and make it just as I did
Or take this base cheesecake and get your own creative juices flowing!
NOTE: I mentioned that this was born out of a few "leftovers" which is why I only made a 5″ cake, but the recipe listed below is for a full 7″ cake to serve 8-10 people
CLICK HERE FOR THE PISTACHIO ROSE CAKE & MIRROR GLAZE RECIPE
CLICK HERE FOR THE VEGAN GANACHE RECIPE
CLICK HERE FOR CHOCOLATE RASPBERRY MOUSSE CAKE
Chocolate Raspberry Cheesecake
Chocolate Raspberry Cheesecake Prep time: 30 mins Cook time: 1 hour Total time: 1 hour 30 mins Serves: serves 8-10 ppl I will only use Tofutti Brand Cream Cheese for my BAKED recipes *non baked recipes you can use any brand you like I have tried other brands with major FAILS as they turn to an oily soup when baked.
Tofutti seems to be the only one that I can actually BAKE with. *not sponsored
Ingredients
For the Crust
8ounces (approximately 1½ cups) of your favorite cookie crushed to fine crumbs
4 Tablespoons Vegan Butter Melted
For the Cheesecake Batter
Tofutti Cream Cheese *see note above 16ounce (454g)
Granulated Sugar 1 cup (200g)
Vegan Butter melted 2 Tablespoons (28g)
Salt ¼ teaspoon
Vegan Lactic Acid or Apple Cider Vinegar ½ teaspoon
Cornstarch 4 Tablespoons (32g)
All Purpose Flour 3 Tablespoons (24g)
Plant Milk * I use soy milk 6fl oz (177ml)
Vanilla Extract 3 teaspoons (15ml)
Instructions
Prepare the crust for this cheesecake by placing your cookies in a food processor and grind to fine crumbs
Add the melted vegan butter and pulse until the mixture resembles wet sand
Press this mixture into the bottom of your greased & parchment lined 7" cake pan then freeze while you prepare the cheesecake batter.
Place all of the cheesecake ingredients into the work bowl of your food processor and pulse to blend
Scrape the sides of the bowl to ensure an even mix then blend again to a smooth mixture
Pour the batter into the prepared crust and bake in a water bath in a preheated 350°F oven for 1 hour
After 1 hour, turn the oven off but leave the cheesecake in the oven to cool slowly for another hour.
Remove the cheesecake cool completely then refrigerate for at least 2 hours to set or overnight before unmolding.
Loosen the sides and bottom of the cheesecake pan with a blowtorch OR by submerging the pan into hot water and running a small spatula around the edges
Invert into your serving platter and then garnish with the vegan ganache & mirror glaze as pictured OR just add fresh raspberries to the top for a simpler preparation
Notes
Cheesecake must be kept refrigerated at all times, store loosely wrapped for up to 1 week