If soft and chewy chocolate chip cookies are what you are after, this recipe for Chubby and Chewy Vegan Chocolate Chip Cookies is going to become your new love affair!
They are thick, dense, soft inside and stays chewy for days!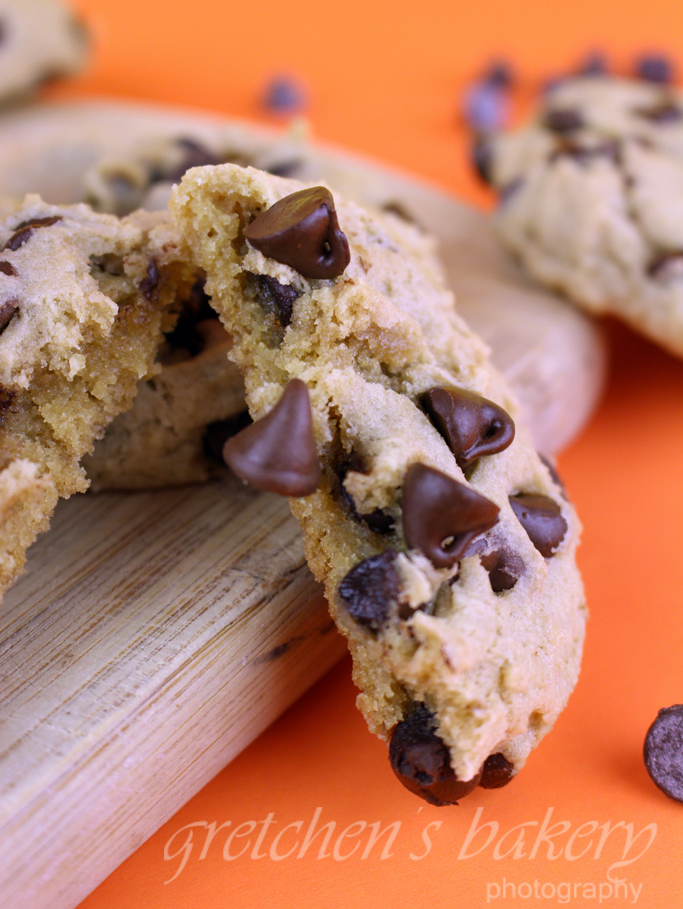 I love this recipe so much!
If you are not a fan of thick and chewy cookies though, a simple solution is to flatten them out before baking. Done and Done.
But who on earth doesn't like chubby and chewy cookies!?
This is a direct spin off from my original Best Chocolate Chip Cookie recipe, only veganized so everyone can experience the greatness!
So if you are egg allergic, or dairy allergic or simply want to be animal friendly!
Add this one to your Best Recipes File!
Chubby and Chewy Vegan Chocolate Chip Cookies
I used the
Vegan Egg Replacer
here at 2 teaspoons + ½ cup water
In the video I did mention I prefer the flax "eggs" as listed below in the recipe
Ingredients
Vegan Butter or margarine 2 sticks (1 cup) (226g)
Vegan Granulated Sugar 1 cup (200g)
Vegan Light Brown Sugar 1 cup (210g)
Salt ½ teaspoon (3g)
Vanilla Extract 2 teaspoons
Ground Flax Meal 3 Tablespoons (24g)
Warm water ½ cup (120ml)
All Purpose Flour 3½ cups (455g)
Baking Soda 1¾ teaspoons (8g)
Vegan Chocolate Chips 3 cups (510g)
Instructions
In the bowl of the Kitchen Aid Mixer or with a hand beater, cream the vegan buter and both sugars with the paddle attachment until light and fluffy. About 3 -5 minutes
Meanwhile steep the hot water and ground flax in a small bowl and let stand to thicken
Combine the flax eggs and vanilla extract together and slowly add to the creaming mixture on medium speed being sure to mix well in between additions. Stop the mixer every so often and scrape the sides and bottom of the bowl.
Sift the flour, baking soda and salt together, then add to the mixer all at once and mix on low speed just until combined. Do not over mix.
Add in the chocolate chips and combine well.
With a 2 ounce cookie scoop (or simply drop dough by the heaping tablespoon) onto a parchment lined sheet pan spaced about 2 inches apart.
Press the dough balls slightly so they are not so rounded, for crisper cookies flatten then out much more
Bake immediately in a preheated 350°F oven for approximately 12-15 minutes or until light golden browned.
Notes
Store cookies at room temperature in an airtight container for up to 1 week