Yes I am obsessed with my vegan cheesecake recipe!
I can't help it! It is so amazing! If you have tried it, you will agree and if you have not yet tried it, start with this Vegan Strawberry Banana Cheesecake!
You won't be sorry!
Super creamy with just a hint of banana puree in the batter as well as the crust for a subtle banana taste and to cut down on the sugar needed, since extremely ripe bananas are so sweet!
I did use agave as the sweetener and only ¼ cup for the entire recipe since my bananas were super ripe and sweet.
You can adjust the sugar or use whatever sugar you prefer in the same quantity as listed; whether it is Vegan Hon-ee or evaporated cane granulated sugar or even maple syrup.
This cheesecake gets topped with beautiful fresh strawberries and more sliced bananas.
The fresh sliced bananas may get brown after a day though, so you can dip them in some lemon water before putting them on top and the apricot glaze (from melted apricot jam)  seals the fruit and will keep them from browning too rapidly.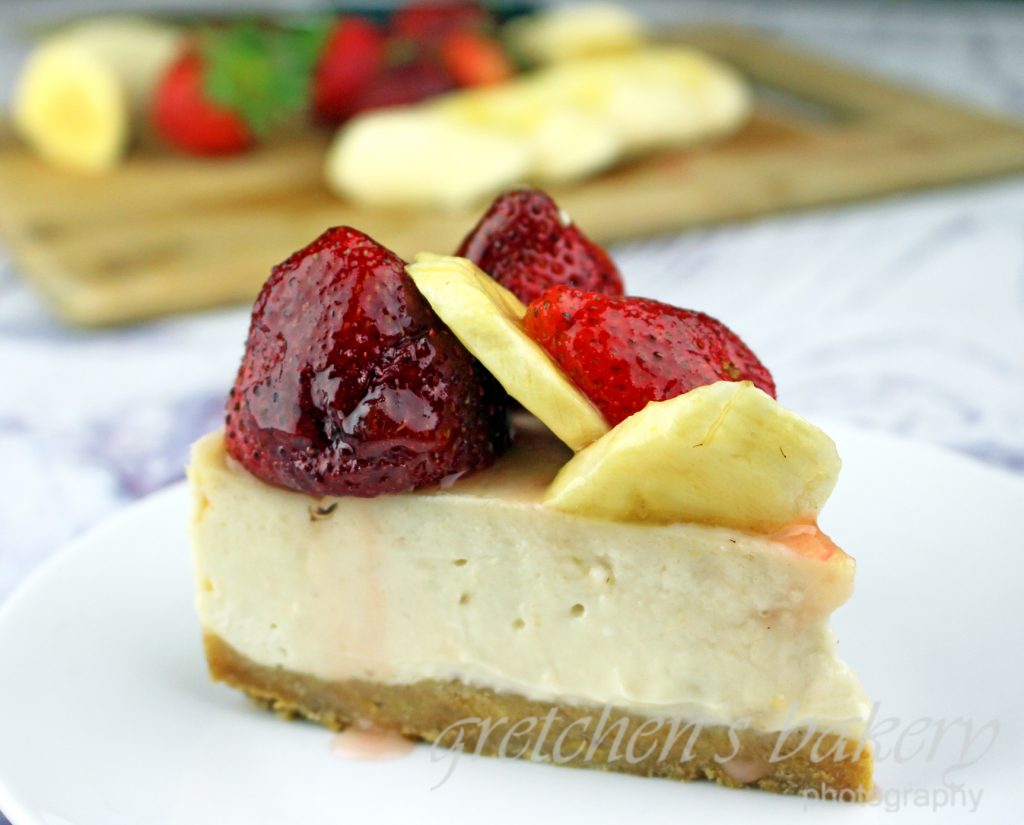 Strawberry Banana Cheesecake
Serves:
1-7" cake serves 8- 10
Ingredients
For the Crust:
Graham Cracker Crumbs 1¾ cup
Mashed Banana ¼ cup
Melted Vegan Butter 1 Tablespoon (14g)
For the Cheesecake:
Vegan Cream Cheese 2-8oz packages (454g) * I only use Tofutti Brand for baking
Mashed Banana ¾ cup (from 2 medium-large bananas)
Melted Vegan Butter 2 tablespoons (28g)
Agave Syrup ¼ - ½ cup (60- 120ml) **Or sugar
Cornstarch 4 Tbs (40g)
All Purpose Flour 2 Tablespoons (15g)
Soy Milk or any milk alternative of your choice ¼ cup (60ml)
Vegan Lactic Acid 1 teaspoon (or 1 teaspoon apple cider vinegar)
Salt ¼ teaspoon
Vanilla Extract 2 teaspoons
For the Topping:
Fresh Strawberries 1 lb
Fresh Banana 1 large
Apricot Jelly for glaze ½ cup
Instructions
First to make the crust combine the melted vegan butter with the graham crumbs and mashed banana. Get it all incorporated and it will be more wet than a traditional graham crust.
Press it into the bottom of a greased and parchment lined 7" cake pan and then freeze while you prepare the cheesecake batter
For the cheesecake combine all the ingredients together in a food processor or blender and process smooth
Pour the cheesecake batter into the prepared crust and bake in a water bath in a preheated 350°F oven for 1 hour
Turn the oven off but leave the cheesecake inside to cool then refrigerate for at least 5 hours or overnight before unmolding.
Decorate the top with fresh whole strawberries and banana slices
Glaze with melted apricot jelly
Notes
Cheesecake must be kept refrigerated and can be stored for up to 1 week.


If you use the fresh bananas as garnish they may brown after a day or two even with the glaze as seal.