We have a new star in town and it's called Coconut Biscuit Joconde
The coconut canvas on which we will build this beautiful and refreshing summer cake
The Coconut Mango Cream Cake
Biscuit Joconde recipes are typically thin sponge cakes
With nuts folded into the batter like the one I made for my Classic Opera Cake Recipe
However today I decided to switch out the nuts for well, COCONUTS!
Making a new recipe for Coconut Joconde layers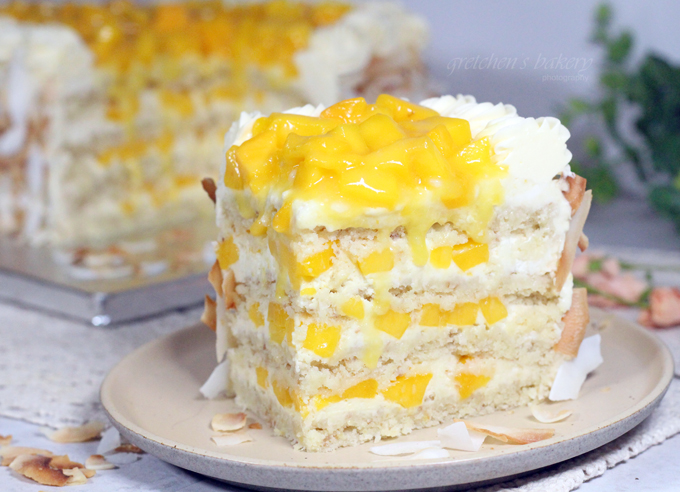 Filling up each layer with fresh mango in every bite!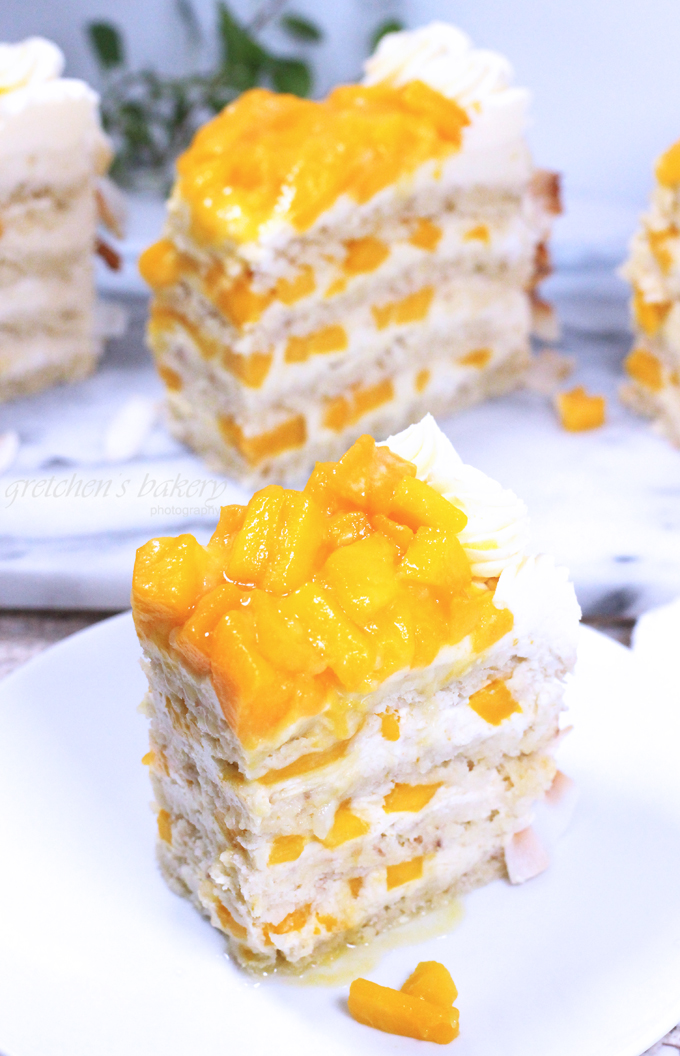 This whole combination is utterly fantastic!
Coconut sponge is baked into one single thin layer that I then cut into four quarters to build this cake
Here on my website I have several recipes for vegan whipped cream to choose from
But if you are as lucky as me you can cut out hours of prep time by purchasing SILK Brand Coconut Whipping Cream!
*not sponsored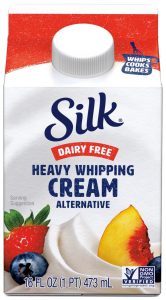 This product is a literal dream come true and whips up in minutes to a perfect stable whipped cream!
By adding mango powder to it at the last stage of whipping I made instant mango whipped cream!
That part is optional if you can't get the freeze dried mango it is not a deal breaker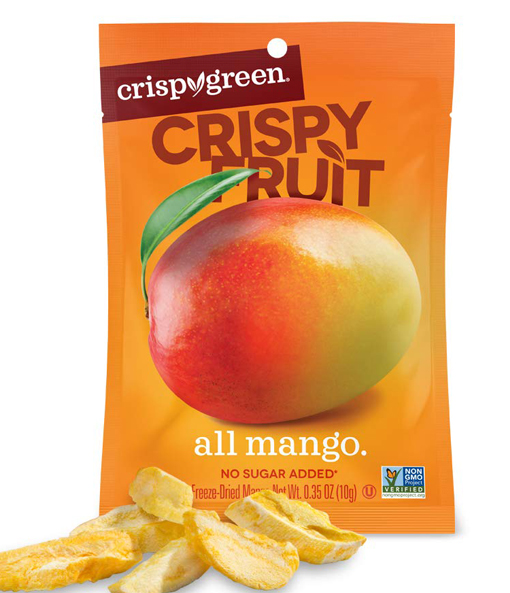 You will still get overwhelming mango in every bite just by filling it up with the fresh mango chunks!
There may not be another cake that can compare to this one!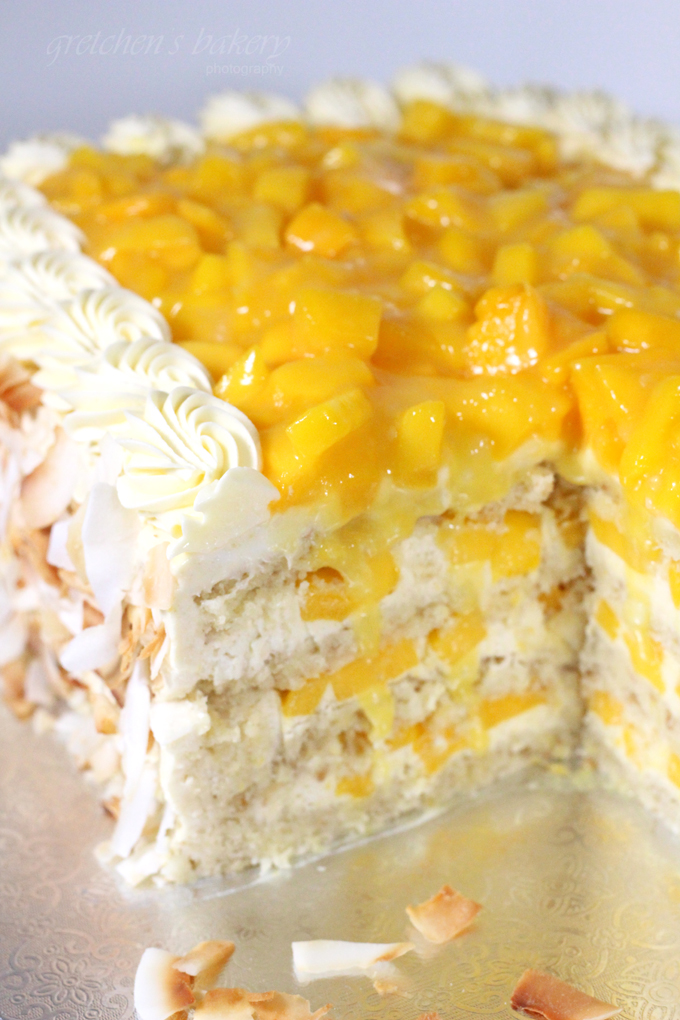 I like the look of the large flake coconut for the outside of this cake
But of course you can use the regular sweetened flakes that are found in most grocery stores.
For inside the coconut cake recipe though, I prefer to use unsweetened desiccated coconut instead
*read more below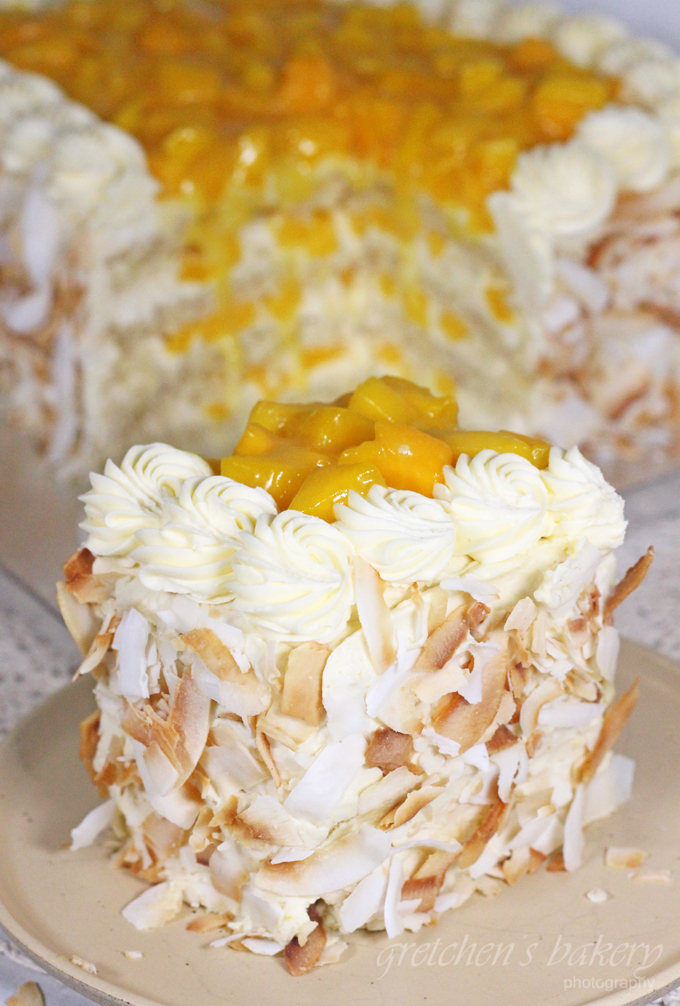 Notes for Success:
If you cannot get the unsweetened desiccated coconut for inside the cake recipe, you can certainly use the sweetened flakes
Just take out 1 Tablespoon of sugar from the recipe to compensate for the added sugar in those sweet flakes.
If you do not like the rectangle cake look as I made here, you can bake this cake batter into round pans instead.
Although the idea for this Joconde style cake is to make that classic torte look with very thin layers of everything throughout
For thicker more traditional round layers I would recommend using a different Coconut Cake Recipe, specifically for my Coconut Strawberry Shortcake
As usual all my recipes are super versatile, so get creative and make your own fantastic creations!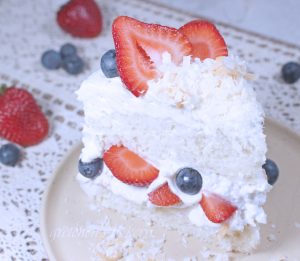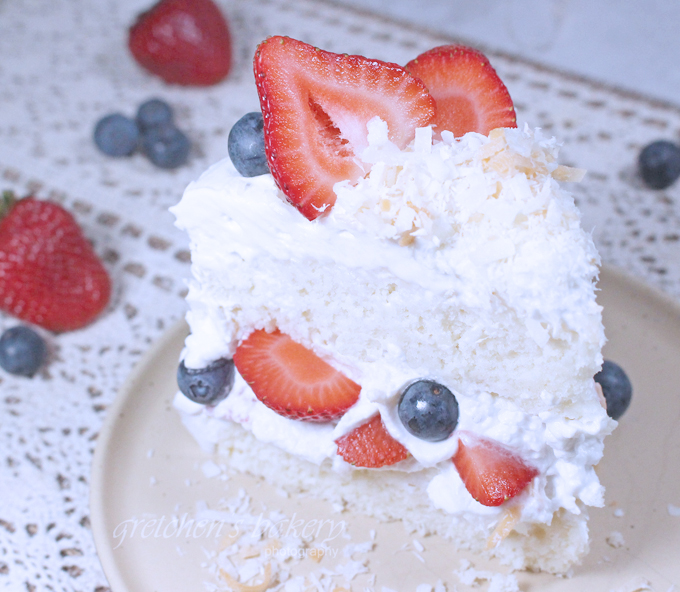 When I use SILK brand whipping cream I almost never add sugar to it.
I find that the sweetness from the cake and whatever else I am using is enough, but please feel free to add 1/4 – 1/2 cup confectioner's sugar to it while whipping.
For the egg replacer I am using flax meal with aquafaba
That combination makes what we call "super flax egg" it's binding properties are really great and I love the outcome.
If you cannot get aquafaba or want to stay away from it, just sub in water as you would to make flax "egg"
Coconut extract from Olive Nation is a really great high quality extract *sponsored ingredient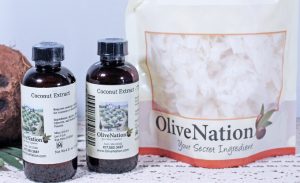 If you want to check out Olive Nation and get 20% off your order by using GVB20 at checkout
CLICK HERE TO VISIT THEIR WEBSITE!

CLICK HERE FOR THE FULL YOUTUBE VIDEO TUTORIAL FOR HOW TO MAKE THIS CAKE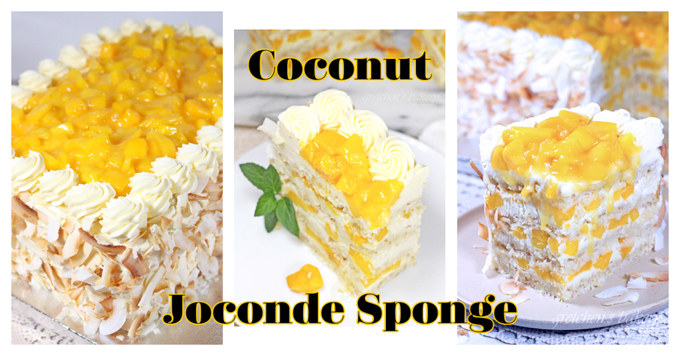 For more great coconut recipes click the links below!
*Note In the video I said "soy milk" but I have coconut milk listed below.
Coconut milk will give you a more coconut flavor of course, but soy milk can be used

Coconut Mango Cream Cake
Coconut Mango Cream Cake Prep time: 2 hours Cook time: 28 mins Total time: 2 hours 28 mins Serves: serves 12-14ppl I am using a
12" x 18" cake pan
for 1 single thin layer for this cake, to then cut into quarters.
You can equally bake the batter into 2-8" cake pans for 2 thin cake layers instead
Ingredients
For the cake batter
Vegan Butter 12 Tablespoons (170g)
Granulated Sugar 1 cup (200g)
Golden Flax Meal 2 Tablespoons (16g)
Aquafaba 4 Tablespoons (56g)
Full Fat Coconut Milk *you may use light if you prefer 1 cup (237ml) *see note above the recipe
White Vinegar 2 teaspoons (10ml)
Coconut Extract 2 teaspoons (10ml)
All Purpose Flour 1½ cups (188g)
Cornstarch 1 Tablespoon (8g)
Baking Powder 3 teaspoons
Salt ½ teaspoon (3g)
Unsweetened Coconut Flakes *small flakes- desiccated coconut is best 1 cup
For the Mango Whipped Cream
2 Pints SILK Brand Whipping Cream *or your favorite whipped cream recipe to equal 4 cups
Freeze Dried Mango Powder 6 Tablespoons *optional
Confectioners Sugar to taste ¼ - ½ cup per pint of whipped cream if using SILK brand ~ see notes above the recipe
Fresh Mangoes 2 large mangoes chopped into small pieces approximately 3 cups
Toasted Large Flaked Coconut for garnish *optional 2 cups
For the Mango Topping:
Small diced Mango approximately 2 cups from 1-2 large mangoes
Mango Juice or Water ½ cup (117ml)
Sugar 2 Tablespoons (28g)
Vegan Butter 2 Tablespoons (28g)
Cornstarch 1 Tablespoon (8g)
Rum Extract optional* 2 teaspoons (10ml)
Instructions
Preheat the oven to 350°F and then grease & parchment line your half sheet pan
For the cake batter cream the softened vegan butter with the sugar on medium to high speed until light & fluffy, this may take about 4 minutes.
Scrape the bottom & sides of the bowl for an even mix.
Combine the flax meal with the aquafaba and whisk smooth, let stand 5 minutes to thicken.
Add the coconut extract to the coconut milk
Sift the flour with the baking powder, cornstarch and salt .
Add the coconut flakes, stir to combine evenly.
Add ⅓ of the dry ingredients to the creamed mixture and mix on low just to combine
Add half of the coconut milk and mix just to combine, scraping bowl if needed.
Add another ⅓ of the dry ingredients and then the last of the milk mixing after each addition just until combined
Add the last of the dry ingredients and mix well
Spread the batter into the greased & parchment lined cake pan and bake immediately in the preheated oven for 15 minutes then turn the temperature down to 325°F for another 12-15 minutes or when a toothpick inserted into the center comes out with soft crumbs
Cool in the pan and then careful remove the cake layer to a cutting board to cut it into 4 equal pieces *see video tutorial
For the vegan whipped cream: Prepare your choice of vegan whipped cream using my recipes or a recipe you love the most OR take 2 pints of SILK brand Whipping Cream and whip to soft peaks.
Add the mango powder and whip smooth
Build the cooled cake layers with the mango cream and chopped mangoes in each layer
Ice the cake with the remaining coconut whipped cream and garnish with toasted coconut flakes and mango pieces on top or prepare the mango topping recipe as follows
For the Mango Topping:
Combine the sugar with the cornstarch and whisk to combine well
Add the sugar, cornstarch and mango juice or water to a sauce pot with the vegan butter and bring to boil whisking constantly to avoid scorching
Remove from heat after a full boil and add the rum extract *optional and then pour over the chopped mango and stir well to combine, refrigerate to cool then use as a topping for your cake
Notes
Coconut Mango Cream Cake must be kept refrigerated at all times and will stay fresh wrapped loosely to prevent drying for up to 7 days
3.5.3251