This recipe is basically rice pudding on vacation.
My recipe for rice pudding is amazing all by itself, so if you are a purist, you will stick to the base recipe for pure unadulterated rice pudding. (*see notes at the end of this post)
But for those in need of a little getaway to tropical places- let's go!!
Coconut Rice Pudding with Pineapple Rum Salsa!
Individual servings of rice pudding on top of a coconut shortbread cookie.
Garnished with coconut whipped cream and pineapple rum salsa! Yumm!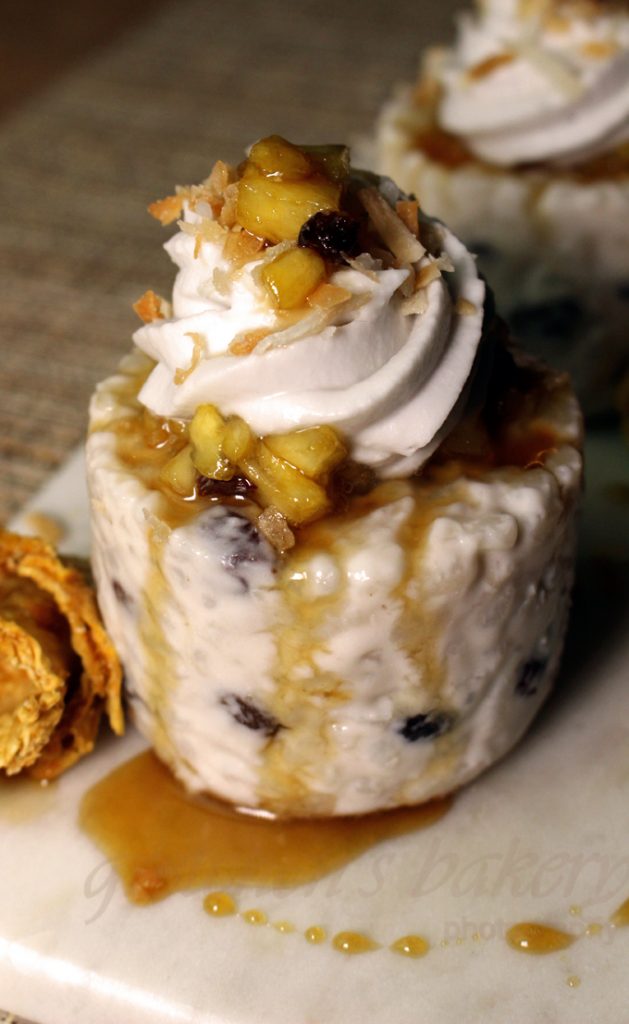 Drunk and Tropical Rice Pudding
Arborio rice is a short grain rice used in
risotto dishes
, it is known for it's creaminess. If you can't get that you can use regular rice but you will have to increase the plant milk by 1 cup
If you are using a different sugar (like agave, maple or stevia like me) add it at the end of the cooking time, with the raisins
A combination of coconut milk and another plant milk seems to be the best, as (to me) the coconut milk is too high in fat and leaves a fatty feel, whereas a combo of almond or rice milk and coconut together is really nice
Ingredients
Plant Milk of your choice 4 Cups (canned coconut is best for the tropical-coconut- version, but for the regular recipe below - reduced fat, I use rice milk *see recipe below)
Arborio Rice ½ cup + 1 Tablespoon
Sugar 8 Tablespoons Or 4 packets of Stevia
Vanilla Bean 1 or 2 teaspoons pure vanilla extract
Dark Raisins ⅓ cup
Your favorite Rum 4 Tablespoons (60ml)
For the Pineapple Rum Salsa
Fresh Pineapple 1 cup minced fine
Raisins ¼ cup minced fine
Dark Rum 1 cup (237ml)
Granulated Sugar ½ cup (100g)
For the Garnish:
Optional Coconut Whipped Cream *reddi wip or homemade is great too! Click here
Coconut lightly toasted ½ cup
1 Recipe Coconut Shortbread Cookies recipe below
Instructions
For the Rice Pudding:
Soak the raisins in rum overnight preferably, then drain but reserve the rum for the pineapple rum salsa
Combine the plant milk(s) with the arborio rice, scraped vanilla bean pod *if using* and the sugar in a medium heavy bottom sauce pot
Bring to a boil stirring often, then reduce heat to medium and simmer stirring occasionally for about 30 minutes until thick.
Add the drained raisins, the stevia if you are using that instead of sugar and remove the vanilla bean pod. (Add the vanilla extract now if you are not using the bean)
Divide the rice pudding into the acetate lined molds *as shown in the video and then place a baked and cooled coconut shortbread firmly into each one.
Refrigerate for at least 2 hours until firmly set and cold before unmolding
Serve with Pineapple Rum Salsa, recipe follows
Pineapple Rum Salsa:
Combine the sugar with the reserved rum and the additional 1 cup of rum
Bring to a boil over high heat, then reduce heat to a low simmer and reduce to about ½ its volume, it will start to get slightly thick and syrupy.
Add the minced pineapple and raisins and cool, pour over rice pudding before serving
Notes
Rice Pudding can be made several days ahead of time, keep refrigerated until serving.

Pineapple Rum Salsa can also be made up to 4 days in advance and stored in the refrigerator until serving

If you are just making rice pudding without all the extras and garnishes, store in a large container with a lid for up to 1 week in the refrigerator
A note about the molds:
You can purchase stainless steel molds specific for pastry, but they are uber expensive!
So I go to Home Depot and buy PVC pipe, they have all different sizes and they are perfect for molding COLD DESSERTS, NEVER BAKE IN THEM!
NOTES:
It is really easy to change up the sugar in a recipe like this with no adverse affects, or adjust the regular sugar more or less to your liking.
Play around with agave, or maple syrup or even a less processed sugar like Demerara or Turbinado.
This recipe could even do without the sugar altogether (it won't be very sweet) but that is entirely up to you!
The raisins have natural sugars (and a lot of them too!)
I have been omitting the granulated sugar altogether, and using stevia at the last minute of cooking.
So if you want the regular rice pudding recipe, with no added sugar, almost fat free (because I use rice milk!) and of course leave out the whipped cream, cookies and the rum syrup and the pineapple salsa for a classic rice pudding recipe.
Just follow the recipe below
Sprinkle cinnamon on top and let cool!
That's it! No refined sugar recipe~  and for a real sugar free enthusiast leave out the raisins too!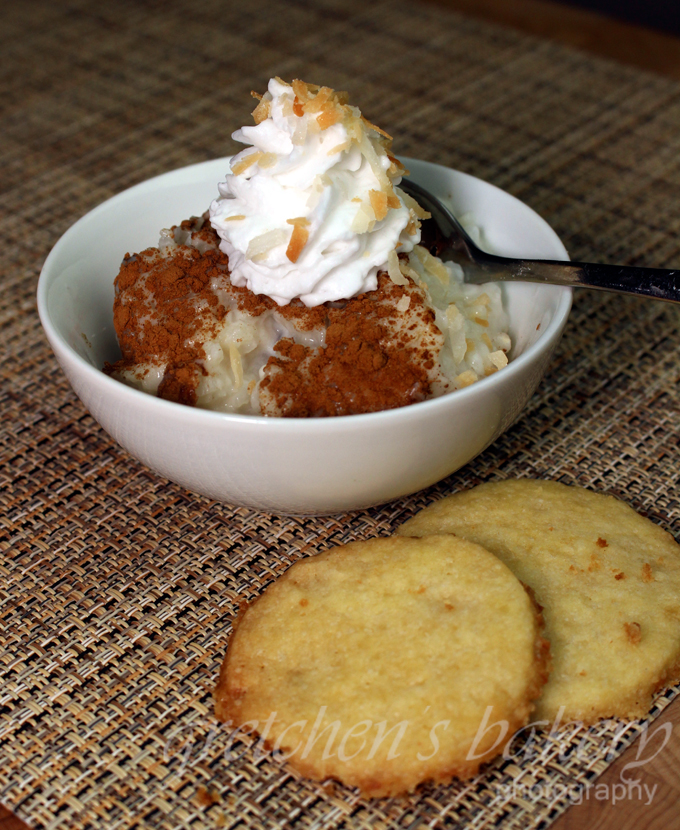 Coconut Rice Pudding ~ no sugar added
I like to use rice milk for this recipe since it is the lowest in fat and to me it tastes the best (even for the above recipe, I prefer it than the full fat coconut) But the plant milk it totally your preference, use whatever you like the best just make sure it is pure milk no added gums or it will separate when boiled.
I also use a tad less rice for the casserole version, since it doesn't have to be molded, it is definitely creamier and more loose
Ingredients
Arborio Rice ½ cup
Rice Milk 4 cups
Stevia Packets 4-6
Vanilla Bean1 pod or extract 1 teaspoon
Cinnamon stick 1 *optional
Raisins ½ cup
Cinnamon for sprinkling on top
Instructions
Combine the plant milk, rice, vanilla bean *if using and the cinnamon stick together in a large heavy bottom sauce pot.
Bring to a boil stirring frequently
Once it boils, reduce heat and simmer for 30 minutes stirring often until thick
Add the raisins and the stevia nad stir well
Pour into a heat proof container, remove the vanilla pod and the cinnamon stick and then sprinkle generously with cinnamon and let cool, then refrigerate until serving
Coconut Shortbread Cookies
Ingredients
All Purpose Flour ¾ cup (95g)
Sweetened Flake Coconut ⅓ cup (30g)
Granulated Sugar or Coconut Sugar ¼ cup (50g)
Vegan Butter COLD 6 Tablespoons (85g)
Coconut Oil COLD 2 Tablespoons (28g)
Salt pinch
Coconut Extract 2 teaspoon (10ml)
Instructions
Combine the flour, sugar, salt and coconut flakes in a food processor and process until the coconut is finely ground
Add the cold vegan butter and coconut oil and process until it starts to form a soft dough
Add the vanilla extract, pulse again and then wrap in plastic and refrigerate for 1 hour
Roll out on a lightly floured surface to ½" thick then cut out to the same diameter as your rice pudding molds (or just bake cookies in any size as you wish to serve as garnish with the regular rice pudding)
bake in a preheated 350°F oven for approximately 12-15 minutes until golden brown, cool completely before adding to the rice pudding molds
Notes
Cookies can be kept for up to 1 week in an airtight container at room temperature