Orange Creamsicle Cupcakes are moist and fluffy and loaded up with orange and vanilla!
I'm obsessed with my orange sponge cake recipe because it is so easy to make!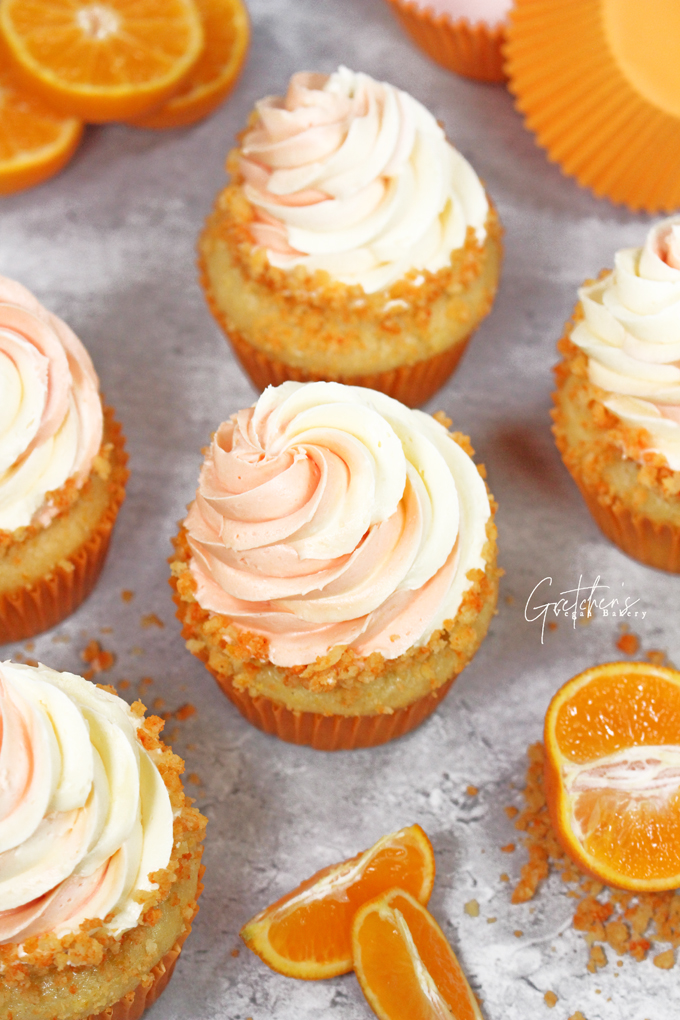 Loaded with orange flavor from the chunks of whole oranges I use in the batter!
Baked into the most perfect cupcakes and then stuffed with orange marmalade and orange vanilla buttercream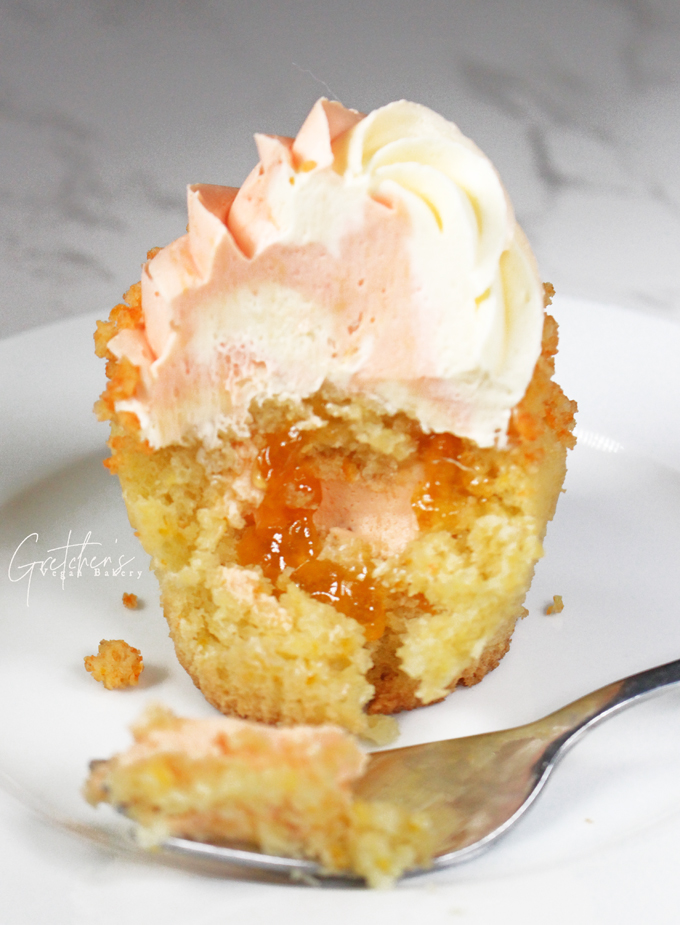 Orange Creamsicle Cupcakes get the classic swirl topped icing in orange and white!
Crunchy orange cake crumbs for the finishing touch
I had some orange cake leftover from a recent cake project but you can always sacrifice one cupcake if you wanted to get that crunchy garnish!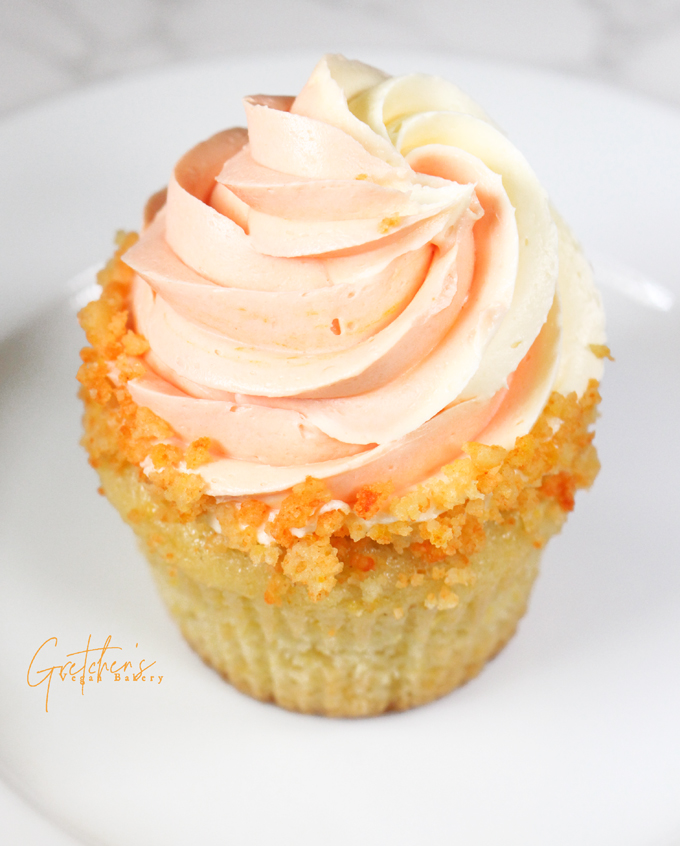 Notes For Success:
If you have not baked with cake flour and do not wish to buy it or you are worried because this has happened to you in the past, you may use exclusively all purpose flour instead of the combination I have listed below
Lately I have had some people commenting that when they use cake flour in their recipes the result is heavy, gummy and almost raw as if it won't bake
This is not something I have ever experienced and many of my recipes often use a combination of all purpose and cake flour with no problems
As I mentioned this is a "food processor cake" method and I am using a 14 cup capacity food processor which is more than enough to blend this recipe, it can even handle a double recipe if you so choose
If you do not have a food processor you can puree the oranges in a blender and then mix the rest of the recipe all together with an electric mixer, or even by hand.
Small oranges like clementines work the best for this recipe since the skin is very thin.
If using another orange that has a thicker skin I would recommend to cut away a portion of that white pith from the inside which is what gives oranges their bitter taste
This batter bakes perfectly into cake layers too! The recipe listed below will make 3-6″ cake layers
CLICK HERE TO WATCH THE YOUTUBE VIDEO TUTORIAL FOR HOW TO MAKE ORANGE CREAMSICLE CUPCAKES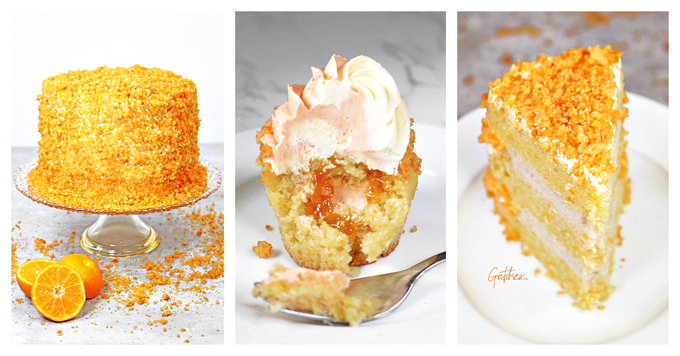 For more cupcake recipes like this one click the links below!
Yield: 12 cupcakes
Orange Creamsicle Cupcakes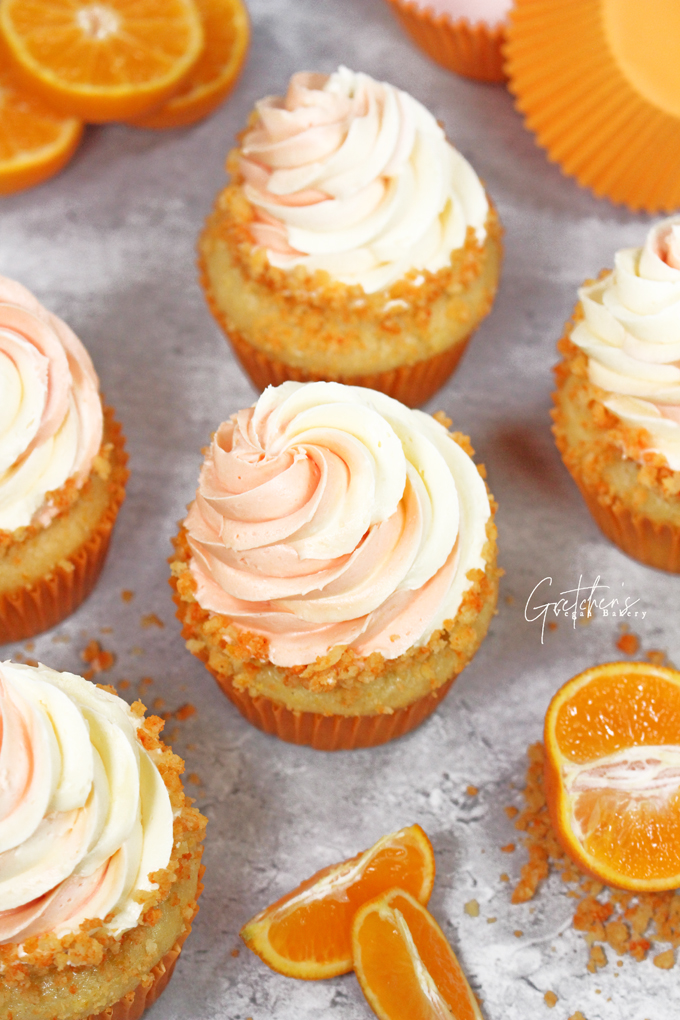 Total Time
1 hour
10 minutes
Ingredients
For the Orange Cake Batter
Plant Milk ¾ cup (188ml) * I use soy milk
2-3 small clementine oranges= total weight of orange with skin on is 5oz
**total volume measure of pureed orange with the skin on is a scant ½ cup
Vanilla Extract 2 teaspoons (10ml)
All Purpose Flour 1½ + 1/3 cup (230g)
Egg Replacer * I am using Bob's Red Mill 1½ teaspoons
Granulated Sugar ¾ cups (150g)
Baking Powder 3 teaspoons
Salt ¾ teaspoon
Vegetable Oil 9 Tablespoons (135ml)
For the Buttercream Icing:
Vegan Butter 1½ Cups (3 sticks) (336g)
Confectioners Sugar 3 cups (360g)
Orange Extract 1 teaspoons *optional, you may sub in vanilla instead
Butter Extract ½ teaspoon *optional
Salt ¼ teaspoon
Orange Zest from 1 large navel orange (approximately 2 teaspoons)
Orange Color *optional as needed
Orange Marmalade ½ cup
Instructions
Preheat the oven to 350°F
First wash the skins of the oranges very well with warm water
Next pull of the hard stem of the orange (if there are any) and check the oranges inside for seeds by slicing them in half and remove seeds if there are any.
The skins stay on the orange, so leave that intact.
Place all of the cake ingredients including the oranges into a food processor and processor until smooth batter (about 30 seconds)
Scoop the batter into the paper lined cupcake tins
Bake in a preheated oven at 350°F for about 20minutes or when a toothpick inserted into the center comes out clean.
Next prepare the orange buttercream icing: Whip the vegan butter with an electric mixer until light and fluffy on medium to high speed for about 3 minutes.
Scrape the sides and bottom of the bowl to make sure it is evenly mixed and add the salt and orange zest and the extracts
Turn the mixer speed down to low and add the sifted confectioners sugar
Mix on low speed until all is incorporated , then scrape the bottom and sides of the bowl and mix on high speed for another 3 minutes.
Divide the icing into 2 parts and color one part orange
Once the cupcakes are cooled hollow out the centers and put about ½ Tablespoon of orange marmalade into each one then fill with some of the orange buttercream
Watch the YouTube video tutorial for how to fill your pastry bag to make the swirl effect and pipe the remaining buttercream on each cupcake
Notes
Orange Cardamom Cake can be stored at room temperature for up to 3 days, for longer storage refrigerate for up to 1 week