Orange Cardamom Cake with vanilla bean cardamom icing
Arriving just in time for all the holiday baking!
And it just happens to be the easiest cake you will ever make in your life!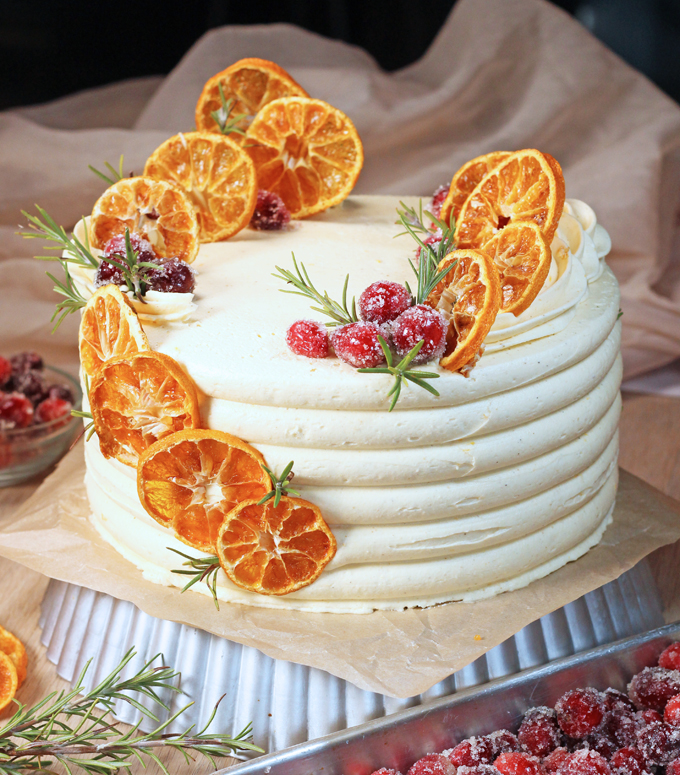 Why not try something new this year?
Orange and cardamom are exotic partners not to mention it doesn't get any easier than this!
Light and fluffy orange cake batter that is ready in less than five minutes!
Well you still have to bake it! But the batter itself is ready in less than five minutes!
Simply throw all the ingredients into a food processor ~ orange skins and all!
While the cake layers are baking the orange cardamom icing gets whipped up!

A beautiful rustic decor of dried orange slices and fresh rosemary sprigs make this one festive holiday cake!
Candied Cranberries for garnish are optional but they are a staple in my house all winter long since they store really well in the freezer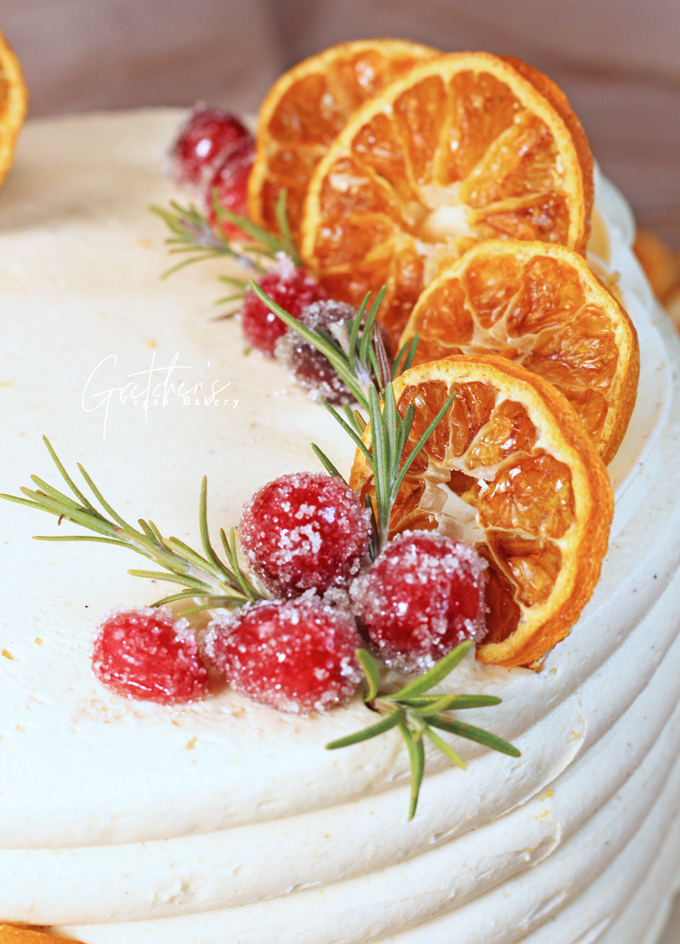 Pan Sizes and Baking Times
You can of course bake this cake batter into any size pan(s) you prefer
Even cupcakes would be amazing with this recipe!
Rule of thumb for changing pan sizes for any recipe is to fill the pans just a handful more than half way full to give the batter ample room to rise properly
This recipe will make 2 thick 8″ cake layers or 3- 7 " layers
24 Cupcakes, 1- 9″ x 13″ layer, 4- 6″ layers, 1 Large Loaf pan (10″ x 5″ x 4″) or 1 – 12 cup capacity bundt pan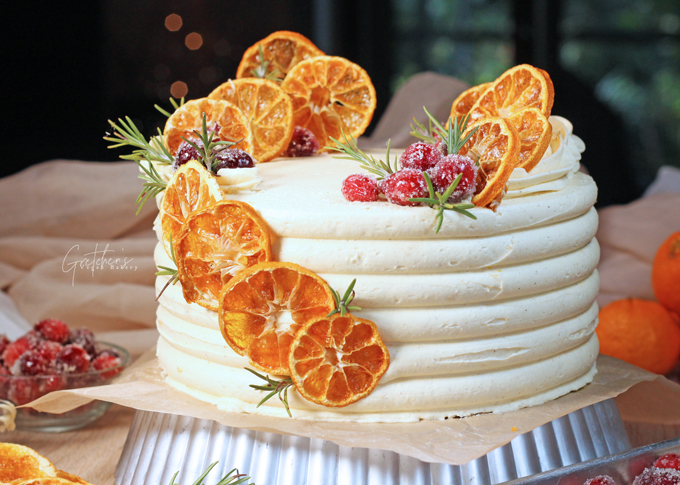 Notes for Success:
Be aware that I am using a 14 cup capacity food processor and this recipe takes it to the max
Smaller oranges like navels or clementines are the best oranges to use for this recipe ssince the skin is much thinner with bright citrus and floral notes
The recipe below calls for 10 ounces of total orange weight which is approximately 4-5 small clementines
Be sure to wash the orange skin thoroughly and pull out the hard stem
Also cut them open to remove any seeds before adding to the food processor
Many people have had problems using cake flour in their recipes, so I have adjusted the recipe to use all ~ All Purpose flour instead
GLUTEN FREE OPTION!
While I am not an avid gluten free baker, this recipe will work great with a 1:1 GF blend like Bob's Red Mill in the total amount listed for both flours
I bought the dried orange slices for the decor for this cake, but you can always make your own
CLICK HERE TO WATCH THE FULL VIDEO TUTORIAL ON YOUTUBE FOR HOW TO MAKE THIS CAKE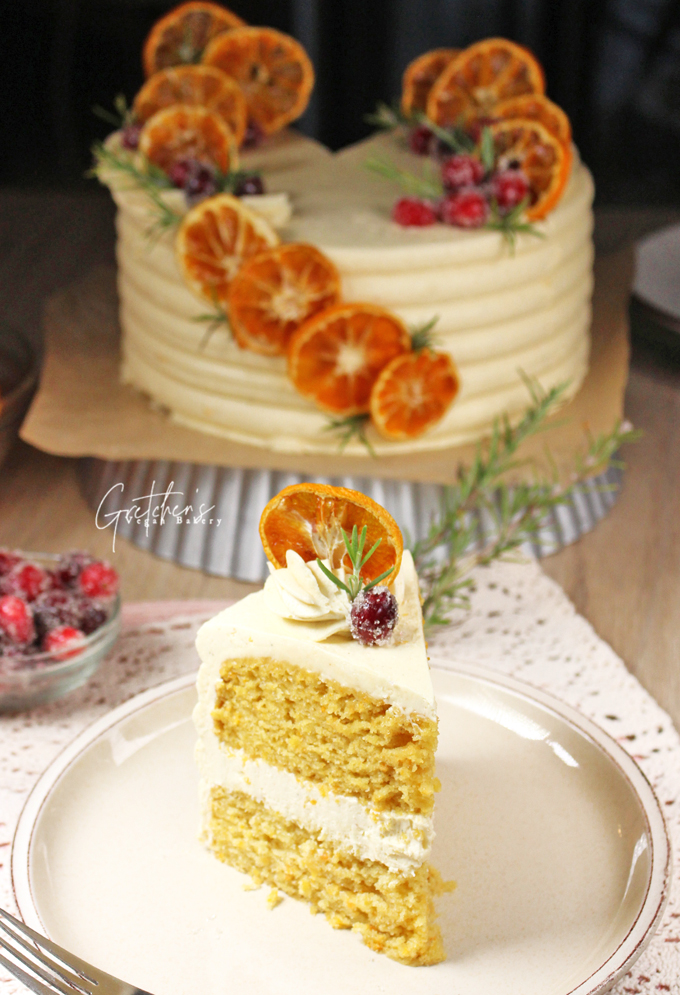 For more awesome and easy recipes click the links below!
Chocolate Raspberry Truffle Cake
Yield: serves 15ppl
Orange Cardamom Cake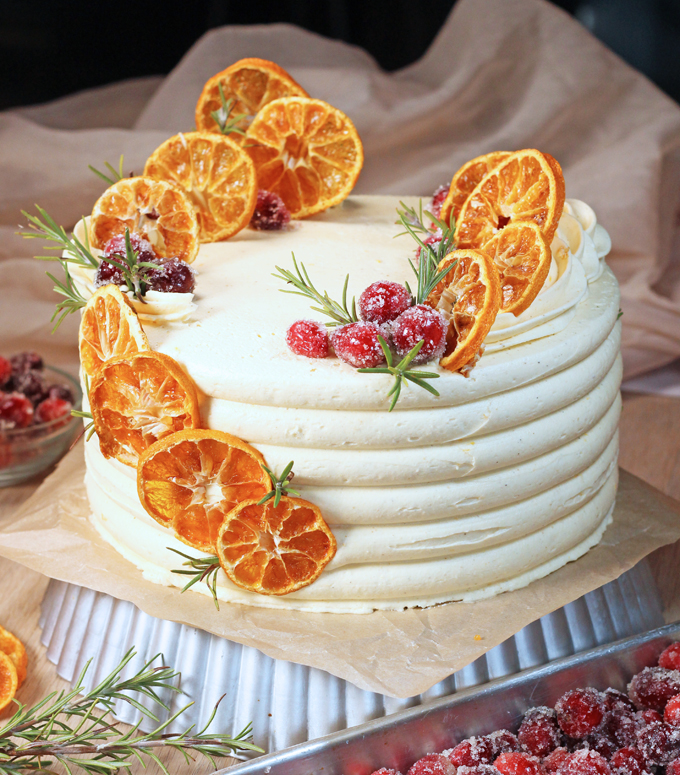 The recipe below makes 2 - thick 8" layers Total weight of oranges with skin on is 10oz **total volume measure of pureed orange with the skin on is a a scant 1 cup
Total Time
2 hours
35 minutes
Ingredients
For the Orange Cake Batter
Plant Milk 1½ cup (350ml) * I use soy milk
4-5 small clementine oranges
Vanilla Extract 3 teaspoons (15ml)
All Purpose Flour 3 ¾ cup (469g)
Egg Replacer 3 teaspoons *I am using Bob's Red Mil
Granulated Sugar 1½ cups (300g)
Baking Powder 6 teaspoons
Salt 1½ teaspoons
Ground Cardamom 2 teaspoons
Vegan Butter Melted or Vegetable Oil 18 Tablespoons (270ml)
For the Cardamom Icing:
Vegan Butter 3 Cups (6 sticks) (672g)
Confectioners Sugar 6 cups (720g)
Vanilla Extract 2 teaspoons
Butter Extract 1 teaspoon
Salt ¼ teaspoon
Ground Cardamom 3 teaspoons
Orange Zest from 1 large navel orange (approximately 2 teaspoons)
Rosemary Sprigs for garnish
Instructions
Preheat the oven to 350°F
First wash the oranges in their skins very well with warm water
Next pull of the hard stem of the orange (if there are any) and check the oranges inside for seeds by slicing them in half and remove seeds if there are any.
The skins stay on the orange, so leave that intact.
Place all of the cake ingredients including the oranges into a food processor and processor until smooth batter (about 1 minute)
Pour batter evenly between the 2 greased and parchment lined 8" cake pans
Bake in a preheated oven at 350°F for 15 minutes then I like to turn the oven temperature down to 300°F for another 20 minutes or until a toothpick inserted into the center comes out clean.
Next prepare the orange cardamom icing: Whip the vegan butter with an electric mixer until light and fluffy
on medium to high speed for about 3 minutes.
Scrape the sides and bottom of the bowl to make sure it is evenly mixed and add the salt and the cardamom, orange zest and the butter and vanilla extracts
Turn the mixer speed down to low and add the sifted confectioners sugar a cup at a time
Mix on low speed until all is incorporated , then scrape the bottom and sides of the bowl and mix on high speed for another 3 minutes.
Once the cakes are cooled (I like to put mine in the refrigerator for at least an hour (or overnight wrapped well) before building the cake to make sure it is nice & cold)
Ice the cake as shown in the video tutorial and decorate with candied cranberries, dried orange slices and rosemary sprigs
Notes
Orange Cardamom Cake can be stored at room temperature for up to 3 days, for longer storage refrigerate for up to 1 week