Spring is on the way and so are all the creative recipes ideas!
Strawberry Cheesecake Crunch Cones are the cutest and tastiest handheld treats this season!
Vegan Sugar Cones stuffed with strawberry cheesecake!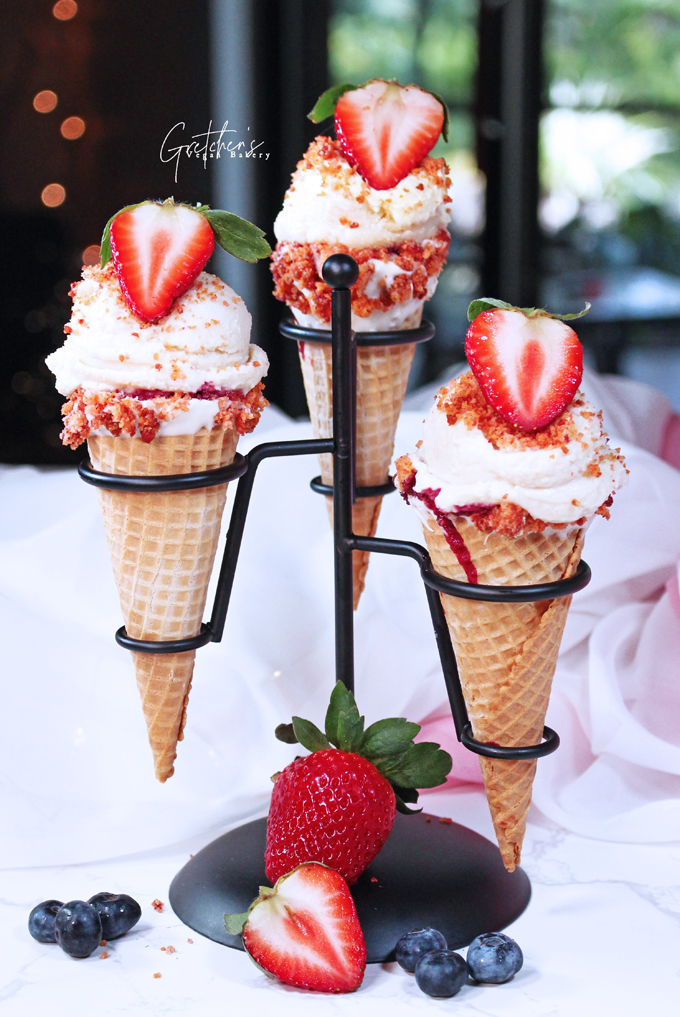 My New York style vegan cheesecake just won't quit
These vegan ice cream cones are stuffed with mixed berry compote, vanilla shortcake and then a scoop of cheesecake on top!
*not sponsored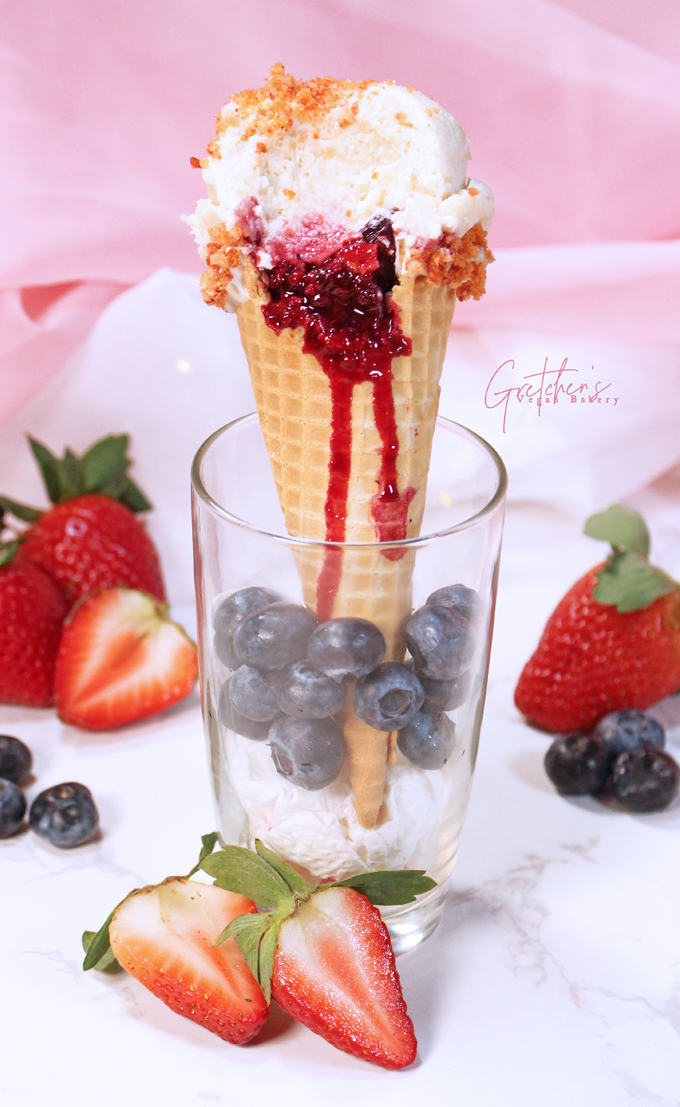 But I have seen some DIY ice cream cone and cake pop stands that would also do the job!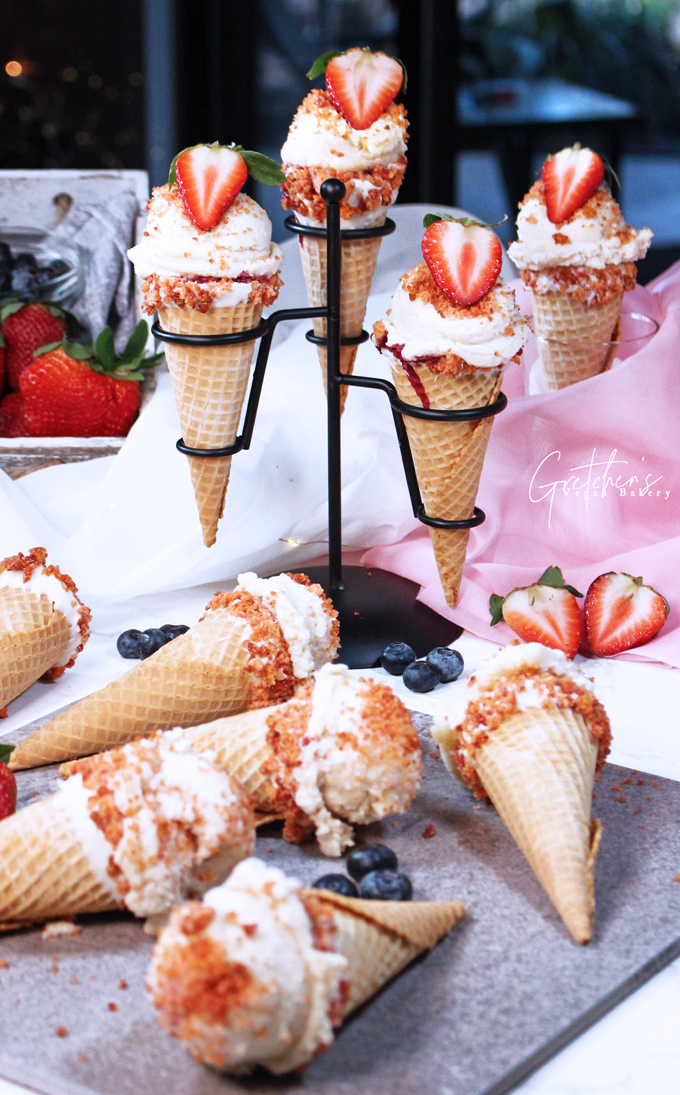 Since these are stuffed with mixed berry compote coating the insides of the cone with vegan white chocolate is imperative to prevent soggy cones
I use King David Brand Vegan White Chocolate *not sponsored
A small cylindrical cake chunk is stuffed inside the cone too so the berry compote will soak into the cake and not the cone!
Quite honestly that was my favorite part to eat!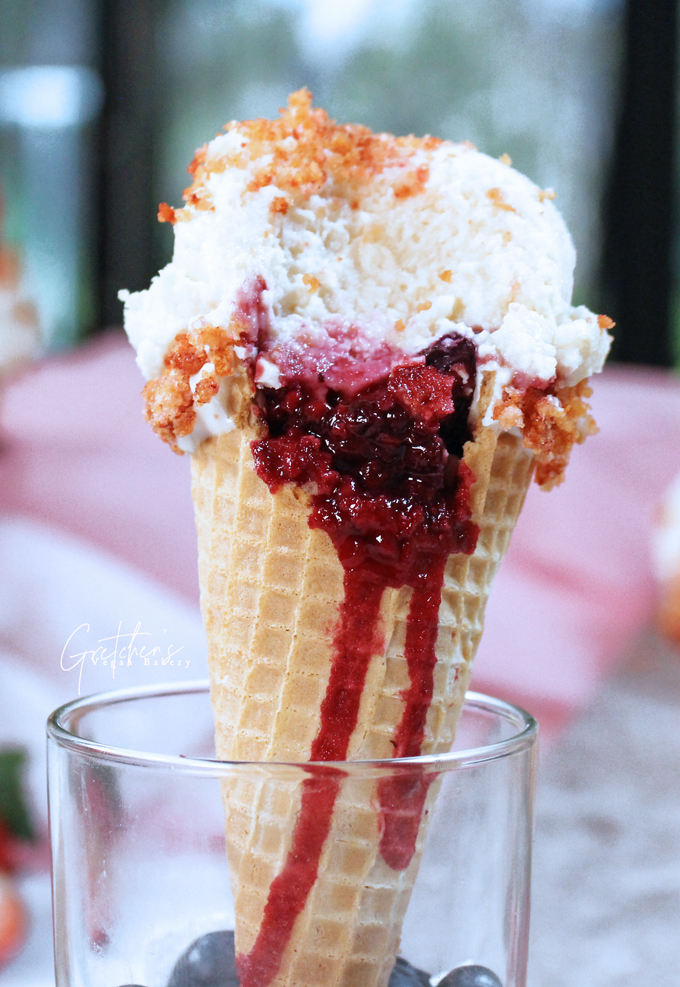 It's like a little surprise down inside the cone that tastes like MORE!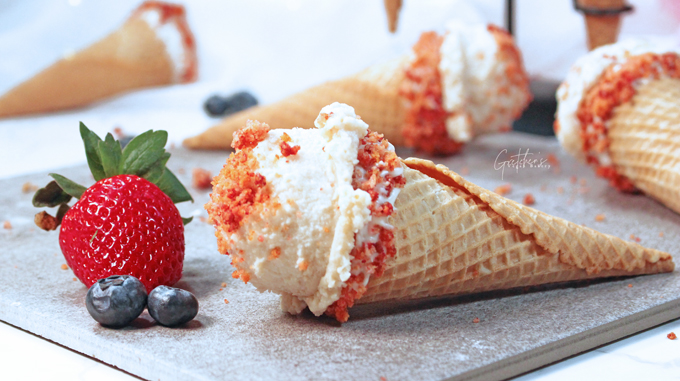 Be sure to read all the way to the bottom to see the reduced sugar version recipe!
Notes for Success:
At times I add a small addition of firm tofu in place of some of the cream cheese for a lightened up version and to cut some of the fat calories, but you can use all vegan cream cheese instead.
Additionally I only use Tofutti Cream Cheese for my BAKED recipes *not sponsored
I have not had success with any other brand in BAKED recipes; for some reason the other more expensive brands I've tried have broken down into an oily mess when baked.
However more recently some of my viewers have commented on some of those brands that now seem to work in baked recipes?
One noted having success with Violife, another person stated they used Miyokos original and it turned out divine,
While Treeline cream cheese in Connecticut; and in the UK, the Asda supermarket brand works great
Cornstarch is a very difficult ingredient to measure consistently with a volume spoons measure
So while I list both measures below I cannot stress enough how the grams measure with a scale is going to give you the best results.
Many times people have complained that their cheesecake is like rubber and they don't know why!
This is from a heavy measure of cornstarch when using volume measuring spoon vs the 100% accurate scale measure in grams.
Next I thought by baking the cheesecake in the sphere mold it would be the perfect "scoop" for each cone
But that proved to be very wrong as you will see in the video tutorial!
The better and easier idea is to simply bake the cheesecake batter into a 7″ cake pan as usual and then scoop the cold, set cheesecake onto the cones
Follow along in the written instructions below and in the video tutorial to organize your work for the best easy experience.
WATCH THE VIDEO TUTORIAL FOR HOW TO MAKE THESE STRAWBERRY CHEESECAKE CRUNCH CONES!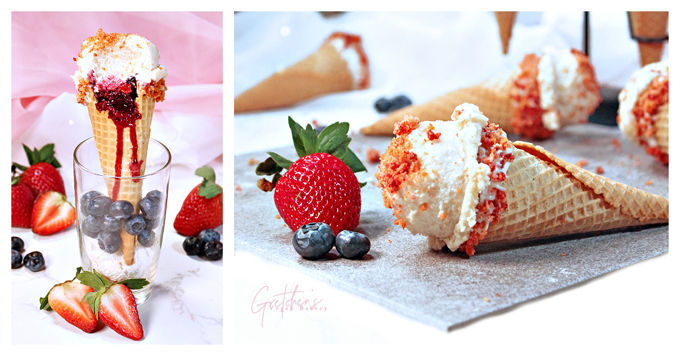 For more awesome little treats like this one click the links below!
MAKE IT REDUCED SUGAR!
While I doubt there are sugar free vegan ice cream cones, you can still lighten up the rest of this recipe easily!
FOR MORE INFORMATION ABOUT SUGAR FREE BAKING CLICK HERE!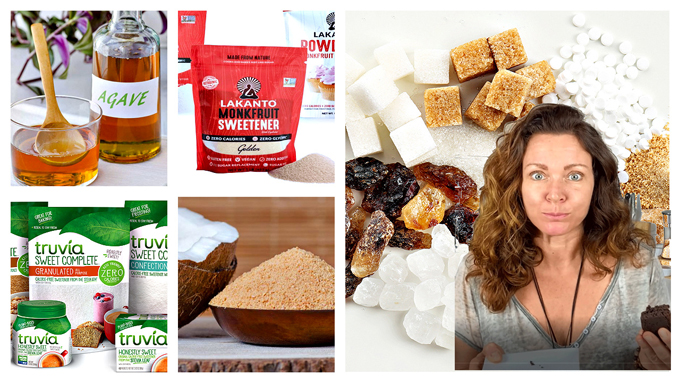 Yield: serves 10
Strawberry Cheesecake Crunch Cones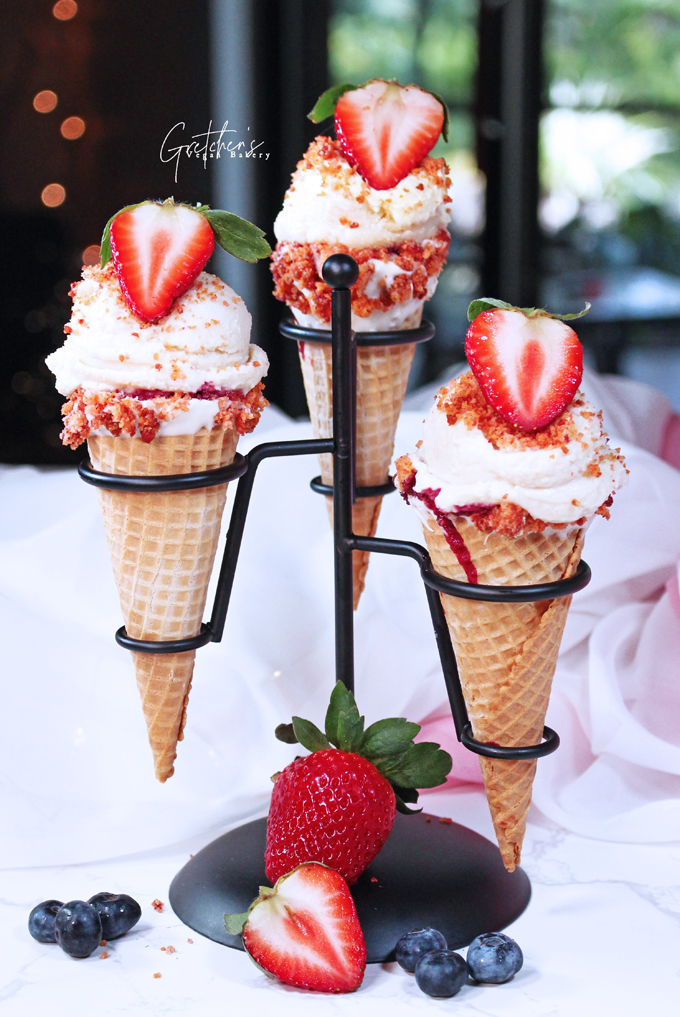 Total Time
4 hours
30 minutes
Ingredients
10 Vegan Ice Cream Cones
Vegan White Chocolate 8 ounces (226g)
For the Cheesecake:
Vegan Cream Cheese *see notes 16ounce (454g)
Vegan Butter melted 2 tablespoons (28g)
Granulated Sugar 1 cup (200g)
Cornstarch 4 Tablespoons (32g)
All Purpose Flour 3 Tablespoons (24g)
Plant Milk *I use soy milk 6fl oz (177ml)
Vegan Lactic Acid or apple cider vinegar 1 teaspoon
Salt ¼ teaspoon
Vanilla Extract 3 teaspoons (15ml)
For the Berry Compote:
12 ounces (336g) Strawberries or Mixed Berries
1 cup cranberries *optional
2-4 tablespoons Sugar *optional
Instructions
First prepare the cheesecake by place all of the cheesecake ingredients into the work bowl of your food processor and pulse to blend to a smooth batter
Scrape the sides of the bowl to ensure an even mix then blend again to a smooth mixture
Pour the batter into a greased & parchment lined 7" cake pan and bake in a water bath in a preheated 350°F oven for 1 hour
After 1 hour, turn the oven off but leave the cheesecake in the oven to cool slowly for another hour.
Remove the cheesecake from the water bath and then cool completely, then refrigerate for at least 4 hours to set or overnight before unmolding.
Next prepare the compote by combining the berries, cranberries and sugar in a heavy bottom sauce pot and bring to a boil. *see notes in text for using fresh strawberries
Turn the heat down to low and simmer for about 20 minutes or until the berries break down and the cranberries begin to pop open.
Stirring often to avoid scorching the bottom, cook until it is to a stewed fruit consistency.
Cool at room temperature, then refrigerate until thickened.
prepare the strawberry cake recipe as per the instructions on that recipe post but bake the cake into a 9" x 9" cake pan that has been greased & parchment lined.
Once the cake is baked & cooled cut out 10 circles with a cookie cutter that is the same diameter as the opening of your ice cream cones. Then trim those cut outs to a wedge slice as shown in the video.
The remaining cake scraps will get crushed to fine crumbs then toasted in the oven at 350F for approximately 20-30 minutes until toasty and crunchy
This will be the "plug" to stop the berry compote from saturating your ice cream cones.
Next coat the insides of the ice cream cones with melted white chocolate, dip the tops as well then plunge the top rim into the cooled strawberry cake crunch
Fill the cones with the cake wedge & fill with cooled berry compote
Once the cheesecake has been fully baked, cooled to cold & set to firm you can scoop it out of the cake pan and directly onto the ice cream cones.
Notes
Strawberry Cheesecake Crunch Cones are best served the day they are made, but will still be good for 2 days in the refrigerator. They won't go bad for over a week, but the cones will become soggy over time