French Apple Tarts are the simplest of all the desserts to make
With puff pastry, vanilla custard and some apples you can make this bakery style pastry in under an hour!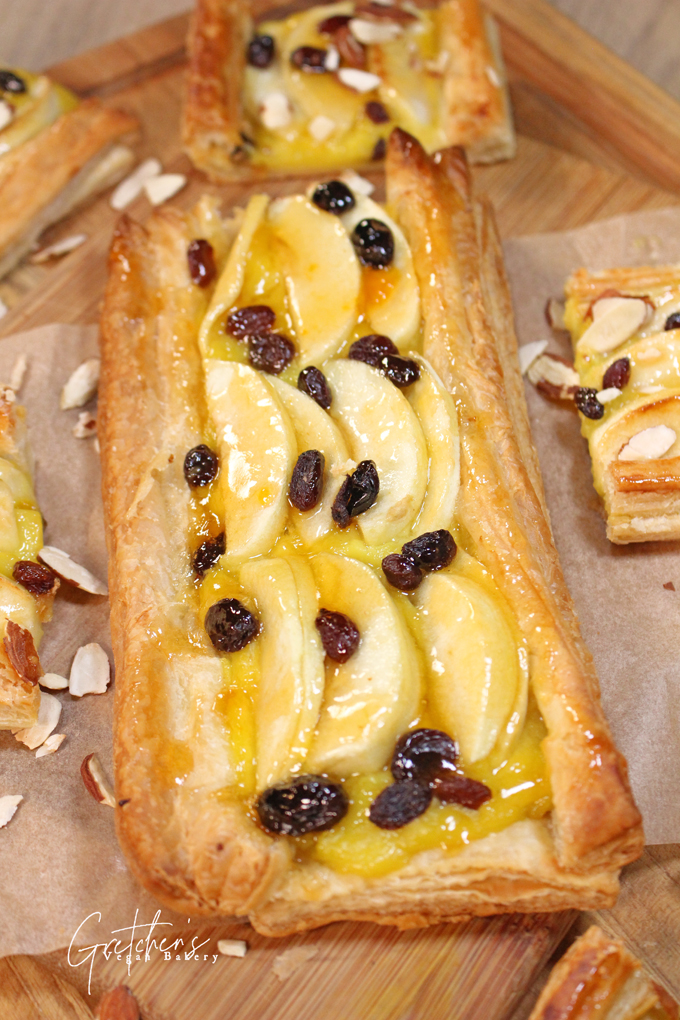 The raisins are optional for those who absolutely loathe raisins!
But I love the addition of plumped up raisins to this classic dessert!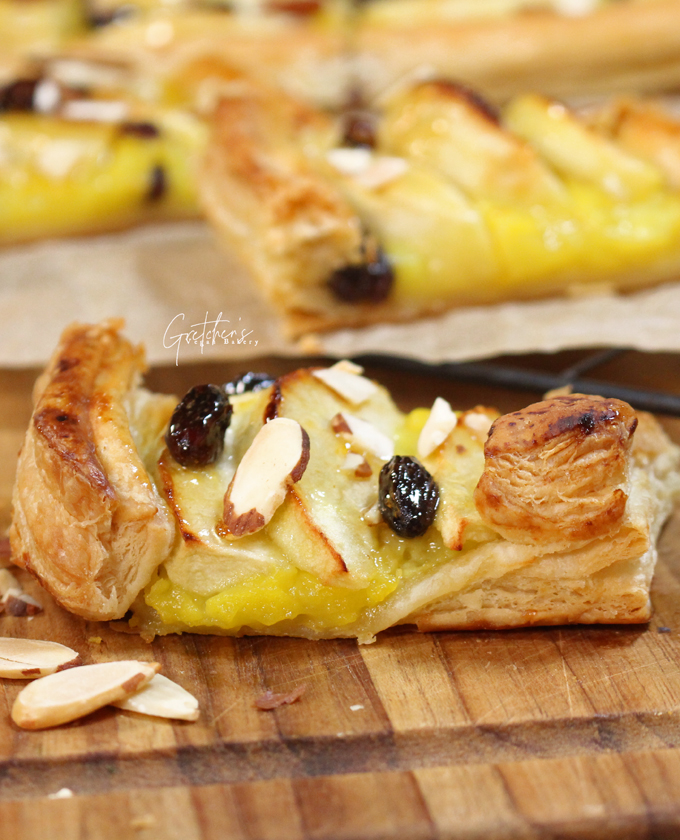 Pepperidge Farm puff pastry is accidentally vegan so now everyone can enjoy this one!
*not sponsored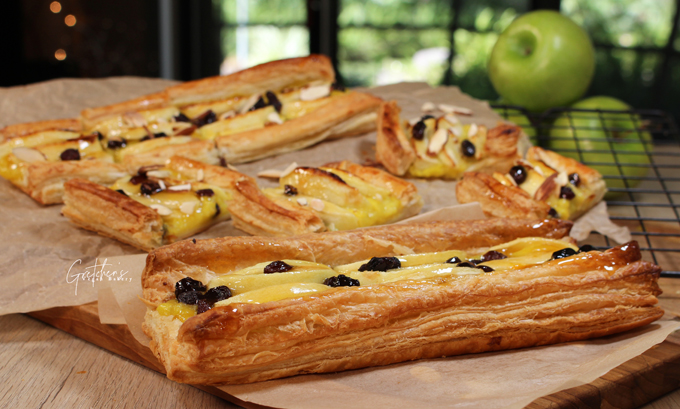 It's really easy to turn these French Apple Tarts into a sugar free option
By using monkfruit sugar in the custard and sugar free jam for the glaze it was a simple fix!
The recipe listed below is for traditional full sugar version but you can easily adapt the sugar to one that suits you best!
Check out my article about sugar free baking and decide which sugar substitute is the best for you!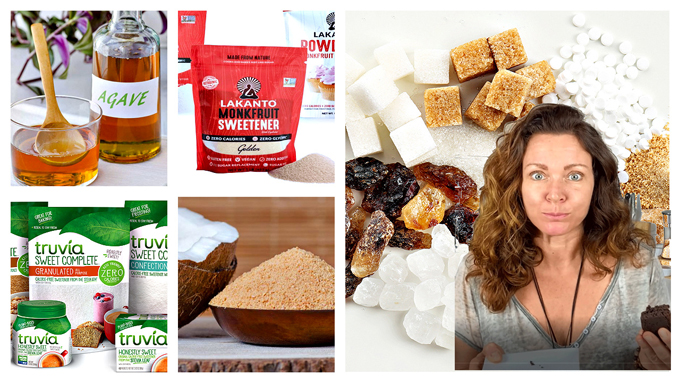 CLICK HERE FOR THE YOUTUBE VIDEO TUTORIAL FOR HOW TO MAKE FRENCH APPLE TARTS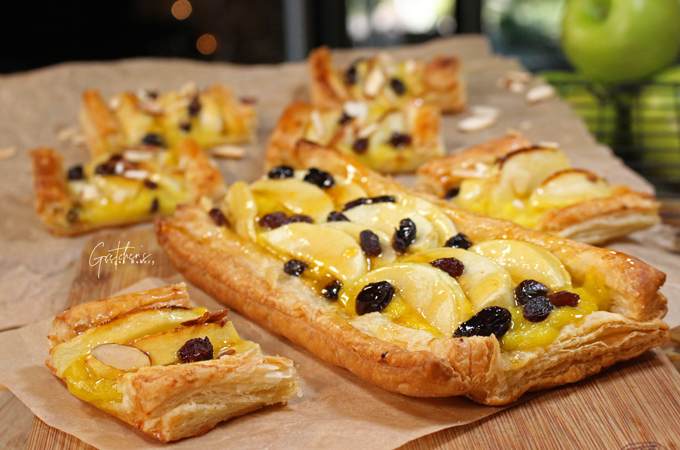 Notes for Success:
Granny Smith apples are my choice for baking apples but you can use whatever baking apples you love the most!
Cornstarch is a very difficult ingredient to measure consistently with a volume/spoons measure
So while I list both measures below I cannot stress enough how the grams measure with a scale is going to give you the best results.
Many times people have complained that their custard is like rubber and they don't know why!
This is from a heavy measure of cornstarch when using volume measuring spoon vs the 100% accurate scale measure in grams.
The key to a successful flaky puff pastry is to bake at a high temperature.
I used the convection setting on my oven at 400°F which is closer to 425°F on a regular conventional oven setting.
Soaking the raisins in juice or coconut water for about an hour before baking on the tarts will ensure plump juicy raisins versus hard, burnt pebbles!
For more recipes like this one click the links below!
Yield: serves 16 people
French Apple Tarts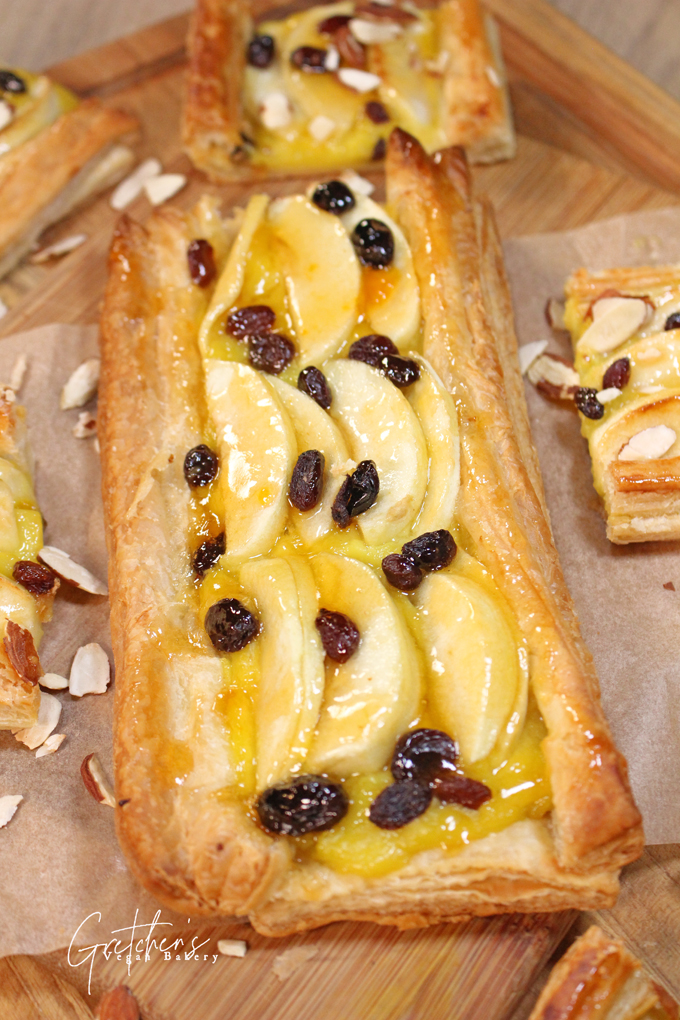 Be sure to thaw your puff pastry in according to the package or overnight in the refrigerator before beginning.
Ingredients
1 Package Pepperidge Farm puff pastry sheets
2-3 Large Apples
For the Custard:
Plant Milk 2¼ cups (540ml)
Granulated Sugar ¾ cup (150g)
Cornstarch 5 Tablespoons (40g) *see notes above
Vanilla Extract 2 teaspoons (10ml)
Tumeric for color pinch *optional
½ cup Dark Raisins *optional
Juice or coconut water for soaking ½ cup (177ml)
Apricot Jelly for glaze *optional ¼ cup
Water 2 Tablespoons (30ml)
Just Egg 2 Tablespoons (30ml)
Instructions
Soak raisins in your choice of liquid for about an hour
Prepare the custard by whisking the sugar and cornstarch together in a medium sauce pot and then add the plant milk and optional tumeric for color, whisking constantly over medium to high heat until it comes to a boil.
Once it boil for 110 seconds remove from the heat and add the vanilla extract
Pour into a heatproof container or glass bowl and refrigerate until cold and set.
Peel & core the apples and slice them into ¼" thick slices
preheat the oven to 400°F on convection setting or 425°F on regular setting
Unfold the 2 sheets of puff pastry and place on a parchment lined sheet pan and cut along the creases making 6 separate rectangles
Of the rectangles will become the base to build the french apple tarts and the other 2 rectangles will get cut into 8 equal strips longways equal to the length of the base puff pastry rectangles *see video tutorial
With a small amount of vegan egg wash brush lightly the edges of the puff pastry rectangles and then carefully place the strips as a border for each one
You will end up with 4 rectangles or French apple tarts total
Spoon the vanilla custard into the center of each rectangle of puff pastry being careful not to get any on the border strips
Arrange the apple slices along the custard and then sprinkle with the drained and soaked raisins
Brush the entire pastry and apples with the egg wash and bake immediately in the preheated oven for about 25- 30 minutes or until the pastry is golden browned and puffed up to the max!
Meanwhile combine the apricot jelly and the water in a small sauce pot and whisk over medium heat until the jelly has melted and it is a glaze consistency
Once the French Apple Tarts are finished baking brush them gently with the apricot glaze to seal the fruit & give it a beautiful shine
Cut each pastry into 4 servings or whatever portion size you like, then serve immediately or store according to the notes section below
Notes
French Apple Tarts can be stored at room temperature for up to one day in an airtight container
For longer storage refrigerate wrapped well for up to 1 week~ rewarm in oven or microwave to serve warm