Have I been converted to No-Bake Cheesecake land?
Ummm, Maybe?
This Lemon Cheesecake recipe may have done the trick!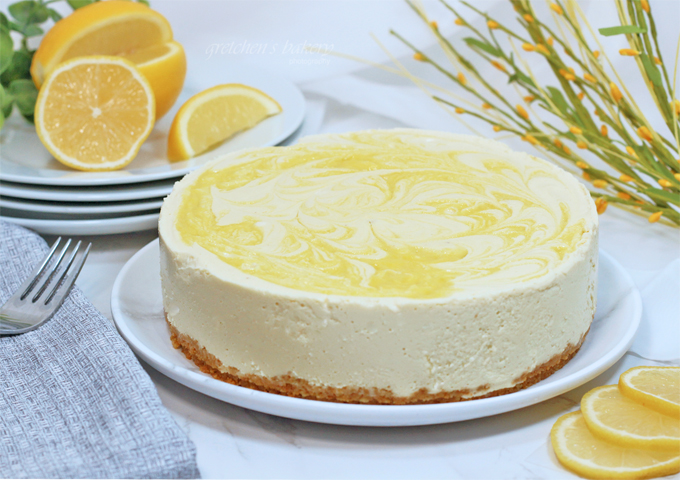 We all know my baked Vegan Cheesecake recipe can't be beat
If you've ever heard me talk about No Bake Cheesecakes you'll know I was never a big fan.
But this No Bake Lemon Cheesecake is different!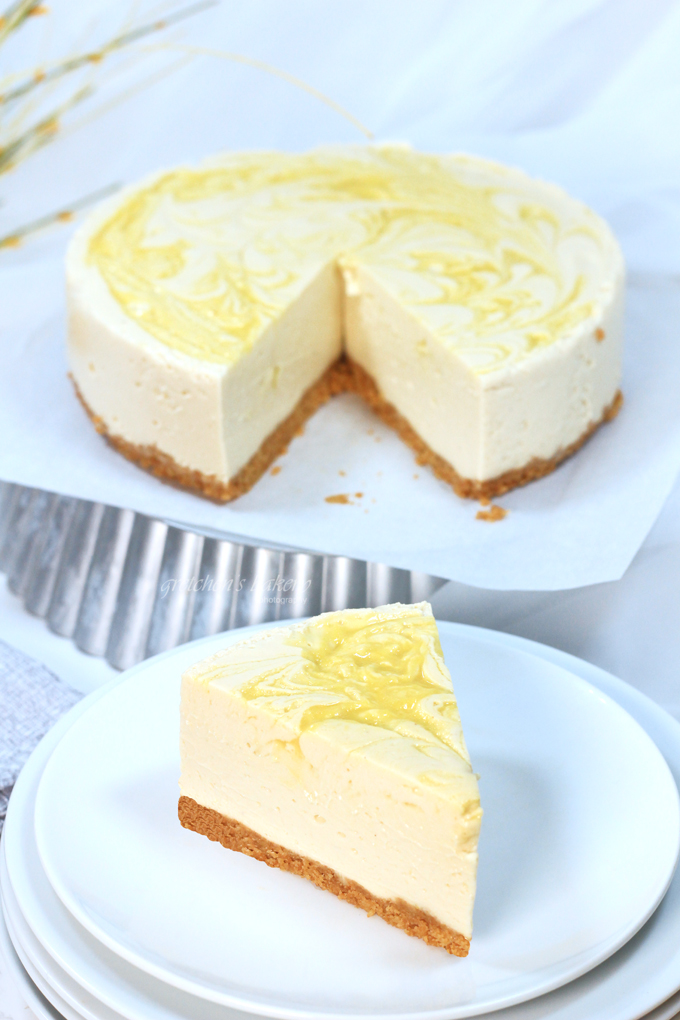 Perhaps because of the triple dose of intense lemon is what gives it a creamy cheesecake-y zing!
After all that combination of creamy & zing is what cheesecake is known for!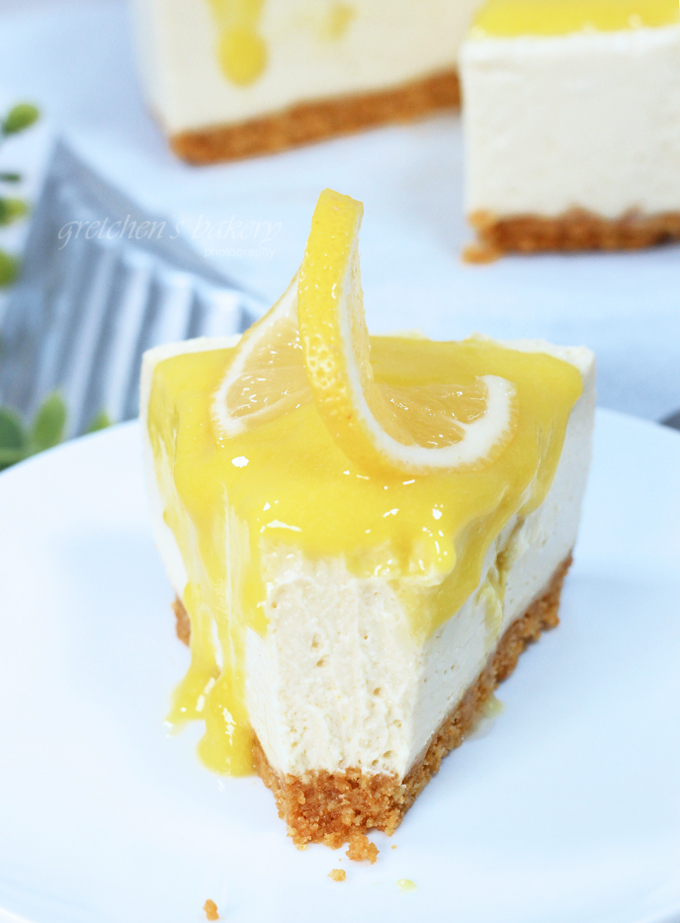 This is not a frozen dessert!
Probably my biggest pet peeve when it comes to no bake vegan cheesecakes that are cashew based, is the fact that they have to remain frozen to serve otherwise they collapse into a pool of nutty cream
This cashew cream base in combination with my lemon curd custard both in the batter and swirled on top makes a perfect set and will not require freezing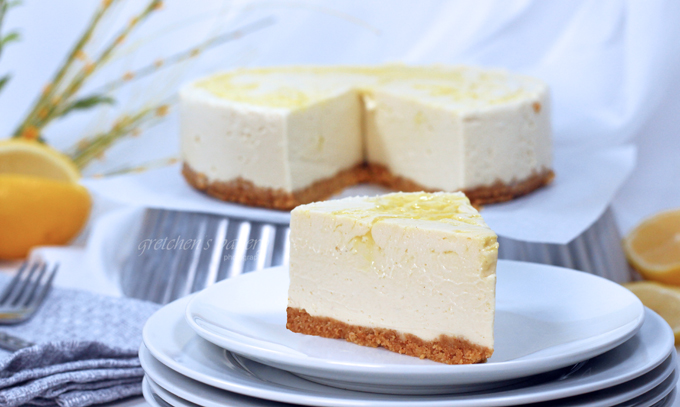 I don't want to use agar!
If you don't have it or don't want to use it, that's okay too
I've left the agar out on one test and the resulting cake is slightly less stable
If you do decide to leave it out I would recommend to keep the cheesecake in the freezer until you're ready to serve
Pay attention to the strength of agar you are using
I use 900 Strength agar in my recipes
CLICK HERE FOR THE EXACT BRAND *not sponsored
Do I have to make the lemon curd custard?
I'd like to say no, you can skip it
But it is an essential part of the cheesecake batter itself so unfortunately you have to make that extra recipe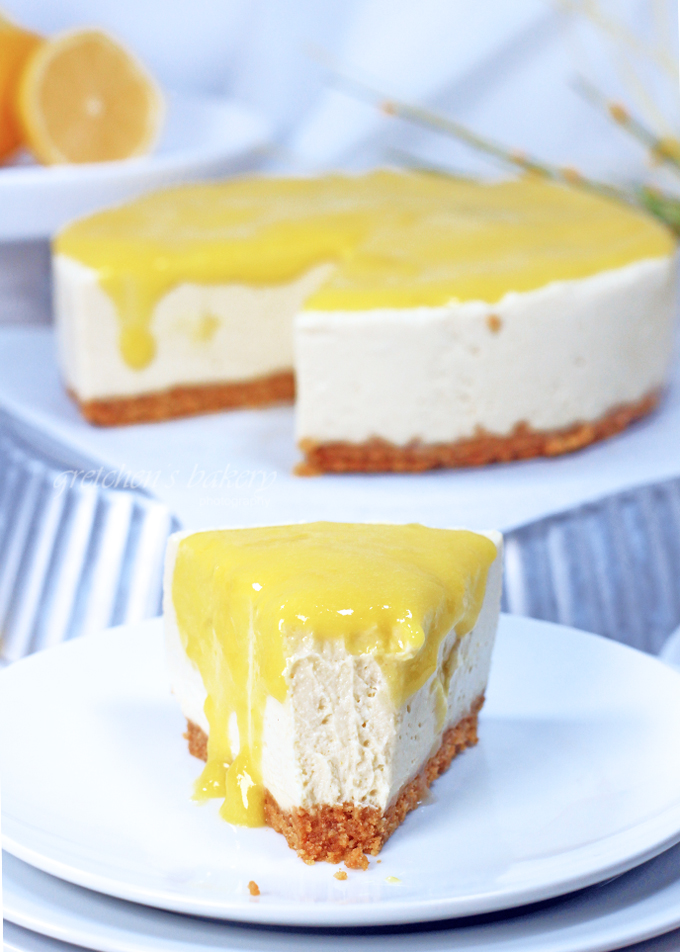 Notes for Success:
Any vegan cream cheese brand will work great for No-Bake Cheesecakes!
If you can't get vegan cream cheese at all, don't worry! Just leave it out!
Your finished cake will be slightly thinner in thickness than mine but the taste it still awesome!
The main key to success in a cashew cream based cheesecake is using a high speed blender to get it smooth!
I have tried in the past to use just a food processor and it does not do the trick!
Cornstarch is a very difficult ingredient to measure consistently with a volume spoons measure
So while I list both measures below I cannot stress enough how the grams measure with a scale is going to give you the best results.
Many times people have complained that their custard or cheesecake is like rubber and they don't know why!
This is from a heavy measure of cornstarch when using volume measuring spoon vs the 100% accurate scale measure in grams.
The cashew amount listed in the recipe below is raw cashews, not yet soaked
I used Mi-Del Lemon Snap cookies for the crust *not sponsored, but you can use any crunchy cookie you prefer
For more of the best vegan cheesecake recipes click the links below!
Yield: serves 12ppl
No Bake Lemon Cheesecake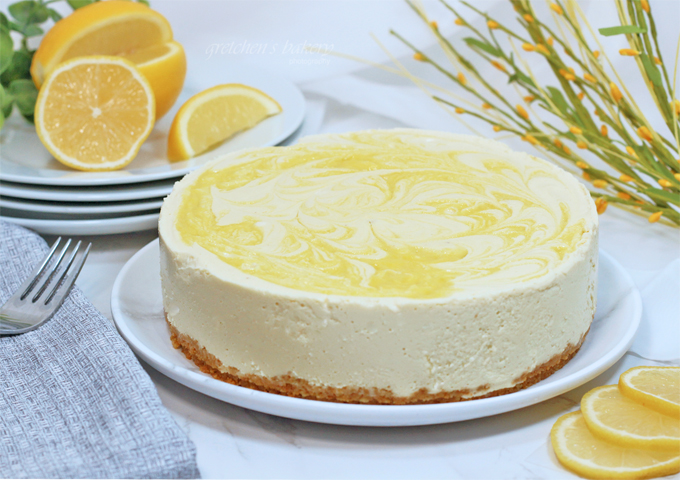 The prep time listed reflects the time needed to set in the freezer before serving, which is about 3 hours
You will need an 8" springform pan for this recipe
Total Time
4 hours
10 minutes
Ingredients
For the Lemon Curd Custard
Plant Milk 1 cup (240ml)
Water ¾ cup (177ml)
Lemon Juice ½ cup (118ml)
Granulated Sugar ¾ cup (150g)
Cornstarch 4 Tablespoons (36g)
Lemon Zest 2 teaspoons
For the Crust
Lemon Cookies approx 1½ cups crushed cookies (160g)
Vegan Butter melted 4 Tablespoons (56g)
For the Lemon Cheesecake
Raw Cashews 2 cups (300g)
Lemon Custard (from above recipe) 1 cup
Lemon Juice 1/3 cup (80ml)
Sugar ½ cup (100g)
Agar ½ teaspoon
Vegan Cream Cheese 12 ounces (336g) *see notes above
Instructions
If you have acetate cake strips, I like to line the inside of my springform pan with it.
If you don't have it, it's not imperative
First prepare the crust by crushing the vegan cookies in a food processor to fine crumbs
Add the melted vegan butter and combine until it resemble wet sand.
Press this into the bottom of an un-greased springform pan and refrigerate until needed
Next prepare the lemon custard by whisking the sugar with the cornstarch in a small bowl, then add it to a medium sauce pot along with the water, lemon juice and plant milk
Bring it up to a rolling boil whisking constantly to prevent scorching on the bottom
Once it boils fully add the lemon zest and then pour 2 cups of the custard into a heatproof container and reserve in the refrigerator to set and cool for later~ this becomes the topping & for the swirl into the batter!.
The remaining custard in the pot will get the sugar and lemon juice listed from the cheesecake portion of the recipe as well as the agar
Return this to the stove and cook over medium heat until it boils once again, stirring constantly
then take it off the heat
Next prepare the cheesecake batter by boiling the cashews in about 1 cup of water.
Once it boils turn off the heat and let them soak for 30 minutes
Drain the cashews and place them into a high speed blender with the remaining cheesecake ingredients including the lemon custard with the agar addition that you just re-boiled
Blend on high until the mixture is smooth
Pour into the prepared crust and then take about ½ cup of the lemon custard that is reserved in the refrigerator and swirl it into the top of the cheesecake *this is completely optional, you could just use the entire amount of custard for the topping)
Freeze the cheesecake for at least 3 hours or overnight then unmold it from the pan and spread the remaining lemon custard over top
Notes
Lemon Cheesecake must be kept refrigerated at all times.
It will stay fresh for up to 1 week

For longer storage freeze for up to 2 months ~ wrapped well

See notes in the text article for those not using the agar addition, as this may require freezing in order to set properly