My super easy vanilla cake recipe just got a hefty dose of blueberries and a luscious lemon sugar glaze!
But this time I decided to take out half of the oil and wow
What a great score that was!
As many of you may already know applesauce and bananas and even pumpkin are great oil replacers in many recipes.
So here today I am doing exactly that, leaving this entire loaf with just four tablespoons of oil total!
That means that if you cut this loaf into eight slices it's less than 1½ teaspoons of oil per serving!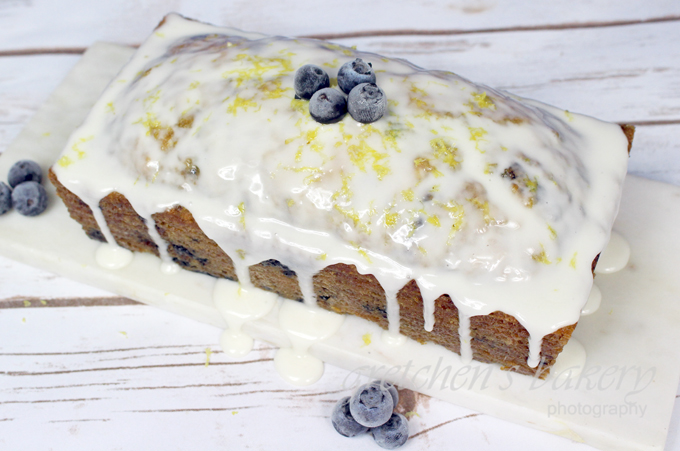 Of course you can keep the recipe in it's original form
And use all oil instead!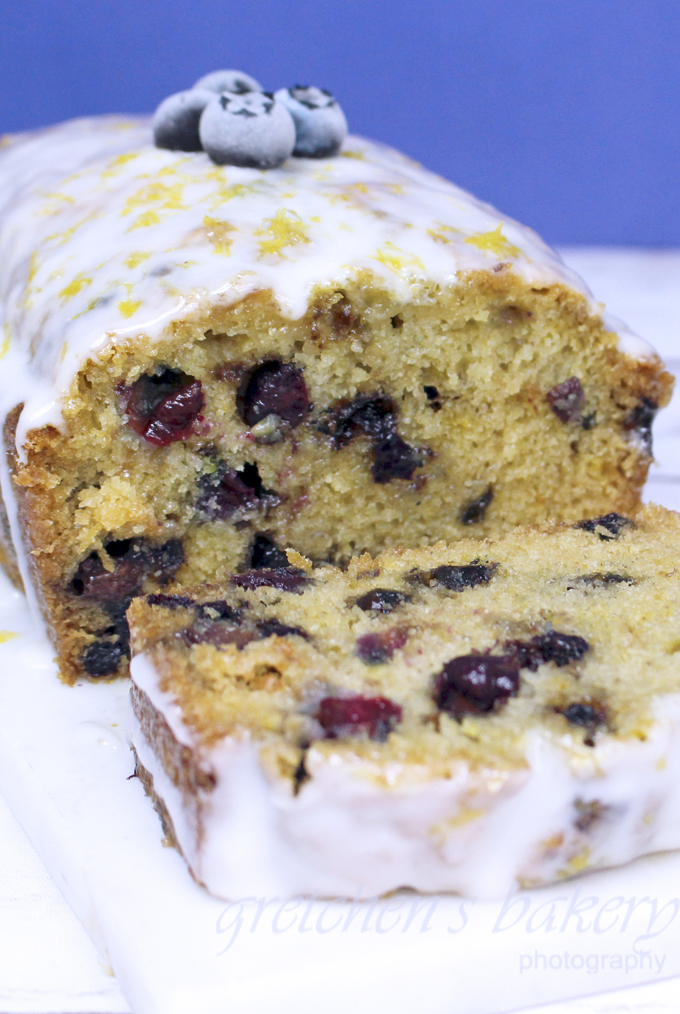 This recipe also makes great muffins too!
Just fill the paper liners 3/4 full and bake for about 25 minutes or when springy to the touch when you gently press the centers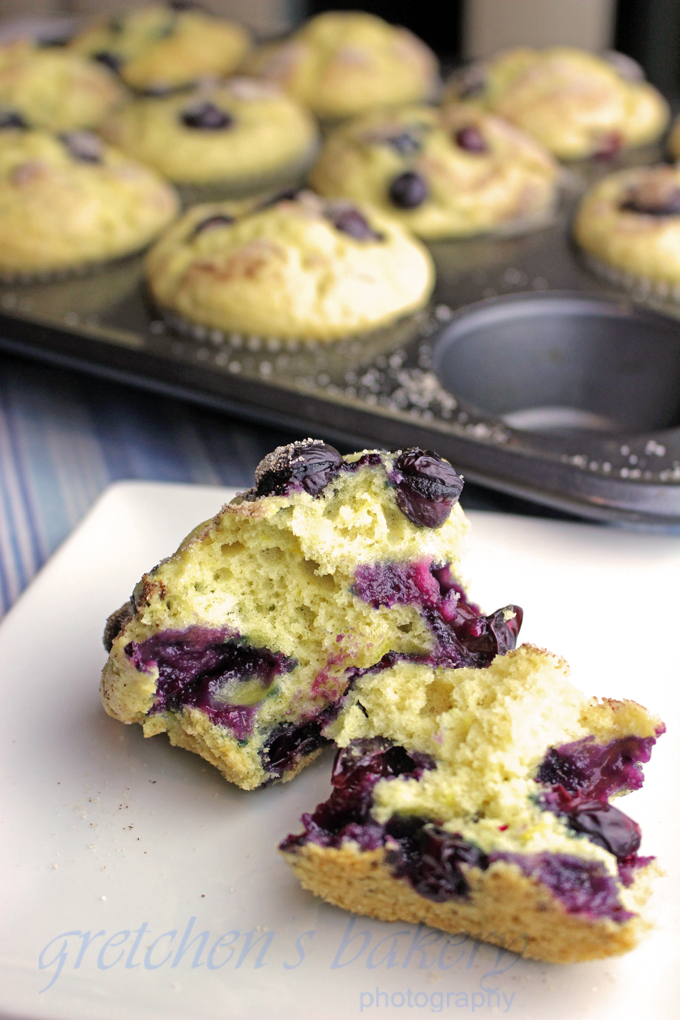 CHECK OUT THE FULL YOUTUBE TUTORIAL ON HOW TO MIX THIS CAKE/BREAD!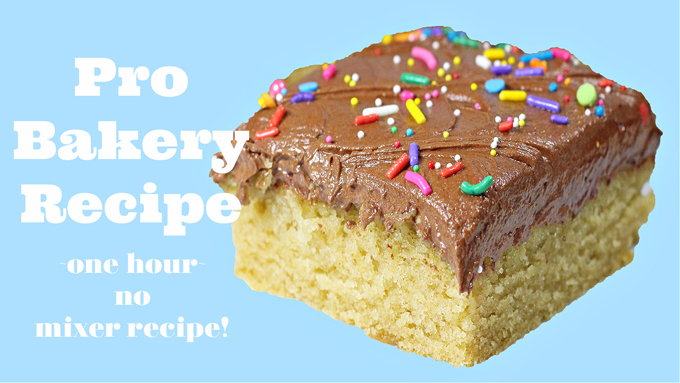 Notes for Success:
Some variations to consider for this recipe just in case you don't have applesauce, you can totally use mashed banana in the same quantities listed.
I prefer to freeze my super extra ripe bananas in their skins, so when I need one for baking I simply take it out, let it thaw and it will literally squeeze out of that skin in puree form!
Additionally you can switch out the berry too.
If you don't like or don't have blueberries you can pretty much use any berry in it's place.
I use frozen berries in all my baking but you can use fresh just the same and I do not thaw them
NOTE: The recipe listed below is for 2 loaves, so if you don't want to make 2 loaves be sure to carefully divide all the ingredients in half and then double check your math!
the most common reason for baking failures is incorrect math and measuring!
For more blueberry recipes click the links below!
No Bake White Chocolate Blueberry Cheesecake
Vegan Peach Blueberry Cobbler Recipe
Yield: 2 loaves
Lemon Blueberry Bread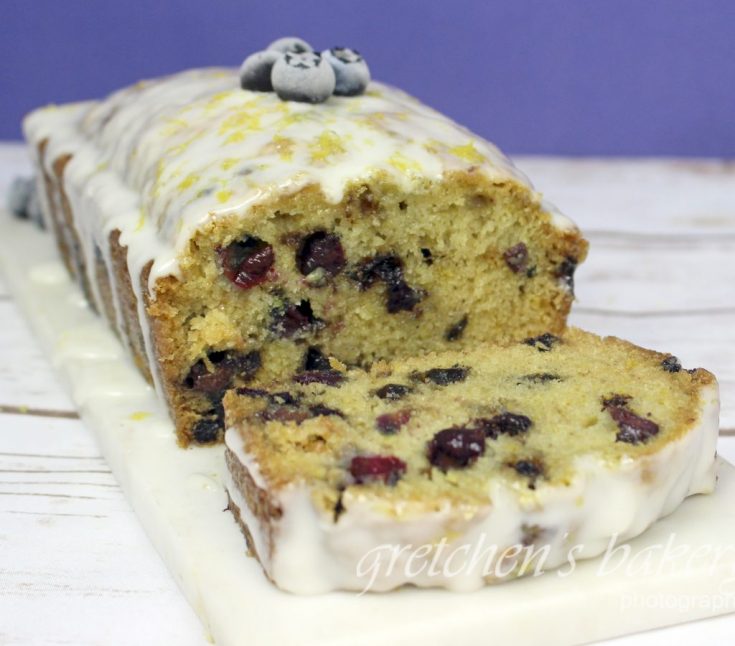 Grease TWO standard loaf pans (9" x 5" x 4.5") and preheat your oven to 375°F
If you do not want to make 2 loaves of this bread just divide all the ingredients by half and double check your math! The most common reason for recipe failure is incorrect math & measuring!
I decided to use applesauce to replace some of the oil/vegan butter in this recipe but I know some people don't have it or can't get it, so you can always replace the applesauce with more oil or vegan butter melted
Ingredients
For the bread/cake batter:
Soy Milk 1½ cups (355ml)
Lemon Juice 3 Tablespoons (45ml)
Vanilla Extract 1 teaspoon (5ml)
Lemon Zest from 2 large lemons (approx 4 teaspoons zest)
Vegan Butter or Coconut Oil 8 tablespoons (113g)
Applesauce ½ cup (113g) *see note above
All Purpose Flour 3 cups (375g)
Granulated Sugar 1¾ cups (275g)
Baking Soda 2 teaspoons
Salt 1 teaspoon
Fresh or Frozen Blueberries 2 cups
For the optional sugar glaze icing:
Confectioner's sugar 1 cup (120g)
Lemon fresh squeezed Juice 1-2 tablespoons adjust as need for consistency
Lemon Zest 1 each *optional for garnish
Instructions
Melt the vegan butter or coconut oil and reserve
Combine the soy milk with the lemon juice and then add the vanilla extract and the lemon zest, let stand to thicken for about 5 minutes.
In a large mixing bowl combine the flour, sugar, baking soda and salt and whisk together to incorporate all the ingredients very well.
Add the liquids: the mock buttermilk, vanilla and the melted vegan butter or oil and the applesauce and whisk smooth.
Fold in the blueberries and then divide the batter evenly between your prepared pans.
Bake immediately in a preheated 375°F oven for 10 minutes then turn the oven temperature down to 350°F for another 25 minutes.
The loaves should be almost baked by 35-45 minutes but definitely check them at the 30minute mark just to be sure, as all ovens bake differently.
I like to do the "toothpick" test to make sure there is no raw batter, if there is you will want to turn the oven down even farther to 300°F to continue baking all the way without risking over browning or drying of the edges of your bread.
Cool the loaf pans on a wire rack until you can safely touch them with your bare fingers and then flip them out carefully to cool the rest of the way.
Once the breads are completely cooled, whisk together the confectioner's sugar with the lemon juice to smooth.
Pour over the bread and then zest a lemon over top.
Notes
Lemon Blueberry Bread will stay fresh at room temperature for up to 2 days. I would not leave it sit out for longer as it could risk getting moldy quick.

If it last longer than 2 days put it in the refrigerator loosely wrapped for up to 1 week