Yes it's happening, Pumpkin Everything Season is here!
So to kick it off right, here at Gretchen's Vegan Bakery, I am coming out of the gate with this amazing new recipe for Pumpkin Mousse Cake.
Pumpkin mousse,  gingerbread cake and a thin coating of chocolate ganache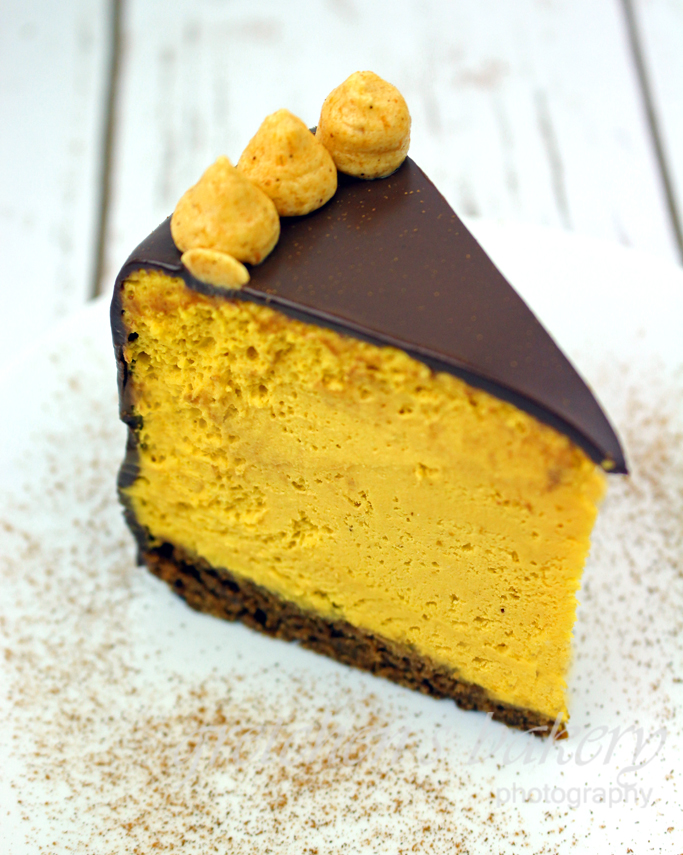 With a just three recipes (Ok, four if you count the pumpkin buttercream!) you too can have this stunning cake at your first fall event.
This elegant cake will wow everyone and when they taste it no one will believe this cake is vegan!
That's the most beautiful part (for me anyway) is when I get that reaction from people who just can't believe vegan can taste so good!
This pumpkin mousse is so creamy and light just like an authentic mousse recipe should be.
Whipped aquafaba (stabilized with my newest secret ingredient) this mousse is perfectly stable and it is obviously molded so you can see right away it holds up it's integrity as an entremet cake.
But for those who just don't want to go to all the trouble (it's not really that much trouble! LOL) of making this into a cake, remember you can always use this mousse recipe for a simple dessert piped into glasses and layered with whatever you see fit and turn it into a trifle as I did here!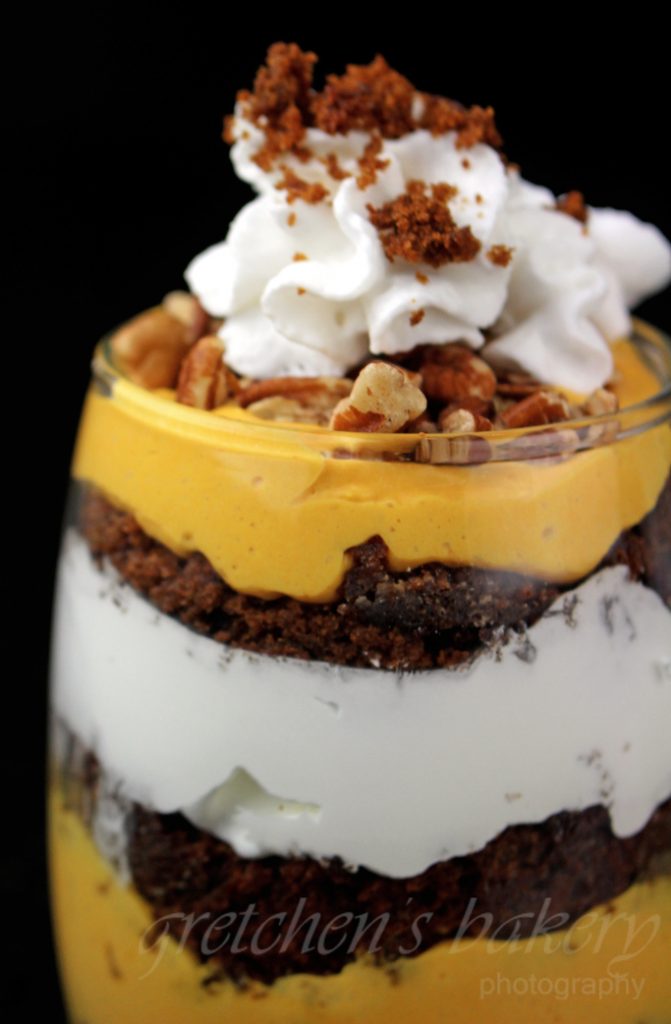 But I urge you to try your hand at this cake, you will probably surprise yourself as to how easy it can be to make professional, delicious, vegan desserts!
The step by step video tutorial will walk you through it and keep you organized as will the written instructions below!
I would like to add that if you feel so inclined to help support the cost of making and testing these recipes so you have no fail results every time please visit my Patreon page!
Now let's get rolling into fall desserts with this perfect Pumpkin Mousse Cake
**While this recipe has an active prep time of only 45 minutes to 1 hour, there is a necessary CHILLING time of at least 5 hours to overnight, so be sure to give yourself that extra day ahead of time to prepare this recipe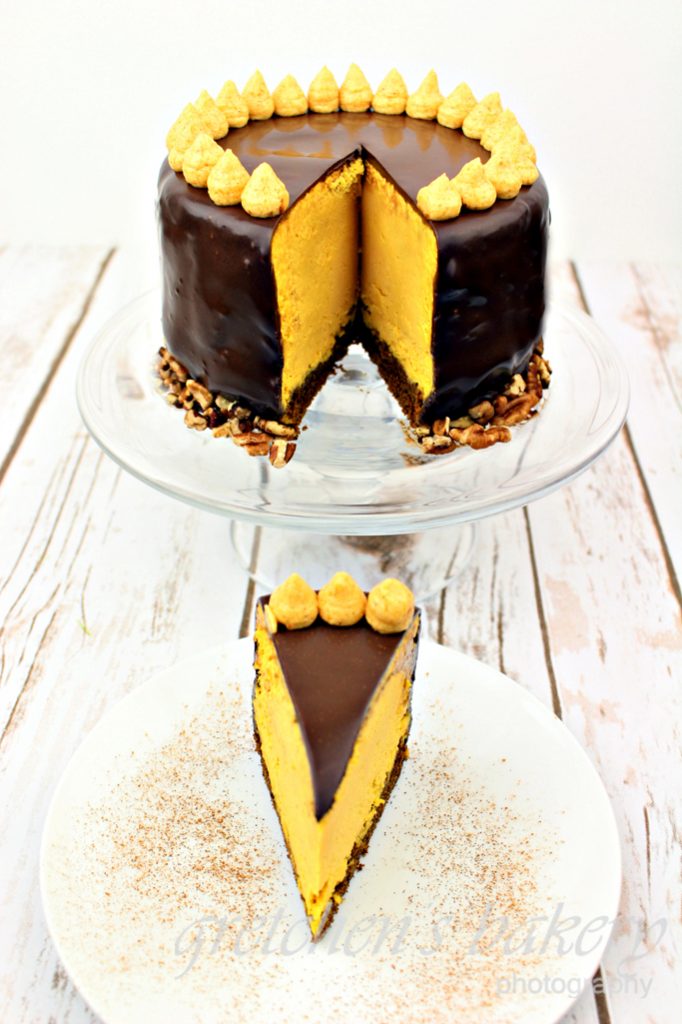 For the Pumpkin Mousse

Vegan Pumpkin Mousse
In the video I made a small 5" Mousse Cake but here I have adjusted the recipe to make 1-8" cake
You will need an
8" ring mold
or a springform pan to make this cake.
Acetate cake strips
are also really helpful for a perfectly unmold-able cake with perfect smooth sides for glazing
Ingredients
Raw Cashews Soaked 2 cup (300g) * I soak my nuts in bulk then measure
Canned Pumpkin 2 cup (454g) *Fresh pumpkin has a higher liquid content so canned is best, or you will have to strain and then reduce your puree to a thicker consistency and then measure the 2 cups weight
Cocoa Butter ½ cup (113g)
Coconut Milk 1 cup (237ml)
Confectioner's Sugar 2 cup (240g)
Aquafaba liquid from a can of chick peas ½ cup (120ml)
Agar ½ teaspoon
Instructions
First prepare the ginger cake recipe below and while it is cooling you can prepare the pumpkin mousse as follows:
First prepare the stabilized aquafaba by heating it over low heat with the agar powder and bring it to a boil. Boil just for about 30 seconds to activate the agar, then cool to tepid (not cold or the agar will thicken the liquid before we can whip it) then you can prepare the rest of the recipe
Combine the soaked cashews, pumpkin, confectioner's sugar and coconut milk in a high speed blender of food processor and blend smooth on high for about 45 seconds
Slowly pour the melted cocoa butter through the feed tube and continue processing for another 15 seconds
Transfer to a large mixing bowl
Whip the cooled (or room temperature aquafaba) with a balloon whip attachment to stiff glossy peaks and then fold into the pumpkin mixture
Fold the aquafaba meringue into the pumpkin mousse base then pour into the prepared mold, add the gingerbread cake layer on top, press down firmly so the mousse will come up around the sides (as shown in the video) and refrigerate until set at least 5 hours or overnight.
Prepare theganache recipe (link below) below then unmold the cake and ice as shown in the video
Notes
**While this recipe has an active prep time of only 45 minutes to 1 hour, there is a necessary CHILLING time of at least 5 hours to overnight, so be sure to give yourself that extra day ahead of time to prepare this recipe
For the Gingerbread Cake Recipe
Gingerbread Cake Recipe
The recipe below makes 1- thick 8" layer
Ingredients
Vegan Butter 4 Tablespoons (56g)
Light Brown sugar ½ cup (105g)
Ground Flax Seeds 2 teaspoons
Warm Water 2 Tablespoons (30ml)
Hot water 1 cup (237ml) *approximately 140° F
Molasses½ cup (118ml)
Baking Soda ½ teaspoon
Baking Powder ½ teaspoon
Salt ½ teaspoon (3g)
Ground Ginger 1 teaspoons
Ground Cloves ¼ teaspoon
Ground Cinnamon ¾ teaspoon
All Purpose Flour 1¼ cups (156g)
Natural Unsweetened Cocoa Powder 1 Tablespoon (6g)
Instructions
Combine ground flax seed with hot water and whisk smooth
Let stand for at least 5 minutes to thicken to a paste
In the meantime, cream the softened vegan butter with the light brown sugar on medium -high speed until very light and fluffy, about 3-5 minutes.
Scrape bowl periodically to ensure even mixing
Sift together all the dry ingredients from the baking soda to the cocoa powder and reserve.
Add the molasses to the hot water
Add the flax paste to the creaming vegan butter and sugar mixture, and mix well.
Add ⅓ of the dry ingredients, blend well
Then add ½ of the molasses/water mixture slowly while mixing on low speed
Stop and scrape the bottom and sides of the bowl often
Repeat the process with another ⅓ of the dry, the remaining liquids and then the last addition of dry ingredients
Pour the batter into a greased and parchment lined 8" cake pan and bake immediately in preheated 350° F oven approximately 30-40 minutes or when it is springy to the touch when you gently press the center or a toothpick inserted comes out clean
Click here for the Ganache recipe, you will need 1X recipe