I am not sure which part of this Lemon Coconut Cake I love the most!
Ultra moist and fluffy coconut cake layers, the lemon custard and coconut buttercream!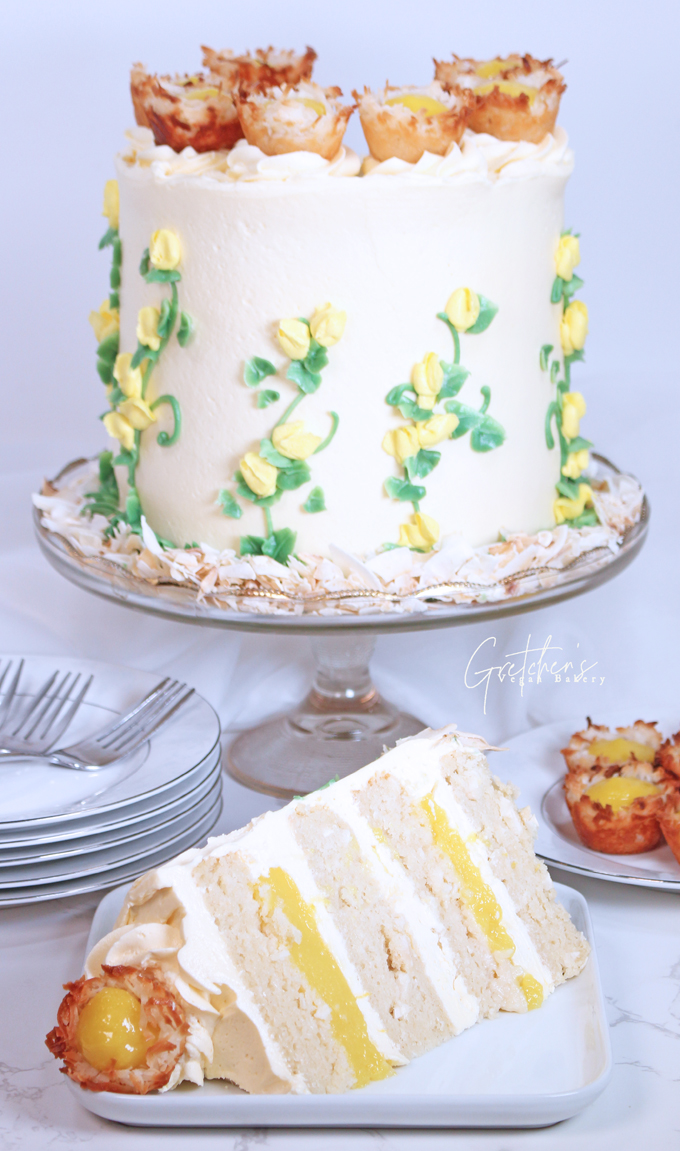 Or the cutest little lemon stuffed coconut macaroons on top!
This lemon coconut cake should be front and center at every gathering from now on!
And it has never been easier!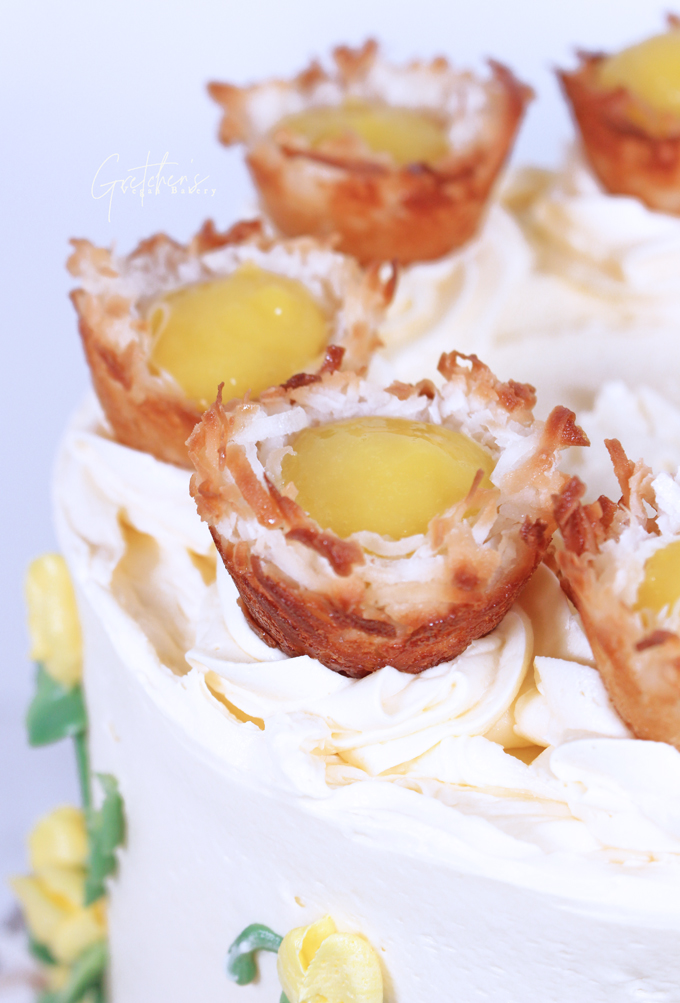 My food processor method of making the lightest and fluffiest cakes is at it again!
This time coconut flakes are added to the coconut batter
Easy stove top lemon custard for a zingy refreshing filling!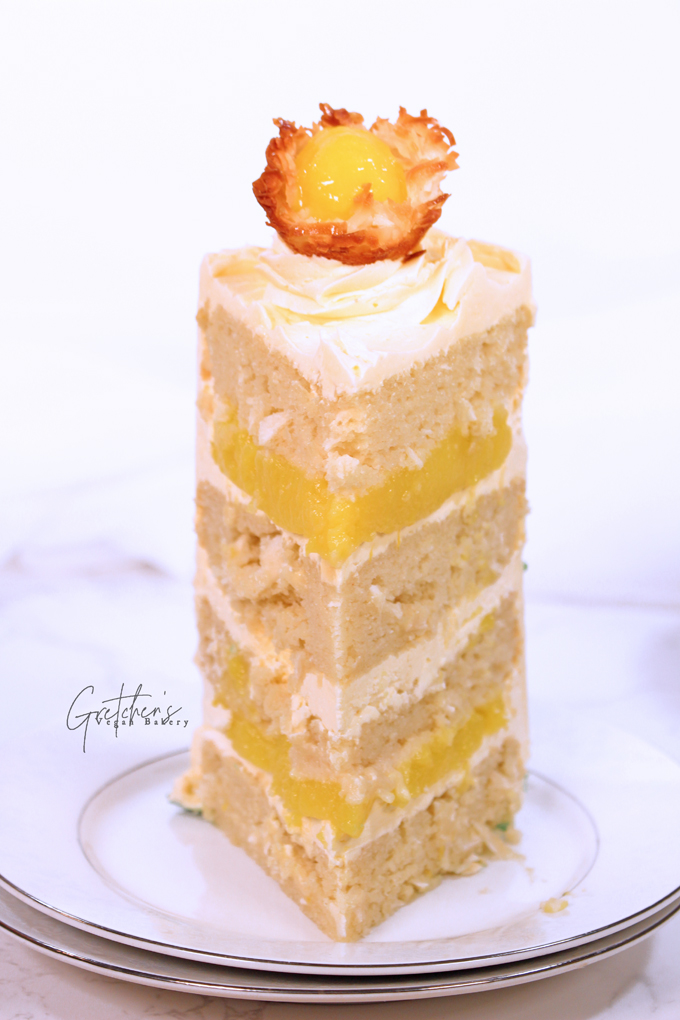 The coconut macaroon cookies are so simple and make the most adorable topper for each slice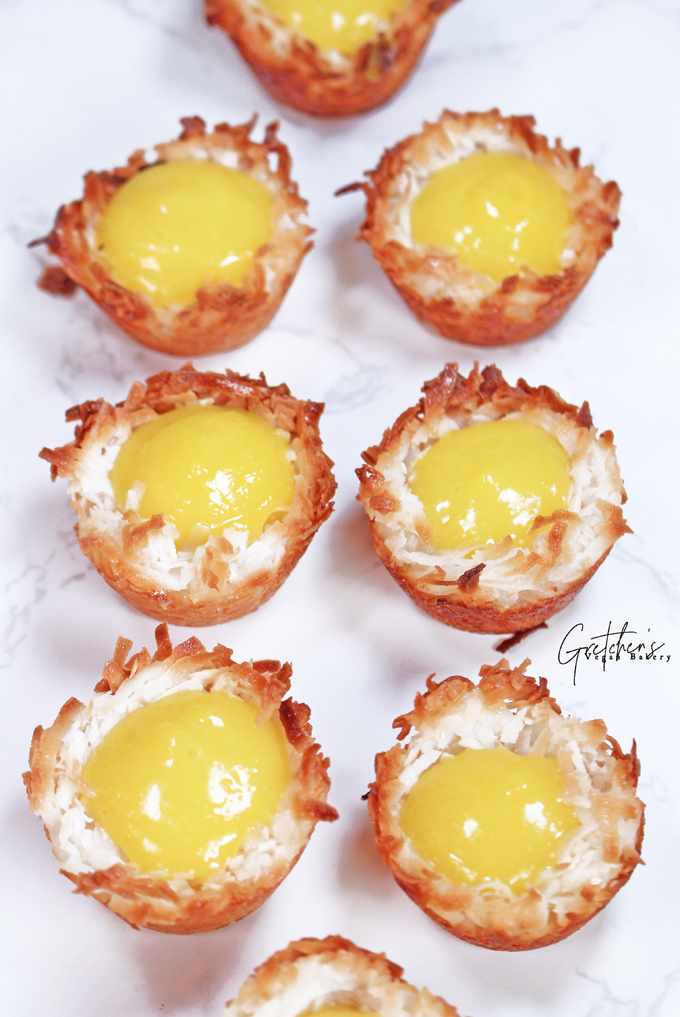 WATCH THE FULL YOUTUBE VIDEO TUTORIAL FOR LEMON COCONUT CAKE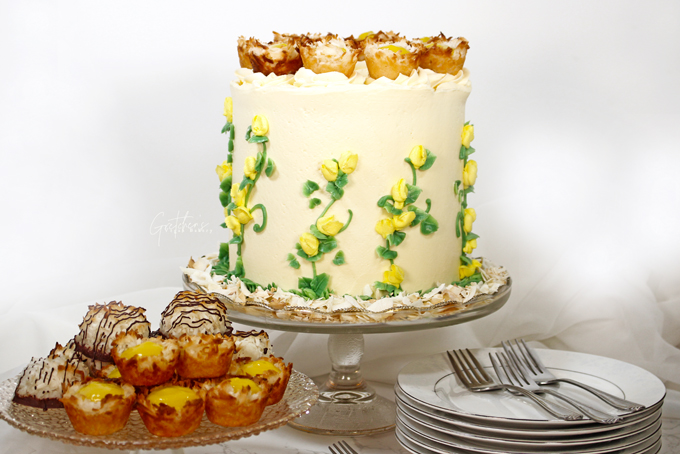 Notes for Success:
I prefer to use unsweetened coconut flakes (desiccated coconut) so it does not add more sugar to the cake batter by using sweetened flake coconut
If you cannot get the unsweetened variety just take out 1½ Tbs sugar from the recipe
For more coconut cake variations click the links below!
Yield: serves 8-10
Lemon Coconut Cake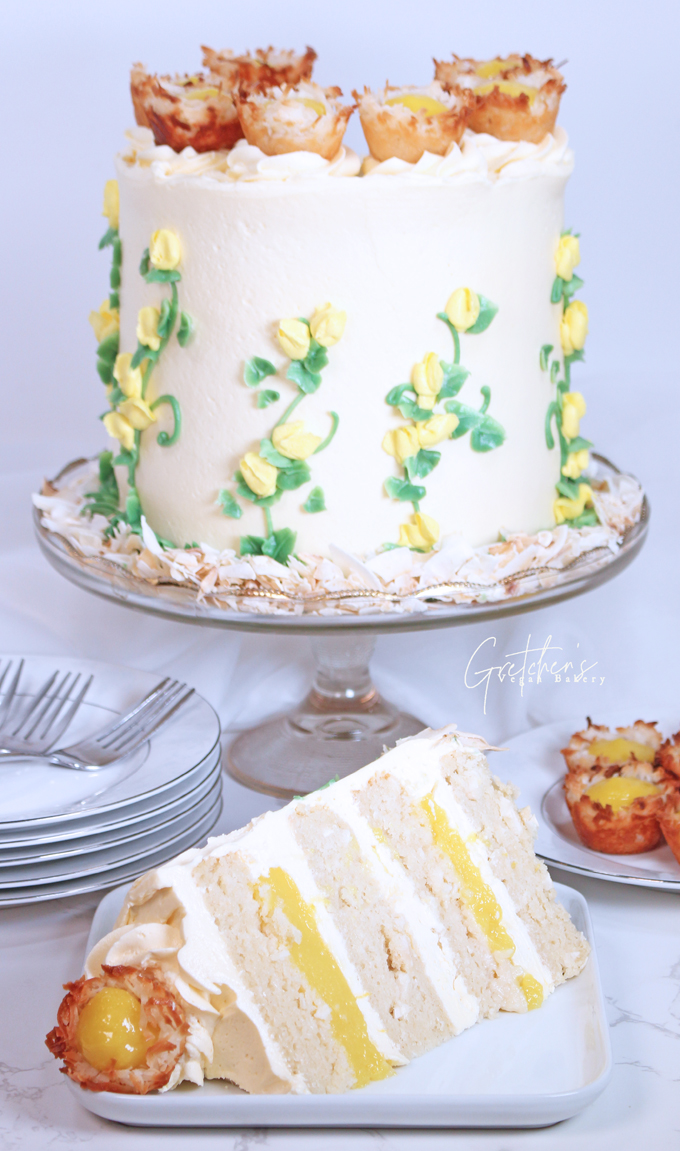 Total Time
3 hours
25 minutes
Ingredients
For the Coconut Cake Layers
Coconut Milk 1¾ cup (414ml)
Coconut Extract 1½ teaspoons (7ml)
All Purpose Flour 3 ¾ cup (469g)
Egg Replacer 3 teaspoons *I am using Bob's Red Mill
Granulated Sugar 1¼ cups (250g)
Baking Powder 3 teaspoons
Baking Soda 2 teaspoons
Salt 1½ teaspoons
Vegan Butter Melted or Vegetable Oil 18 Tablespoons (270ml)
Unsweetened Coconut 1½ cup (125g)
For the Lemon Custard
Plant Milk 1 cup (237ml)
Lemon Juice ½ cup (118ml)
Water ¾ cup (177ml)
Tumeric 1/8 teaspoon
Sugar ¾ cup (150g)
Cornstarch 6 Tablespoons (48g)
Lemon Zest from 2 large lemons approx 3 teaspoons
For the Coconut Buttercream
Vegan Butter 4 Cups (8 sticks) (672g)
Confectioners Sugar 8 cups (900g)
Coconut Extract 3 teaspoons
Salt ½ teaspoon
Instructions
If you are making the lemon stuffed coconut macaroons prepare according to that recipe post
First prepare your coconut cake layers by greasing & parchment lining 4-7" cake pans
Preheat the oven to 350°F
Place all of the cake ingredients except for the coconut into a food processor and process until smooth batter (about 20 seconds)
Add the coconut flakes and pulse again to distribute evenly
Pour batter evenly between the 4 greased and parchment lined 7" cake pans
Bake in a preheated oven at 350°F for 25-30 minutes or until a toothpick inserted into the center comes out clean.
Cool the cakes in the pans until you can safely flip them onto a cooling rack to cool to cold
Prepare the lemon custard by combining the sugar and the cornstarch together in a heavy bottom medium sauce pot
Add the lemon juice, lemon zest, water and plant milk and a pinch of turmeric for color if desired
Cook over medium high heat stirring constantly to avoid scorching the bottom
Once it comes to a full boil remove it from the heat pour into a clean bowl and let it cool in the refrigerator while you prepare the buttercream recipe
Combine the vegan butter in a stand mixer bowl with the paddle attachment (or with an electric hand beater)
Add the salt and cream on medium to high speed for about 3 minutes.
Scrape the sides and bottom of the bowl to make sure it is evenly mixed and add the coconut extract
Stop mixer and add the sifted confectioners sugar all at once.
Mix on low speed until incorporated , scrape the bottom and sides of the bowl and then mix on high speed for 3 minutes.
Assemble the cake as shown in the video tutorial make sure to reserve some of the lemon custard to fill the coconut macaroon cups
Notes
Lemon coconut cake should be kept refrigerated and will stay fresh for up to 7 days wrapped loosely to prevent drying.

I do not freeze custard cakes, but you can freeze the separate layers wrapped well for up to 2 months