Coconut Macaroons are probably the easiest of all the cookies to make
Minimal ingredients that all get mixed up by hand!
A really fast bake time and you are eating vegan coconut macaroons in less than an hour!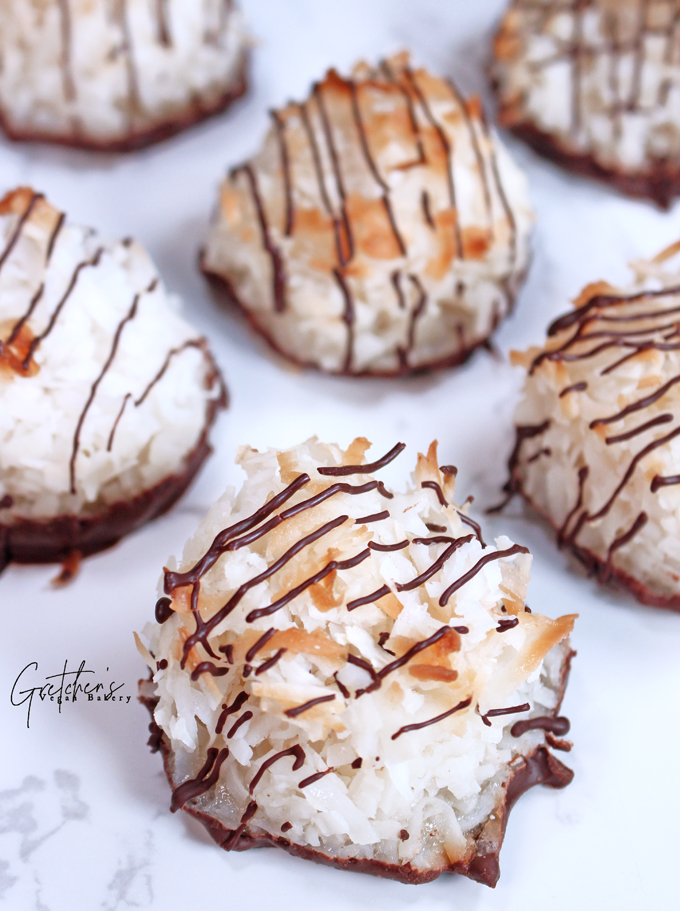 Go the classic route and dip them in chocolate
Or bake them into mini muffin tins for the cutest coconut macaroons cookie cups ever!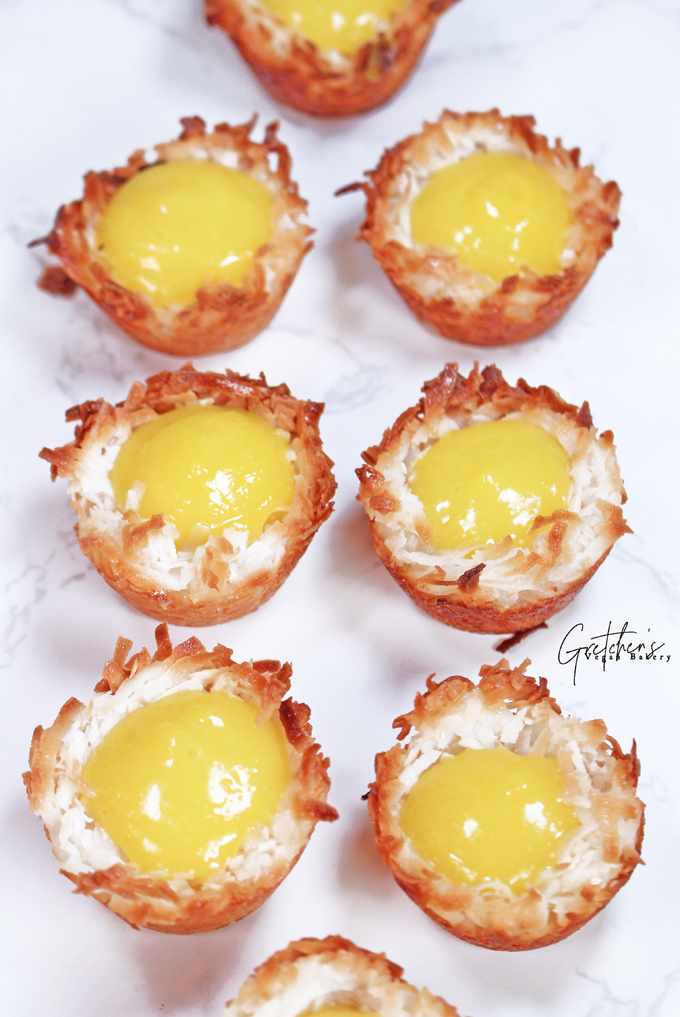 The inspiration for these little cups filled with lemon custard came from my latest cake creation!
I wanted whimsical cake garnish for each slice of my Lemon Coconut Cake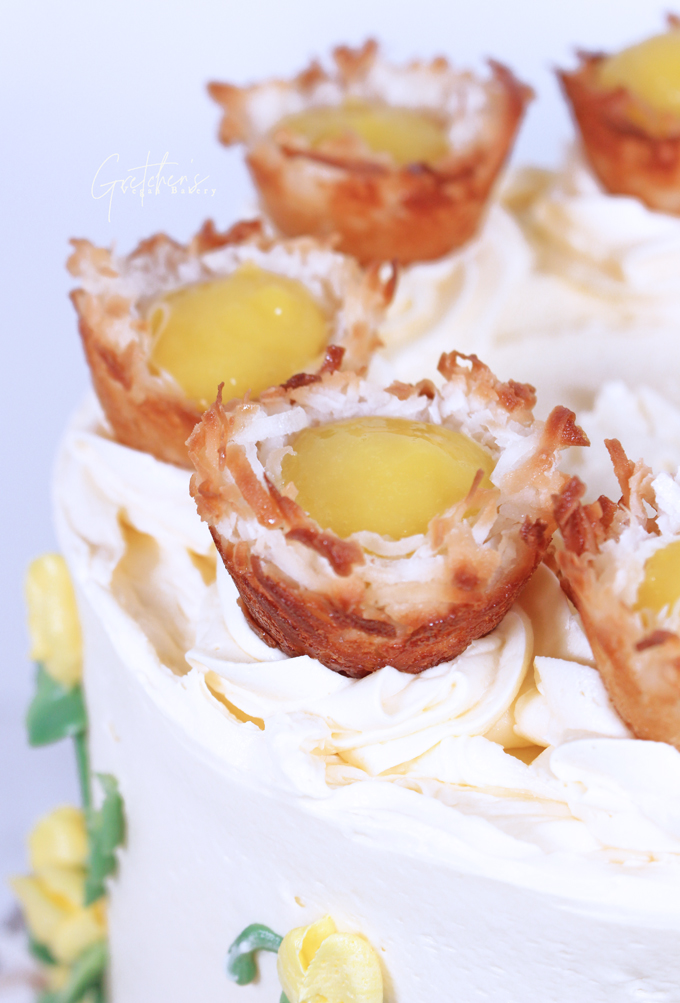 However if you want just the classic unadulterated Vegan Coconut Macaroons
Skip the lemon custard part and double the recipe for the coconut macaroons!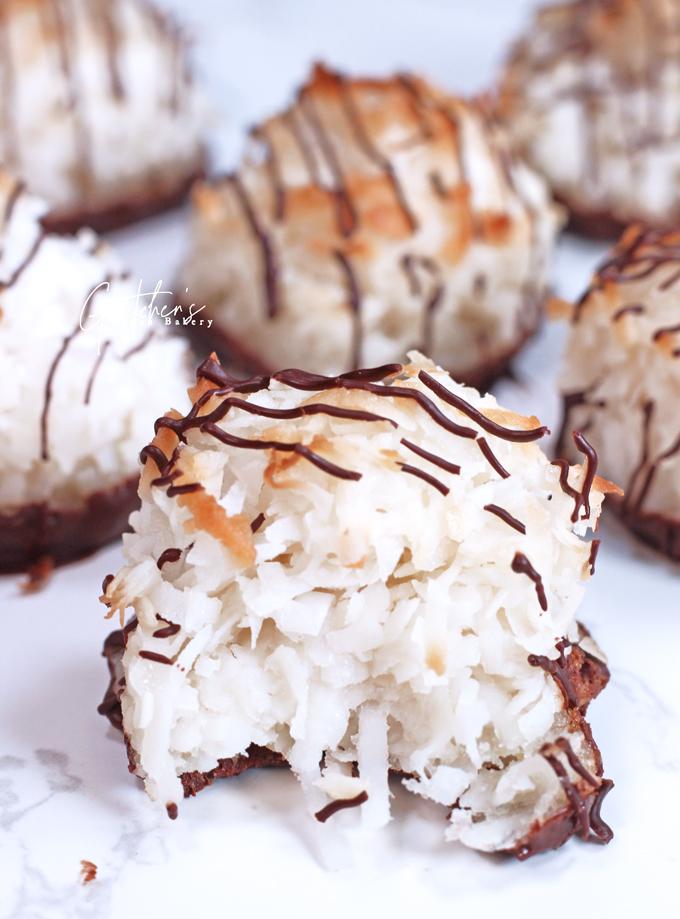 CLICK HERE FOR THE YOUTUBE VIDEO TUTORIAL FOR HOW TO MAKE THESE!
Notes for Success:
Cornstarch is a very difficult ingredient to measure consistently with a volume/spoons measure
So while I list both measures below I cannot stress enough how the grams measure with a scale is going to give you the best results.
For those who prefer not to use aquafaba you can replace it with water and add in 2 teaspoons of your favorite egg replacer.
For more easy miniature recipes click the links below!
Yield: 12-24
Vegan Coconut Macaroons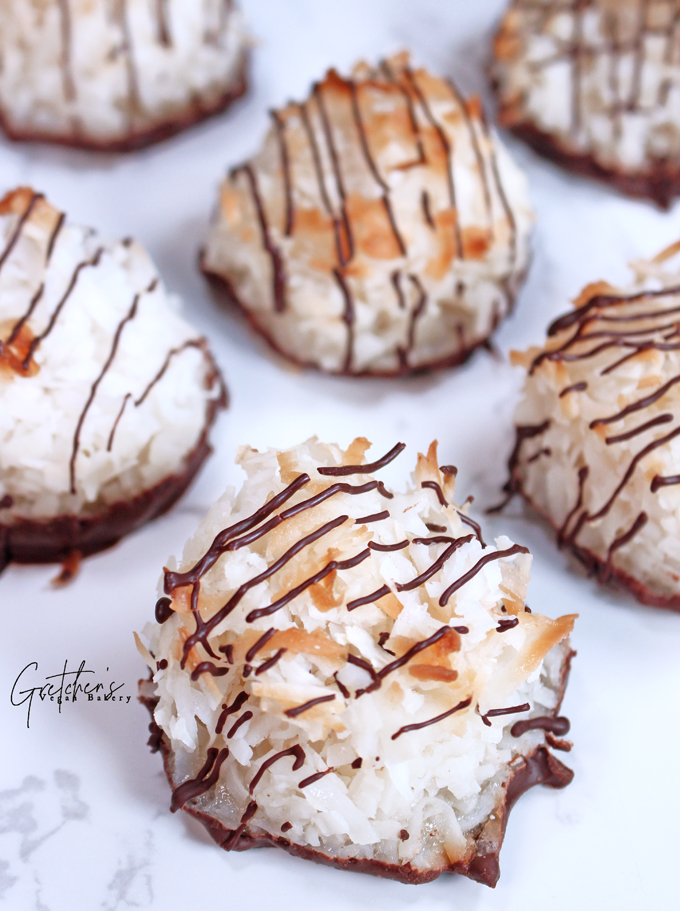 For the larger regular coconut macaroon cookies the recipe will make 12 cookies, scooped with a 2 ounce scoop
For the miniature cookie cups with a #100 scoop you will get 24
Ingredients
For the Coconut Macaroons:
Sweetened Shredded Coconut 3 cups (240g)
Confectioners Sugar 4 tablespoons (30g)
Salt pinch
Cornstarch 4 Tablespoons (32g)
Aquafaba 4 Tablespoons (60ml)
Canned Full Fat Coconut Milk ½ cup (118ml)
Vanilla Extract 1 teaspoon (5ml)
Almond Extract 1 teaspoon (5,ml) *optional
For the Lemon Custard:
Plant Milk ½ cup (188ml)
Lemon Juice ¼ cup (60ml)
Water 1/3 cup (86ml)
Tumeric pinch for color
Sugar 1/3 cup (75g)
Cornstarch 3 Tablespoons (24g)
Lemon Zest approx 1½ teaspoons
Tempered chocolate ½ cup (75g) *optional
Instructions
For the coconut macaroon cookies combine all the ingredients together in a larger mixing bowl and mix by hand.
Squeeze & knead the mixture very well to distribute the ingredients throughout the mixture
Scoop very compact scoops into a 2 ounce cookie scoop and bake spaced 1" apart on a parchment lined sheet pan in a preheated 350°F oven for 20 minutes
For the miniature cookie cups scoop with a #100 scoop into a lightly sprayed (with pan spray) miniature muffin pan then press each one to make an indent in the center
Bake in a preheated 350°F oven for 20 minutes
Remove cookies from the pan when cooled and then fill with the cooled lemon custard
For the regular coconut macaroons dip in tempered chocolate when fully cold and drizzle with more chocolate
For the lemon custard combining the sugar and the cornstarch together in a heavy bottom medium sauce pot
Add the lemon juice, lemon zest, water and plant milk and a pinch of turmeric for color if desired
Cook over medium high heat stirring constantly to avoid scorching the bottom
Once it comes to a full boil remove it from the heat pour into a clean bowl and let it cool in the refrigerator
Notes
Coconut macaroons can be stored at room temperature wrapped loosely for up to 5 days
For longer storage refrigerate for up to 1 week or freeze for 1 month
Cookies filled with lemon custard must be kept refrigerated