Well that's a mouthful to say! And an even better mouthful to taste!
Strawberry Lemon Rosemary Scones are really easy to make because there's no yeast to wait for
Honestly these just may replace the rolls on my Thanksgiving dinner table this year!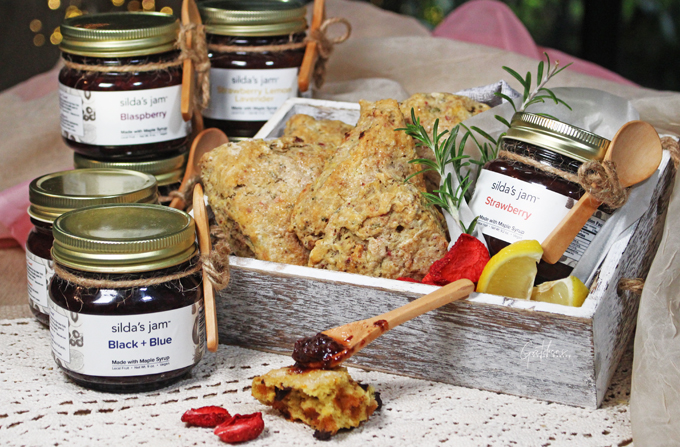 Sugar free yet subtly sweet with a hint of rosemary and lemon and strawberry!
The best part is they mix up by hand in one bowl and they are ready in just about an hour!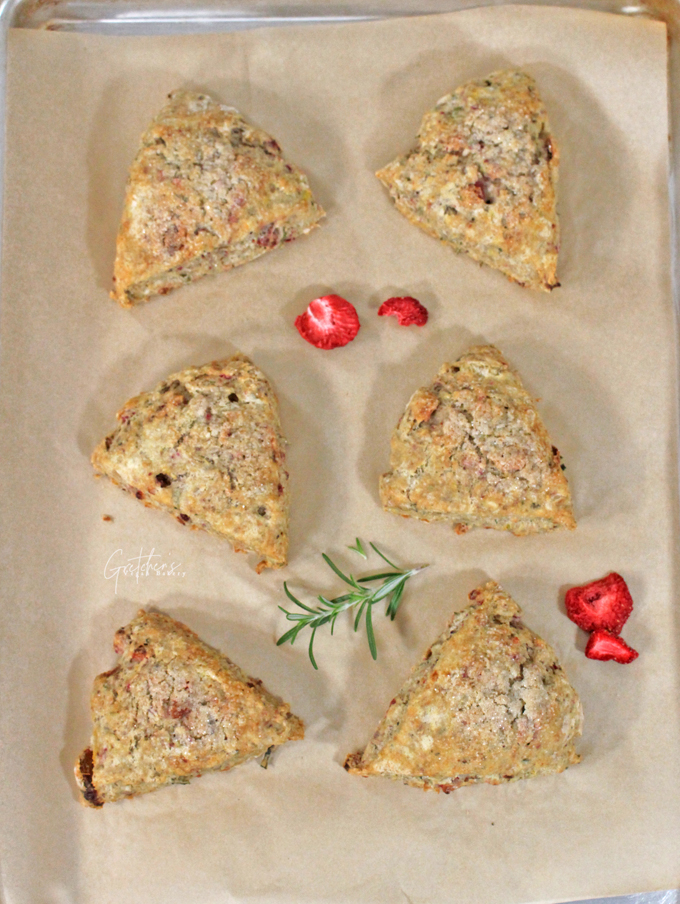 Lemon and rosemary pair up beautifully and with refined sugar free Silda's Strawberry Jam
Making this one a total dream!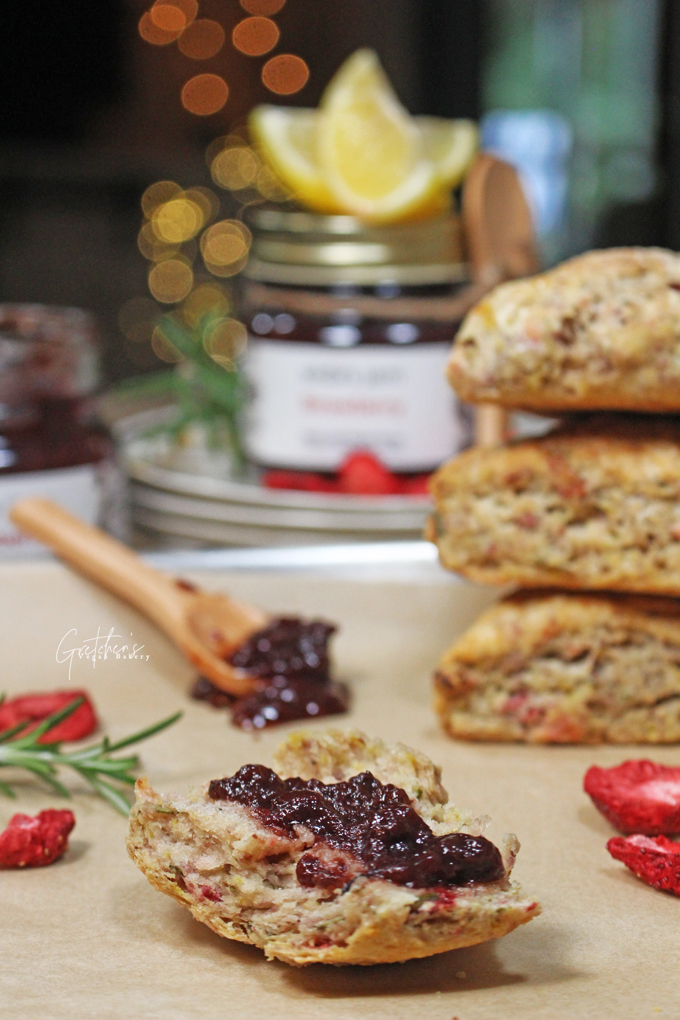 This is the original scone recipe from my bakery and it has always been vegan and naturally sugar free
Rather than adding sugar to the recipe the sweetness comes from the add-ins like the strawberry I used today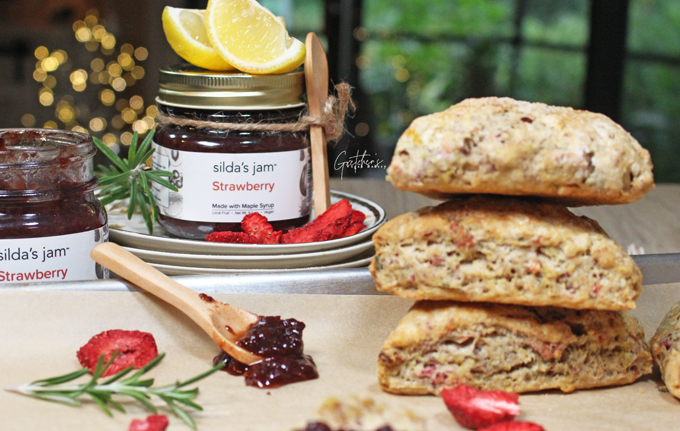 Silda's Jam is the only jam I will use for my cakes and pastries nowadays
Made from maple syrup and only the freshest fruits and berries with an amazing assortment of flavors to choose from!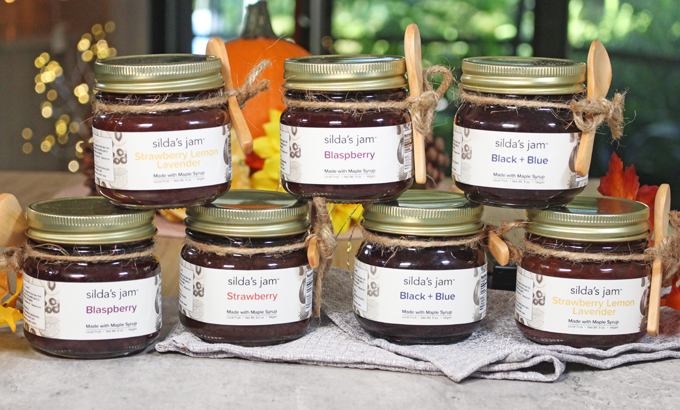 This website may contain links as part of the Amazon Affiliate program, which means when you click a link and make a purchase through my website I may earn a small commission at no additional cost to you
Notes for Success:
Cream of tartar and baking soda are the leaveners in this recipe which act in tandem with the acid in the plant milk otherwise known as "mock buttermilk"
Essentially this combination is homemade baking powder, so if you cannot get cream of tartar use 3 teaspoons of baking powder in place of both the baking soda & cream of tartar listed in the recipe below
Speaking of mock buttermilk soy milk is the only plant milk that will thicken like buttermilk from our past lives
But of course if you want to stay away form soy you can use any plant milk of your choice just know that it will not thicken up
Fresh herbs are the absolute best for baking and I really recommend to use fresh for this recipe, but if you cannot get fresh rosemary you will add 1 teaspoon of dried instead
Cold butter is the key to a successful flaky light and airy biscuit
My pro trick for using a box grater to cut the butter into the dry ingredients is the best! *see video for visual
Be sure not to overwork the mixture once you add the butter and if you have really hot hands plunge them into ice water before beginning!
Freeze dried strawberries added to the scone mix is a really nice addition but if you can't get that ingredient fresh strawberries will be fine, just use ½ cup though, not 1 cup
Or you can leave out the strawberry addition altogether and let Silda's Strawberry Jam do the work!
WATCH THE YOUTUBE VIDEO TUTORIAL FOR HOW TO MAKE THESE SCONES!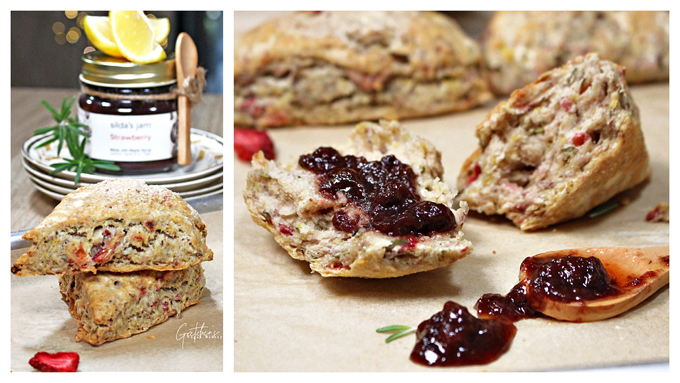 Yield: 6
Strawberry Lemon Rosemary Scones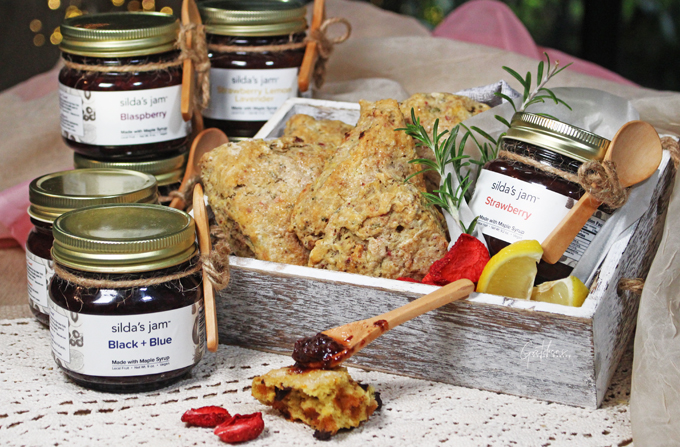 Ingredients
All Purpose Flour 2 cups (250g)
Salt ½ teaspoon
Baking Soda 1 teaspoon
Cream of Tartar 1 teaspoon *see notes
Plant Milk ¾ cup (177ml)
Fresh Lemon Juice 1 teaspoon (5ml)
Fresh Rosemary 1 Tablespoon *see notes
Freeze Dried Strawberries 1 cup *see notes
Lemon Zest from 2 large lemons approx 2 Tablespoons
COLD Vegan Butter 5 Tablespoons (70g)
Instructions
First combine the lemon juice with the plant milk and let stand while you prepare the rest of the recipe *soy milk is the only plant milk that will thicken like buttermilk but you can use any one you prefer if you do not like to use soy milk
Combine the flour, baking soda, cream of tartar and salt together in a large mixing bowl
Using a box grater to cut the cold vegan butter into the dry ingredients quickly so it doesn't start to get too soft
Then work the butter shreds through the flour mixture with your cold hands quickly until it is all incorporated through
Next add the crushed freeze dried strawberries, finely chopped rosemary and the lemon zest and distribute evenly
Add the plant milk and then gently fold everything through allowing the milk to absorb through the flour rather than actually kneading the dough
This gentle folding and stirring with your hands will be the difference between a light & flaky biscuit or a heavy doughy one
The dough will be very sticky & that's good
Turn out onto a lightly floured surface and gently knead it to a soft not so sticky dough
Press it out to about 8" diameter and then cut it into 6 equal wedges
Place on a parchment lined sheet pan and brush with aquafaba or your favorite vegan "egg: wash~ this is optional as you really don't need anything but I like a little sheen on my finished scones.
Sprinkle with optional sugar and then bake immediately in a preheated 375°F oven for 20-22 minutes
Cool slightly before serving with Silda's Strawberry Jam
Notes
Like most breakfast pastry that is meant to served the same day these scsones will go stale before they go "bad" so it is best to make them & serve them the same day, but they will stay fresh wrapped airtight for up to 3 days.
Freeze for up to 1 month