Getting tired of the same old dessert each year for Thanksgiving?
How about serving up a Pumpkin Lasagna instead!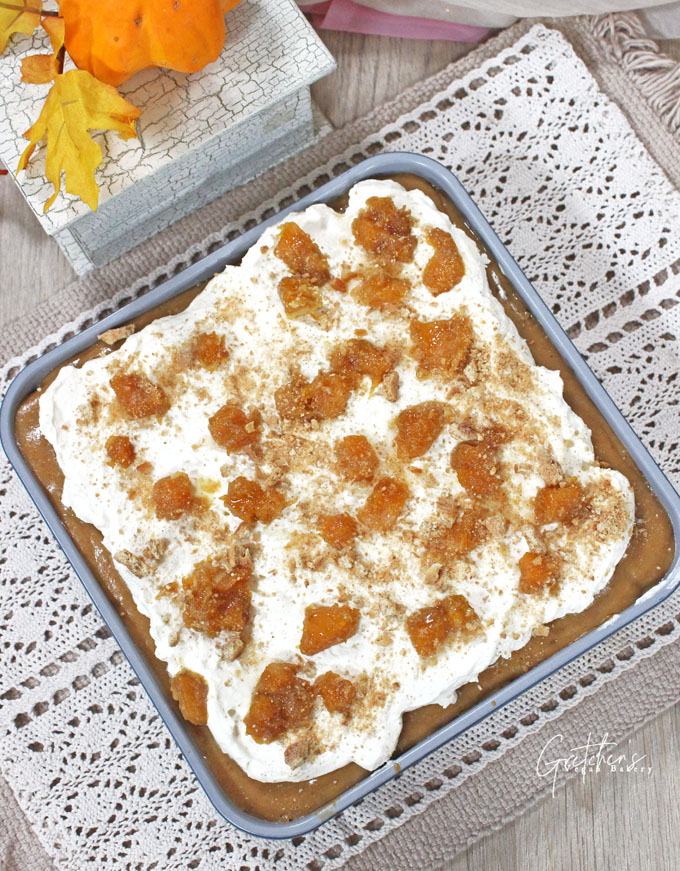 Layers of pumpkin custard, graham crackers and sauteed pumpkin!
Vegan whipped cream options are aplenty nowadays so that is no problemo!
Check out my homemade recipe for vegan whipped cream here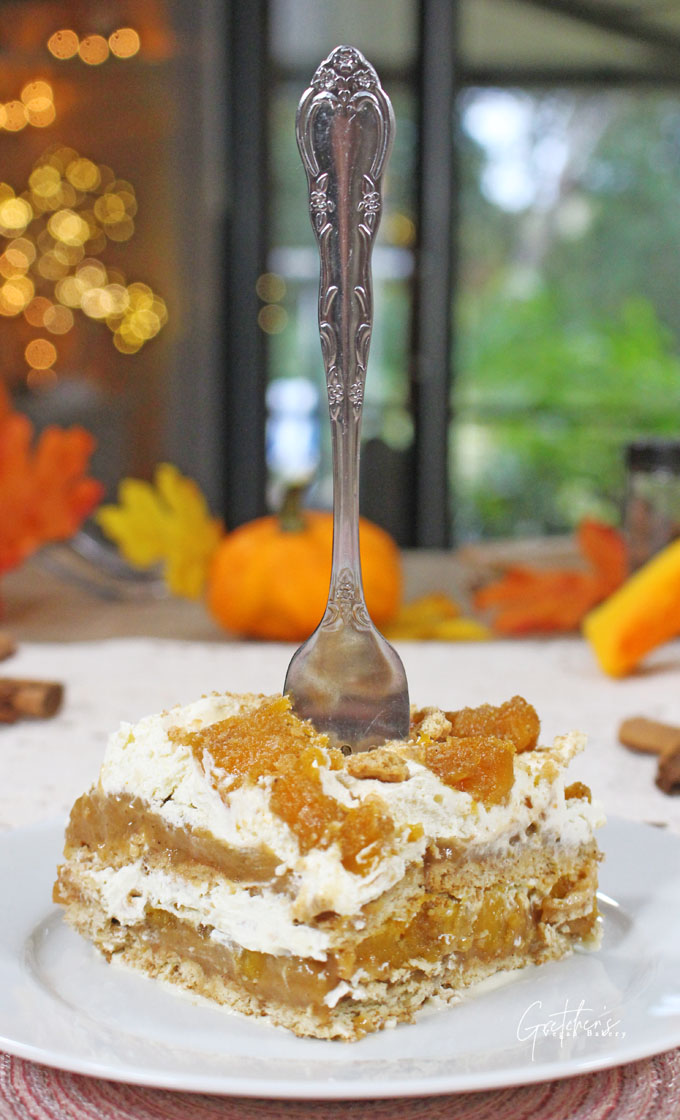 This Pumpkin Lasagna is Vegan, can be made Gluten Free, it's Lower Sugar and the best part is~ it's No Bake!
This entire casserole dessert comes together in just about an hour, but I'll suggest letting it rest in the refrigerator overnight before serving!
Like all lasagna, the flavors need time to meld and set for best taste and this one is no exception!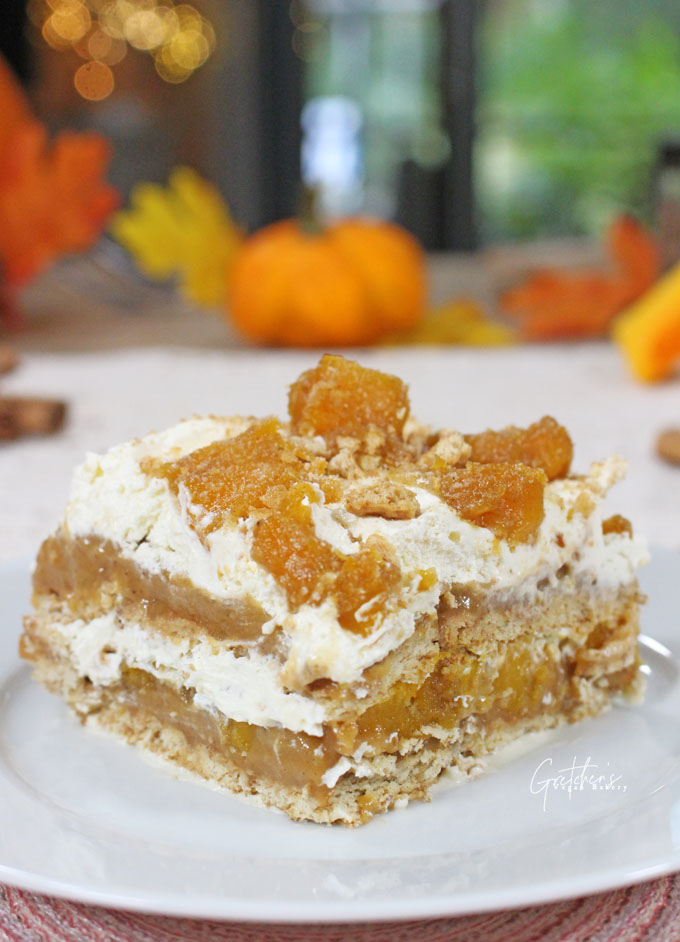 WATCH THE YOUTUBE VIDEO FOR HOW TO MAKE PUMPKIN LASAGNA!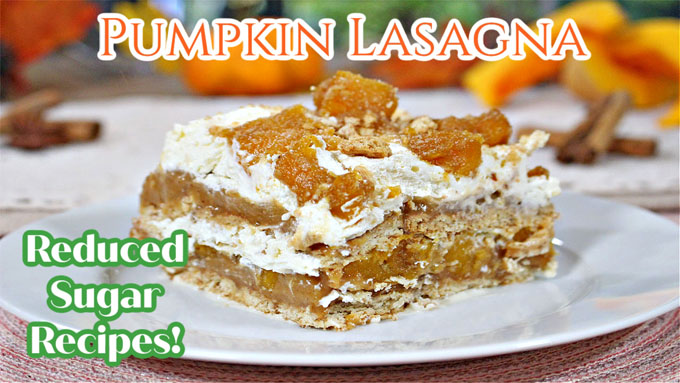 Notes for Success:
As I mentioned in the video I made this dessert with monk fruit sugar in each recipe but you can use whatever sugar you like best in the same quantity as listed below
CLICK HERE FOR MORE ABOUT SUGAR FREE BAKING
Butternut squash has an identical taste to pumpkin but it is much easier to handle so I will always opt for butternut when making recipes such as pumpkin compote
The brandy is optional if you are non alcohol then just use apple juice or nothing at all
Country Crock vegan whipping cream is the only brand I can get near me nowadays
But whatever brand or recipe you use you will need 3 cups total whipped volume
Yield: serves 12ppl
Pumpkin Lasagna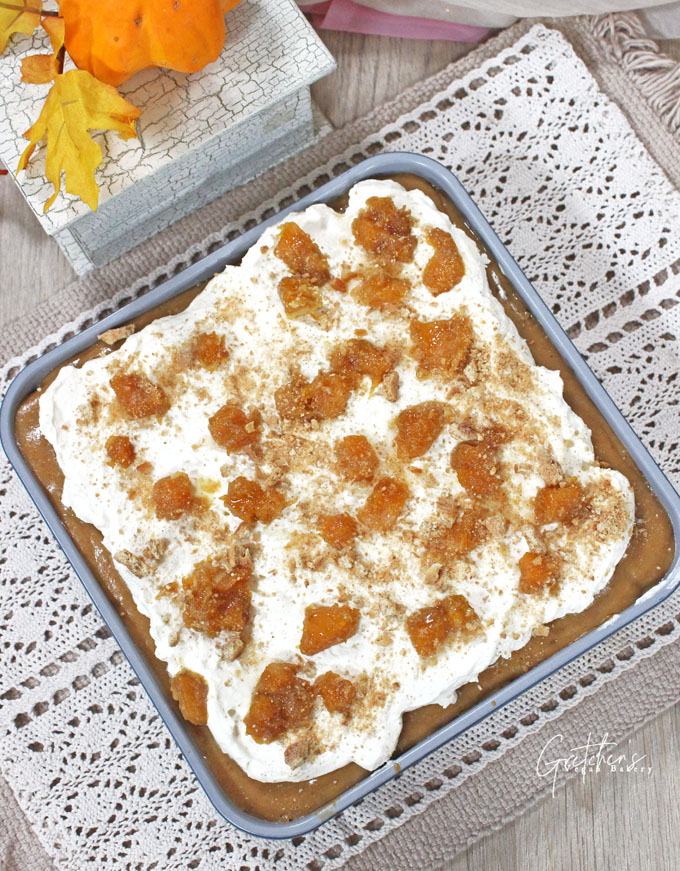 Ingredients
1 Box Vegan Graham Crackers
For the Sauteed Pumpkin
1 Medium Butternut Squash
Vegan Butter 4 Tablespoons (56g)
Monk Fruit Sugar Substitute ¼ cup (50g) *see notes
For the Pumpkin Custard
Plant Milk 2¼ cups (533ml)
Monk Fruit Sugar Substitute 1 cup (200g) *see notes
Cornstarch 3 Tablespoons (24g)
Canned Pumpkin 1 cup (245g)
Vanilla Extract 2 teaspoons (10ml)
Instructions
Peel and remove the seeds from your squash and then cut into small pea sized cubes
Heat a large saute pan over medium to high heat with the vegan butter
Once the butter is melted, add the diced squash and the sugar (or sugar sub) with the spices and cook stirring occasionally until it is starting to brown then reduce the heat to medium-low and continue to cook until tender
Add the optional brandy to deglaze the pan or remove from the heat and transfer to a dish to cool while you prepare the custard
In a medium sauce pot combine the sugar (or sugar substitute) with the spices and cornstarch, whisk to coat the sugar well then add the plant milk and pumpkin and whisk smooth
Over high heat whisking constantly bring the custard mixture to a boil
once it bubbles for 10 seconds remove from the heat and add the vanilla extract
Reserve while you prepare the vegan whipped cream of your choice
Now once the custard is warm (about 100F) not piping hot & the pumpkin has also cooled, begin assembling the pumpkin lasagna
First spread about ¾ cup of the vegan whipped cream in the bottom of the casserole dish (NO PARCHMENT PAPER!)
Next layer with graham crackers and half of the custard then sprinkle about 1 cup of the sauteed pumpkin over the custard
Another layer of graham crackers, and whipped cream then another layer of graham crackers
Last goes the remaining custard and be sure it is cool before adding the last amount of whipped cream
Sprinkle the top with the remaining pumpkin & some crushed up graham crackers
Notes
Pumpkin lasagna must be kept refrigerated and will stay fresh for up to 5 days