This was one of my first vegan recipes way back before I went public with my transition to full veganism in 2016
All I remember was I got so much hate for using fake bacon!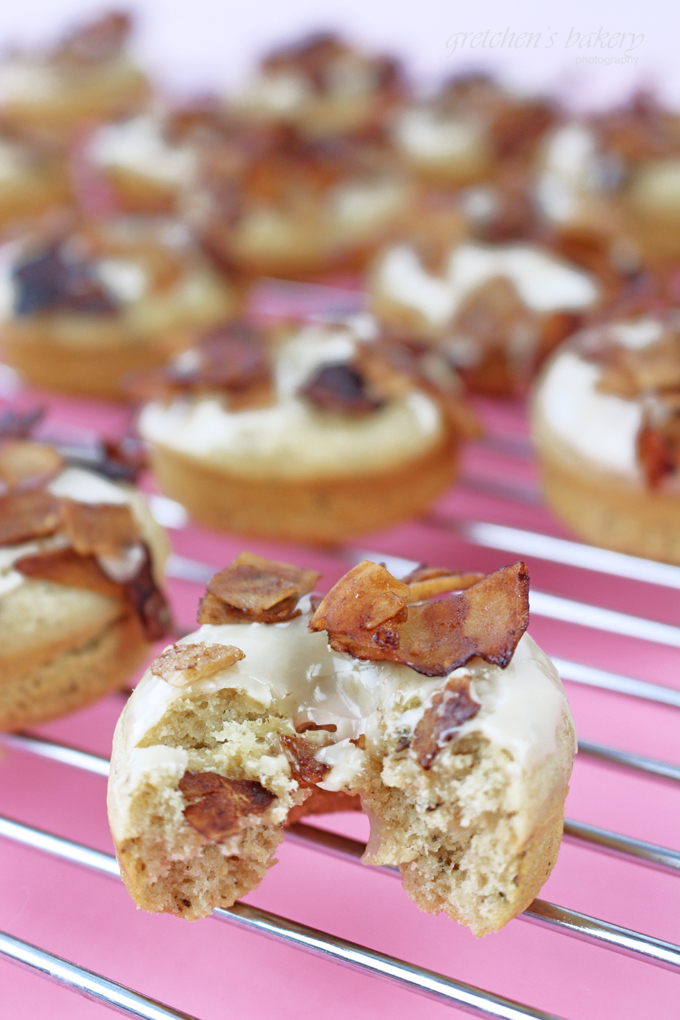 Over the years this recipe has become one of my most popular
Once people realized you don't have to kill anything to get amazing taste!
Maple Bacon Donuts were on the map!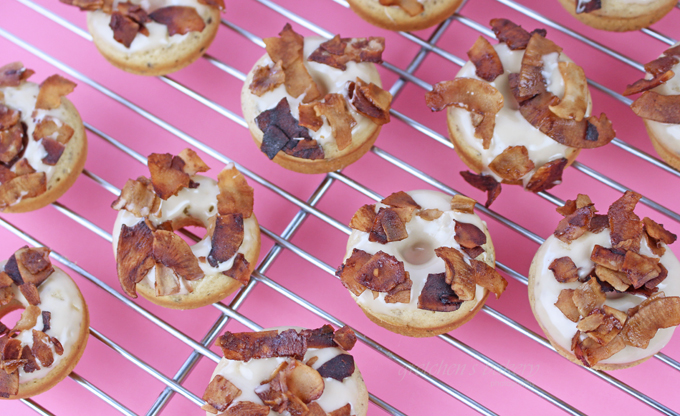 Oh, excuse me, "Maple Facon Donuts
There is no shortage of that addictive smoky bacon flavor with this great recipe for Coconut Bacon
The donut recipe is a guilt free baked cake style donut so no frying here!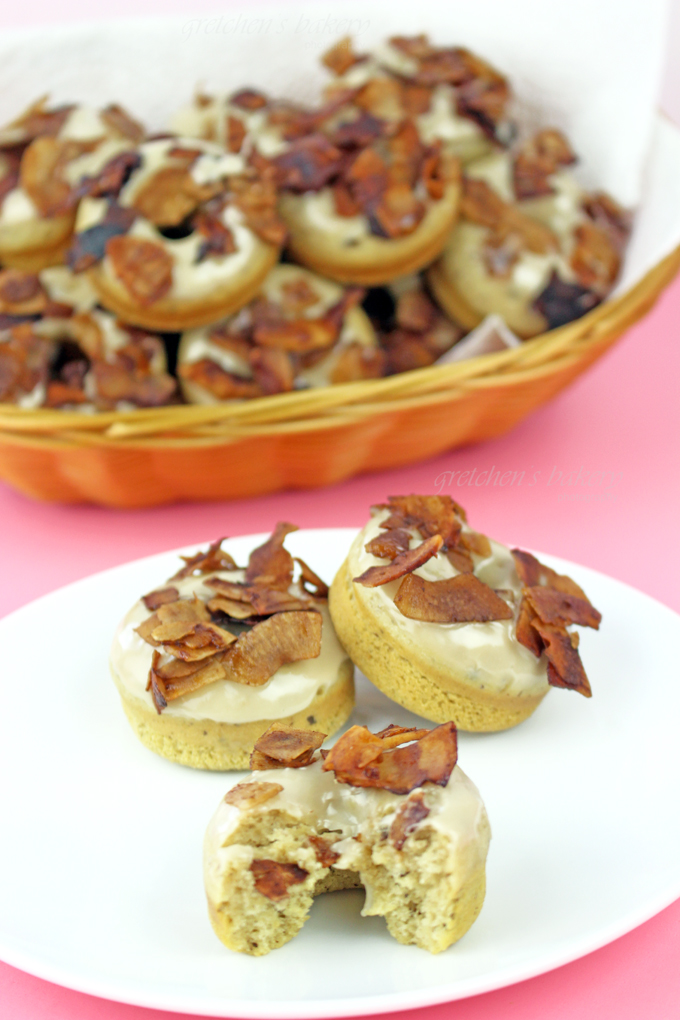 Notes for Success:
I usually make up a big batch of the coconut bacon and store it in an airtight container at room temperature for about a month
It is necessary to use large flaked unsweetened coconut for this recipe
It's helpful to use a silicone baking mat rather than parchment paper to avoid a sticking mess after baking.
For the donut batter I use soy milk as this is the only plant milk that will sour and thicken when you add the vinegar
However you can use any plant milk you prefer
The vinegar is needed to activate the baking soda causing the batter to rise
CLICK HERE FOR THE YOUTUBE VIDEO TUTORIAL FOR HOW TO MAKE THESE DONUTS!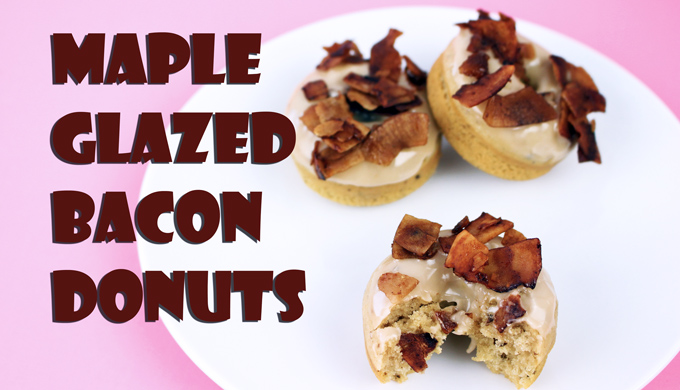 Click the links below for more great donut recipes!
Vegan Oreo Cookies and Cream Donuts
Maple "Bacon" Donuts
Ingredients
For the Donut Batter:
All Purpose Flour 1¼ cup (156g)
Salt ¼ teaspoon
Baking Soda 1 teaspoon (4g)
Plant Milk ½ cup (120ml)
Vinegar white or apple cider 1 teaspoon (5ml)
Brown Sugar ⅓ cup (70g)
Ground Golden Flax Seed 1 Tablespoon (8g)
Hot Water 3 Tablespoons (45ml)
Coconut Oil Melted 4 teaspoons (20ml)
Vanilla Extract 1 teaspoon
Maple Extract 1 teaspoon
For the Coconut Bacon:
Large Flake unsweetened Coconut1 package about 3 cups
Low Sodium Soy Sauce or Tamari 3 Tablespoons (45ml)
Liquid Smoke 2½ Tablespoons (37ml)
Maple Syrup 2 Tablespoons (30ml)
Brown Sugar 1 Tablespoon (15g)
For the Maple Glaze:
Sifted Confectioners Sugar 1½ cup (190g)
Plant Milk 1 Tablespoon (15ml)
Maple Extract 1 teaspoon (5ml)
Instructions
For the cake donut batter combine the ground flax seed with hot water and whisk smooth
Let stand for about 5 minutes to thicken to a paste
In a large mixing bowl combine the room temperature plant milk & vinegar stir to combine let stand 5 minutes to thicken
Add the melted coconut oil, vanilla extract, brown sugar, flax paste & salt to the plant milk and whisk smooth
Add the sifted flour & baking soda and whisk smooth.
Transfer batter to a pastry bag and pipe half way to the top into each of the cavities.
Bake in a preheated 325°F oven for approximately 8 - 12 minutes for the mini's & possibly 18 minutes for the larger or when they are springy to the touch when you gently press the centers
for the Coconut Bacon recipe: Combine all the coconut bacon ingredients together in a large bowl distributing evenly and coating well
Layer onto a sheet pan and bake in a preheated 325°F oven for approximately 10-20 minutes checking throughout baking and tossing to make sure it bakes evenly
Prepare the icing sugar glaze by whisking the confectioners sugar with the plant milk & the extract
Dip the cooled donuts in glaze and then into the crispy coconut bacon
Notes
Maple Bacon Donuts can be stored at room temperature for up to 1 week wrapped loosely to prevent drying out.

Freeze un-iced donuts for up to 1 month wrapped well