Finally the redux of the Mirror Glaze Recipe that I veganized way back in 2015!
Yes I know the title says strawberry but you can also make it pure neutral with white chocolate all the way!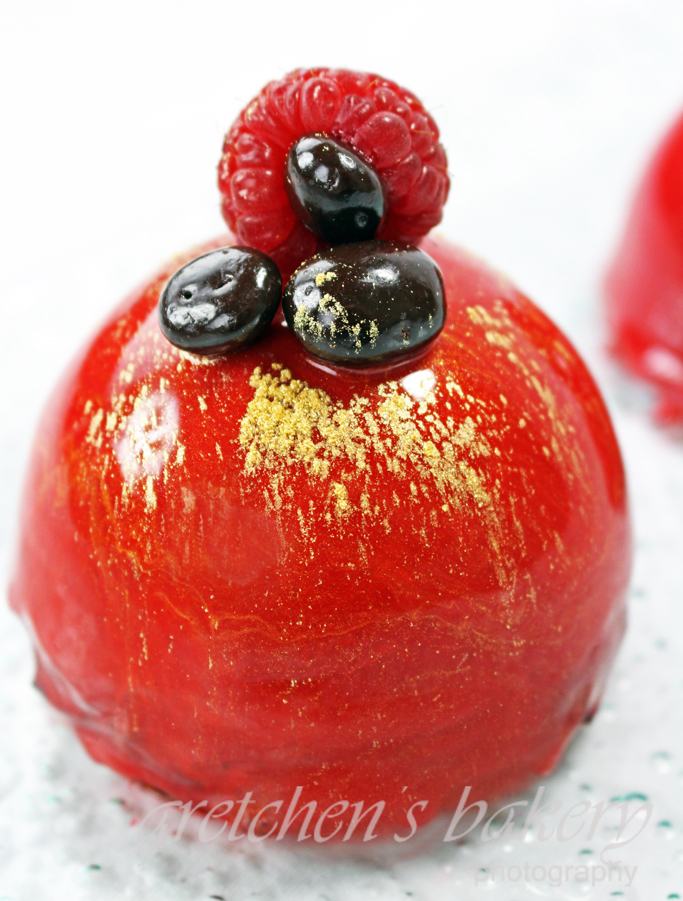 I did eventually make another vegan rendition of the Mirror Glaze in 2017
Using dark semi sweet chocolate instead of white chocolate in my Raspberry Linzer Mousse Cakes shown below
But I think the glaze recipe was overshadowed by these stunning mousse cakes that took center stage!
If you want to check out the chocolate version CLICK HERE!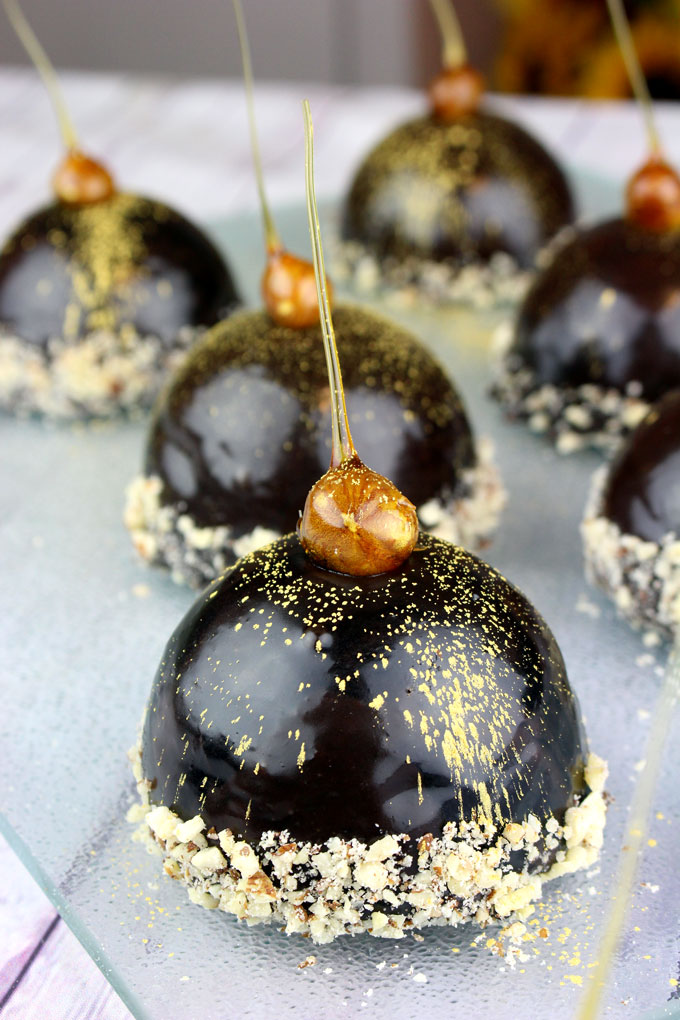 So today I thought what better way to showcase this amazing Strawberry Couverture courtesy of Olive Nation
Than with a brand new Mirror Glaze Recipe!
Mirror Glaze is not only for covering larger cakes, but as you see above it can be used for individual desserts and Petit Fours as well!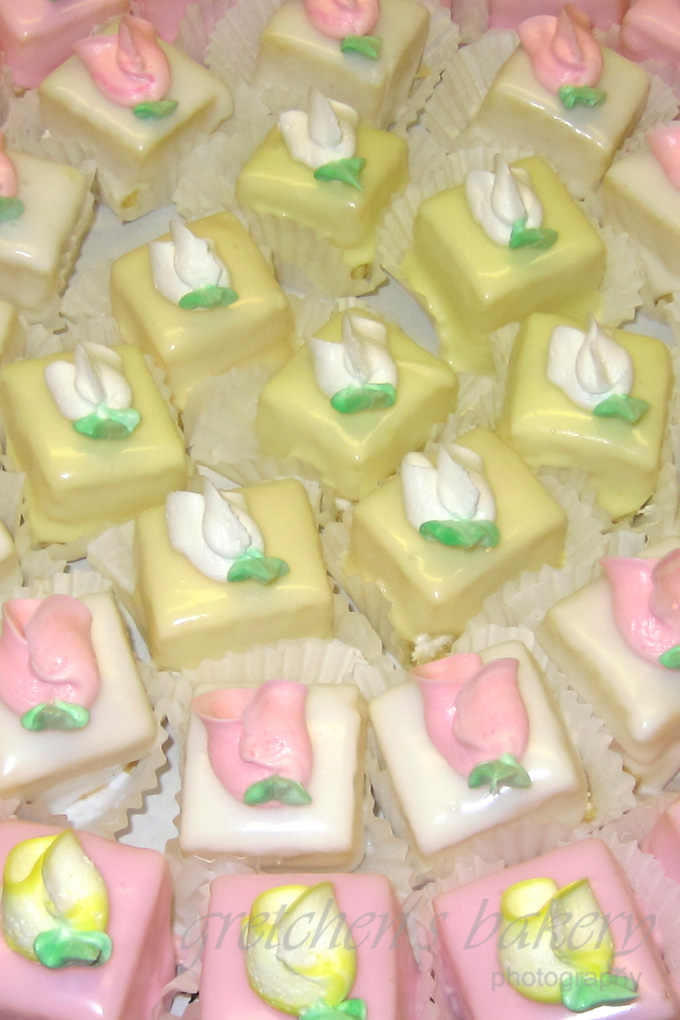 Now let me just clear this up right away if you do not want to buy the strawberry couverture you can still make this recipe with all vegan white chocolate instead!
Your glaze will of course then be all white or rather opague
And you can definitely leave it pearly white or color it as you wish.
White Chocolate based Mirror glaze takes on color so beautifully!
The Valrhona Inspirations Strawberry Couverture though,
I highly recommend you experience it at least once in your life!
Can I just tell you, my mind is blown!
I made the best Strawberry Cheesecake Cookies with it and also whipped up a beautiful strawberry ganache!
And of course here it is in all of it's glory as it takes center stage for this super easy Mirror Glaze Recipe!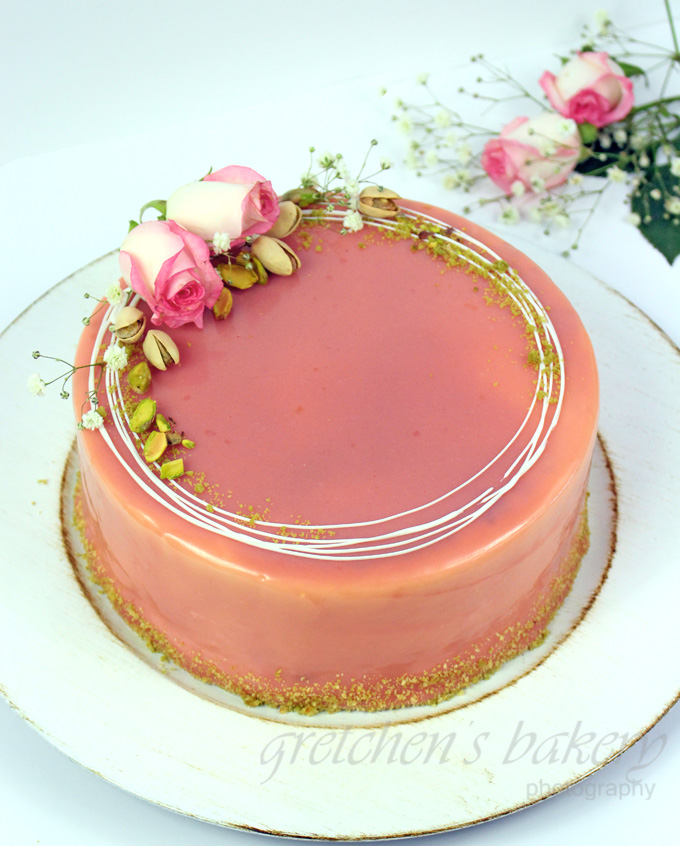 CLICK HERE FOR THE FULL YOUTUBE VIDEO TUTORIAL FOR HOW TO MAKE THE MIRROR GLAZE
And don't forget to use your 20% off discount code if you decide to purchase anything from Olive Nation
Enter GVB20 in the checkout area!

Vegan Mirror Glaze Recipe
Ingredients
Strawberry Couverture 2 ounces (56g)
Vegan White Chocolate 2 ounces (56g)
Coconut Sweetened Condensed Coconut Milk ¼ cup (50ml) *store bought or see recipe below
Granulated Sugar ½ cup (100g)
Corn Syrup *or golden syrup ⅓ cup
Water 7½ Tablespoons (112ml)
Agar Powder 1 teaspoon
Instructions
In a large bowl combine both chocolates chopped into smaller, same sized pieces
Combine the sugar, water, sweetened condensed coconut milk & corn syrup and heat over medium heat stirring often to at least 150°F then add the agar powder
Whisk constantly and bring to a rolling boil then pour over the chocolate in the bowl and whisk to melt.
Cool to at least 90°F before pouring it over your cake.
Place your chilled cake on a cooling rack set over a parchment paper lined sheet pan
Pour the mirror glaze over the cake letting the excess run down over the sides.
The agar will cause it to set very quickly so try not to use a spatula to ice it, just allow the excess to drip off
You can reuse the excess glaze, just scrape it off the parchment paper and store in a clean container in the refrigerator for up to 1 month- simply rewarm when needed
Decorate your cake as shown in the video or as you prefer 🙂
SWEETENED CONDENSED COCONUT MILK RECIPE HERE!
Sweetened Condensed Coconut Milk
Ingredients
1- 14ounce can full fat coconut milk
⅓ cup granulated sugar
Instructions
Combine the coconut milk with the sugar in a heavy bottom sauce pan
bring to a boil over high heat stirring often
Once it boils reduce heat to a simmer cook for 45 minutes stirring occasionally and watch it closely so it doesn't burn or boil over
By the time 45 minutes approaches it should have reduced down to close to 1 or1¼ cup total volume and start to get thick
It will thicken more as it cools.
Cool completely then use it in your recipes or see storage information in the notes below
Notes
Keep sweetened condensed coconut milk refrigerated for up to 2 weeks in a clean airtight container or freeze for longer storage up to 1 month