Sometimes you just need a little bit of sophistication and elegance in your life!
Perfect Pistachio Rose Cake is exactly that!
Rose scented buttercream for the filling and of course a stunning shiny mirror glaze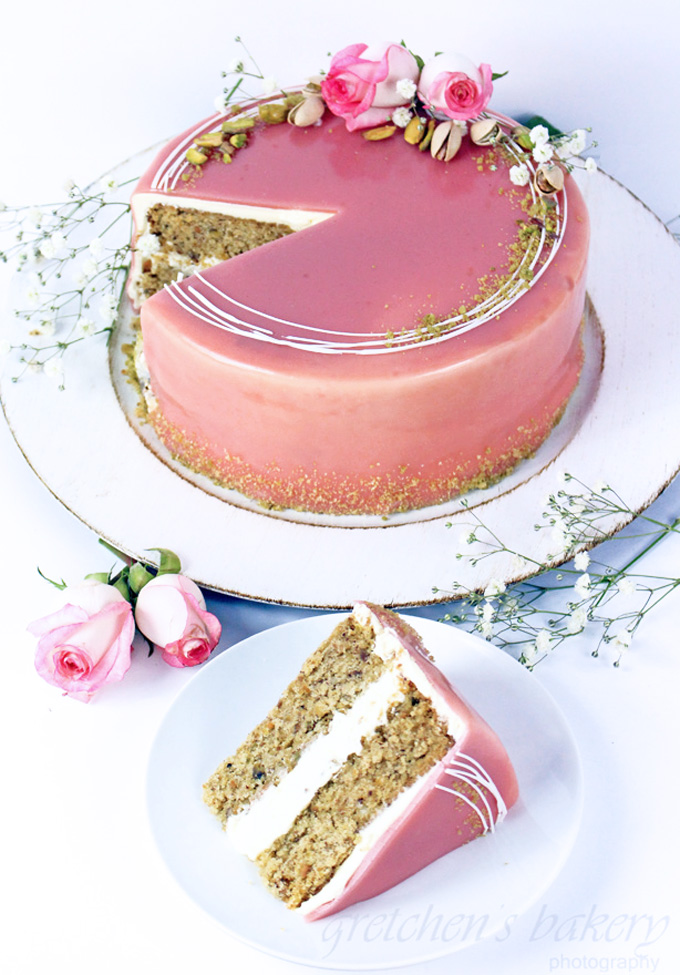 Fresh organic roses to decorate this delicate layer cake but of course that part is optional!
The babies breath is purely for the photograph and not intended to be served in any way on this cake
Since baby's breath is slightly poisonous if ingested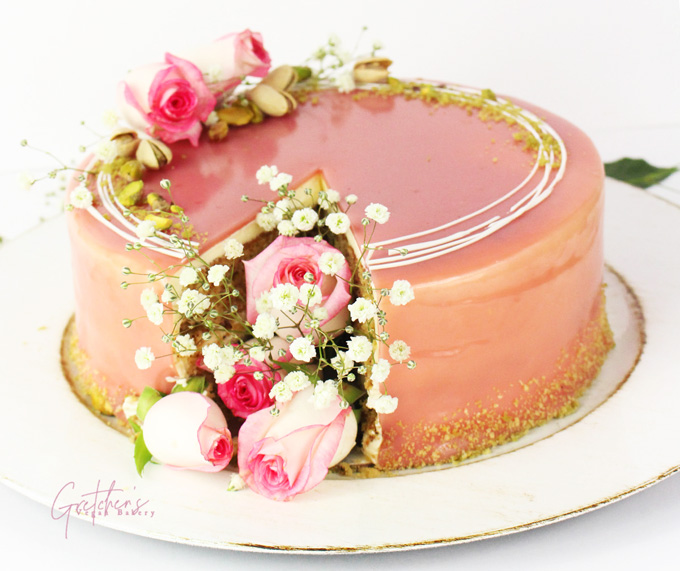 I like that this cake is not the typical super moist almost heavy cake that is associated with vegan cakes.
It is quite possibly the most perfect balance of moist without feeling heavy or soggy
If you have ever tried a traditionally European Genoise style cake this pistachio rose cake so closely resembles that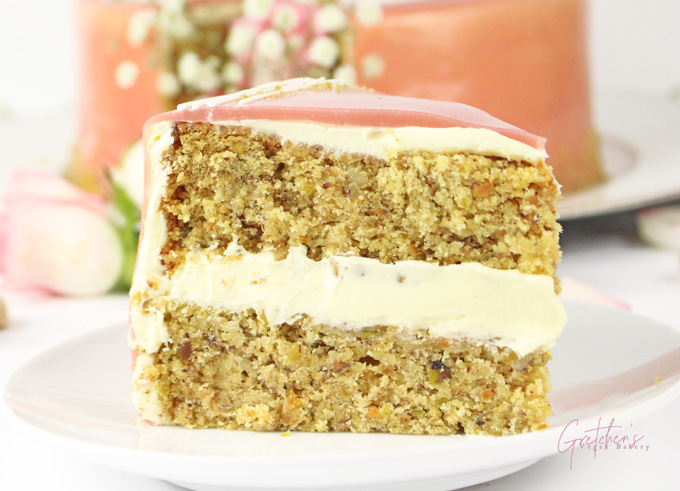 Strawberry Couverture is incorporated into a new recipe for Strawberry Mirror Glaze!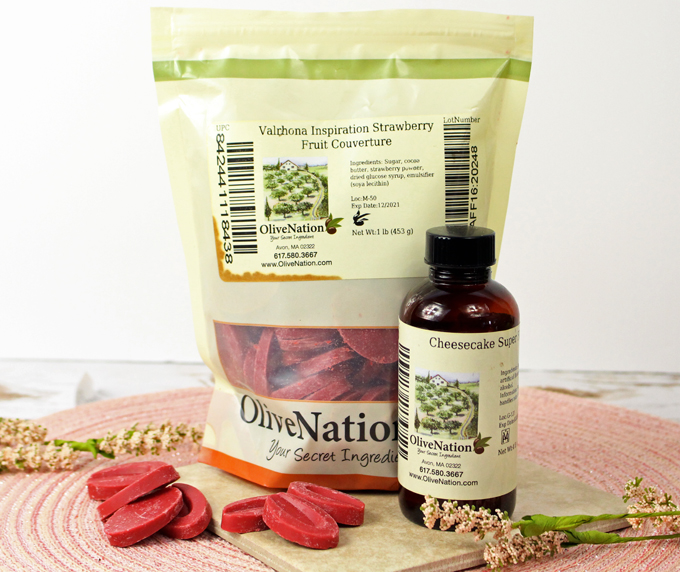 Thanks to Olive Nation for sponsoring this recipe with these high quality ingredients it is so easy to achieve.
Pistachios and Rose Extract are the only two specialty ingredients you will need
Use COUPON CODE GVB20 for 20% off your order!
CLICK HERE FOR THE FULL YOUTUBE VIDEO FOR HOW TO MAKE THIS CAKE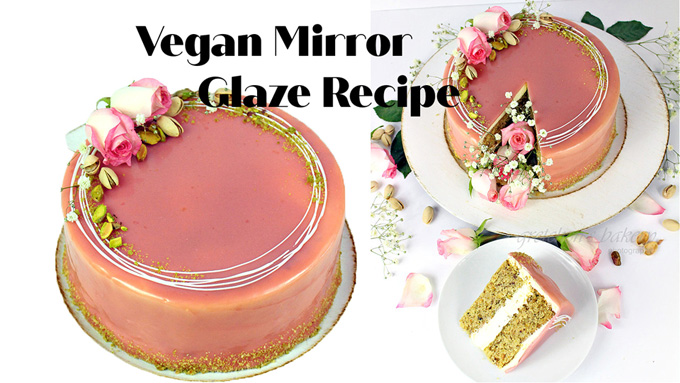 Notes for Success:
If you do not have strawberry couverture you can still make this mirror glaze recipe by using vegan white chocolate
Of course your final glaze will be white, but you can color it any color you like!
The cake recipe calls for vegan yogurt, but I have used more plant milk instead when I do not have yogurt on hand with great, if not better results!
For those who do not have flax meal for the egg replacer it is fine to use your favorite store brand dry blend
Use 2 teaspoons reconstituted with some of the liquid from the recipe
I find recipe is best when using raw nuts that you grind to a fine meal yourself, rather than using a nut flour
Nut flours that you buy in the store are too fine and too dry and they absorb too much of the liquids in this recipe, causing your final cake to be very dry
If you cannot find coconut sweetened condensed milk in the store, there is a recipe below so you can easily make your own!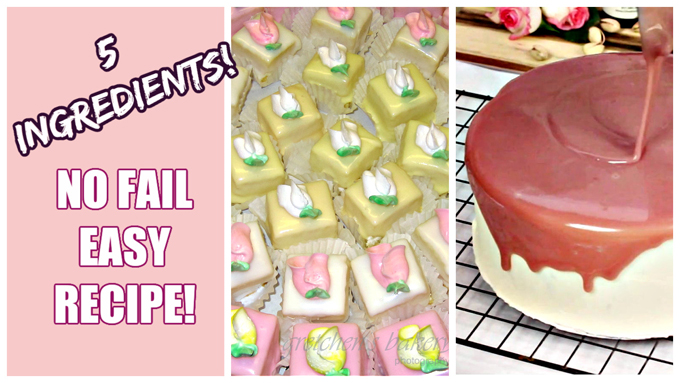 Yield: serves 12-14 people
Pistachio Rose Cake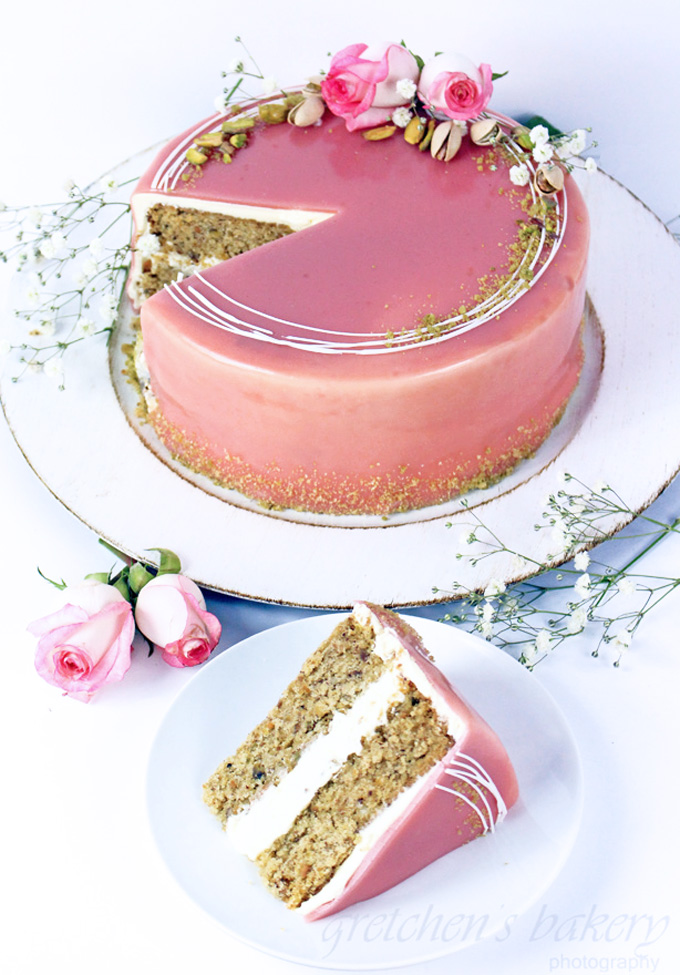 I am using 2-8" cake pans for this recipe for two very thick layers, you can also divide this batter into 3-8" pans if you prefer, the bake time will be less, by maybe 10-15minutes
Prep Time
1 hour
30 minutes
Total Time
2 hours
10 minutes
Ingredients
For the Cake
Vegan Butter 1 cup (226g)
Granulated Sugar 2 cups (400g)
Golden Flax Meal 3 Tablespoons (24g)
Hot Water 6 Tablespoons (90ml)
Vanilla Vegan Yogurt ½ cup (150g)
Plant Milk 1 cup (237ml)
Vanilla Extract 2 teaspoons (10ml)
All Purpose Flour 3 cups (375g)
Baking Powder 1 teaspoon (6g)
Baking Soda 1 teaspoon (6g)
Salt ½ teaspoon (3g)
Raw Unsalted Pistachios 1½ cups (225g)
Rose Extract 1 Tablespoon
For the Mirror Glaze
Strawberry Couverture 2 ounces (56g)
Vegan White Chocolate 2ounces (56g)
Coconut Sweetened Condensed Coconut Milk ¼ cup (50ml)
Granulated Sugar ½ cup (100g)
Corn Syrup *or golden syrup 1/3 cup
Water 7½ Tablespoons (112ml)
Agar Powder 1 Teaspoon
Instructions
Be sure all your ingredients are at room temperature before beginning.
First prepare your cake pans with professional bakery pan grease and parchment paper lining.
Preheat the oven to 350°F
Combine the flax meal & hot water together in a small bowl and set aside to thicken for about 5 minutes.
Grind the pistachios in a food processor or chop as fine as possible by hand with a knife, set aside
Combine the plant milk & yogurt with the vanilla and set aside.
Sift the flour with the salt, baking powder & baking soda
In a large mixing bowl, cream the vegan butter and sugar on medium to high speed until light & fluffy, this may take 3-5 minutes.
Scrape the bottom & sides of the bowl from time to time to ensure an even mix.
Add the flax paste to the creamed mixture and then whip on high for 20 seconds to emulsify
Turn the speed back down to low and add 1/3 of the sifted dry ingredients and mix just until it is combined
Add half of the plant milk/yogurt mixture and mix just until combined
Repeat with another 1/3 of the dry ingredients, the other half of the plant milk and then the last of the dry ingredients.
add the ground pistachios and mix well
Portion the batter into your prepared pans and bake in the preheated 350°F oven for 25 minutes.
Turn the oven temperature down to 300° and bake for another 15-20 minutes or when a toothpick inserted into the center comes out clean, no raw cake batter.
*I turn the oven temp down half way through because this is a very thick cake layer I do not want it to over brown on the outside & edges while the inside batter cooks
Cool the cakes in the pans until they are cool to the touch, then flip them out onto a wire rack to cool the rest of the way
Be sure to remove the parchment paper lining.
Prepare the buttercream recipe of your choice and add the Rose Extract at the last stage of mixing, tasting for your desired flavor- you can add more or less of the extract according to your taste.
Fill & Crumb Ice the cake as shown in the video tutorial and refrigerate to set while you make the mirror glaze.
For the Mirror Glaze:
In a large bowl combine both chocolates chopped into smaller, same sized pieces
Combine the sugar, water, sweetened condensed coconut milk & corn syrup and heat over medium heat stirring often to at least 150°F then add the agar powder
Whisk constantly and bring to a rolling boil then pour over the chocolate in the bowl and whisk to melt.
Cool to at least 90°F before pouring it over your cake.
Place your chilled cake on a cooling rack set over a parchment paper lined sheet pan
Pour the mirror glaze over the cake letting the excess run down over the sides.
The agar will cause it to set very quickly so try not to use a spatula to ice it, just allow the excess to drip off
You can reuse the excess glaze, just scrape it off the parchment paper and store in a clean container in the refrigerator for up to 1 month- simply rewarm when needed
Decorate your cake as shown in the video or as you prefer 🙂
Notes
Pistachio Rose Cake can be left at room temperature for up to 3 days loosely wrapped to prevent drying.

For longer storage refrigerate for up to 1 week

Cake layers can be frozen wrapped well for up to 1 month
SWEETENED CONDENSED MILK RECIPE
Yield: 1 cup
Sweented Condensed Coconut Milk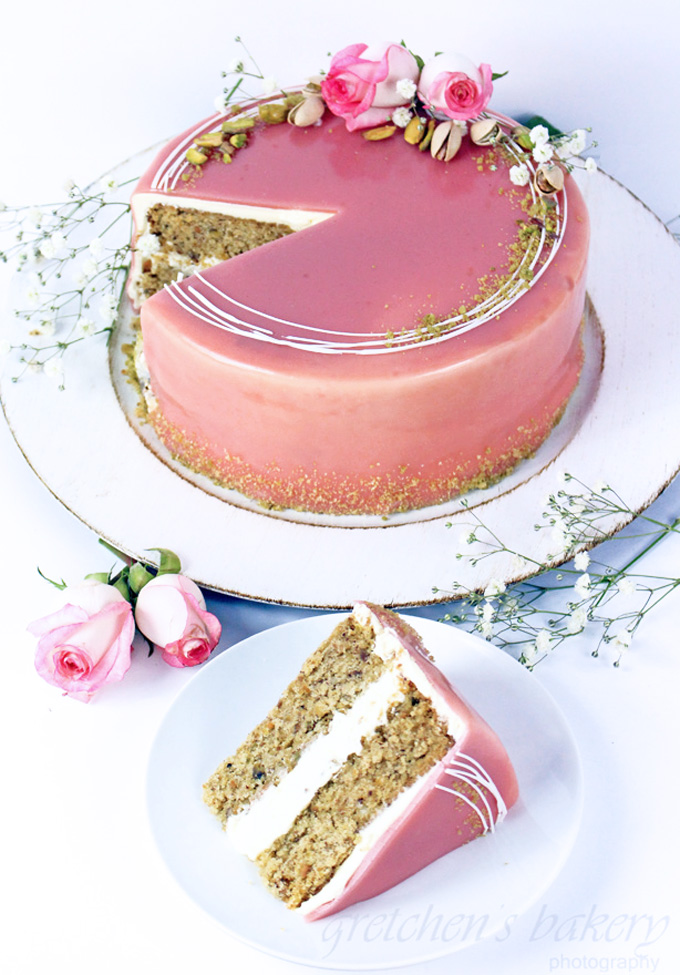 Prep Time
1 hour
30 minutes
Total Time
2 hours
10 minutes
Ingredients
1- 14ounce can full fat coconut milk
1/3 cup granulated sugar
Instructions
Combine the coconut milk with the sugar in a heavy bottom sauce pan
bring to a boil over high heat stirring often
Once it boils reduce heat to a simmer cook for 45 minutes stirring occasionally and watch it closely so it doesn't burn or boil over
By the time 45 minutes approaches it should have reduced down to close to 1 or1¼ cup total volume and start to get thick
It will thicken more as it cools.
Cool completely then use it in your recipes or see storage information in the notes below
Notes
Keep sweetened condensed coconut milk refrigerated for up to 2 weeks in a clean airtight container or freeze for longer storage up to 1 month