Baking just got easier with this No Bake Vegan Fruit and Custard Tart!
I am in love with everything about this fruit tart!
From the creamy vanilla custard to the crust that is so good I can seriously eat it all by itself!
Gluten free and made from almonds and oats it is just so perfect!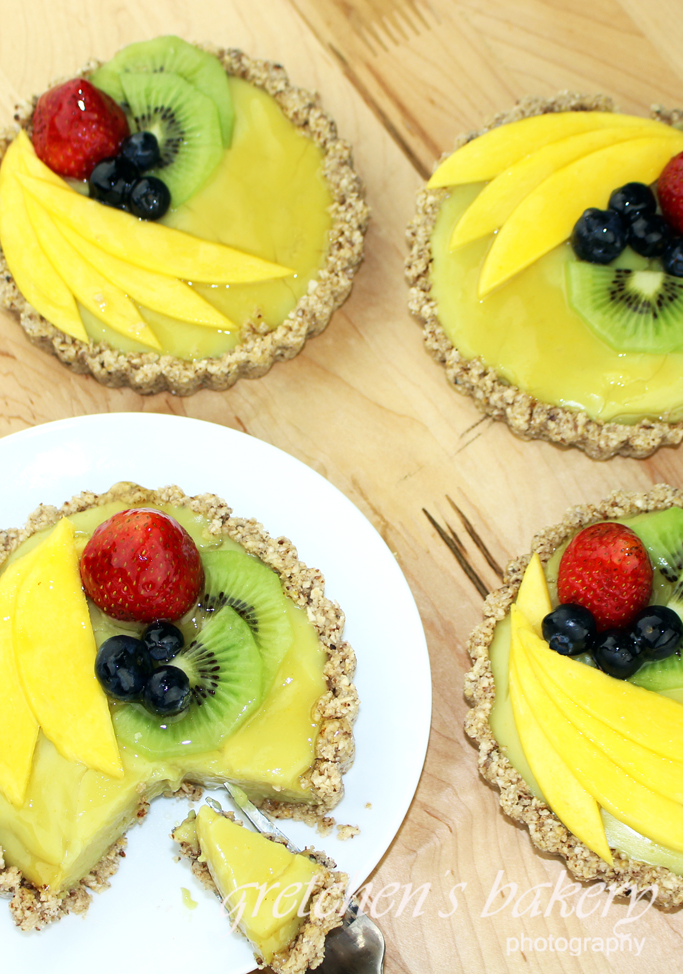 Wait until you see just how easy this project is.
I used my 5″ Individual Tart Pans, but you can made 1 large 8″ Tart if you prefer.
You will notice in the video that the first batch of custard was not enough to fill the tarts, so I have adjusted the recipe below to perfectly fill 6 of the individuals or 1 larger 8″ tart.
You will also notice that just a pinch of Ground Tumeric will give this custard that slight tinge of yellow just like a real pastry cream!
No Bake Summer Fruit and Custard Tart
In this video for the custard I was using the new Eggceptionally Egg Free Egg Replacer, however this is a new product in development so it is not available yet. I have made the adjustments to the recipe below since you will have to leave it out until it is available. Sorry for the confusion.
Ingredients
For the Crust:
Oats 1 cup (90g)
Raw Almonds 1 cup (225g)
Salt pinch
Coconut Oil or Vegan Butter 6 Tablespoons (85g)
Vegan Sugar ¼ cup (50g)
For the Custard:
Soy Milk 3 cups (720ml)
Cornstarch 6 Tablespoons (42g)
Vegan Sugar ½ cup + 2 Tablespoons (125g)
Tumeric Powder ¼ teaspoon *for color
Vanilla Extract 2 teaspoons
Instructions
First prepare the crust by crushing the almonds with the sugar in a food processor until finely ground.
Add the oats and process again.
Add the melted coconut oil or vegan butter with the salt and process until it all comes together like wet sand.
Press into your tart mold with a removable bottom then freeze while you prepare the custard.
Combine all the ingredients except for the vanilla extract in a medium sauce pot over medium to high heat and bring to a boil stirring occasionally .
Once it starts to bubble be sure to stir constantly to avoid burning on the bottom, and let it boil on low heat for about 30 seconds.
Pour into the frozen crusts and refrigerate to cool and set.
Decorate with your favorite fruits and then brush with melted apple or apricot jam to seal the fruit and keep it shiny