First things first.
How do you spell Rugalah!??
I have another rugalah recipe from last year and I couldn't find it in the search because I spelled it Rugelach!
But apparently that is the correct spelling but I will never get it right!
Well, whatever about that, this year I decided to make another version and these awesome cookies, with my new version (and spelling) for  Pecan Pie Rugelach.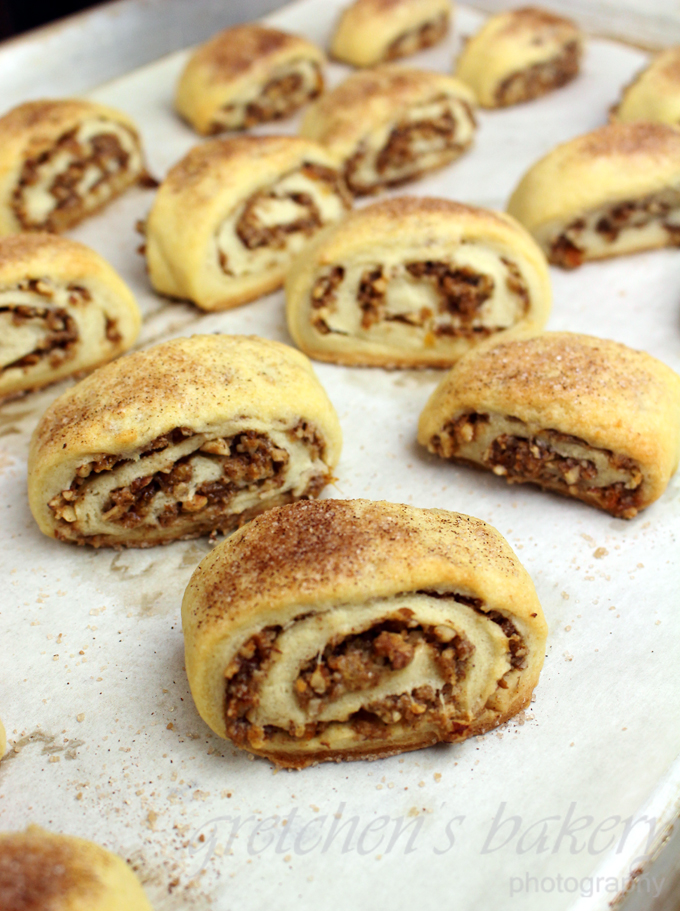 These cookies are going to make your holiday cookie platter stand out from the rest and have everyone coming back for more!
I love this cookie dough so much, it is a cream cheese dough that is so soft and pliable and rolls like pie dough, but with a cookie texture once it's baked!
Rugelach can be filled with an endless variety of nuts and jams and this time, orange pecan pie filling for the win!
I am actually using the candied oranges that I made for my Chocolate Orange Truffle Tart, but if you don't want to make a specific recipe for those, you can always buy the candied orange rind OR forget the candied part and just use the zest of 2 large oranges.
(I know I said one in the video, but that was before I doubled the recipe below)
These cookies are part 4 of my 12 Days of Christmas Cookies recipe series this year!
For the Chocolate Raspberry & Poppy Seed varieties, CLICK HERE!
Pecan Pie Rugalah
The original recipe for this cookie dough called for egg yolks which I replaced with Vegan Egg by Follow Your Heart. I understand not everyone can get that product so I also tested it with The Plant based Egg by Freely Vegan with excellent results.
You may see that I am using
The Plant Based Egg by Freely Vegan
as the egg replacer in almost all of my desserts now. If you do not want to buy it or cannot get it, you can sub in another proprietary blend egg replacer of your choice( results may vary slightly since I have not tested it with ALL the egg replacers).
Ingredients
For the cookie dough:
All Purpose Flour 2½ cup (312g)
Baking Powder ½ teaspoon
Vegan Butter 1 cup (226g)
Vegan Cream Cheese 8 ounce package (226g)
Vegan Lactic Acid *optional ¼ teaspoon
Granulated Sugar ½ cup
Vegan Egg by Follow Your Heart 2 Tablespoons *see note above
Cold Water ¼ cup (60ml)
Vanilla Extract 1 teaspoon (5ml)
For the filling:
Veqan Butter 6 tablespoons (56g)
Pecans lightly roasted 8 ounces (2 heaping cups)
Candied Orange 6 slices Or zest from 2 oranges *see note above in written blog post
Light Brown Sugar 8 Tablespoons
Cinnamon 1½ teaspoon
Cinnamon Sugar for sprinkling
Instructions
Cream the vegan butter and cream cheese together to smooth
Add the granulated sugar and beat on medium speed until light and fluffy approximately 3 minutes.
Meanwhile combine the vegan egg with the cold water and whisk smooth then add the vanilla extract to that
Add the vegan egg mixture to the creamed butter mixture and mix well, scrape the bottom and sides of the bowl for an even mix
Sift the flour with the baking powder then add it all at once to the mixer and mix on low speed to combine.
Wrap the dough into 2 separate equal discs and refrigerate for at least 2 hours or overnight.
Meanwhile prepare the filling by combining the candied orange slices (or zest), brown sugar, lightly roasted pecans and cinnamon in a food processor and process to a fine meal
Once the dough has relaxed and is chilled, knead it (one disc at a time) on a lightly floured surface to form a rectangle that is 6" by 18"
Brush with 3Tbs of the melted vegan butter and then spread half of the pecan filling evenly and roll up jelly roll style
Cut the log into 24 equal pieces (I know I said 16 in the video, but 24 is a better size) and place them on a sheet pan spaced about 1" apart
Brush with 1 Tbs of melted vegan butter and sprinkle with cinnamon sugar
Repeat the process with the other half of dough and bake in a preheated 375°F oven for 25 minutes until golden browned
Notes
Rugelach cookies stay fresh for up to 1 week in an airtight container at room temperature
If you are not able to do nuts you can vary this recipe by using any filling you prefer!
I made them with poppy seeds and also chocolate raspberry!
Click here for the original recipe!