Attention Everyone:  Black Chocolate Cake for Halloween is going to change your life.
Believe me, I will be making this cake as my go to chocolate cake recipe from now until the end of time.
I am sincerely IN LOVE.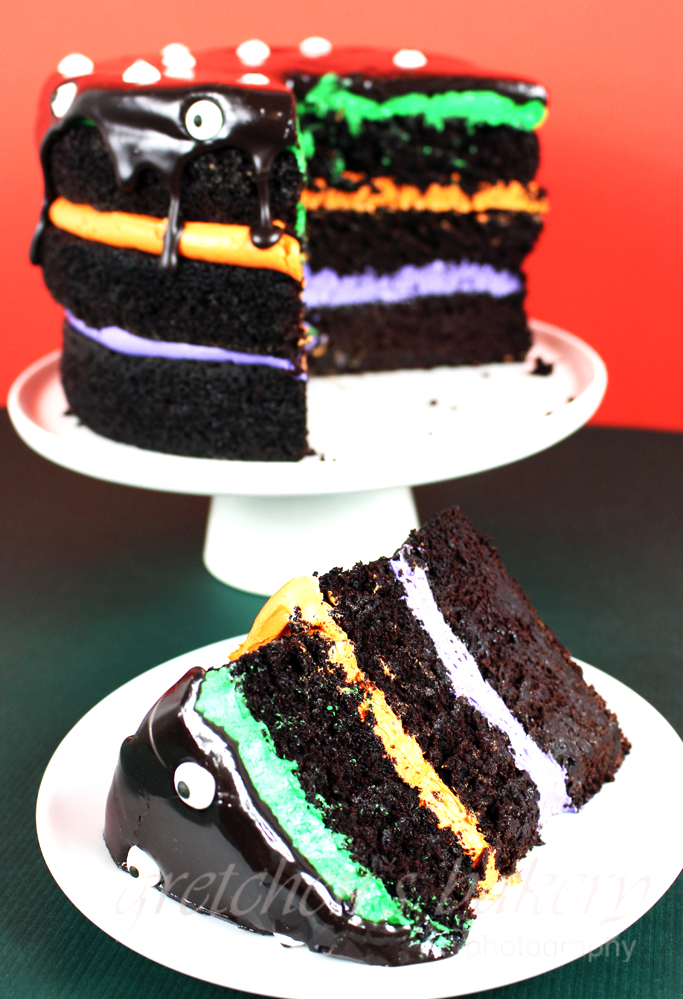 This cake is seriously moist, I have never had another cake that is better than this!
And what better way to pop those vibrant buttercream colors than up against a deep dark black chocolate cake?
Add some candy monster eyeballs dripping down the sides with chocolate glaze and you are all set for a spooky delicious Halloween party!
Needless to say, it isn't just for Halloween, but since Trick or Treat day is right around the corner;
Let's wait not another minute longer! As I know this will become your all-time favorite chocolate cake!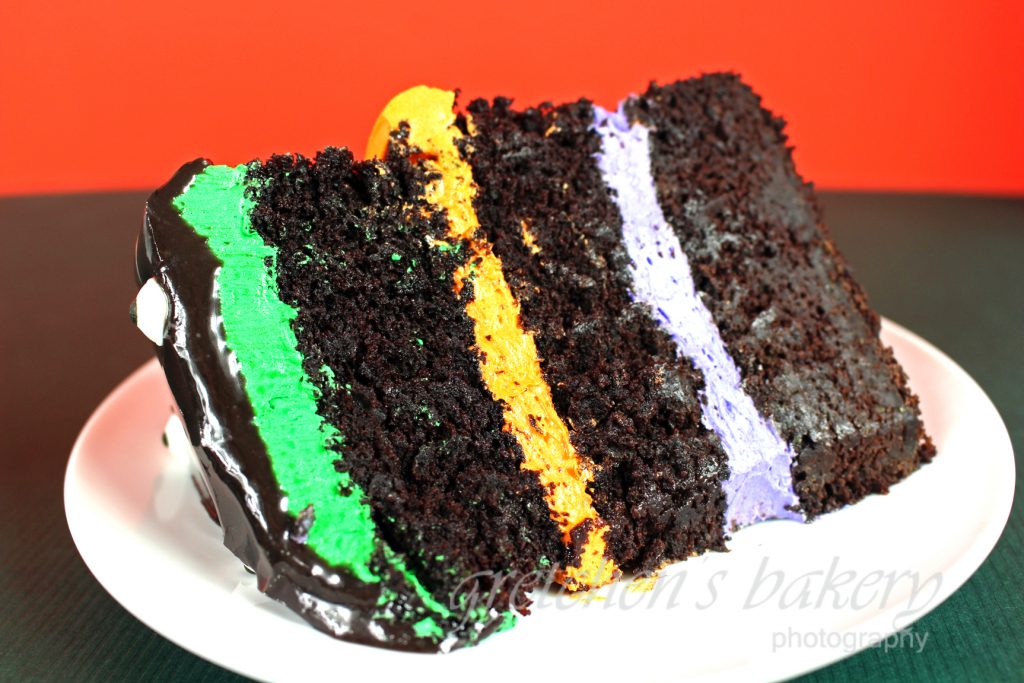 And oh yeah, two more things to add to the excitement~ it's VEGAN! and your don't need a mixer!
So whether you are vegan or not~ I promise you will love it!
Black Chocolate Cake for Halloween
To make the glaze for the cake combine 4 Tbs coconut oil with 5 Tbs coca powder and 1 tbs agave syrup in a small sauce pot and heat stirring constantly until melted
Serves:
1- 7" cake to serve 10-12 people
Ingredients
For the Cake
All Purpose Flour 1½ cups + 3 Tablespoons (212g)
Granulated Sugar ¾ cup (150g)
Salt ½ teaspoon (3g)
Baking Powder 1½ teaspoon (6g)
Baking Soda 1½ teaspoons (6g)
Coconut Oil 7 Tablespoons (98g)
Boiling Water 1½ cup (360ml)
Dutch Process or Natural Cocoa Powder ¾ cup (70g)
Ground Flax Seeds 6 Tablespoons (48g)
Hot Water 9 Tablespoons (135ml)
Vanilla Extract 2 teaspoons (10ml)
.
Instructions
Combine ground flax seed with the 9Tbs of hot water and whisk smooth
Let stand for at least 5 minutes or up to 30 minutes to thicken to a paste
Combine the flour, sugar, salt, baking powder & soda together in a large mixing bowl
Combine the coconut oil, 1½ cup boiling water and cocoa powder together and whisk smooth
Add the cocoa mixture and the flax eggs mixture along with the vanilla extract to the flour mixture and whisk smooth
Pour batter into 3 greased and parchment lined cake pans and bake immediately in a preheated 350°F oven for approximately 25 -35 minutes or until the layers are springy to the touch when you gently press the centers
Cool cakes in the pan then flip them out onto a cooling rack to cool completely while you prepare the buttercream recipe of your choice