This vegan scones recipe has been with me for close to 20 years and it has always been egg free, sugar free and so easy to make!
The sweetness comes from the added dates and walnuts and cranberry gives it such a nice zing!
However if you don't particularity like those add in's just sub in something else that you do like!
Keep in mind scones are not meant to be too sweet nor very moist.
Maple glaze is the added extra that makes these scones really pop!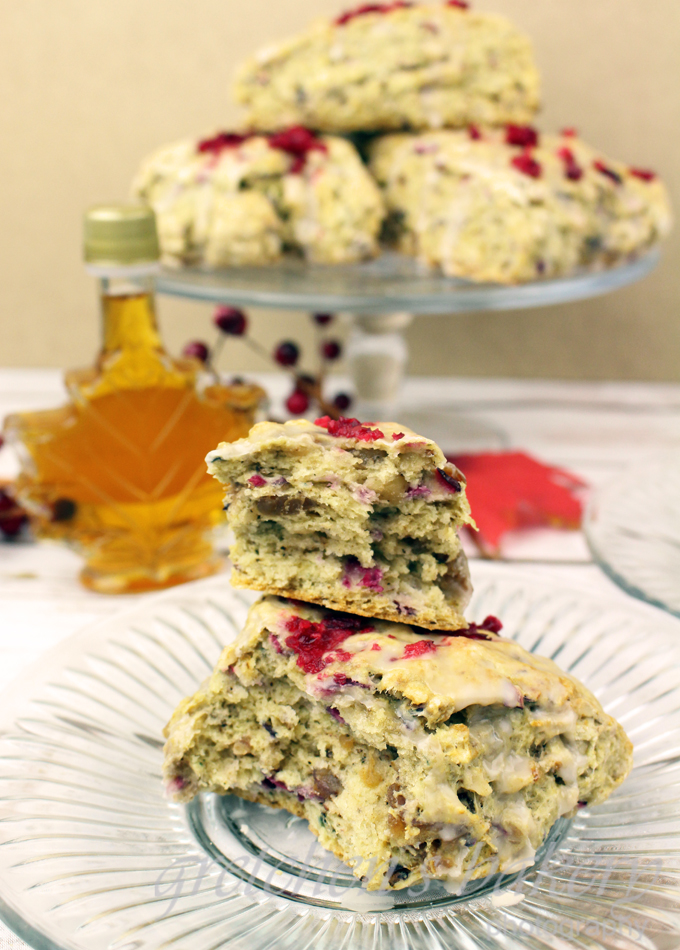 Traditional English scones are much more dry than my recipe here
And scones can certainly be a bit shocking to us Americans if you have never tried one before!
But my recipe for vegan scones are just perfect for any of you who may be new to the scone scene!
Slather on some vegan butter (or not) and enjoy!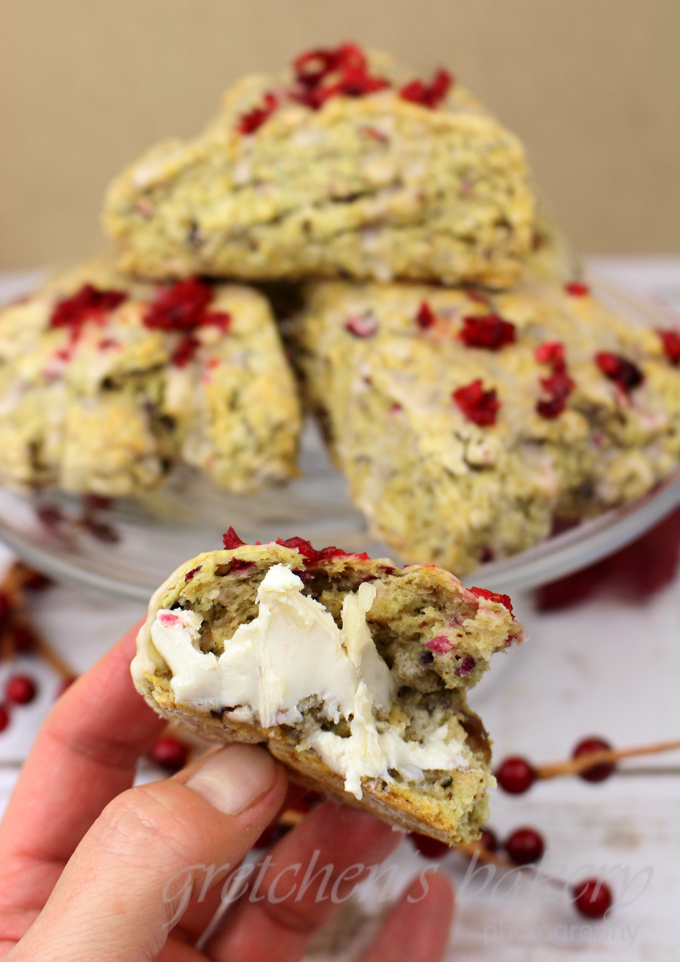 CLICK HERE FOR THE YOUTUBE VIDEO TUTORIAL FOR HOW TO MAKE THESE!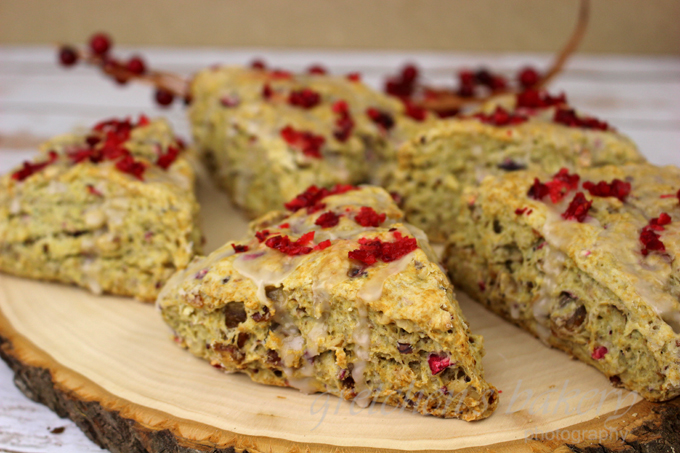 For more breakfast pastries click the links below!
Bakery Style Cheese Danish Recipe
Yield: 6 large or 12 small
Cranberry Maple Walnut Scones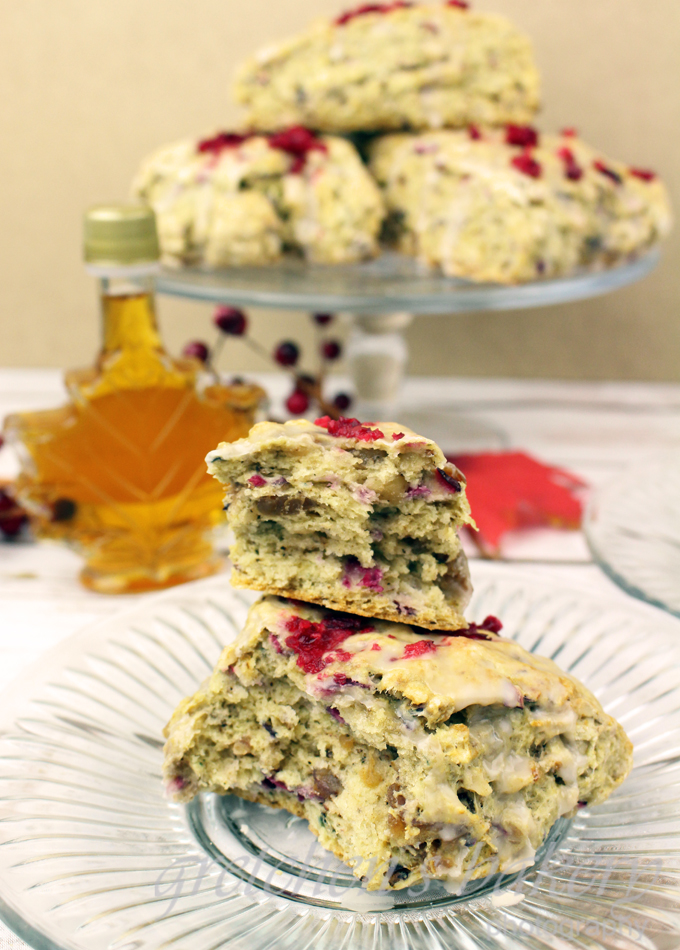 I make jumbo scones and get 6 out of this recipe, you can always cut them thinner or even use a round cookie cutter for smaller biscuits.
I Know many people cannot get cream of tartar, so you can use 3 teaspoons of baking powder in place of BOTH the baking soda & cream of tartar
Ingredients
All Purpose Flour 2 cups (250g)
Cream of Tartar 1 teaspoon
Baking Soda 1 teaspoon
Salt ½ teaspoon
Cold Vegan Butter 5 Tablespoons (70g)
Plant milk *preferably a thicker milk like soy or oat ¾ cup (177ml)
Dates ½ cup (80g)
Walnuts very lightly toasted ½ cup (60g)
Fresh Cranberries ½ cup (50g)
For the Maple Glaze
Confectioner Sugar ¾ cup (90g)
Maple Extract 1 teaspoon (5ml) OR 2 Tablespoons Maple Syrup
Plant Milk 1 Tablespoon
*Aquafaba for brushing the scones before baking OR additional plant milk is also fine
Instructions
Preheat the oven to 350°F
Combine the dates, walnuts and cranberries in a food processor and process to fine bits. Reserve
In a large mixing bowl combine the flour, baking soda, cream of tartar and salt and mix well.
Add the grated vegan butter (or small diced if you do not have a grater) and then mix by hand incorporating the butter throughout the flour until it resembles course meal.
Add the finely chopped date-nut-cranberry mixture and distribute evenly throughout
Add the plant milk and mix gently by hand just until it is all absorbed and forms a sticky dough
Turn out onto a lightly floured surface and knead just about 5-6 times folding the dough over into itself
Press it out to a disc approximately 8" in diameter and cut it into 6 equal pieces (or 12 smaller 3" diameter cookie cutter sized).
Place on a parchment paper lined sheet pan and brush with aquafaba or plant milk
Bake immediately in a preheated 350°F oven for approximately 35 minutes or until golden brown and baked through.
Cool while you prepare the maple glaze by combining the sifted confectioners sugar with the maple extract (Or maple syrup) and add plant milk to desired consistency, whisk smooth.
Drizzle over the scones and then top with additional chopped cranberries *optional
Notes
Scones will go stale before they go bad so it is best to keep them wrapped aritight at room temperature for up to 4 days. Freeze for laonger storage wrapped well for 1 month