It's Game Night!
A true to life playable chess cake perfect for the one you know who loves to play chess!
Now I will admit I have never played chess once in my life
But those who do you can now give them an impressive cake for their birthday with this playable chess cake!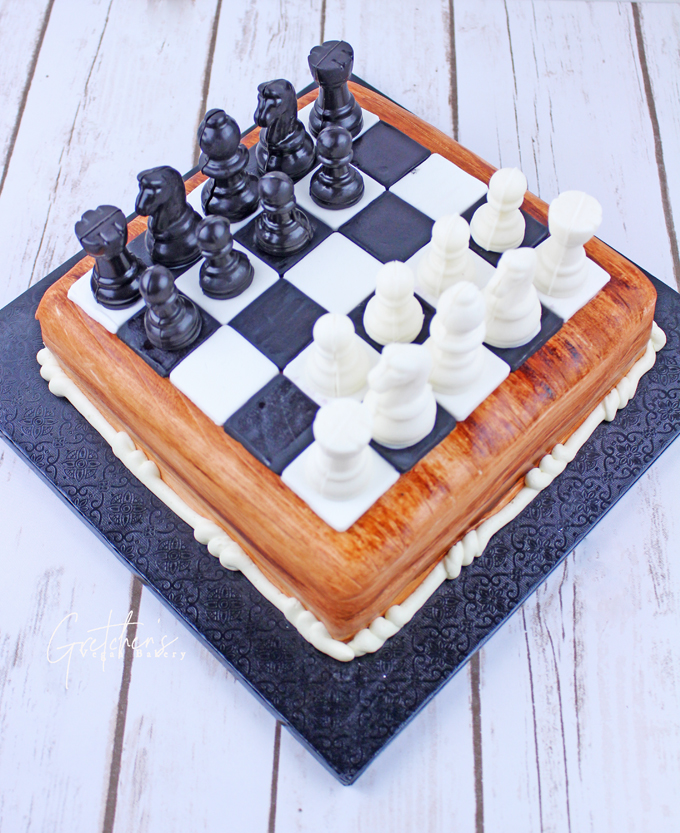 Ok maybe it's not exactly playable when you make the size cake that I made here (8″ X 8″ square cake)
Because I couldn't even get all the pieces on the board!
But if you make a half sheet cake size, it could definitely be game on!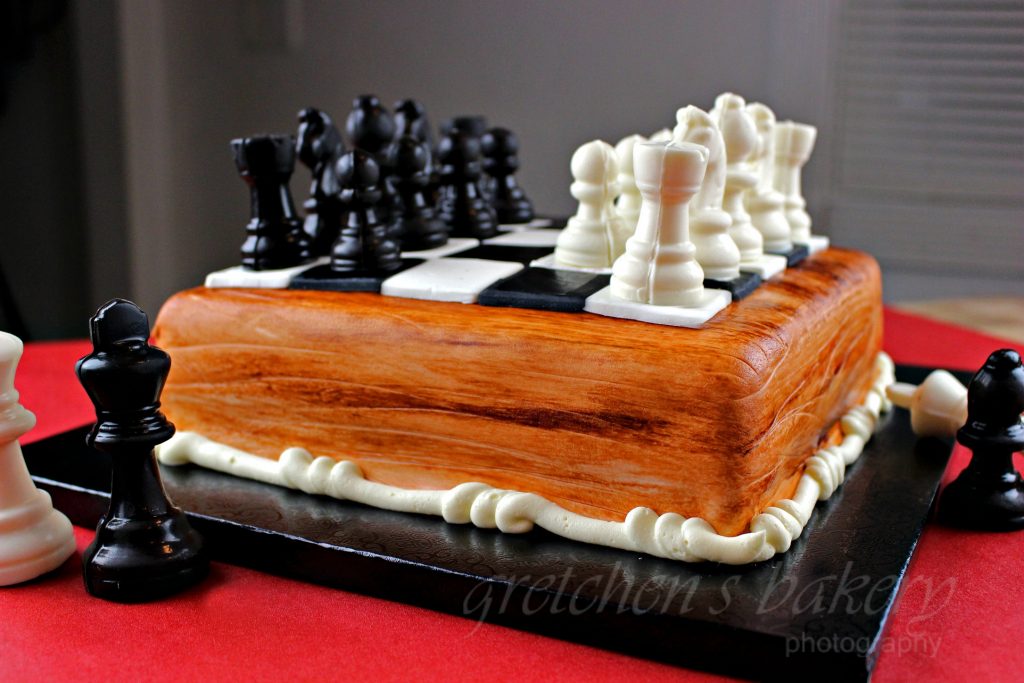 This is a beginners cake decorating tutorial for sure when you see how easy it is to make.
The only special tools needed are the chocolate molds, since that is what makes this entire cake a true to life chess board!
You can get these molds at Candyland Crafts and they ship world wide, but amazon sells them as well
You will also need vegan white & dark chocolate to make the chess pieces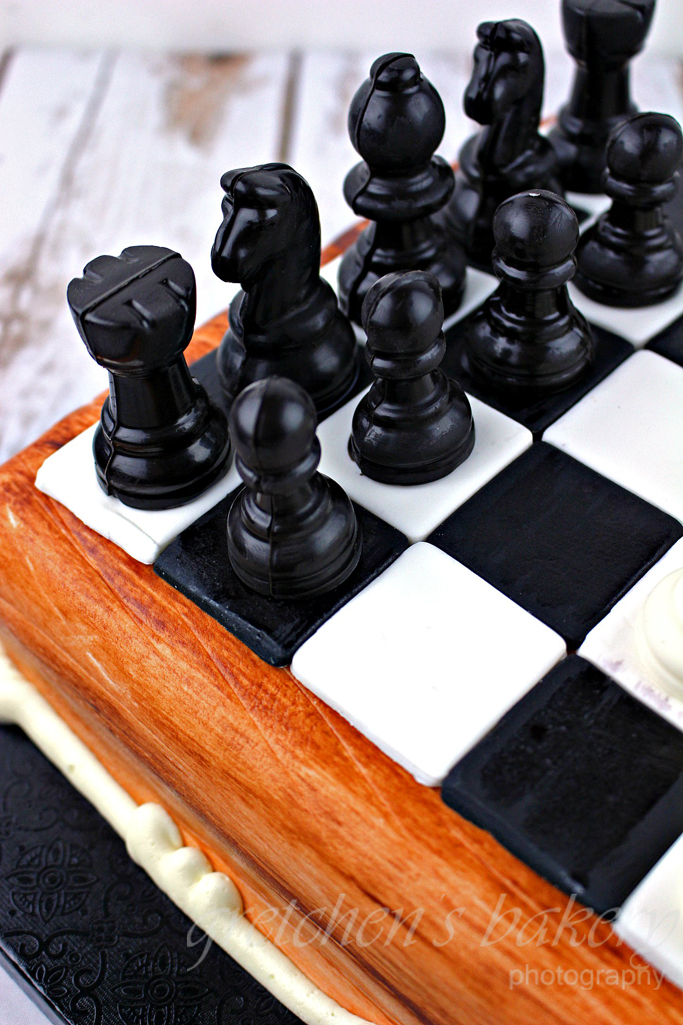 I've covered my cake in fondant and then made it look wood grained with an easy technique that I'll show you in the video.
You will just need gel paste food color in brown and a pastry brush (oh and some vodka too- don't worry, it evaporates off and you can't taste it or feel any effects of the alcohol)
You can of course make any cake recipe, filling and icing that you love the best
But here I am keeping it simple with my best recipes for vanilla cake layers, rich, creamy fudge filling and vanilla buttercream.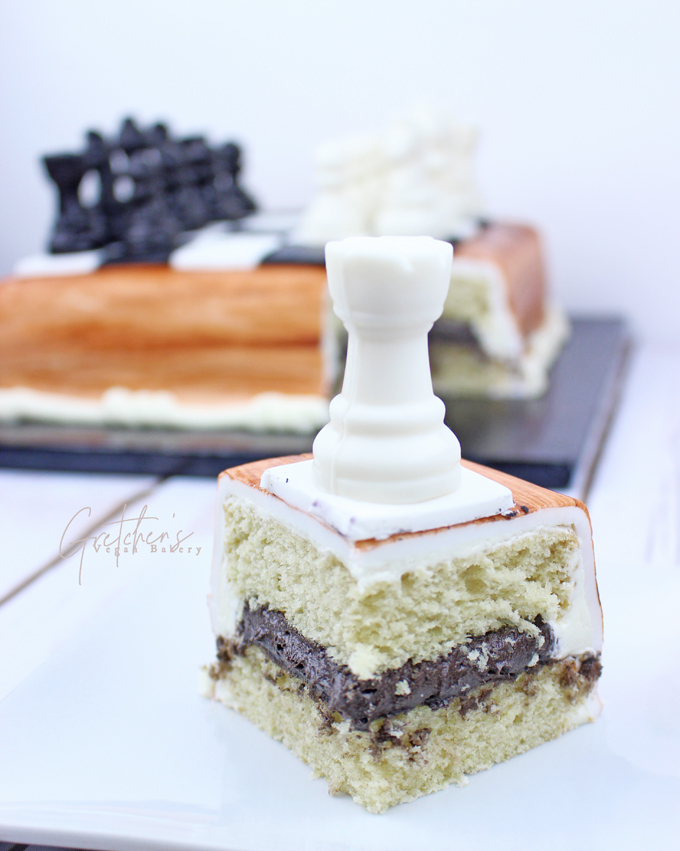 CHECK OUT THE FULL STEP BY STEP YOUTUBE VIDEO TUTORIAL FOR HOW I MADE THIS CAKE!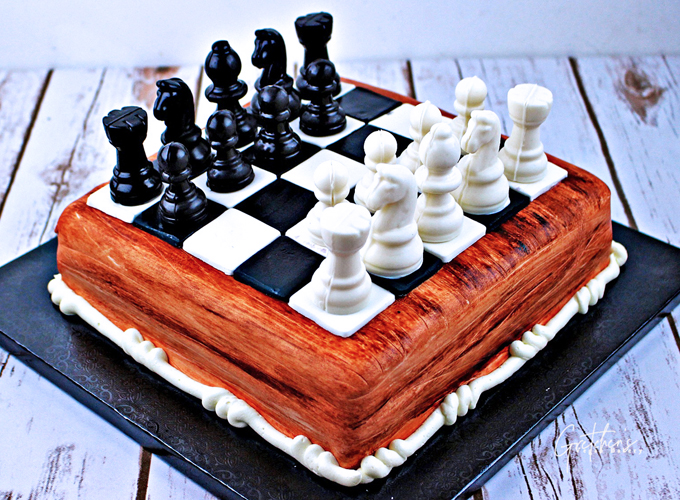 Playable Chess Cake
The recipes for fudge filling and buttercream icing are slightly more than you will need to fill the cake, but who ever complained about too much fudge and buttercream?! (Put it on some cupcakes or freeze it for later!)
Ingredients
For the Vanilla Cake:
All Purpose Flour 2¼ cups (280g)
Baking Powder 4 teaspoons (20g)
Salt ½ teaspoon
Vegan Butter 12 Tablespoons (170g)
Granulated Sugar 1¼ cups (250g)
Soy Milk 1 cup (237ml)
Vanilla Extract 2 teaspoons (10ml)
Egg Replacer of your Choice equivalent to 2 eggs or 2 Tbs Flax Meal reconstituted with 6Tbs hot water
For the Fudge Filling:
Granulated Sugar 2½ Tablespoons (31g)
Water 2½ Tablespoons (37ml)
Corn Syrup 1 Tablespoons (20g) (15ml)
Unsweetened Cocoa Powder ½ Cup (45g)
Vegetable Oil 1 Tablespoons (15ml)
Solid Vegetable Shortening Or More Vegan Butter 1 Tablespoon (14g)
Corn Syrup 2 Tablespoons (40g) (30ml)
* you can sub glucose, agave or golden syrup here
Vegan Butter softened 8 tablespoons (112g)
Vanilla Extract 1 teaspoon (5ml)
Confectioner's Sugar or Icing Sugar 2 cups (240g)
Cold Water 1-2 Tablespoons to adjust the consistency
For the Buttercream:
Vegan Butter 1½ Cups (3 sticks) (336g)
Hi Ratio Solid Vegetable Shortening1½ Cups (336g) **Or more vegan butter instead
Vegan Confectioners Sugar 6 cups (720g)
Vanilla Extract 2 teaspoons
Butter Extract 1 teaspoon *optional
Salt ¼ teaspoon
Instructions
For the Cake recipe prepare the egg replacer of your choice according to the instructions on the package (or mix the flax seed with warm water~ see note above)
Add the vanilla extract to the soy milk
Sift the flour with the baking powder and salt
Cream the vegan butter with the sugar until light and fluffy and this may take about 3-5 minutes on medium to high speed
Add the egg replacer while mixing on medium speed, scrape the bottom and sides of the bowl to incorporate evenly then whip on high speed for 30 seconds
Add about ⅓ of the flour to the creamed mixture then add half of the milk
Add another ⅓ of the flour and then the remaining milk
Add the last amount of flour and mix just to combine evenly.
Divide the batter evenly between 2- 8" square pans and bake in a preheated 350°F oven for 25-35 minutes or until springy to the touch when you gently press the centers.
Cool completely while you prepare the other recipes.
For the fudge filling: In a small pot on the stove, combine the first 3 ingredients and bring to a boil then pour into a bowl and allow to sit in the freezer to rapid cool while you gather the other ingredients.
In the bowl of your Kitchen Aid mixer fitted with a paddle attachment, or in a large mixing bowl with a hand blender, add the cocoa powder and cooled but still warm simple syrup and mix until it forms a firm mass.
Add the vanilla extract
Add the Vegetable Oil and Solid Vegetable Shortening and mix well.
Add the other measure of corn syrup and the softened vegan butter, mix smooth.
Add the sifted confectioners sugar a little bit at a time and mix until smooth.
Slowly add some of the cold water about 1 tablespoon at a time until you reach the desired consistency
For the Buttercream icing combine the vegan butter and shortening in the Kitchen Aid (or stand mixer) bowl with the paddle attachment
Whip on medium to high speed for about 3 minutes.
Scrape the sides and bottom of the bowl to make sure it is evenly mixed and add the salt and extracts
Stop mixer and add the sifted confectioners sugar all at once.
Mix on low speed until incorporated , scrape the bottom and sides of the bowl and then mix on high speed for 3 minutes.
Notes
All the recipes used in this cake are room temperature stable, however a heavily iced cake like this one with all that fondant & decor may get heavy in a warm room, so refrigeration is best.

Bring to room temperature before serving.

Cake will stay fresh in the refrigerator for up to 1 week