Baking stuff into other stuff is old hat by now
But this type of thing never really goes out of style!
Introducing the PumpAppleCuppy~ Ok that's a really weird name
I guess Pumpkin Apple Pie Cupcakes with Pumpkin Spice Icing is more appealing
Whatever you want to call them, you will be glad you did because these cupcakes are amazing!
With my most recent recipe for Snickerdoodle Apple Pie Bites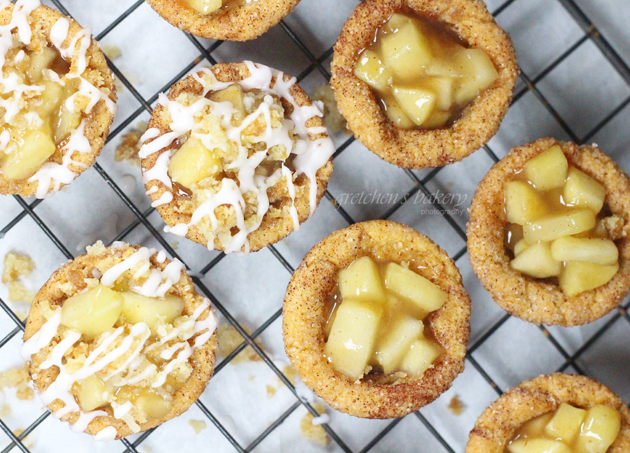 I took some of those leftovers and plunged them right into the batter of my new one bowl pumpkin cake mix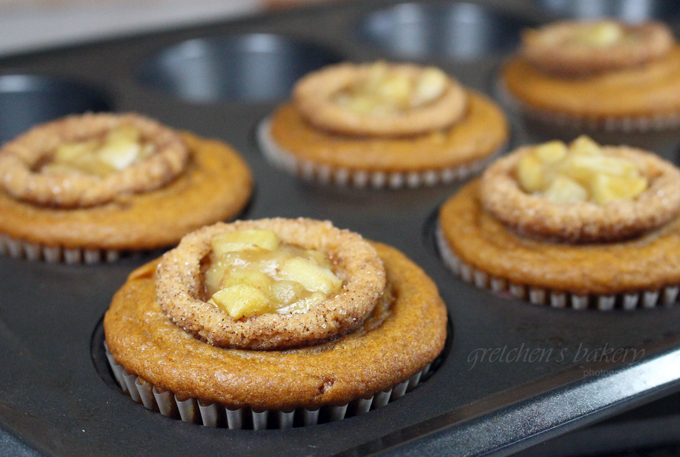 This new cake recipe is going to make your Autumn baking life so much easier!
Bakes up into the most perfect cupcakes ever
With a whimsical and cute little surprise apple pie inside!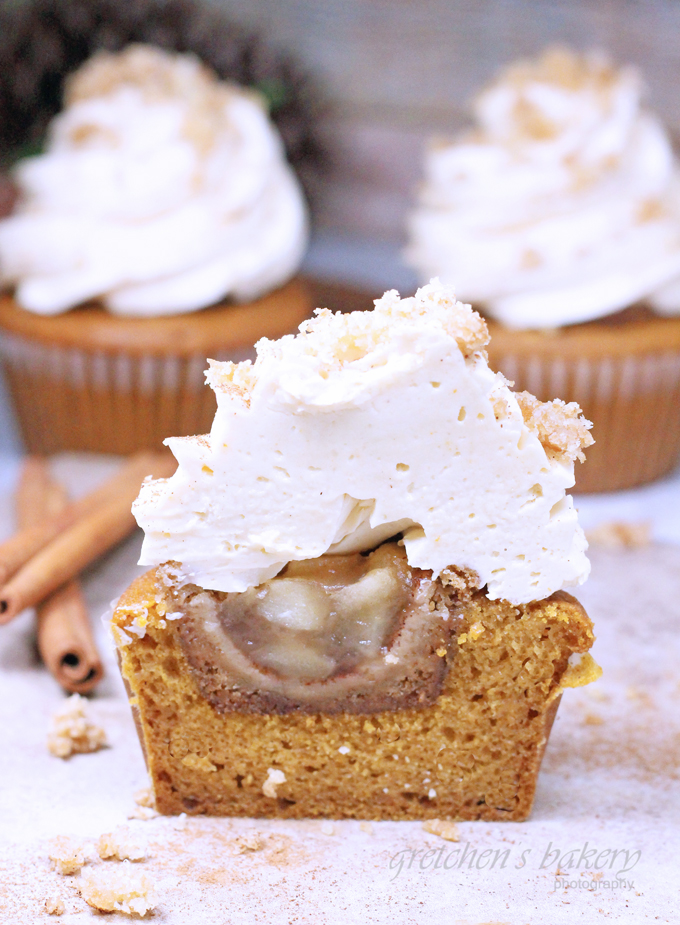 Now I'm not going to lie this is going to be a bit time consuming because as with any Building on Recipes project
You will have to prepare several recipes before even getting to the cupcake part
But I had my apple pie bites in the freezer after I made them last week,
Which I would recommend doing before baking them into the cupcake batter
This way they keep their shape while baking into the cupcake
After that it's just a matter of mixing up this super easy pumpkin cake batter
And while the cupcakes are baking you can prepare the pumpkin spice buttercream recipe!
CLICK HERE FOR THE FULL YOUTUBE VIDEO TUTORIAL FOR HOW TO MAKE THESE CUPCAKES!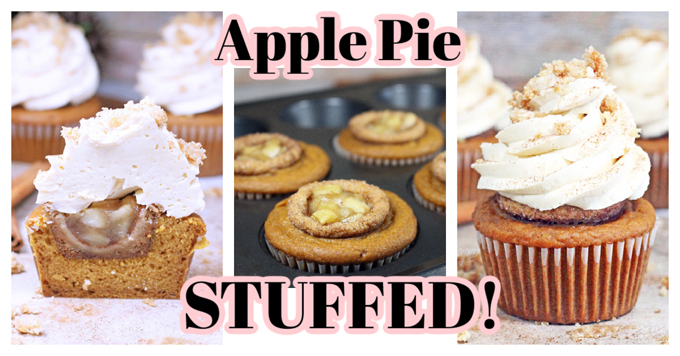 For more of the best pumpkin recipes click the links below!
Apple Pie Stuffed Pumpkin Cupcakes
Ingredients
1 Recipe Snickerdoodle Apple Pie Bites *minus the crumb topping & sugar glaze
1 Recipe Your Favorite Vegan Buttercream
Canned Pumpkin Or Homemade Puree1/3 cup
Pumpkin Pie Spice 2 teaspoons
For the Pumpkin Cake:
Vegetable Oil 6 Tablespoons (90ml)
Light Brown Sugar ½ cup (105g)
Plant Milk *I use soy ¾ cup (177ml)
Vinegar 1 teaspoons (5ml)
Canned Pumpkin ½ cup (125g) *see notes for homemade puree in the article above the recipe
Salt ½ teaspoon
All Purpose Flour ½ cup (65g)
Cake Flour 1 cup (120g) *see notes in text above the recipe box
Baking Soda 1 teaspoon
Ground Cinnamon ½ teaspoon
Ground Ginger ½ teaspoon
Ground Cardamom ¼ teaspoon
Ground Cloves pinch
Ground Nutmeg ⅛ teaspoon
Instructions
You must first prepare the Snickerdoodle Apple Pier Bites in advance before preparing the cupcake batter
Once they are baked & cooled place them in the freezer while you gather your ingredients and prepare the recipe for the pumpkin cake
Preheat your oven to 350°F
Line your cupcake pans with paper liners & I like to give them a very light spray with pan release to make sure they don't stick
For the cake batter, combine the vinegar with the soy milk (soy milk is the only milk that will thicken with vinegar)
In a larger mixing bowl combine the oil, brown sugar, salt, pumpkin, and then the thickened vinegar/plant milk and whisk to combine well
Sift the flour with all the spices and the baking soda and add it all at once to the wet mixture in the bowl
Whisk smooth
Portion into the cupcake liners, filling slightly less than ¾ of the way full
Then place a frozen mini snickerdoodle apple pie into the center of each one, pushing it into the batter slightly
Bake immediately in the preheated 350°F oven for 15 minutes
Then turn the oven temperature down to 300°F and bake for another 8-10 minutes OR when a toothpick inserted into the center comes out clean
Cool the pumpkin cupcakes in the pan until you can touch it without burning your fingers, then turn it out onto a cooling rack to cool all the way
Prepare your favorite buttercream recipe *I am using American Style Buttercream* and at the last stage of mixing add the pumpkin & the spices
Notes
Apple Pie Stuffed Pumpkin Cupcakes can be stored at room temperature for up to 3 days in a cool ~ not humid~ spot

For longer storage (up to 1 week) refrigerate cupcakes wrapped loosely, but it is best to bring them to room temperature before serving

Cupcakes may be frozen for up to 1 month, thaw at room temperature before serving