Perfect timing with spring springing, this rosemary scented blackberry lemon bundt cake is the way to usher in spring with a great big welcome!
Blackberries are in season so I stocked up on lots of pints! They are my favorite fruit, I can literally eat an entire pint in one sitting!
But rather than eat them all I decided to bake some of them into a light and refreshing bundt cake packed with so many delicate flavors!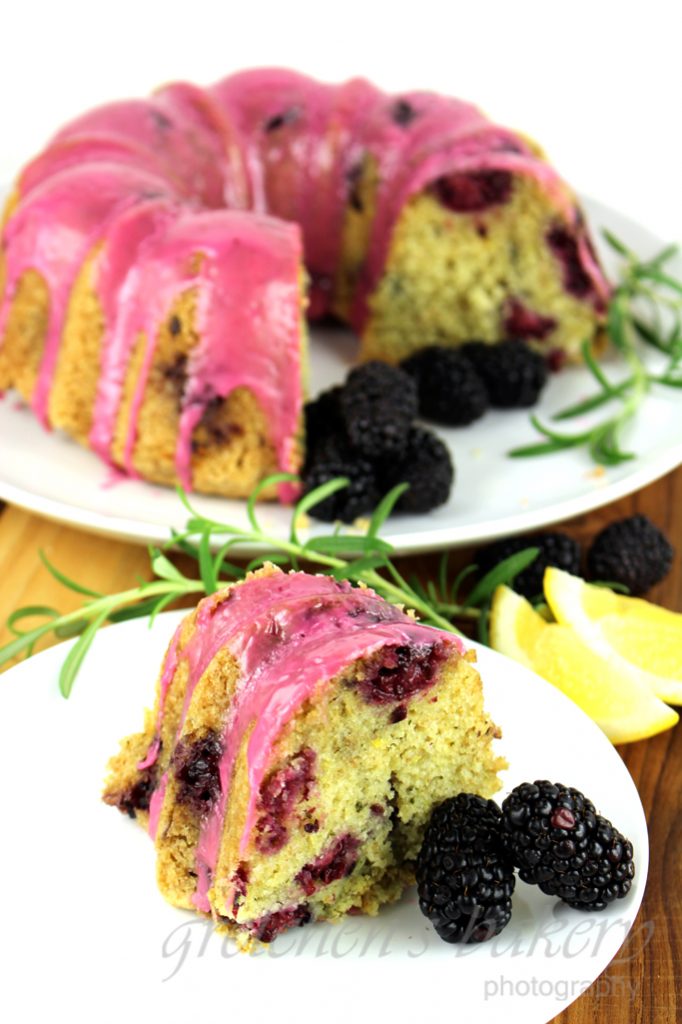 My rosemary plant is also in bloom so why not add a bit to this beautiful bundt cake with a zest of lemon to tie it all together.
The combination of these flavors are perfectly on point and I hope you will dare to be different and grab some fresh rosemary just to prove that this herb is not just for dinner!
Sour cream (vegan of course) will add richness while keeping this cake super moist and the tender crumb of this cake is to die for!
I made this recipe into cupcakes last week so you can be versatile with it if you don't have the bundt pan or just want to make cupcakes!
Rosemary Scented Blackberry Lemon Bundt Cake
For the glaze I used a confectioner's sugar and almond milk mixture (1 cup : 1 tablespoon) and added 2 Tablespoons of blackberry puree and 1 teaspoon of lemon extract
Serves:
1- 6 cup capacity Bundt Pan
Ingredients
All Purpose Flour 2 cups (250g)
Baking Powder 1 teaspoon (5g)
Baking Soda ½ teaspoon
Fresh or frozen Blackberries 1½ cups
Vegan Butter 8 Tablespoons (113g)
Vegan Sugar 1 cup (210g)
Salt ½ teaspoon (3g)
Golden Flax Meal 2 tablespoons (16g)
Hot Water 6 tablespoons (90ml)
Vanilla Extract 2 teaspoons (10ml)
Lemon Zest 1 lemon approx 2 teaspoons
Vegan Sour Cream ½ cup
Fresh Rosemary 3 springs approximately 3 teaspoons finely chopped
Instructions
Combine the flax meal with the hot water and let stand for about 5 minutes to thicken
Cream the vegan butter with the sugar until light and fluffy approximately 3-5minutes
Sift the flour with the baking soda, powder and salt and set aside.
If your blackberries are gigantic like mine were, cut them in half
Once the creamed mixture is ready, add the flax meal and mix well.
Add the vanilla extract, lemon zest and minced rosemary and mix well
Add the sifted flour mixture all at once and mix just until combined
Add the vegan sour cream and mix well
Fold in the blackberries and then pour the batter into a well greased 6- cup capacity bundt pan and bake in a preheated 375°F oven for 20 minutes then turn the oven temperature down to 325°F for the remaining bake time. Total bake time should be about 45-55 minutes or when a toothpick inserted into the center comes out clean.
Cool until you can touch the pan without burning your fingers then unmold onto a cooling rack to cool completely.
Meanwhile prepare the sugar glaze by combining the confectioners sugar with the almond milk and optional blackberry puree and lemon extract (quantities listed above in the summary)
Glaze the cooled cake and then serve!
Notes
Bundt cake can be stored at room temperature in an airtight container for up to 3 days.

For longer storage refrigerate for up to 1 week or freeze wrapped well for up to 1 month